Radnor Sports Roundup: Edition #3
Prelude:
As both the marking period and fall sports seasons are coming to an end, Radnor students are finishing strong on all fronts. Radnor High School just wrapped up its highly anticipated LM week with a satisfying win in the 125th rendition of the bout; all students, teachers, and administrators should be proud of the successful week.
The excitement hasn't just been on the football field and in the junior lot, with multiple Radnor competitors having stand-out performances at the end of their seasons. Many athletes qualified for state-level competition, including our girls soccer team, members of our golf team, and members of our cross-country team. As we transition from the fall to winter sports season, it is especially important to appreciate the hard work of our fall sport student-athletes.
That being said, here is the third edition of the Radnor Sports Roundup.
— Nathan
---
Cheerleading – Meghan Moyer
Coming off two tough losses against Haverford and Strath Haven, the entire school had their eyes on Radnor Football as the long-awaited LM game approached. Radnor Cheerleading definitely had their work cut out for them in the upcoming week, as the practices leading up to the pep rally on Thursday were fully dedicated to perfecting and performing their three routines. With the rally outside this year, the cheerleaders faced a major obstacle: without any mats on the parking lot, one of the routines would be fully cut and all of their hard work would be down the drain. Luckily, with help from Mr. Friel, our athletic director, Rad Cheer was able to roll out the mats on the junior lot and perform all three acts. After the pep rally, the cheerleaders shifted their focus to Saturday's game, decorating football houses and having one last practice before the big day. Saturday was not only the 125th matchup of the Lower Merion vs. Radnor rivalry, but also Senior Night for the football players and cheerleaders. The annual ceremony honored seniors Meghan Moyer, Lanie Walsh, Claudia Ball, and Marilyn Corona. The action-packed game kept the fans on their toes, and Radnor took home the trophy once more with a final score of 33-14. It was certainly an emotional day for all, and the cheerleaders wrapped up the 2021 football season with the long-standing tradition of going to Minellas.
Crew (girls and boys) – Ellie Davis
Boys and girls crew have had an eventful few weeks of racing. Two weeks ago, the boys traveled up to Boston to row in Head of the Charles, the largest 2-day regatta in the world with 11,000 athletes. "We didn't finish very well at Head of the Charles, but we did get to see the best crews in the country race," said captain Fred Mehra. "That will be a very valuable experience for future races." Both teams showed up to our home course in Philadelphia last weekend for Head of the Scullkyll. "Although it was a long race with many bridges to go through, the conditions on the water were actually great," said captain Emily Shultz. "The only problem we faced was dealing with the boat in front of us not yielding to our pass. This resulted in a lot of angry yells from me, and an interesting experience protesting our regatta." A highlight for RGCC was that the novices got to experience their first race, with an eight placing 18th out of 34 boats. Yesterday, Radnor Girls Crew traveled to Mercer lake to race again, with two varsity eights and a novice eight. The varsity A boat got 12th, and the novices had a great race once again, placing 4th. Next weekend, Radnor Crew will return to Mercer Lake for the Bill Braxton and Frostbite regattas.
Field Hockey – Margarita Moreland and Sadie Schultz
Following their seven-game winning streak, Radnor Field Hockey prevailed over Monsignor Bonner & Archbishop Prendergast High School on October 15th. With 10:35 remaining in the first quarter, captain Riley Mazzalupi scored off a corner. Karis Mameniskis, Hope Delaney, Gracie Bookbinder, and Alex De Cain also contributed to the 7 – 3 victory. Once more, the girls added to their winning streak against Ridley, in an 8 – 0 win. Junior goalie Meghan Dole's heartbreaking hip injury during practice left the team wondering what they would do with the playoffs just around the corner. "We were definitely discouraged and anxious…it was scary," says sophomore Sadie Schultz. Thankfully, senior Maddie Bader voluntarily stepped in as goalie. Schultz says, "we helped her during practice with certain game-like situations…she wasn't planning on being in that position, but she did her best." To finish off their regular season, Radnor Field Hockey overcame Strath Haven on October 21st. The team's strong offense netted eight goals over Strath Haven. Despite the rainy weather, the girls secured a win (9 – 2) in the first round of PIAA District Playoffs, on October 26. Senior Karis Mameniskis scored a whopping five goals, and senior Courtney Wolfington contributed heavily on the defensive end. Two days later and the Raptors faced Merion Mercy in the quarterfinals. The first quarter looked hopeful, with the girl's dominating possession. Shortly after, Merion tied the game off a penalty stroke; the game ended in a 2 – 3 loss for Radnor. Ultimately, Radnor Field Hockey capitalized throughout the season. Until next year! 
Football – George Economedies and Kethan Kalra
Nearing the end of the regular season, Radnor Football went against Harriton, routing the Rams in a 32-6 win. Coming off of the convincing victory, the football team looked alive and ready to go against Haverford in a crucial game. Haverford would jump out to an early 21 point lead but Radnor did well to battle back and shorten the deficit to only 10. Radnor's next game was against the then 9-1 Strath Haven Panthers. The conditions were abysmal with pouring rain and 40 mph winds making things difficult for both teams. In the torrential downpour, the Raptors kept pace with an electric Haven team. After the half, however, Strath Haven pulled away and won 33-7. The Raptors kept their heads up and looked ahead to their November 6th game vs. arch-rival Lower Merion. Although the game was at LM, Radnor's student section showed up well and gave critical support against the Aces. LM struck first with a touchdown on their opening drive. The Raptors then capitalized on a great kick return and drove the football to the red zone where Jude Wallen fell 1 yard short of the endzone on 4th and goal. The defense trotted onto the field with LM against their own goal line and after a holding call against LM's offense in the endzone, the result of the drive was a safety. Radnor struggled to find paydirt but had steady drives and capped off the first quarter down 7-5 after kicking a field goal. In the second quarter, the narrative was completely different as Radnor scored early and then capped off the half with a pick by Amir Bryd and an eventual touchdown after some strong running. By the 4th quarter, Radnor had taken a firm lead and despite LM finding the endzone once more, the Raptors were crowned the champion of the 125th bout, their tenth straight victory over LM.
Golf (girls and boys) – Edy MacKenzie and Tegan Kelsall 
The Radnor 2021 golf season has come to a close after the exceptionally young team finished 4th in their league. Sophomore Shaun Mazzalupi and senior Chase Stephano both qualified in the District 1 tournament to represent Radnor in states on October 19th; both Shaun and Chase tied for 34th place with scores of 79. Commenting on the amount of young talent on varsity, Chase expressed that "the future for Radnor Golf is very strong."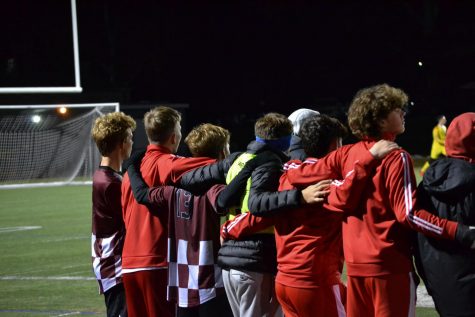 Soccer (boys) – Margarita Moreland and Sebastian Moreland
The past few weeks have been a joyful ride for the Radnor Boys Soccer team. Senior Noah Simone-Dobin described some wins as "comfortable…with a great atmosphere." Despite a few players' injuries, the boys have persisted. Back on October 14, the senior players got a well-deserved recognition ceremony before their game against Upper Darby. In response to 'We want Connor' chants from the student section, team manager Connor O'Sullivan played for the last few minutes of the game. The match ended in a smooth win: Radnor 5 – Upper Darby 0. The Gents defeated Bishop Shanahan (3-0) two days later, on our home turf. Brothers Nick and Nate Lucchesi netted in headers off of a corner kick, along with a Drew Warren penalty goal. To continue their winning streak, the team dominated Ridley. After a stagnant first 35 minutes, the boys broke the deadlock and went on to win the match 4-0. Against Strath Haven, however, Radnor conceded a goal in the first half and struggled to create chances offensively. The boys lost 0-1, but used the loss as fuel for the hot streak to come. For their last regular-season game, the Raptors secured a 4-0 victory over Methacton, with stellar performances from just about every player on the roster card. In training for the AAA District One playoffs, Coach Caruolo and his players studied film and even practiced on Halloween night. Their first-round playoff game was a win over Upper Moreland, 2-0. Due to inclement weather, Radnor's match against Springfield was postponed to November 1. The Gents secured a spot in the District 1 Championship that night, by beating Springfield 2-0. On Thursday, November 4th, the Gents traveled over to Strath Haven, where the District One Final took place against Bishop Shanahan. It was Boys Soccer's first District One final game since 2016. Three minutes into the game Shanahan scored. "When we let up that goal…it was a huge sucker punch…we were kind of shell-shocked," said senior Noah "SD" Simone-Dobin. In the end, the team suffered a 3-0 loss. SD claimed, "we let them take the game from us from the very first second…everything that needed to go our way didn't go our way that night." Sophomore Nate Lucchesi scored a goal a few minutes into the second half, but it was ruled out for a hand ball. "If we got that goal, I truly believe we could have come back…all we needed was one goal to get some energy…belief…passion. That would have given us the adrenalin." In reflecting back on the 2021 season, SD says: "One of the main reasons I was sad we lost was because I won't be able to practice with these guys I considered family…that's the bond our team had." A crushing end to the season, but our boys in checkered maroon and grey are proud of what they accomplished this year.
Soccer (girls) – Edy MacKenzie
Radnor Girls Soccer has not lost a matchup since the previous Radnor Sports Roundup, totaling eight wins in the last three weeks. RGS defeated Upper Darby (7-0), trounced Gwynedd Mercy (2-0), and tackled Ridley (1-0). Coming off of this positive energy, RGS hosted their senior night against Strath Haven. The event served as an important bonding opportunity for the team, and more than one cried after Senior Anjali Engstrom sang the national anthem. The Raptors edged out a 1-0 win before sending Mount St. Joe's back home after a 3-0 match. This concluded the regular season, but not RGS's hot streak. The girls rematched against Gwynedd Mercy to kick off postseason, giving them a taste of deja-vu with another win, this time 2-0. The Dauitolo twins each contributed a goal, Jane with a lofty drive from outside the 18 and Emily with a carefully placed penalty shot after Sophomore Selah Koleth suffered a foul in the box. Radnor's next matchup was Villa Maria, who managed a win over RGS in the regular season. At the still 0-0 half, Radnor celebrated its Homecoming Court, featuring two RGS players; Senior defender Lucy Henkel was crowned homecoming queen and her brother Pete Henkel won homecoming king. As for the second half, freshman superstar Liv Jacobs scored a game-winner to secure a 1-0 outcome over Villa. After this win, RGS secured a position in the state tournament and the district final. Last Thursday, the determined girls dominated Villa Joseph Marie in a game with little difficulty and a 3-0 finish. Selah sank the first two goals and Liv drove home the last. RGS's shutout streak represents the strength and resilience of their back line, composed of Senior Olivia Kelley, Senior Telly Schwarz, Senior Julie Breedveld, Junior Sydney O'Shea, and most importantly, Sophomore goalie Mallory Toomey. RGS begins their run at states next Tuesday.
Cross Country (boys and girls) – Tess Brennan, Payton Breck and Eleanor Adams

The boys and girls' cross country teams took centrals and districts by storm. Several runners including Eleanor Adams, Olivia Dhavale, Leni Hartman, Emma Hyde, Luke Bodden, Preston Breck, and Jimmy Kurtz ran their personal bests at Districts on Saturday October 29th at Lehigh University. Due to unfortunate weather conditions during Centrals, the girls and boys' JV races had to be combined, and a number of runners ran through an impending thunderstorm. 
"Even though we had to combine the races, I thought it was super fun that we got to run with the boy's team and through the rain," Senior Ava Gummel said after her race at Centrals. 
Senior Jimmy Kurtz and sophomore Luke Bodden continued their speedy season this past Saturday at the PIAA State Championships in Hershey. Both boys consistently showed quick times throughout the season and placed well at Districts, securing their spots at States. They were ecstatic to have the opportunity to run one more race. Kurtz placed 101st in Hershey, running 17:32.8; Bodden followed close behind, placing 107th with a time of 17:34.1. 
"The course was pretty challenging and the hills on mile two were especially difficult. I was really able to hold a good pace throughout the race though and conserved my energy well enough to gather a huge kick at the end to pass a bunch of people," says Kurtz, who feels very happy with how the race went. Check out the top seven times since the last roundup.
Ultimate Frisbee (girls and boys) – Reese Hillman
The Radnor ultimate teams' last two weeks of the fall season have been filled with games and tournaments. Both teams played at Kit Kat, a tournament in Philadelphia over Halloween weekend. The boys lost 4-13 to Masterman, with two goals scored by Eric Vollmer, 1-13 to Wissahickon, with a standout performance from Luke Tobin, and 6-11 to Holy Ghost Prep, seeing two points from Parker Bruhns. The boys pulled out an 8-7 win against Lower Merion, however, with two goals from Luke Tobin and three assists from Sean Maggittti. The girls had an amazing day at Kit Kat and finished undefeated. The girls first defeated Haverford with incredible performances from Diana Huang and Rona Lui-Zhong and then faced Lower Merion, seeing four points from Rona Lui-Zhong and three assists from Isabelle Deputy. Against Strath Haven, Erica Clarke made four assists and Rona Lui-Zhong scored four points, leading to the girls' 13-3 win. Finally, RGUF won 8-4 against Science Leadership Academy, with four goals from Sofia Dillon and five assists by Diana Huang. During LM week, both teams played tension-filled games against Lower Merion. On November 4th, the boys lost 8-15 despite two goals from Eric Vollmer and five assists from Ben Robinson. The girls faced Lower Merion on the 3rd and won 11-5, with outstanding defense from Sofia Dillon. Overall, the fall season was upbeat and exciting. In the words of sophomore Diana Huang, "This season was better than anything I could've hoped for. I love this team with my whole heart and I can't wait for what's in store for us in the spring."
---
Interested in contributing to the Radnor Sports Roundup in the future? Find Nathan Kellerman or email him at [email protected] to inquire!