Radnor Sports Roundup: Edition #4
Prelude:
Fall sports have come to an end and an exciting new winter season is among us. As Radnor High School moves into its second marking period, athletes are gearing up for a new season of competition and are ready to get to work. Amidst a flurry of PIAA forms, teams were officially allowed to practice for the first time on Friday the 19th.
Many new sports are making their way into the Roundup, including Ice Hockey, Swimming, and Squash. This means that the Sports Editorial Board is expanding as well, and I thank each of our new writers for their work in contributing to the Roundup and in informing the Radnor community of the hard work our athletes put in every day. That's enough from me, however; the Sports Editorial Board and I now present to you the fourth edition of the Radnor Sports Roundup.
—Nathan
---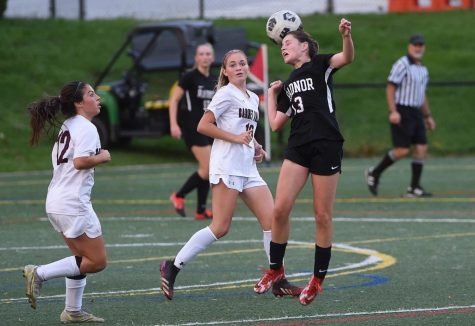 Girls Soccer – Edy MacKenzie
RGS finished an incredible season last Saturday in the PIAA 3A State Championship at HersheyPark Stadium. Although they left with the silver, their amazing achievements throughout the season do not go unnoticed. Look out for more on their epic journey in Edy Mackenzie's new piece.
Ice Hockey (girls) – Olivia Brubaker 
With growing numbers and the return of experienced players, Radnor Girls Ice Hockey is looking forward to a great season. The team is led by senior captains Caitlin Fram and Ella von Czoernig who are excited for one last season on the ice. Fram is excited about the team's chances given that they are playing in a more competitive league this year and says they are going to have a lot of fun. "We are a close-knit group of girls who work hard and make the most out of every opportunity on the ice," she went on to say. Stay tuned for more about Radnor Girls Ice Hockey's upcoming season—their next game is Monday the 22nd at 8:00 pm against Unionville.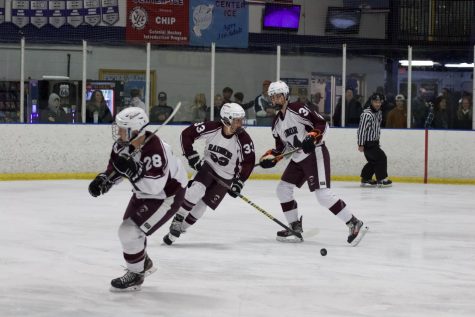 Ice Hockey (boys) – Olivia Brubaker
Last Friday, Radnor Boys Ice Hockey kicked off their season with a 7-4 win over Strath Haven, last season's top team. This is just a glimpse of what the team hopes to achieve this season. Seniors Will Graham and Robby Toomey are excited about the teams' prospects and are eager to build on last season's success. Last year, the boys made the Central League playoffs and now have their sights set on winning at least one playoff game. Sophomore sensations Tucker Graham and Ryan Carr are looking to push Radnor Boys Ice Hockey towards this goal. The boys have their next game on the 24th at 6:45 pm and are looking to carry forward their momentum against Conestoga.
Swimming (boys) – Nathan Kellerman
Radnor Boys Swimming has enjoyed a quick start to the season, kicking off their first practice bright and early at 6:30 on Friday morning. Veteran coach Tom Robinson told returning swimmers that morning they were "the first team in the Central League to get in the water," which inspired the boys to get to work. This year, "rookie" swimmers nearly outnumber the "veterans," which will add needed depth to Radnor's roster. Unfortunately, because of COVID capacity restrictions, Coach Robinson has had to split his team into two training groups. "Practice started off nicely but it's been tough to get to know the new guys especially with the different training groups," relayed Senior captain Rhett Cosgrove. "I'm looking forward to connecting with our younger swimmers over holiday practices and to ramping up training once everyone gets in shape." Senior captains Rhett, Chase Bentley, and Nathan Kellerman are all working hard to make the season feel as normal as possible amidst pandemic protocol and are excited to train with the team leading up to their first meet against Conestoga on December 14th (location TBA). The team is also looking forward to their socially distant Water Polo game after practice this Wednesday, a tradition forgone the past two years because of health and safety concerns. "Water polo will be a great team bonding experience," says Bentley. "It'll be a great opportunity to introduce incoming swimmers to our team atmosphere without the pressure of training."
Swimming (girls) – Kaitlyn Lee and Nathan Kellerman
Radnor Girls Swimming is back for the 2021-22 season and is already getting to work. With the first meet just under a month away, practices and workouts are now in full swing. Lanes were filled with swimmers both new and experienced, eager to get in the water and work hard. The first practice began the year with time trials, as well as a dryland session led by former Radnor High School Swimmer and now assistant coach Laura Packer. RGS's first practice had a great turnout of first-year swimmers looking to begin their careers on a high note. Senior captain Avery Barber stated that "the first practice was a good example of why I love this team." Barber referenced high morale and professed that "things were picking back up as they were before COVID." Following the first day, members of the team went to a team bonding dinner at Minella's. The fun continued this Saturday as the girls woke up bright and early for their first morning practice of the year which ran from 7-9 AM. Packer did not hold back, as the girls took on three difficult sets following warm-up that included tight intervals and long distances. The spirits of the swimmers were high and it was a good practice. The girls are looking forward to completing their tradition of "water ballet" over Thanksgiving Break which involves coordinated underwater dancing and props. Overall, morale is high and the girls are excited to train towards their first meet against Conestoga on the 14th!
Squash (boys and girls) – William Meyer
​​Without being able to play last year due to Covid, Radnor High School Squash (RHSSQ) has been anticipating the start of the new season. "With all the confusion and sacrifice last year," says Mr. Wright, the team's coach, "it was hard to parse out all the things we were missing."  Teammates missed playing together as a "family" and jamming out to Taylor Swift songs on the way to matches such as those in the coveted U.S. High School Team Squash Championships. Due to the financial hardships of COVID, the location that RHSSQ used to play at closed. Now, the team practices at Episcopal Academy which holds some uncertainty for the future yet seems promising so far. Coach Wright explains that he is "still waiting to figure [the practice location] out, but the courts [at Episcopal Academy] are great, the people there are friends, and the nighttime [practice] schedule seems ok so far." At the moment, there are no captains, but the team is working hard playing in ladder matches to determine who is placed on Varsity/JV and what each player's seed will be.
Indoor Track (boys) – Seneca Farhy
Radnor Boys Indoor Track began practice officially on November 19th and was led by returning cross country captains Jack Halberstadt, Jimmy Kurtz, and Aidan Leonard who were joined by sprint captain Michael Rocheleau. Coming off of a very successful cross country season, expectations are already high for state-qualifiers Jimmy Kurtz and Luke Bodden. Kurtz stated that he is, "ready for big things from the boys this season," and is "shooting for another states berth." The distance team has had their fair share of racing already this school year, as most of them competed during the cross country season; the sprinters, on the other hand, are fresh and eager to hit the ground running. Amir Byrd, Michael Rochealeau, Ethan Catoe, and Gaven Williams are rumored to form the latest and fastest 4×200 meter relay that Radnor has seen in a while, so be on the lookout for them in the future. Besides their standout stars, the boy's indoor track team offers some good depth with Dave Kenney, Aidan Scott, Michael Farhy, Max Rubenstein, and Gardner Sheehan holding things down in the distance department. Overall, Radnor Boys Indoor Track will be a team to watch. 
Indoor Track (girls) – Seneca Farhy
Girls Indoor Track was the first winter sport to kick off, as optional practices began November 8th and will officially commence on the 29th. The girls will have two weeks of official practice until their first meet at Ursinus College on December 11th. Four captains have been selected to lead the team this year: Lucy Henkel, Lucy Minning, Jillian Matunis, and Seneca Farhy. All of the captains have expressed their excitement for this season, as last season was canceled due to coronavirus. 
A look into the talent this year reveals a deep team on the middle/long distance end of the team. Cross country star Zoe Margolies will make her indoor track debut this year and should help the team out in the mile and 3k. State soccer stars Lucy Henkel and Lucy Minning will prove to be very useful with their ability in the 400-meter dash. Henkel, specializing primarily in the 800, is expected to go far this season, as she has consistently qualified for the state championship since her freshman year. Whereas Minning, being more of a pure sprinter, is predicted to try the 60 meter dash this year and will likely see success with her shift to shorter distances. There are many opportunities to utilize the depth of the team in competitive relays, including the 4×400 meters, 4×800 meters, and a Distance Medley Relay (DMR). Captain Lucy Minning predicts "we will have a few state medalists and break a few relay records" this season. Jillian Matunis, Courtney Kearns, Seneca Farhy, and Julia Salinero are all in contention for these relay spots, so expect to see a lot of fast times from these girls as they compete for a spot. The future of Radnor Girls Indoor Track is looking very bright.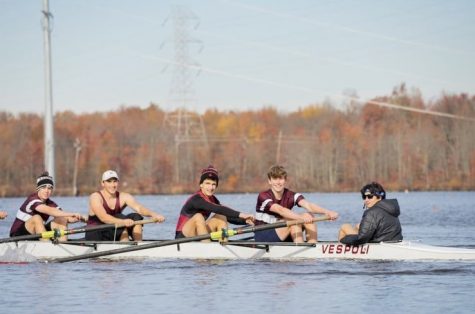 Crew (boys and girls) – Ellie Davis
Radnor Girls and Boys crew finished off their seasons last week with two back-to-back regattas on Saturday and Sunday. First off was the Frostbite Regatta. When arriving at Mercer Lake in New Jersey, the conditions seemed ok, but at around 10 am the wind started picking up. But the girls teams' two varsity fours and the boys varsity four launched for their race anyway; after waiting to go at the start line for an hour, however, the boys four was sent off on their race but all of the girls' races were suspended. Unfortunately, the windy conditions worsened and the officials canceled all races. The races on Sunday for the Bill Braxton Regatta thankfully brought better conditions than the Frostbite fiasco. The girls varsity four got 9th overall, the boys JV four got fourth, and the girls Novice eight came out 2nd in their heat. Captain Fred Merha coxed the boys V8 race, and he said that "it was not the race we want to hang our coats on for the fall season, but we will be back in the spring." The teams are looking forward to training on the water some days this winter season and getting more time training on ergs. Winter training on the water "helped us get better than a lot of schools who don't practice in the winter," said Mehra. "Again this year it's going to be key to our success in the spring, having more miles on the water than everybody else." 
Other Sports – Nathan Kellerman
The following sports were not covered in this edition of the Radnor Sports Roundup but will be incorporated in our next bi-weekly edition: Boys Basketball, Girls Basketball, Wrestling, Color Guard, Girls Diving, Boys Diving. Stay tuned for more coverage of our hard-working athletes!
---
Interested in contributing to the Radnor Sports Roundup in the future? Find Nathan Kellerman or email him at [email protected] to inquire!