Radnor Model UN Takes Rutgers University Conference
This past weekend, Radnor High School's Model United Nations (RADMUN) team traveled to New Brunswick, New Jersey, home of the Rutgers University Model United Nation Conference (RUMUN). Together, RADMUN took the conference by storm, winning Outstanding Delegation for a Large School for the second year in a row, not counting the pandemic hiatus year. 
Students found themselves working on many prevalent topics such as Vaccine Hesitancy in the World Health Organization, the Venezuelan Economic Crisis in the Inter-American Development Bank, and the Syrian Refugee Crisis in the Social, Humanitarian, and Cultural Committee. 
On the second day (Friday), many delegates across varying committees addressed spontaneous crises. For example, scientists informed the World Health Organization that two diseases broke out, and delegates had to decide which disease posed the most threat of turning into a Pandemic. In the UN Office of Internal Oversight Services, one of the chairs even got arrested and chased out of the room by the authorities for embezzlement and corruption. Ellie Davis was a first-hand witness to this situation. 
"We were about to enter voting procedure and then a team of UN officers came into our committee room and declared that our chair was guilty of embezzlement and corruption. In a fairly dramatic display, our co-chair signed documentation authorizing the arrest but before the officers could get their hands on our chair, he bolted out of the room. Last we knew, he is still on the run," Davis reported.
Hopefully, the chair will be caught and put in jail for his immense crimes against the United Nations.
Aside from random arrests and other spontaneous crises, one of the most infamous aspects of RUMUN is its absolutely grueling schedule. From the moment Radnor stepped through the doors of the conference Thursday night, students were thrown into the world of international diplomacy and debate. Overall, a total of 19½ hours were spent in committee over the course of two and a half days. Students even spent free time during lunch hours or at night researching resolutions and talking strategies between partners—sleep was few and far between. 
For many, this was their first real conference in person or even their first conference ever. The conference is a very overwhelming experience and while you can prepare for it to a certain extent many would say the only way to truly understand what Model UN is like is to just jump in headfirst. Even with the little experience that some people had it still led to great success and many even won awards. The conference was a great way to improve public speaking skills and learn how to work with others and be a leader.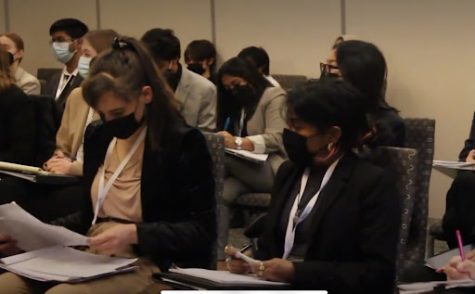 Reese Hillman, the President of RADMUN, had a few words about the conference: "Although, like any MUN conference, this weekend was full of ups and downs, I'm unbelievably proud of RADMUN. RUMUN was the first in-person conference for 2/3s of the club, but every member did an incredible job and played a role in our school award. Viva la RADMUN!"
Individual Awards
Petros Karamanides and Olivia Dhavale: Most Improved (UN Children's Fund)

Sebastian Kaper and Anna Conen: Best Position Paper (UN Environmental Programme)

Julia Morrison and Adeyombo Adesanya: Distinguishable Delegate (International Labour Organization)

Payton Breck and Audrey Rubenstein: Outstanding Delegate (World Health Organization)

Reese Hillman and Sofie Jubelirer: Best Delegate (International Labour Organization)

Neya Anand and Renatka Kozlowska: Best Delegate (UN Children's Fund)

Ellie Davis and Zach Irani: Best Delegate (UN Office of Internal Oversight Services)