Radnor Sports Roundup: Edition #5
Prelude
When reading about any sport, it's always pretty easy to get lost in the results. It's always exciting to see what each team can accomplish competition-wise; it's also easy to overlook the amount of work put in to achieve these accomplishments. This week's set of reporting shows just how much work goes into procuring the high-powered performances our athletes put on. 
That being said, Radnor Sports are kicking into high gear as competition season grows increasingly near for some and is already upon others. As these competitions start, don't forget the extensive work our athletes put into their craft behind the scenes. I am excited to see how all the hard work translates into upcoming competitions.
As always, I would like to extend a "thank you" to the ever-increasing Sports Editorial Board. We have eclipsed twenty cumulative members; the reporting of each and every one of them is appreciated. 
Let's get into it.
—Nathan 
---
Basketball (boys) – George Economides
The Radnor boys basketball season has begun and the Raptors have quickly gotten to work as the season opener is just one week away. With two weeks of practice already under their belt, the basketball team has gotten into fine form. According to Senior captain Pierce Justice, "what sets this team apart is chemistry." The Radnor Basketball veteran went on to say how the team knows each other's playing styles "inside and out" because of prior experience playing with each other. The team put out a strong showing in their first scrimmage against the Sanford Warriors, a team that went 18-2 last year. It's safe to say that this RABA team is a young one, as four of this year's captains are juniors. This year's captains are Pierce Justice, Danny Rosenblum, Cooper Mueller, Charlie Thornton, and Jackson Hicke. "Even though the team is relatively young, all the key players have one or two years playing in varsity coming into this season so youth shouldn't be an issue," said Justice. This season won't be a walk in the park for the Raptors as they'll face stiff competition from the likes of Lower Merion and Garnett Valley, but the boys seem up for the challenge. "Ball movement and communication that stems from our chemistry is going to be key this year," relayed the only Senior captain. More to come about this team in future Roundups. 
Basketball (girls) – Ellie Davis and Ava Gummel 
Radnor Girls Basketball got an early start to the season with bi-weekly open gyms starting in October. This allowed the girls to nail down the plays prior to in-season practice and hit the ground running. This past Thursday night, they competed for the first time in a scrimmage against Merion Mercy. "I think it was a good opportunity to get our first game jitters out since last season," said Captain Courtney Wolfington. Varsity played five quarters in total, with two JV quarters of playing mixed in. In the first two sets of two quarters that Varsity played, RGB held a strong lead, but allowed Merion Mercy to come back. In the first set of quarters, RBG was up 17-8 by the middle of the second quarter but barely lost 25-26 in the end; in the second set of quarters, an 8-0 lead turned into a 12-17 loss. However, in one separate quarter that the coaches agreed to play at the end, RGB won 9-8. "I thought our chemistry was good inside the paint, we had some good assists to easy shots," said senior Ava Gummel. JV also played a solid first quarter with a final winning score of 14-1 but lost their rhythm somewhat in the second quarter they played with a score of 0-2. As Wolfington reported, "we definitely still have a lot more work to do but now we will know what to work on at practice so we can capitalize on our time to improve." RGB is looking forward to another scrimmage away at Sacred Heart next Wednesday and its first official home game on Saturday, December 11th, against Gwynedd Mercy Academy. 
Ice Hockey (girls) – Olivia Brubaker 
Radnor girls ice hockey worked up a Thanksgiving appetite with four competitive games this past week. The girls battled with an equally matched Conestoga team but lost a tightly contested game 2-1 to the pioneers Friday November 19th. The team was hungry for a win and bounced back the next day with a 6-1 win over Lower Merion. Senior Captain Caitlin Fram led the team in scoring with 3 goals. Junior Miya Slaim also proved to be an important asset with one goal and two assists which led to freshman Brooklyn Brown and Bella Salinero getting their first career goals. As if playing them once was not enough, RGIH played two tough games against a club player heavy Unionville team resulting in two frustrating losses. The team is enjoying a well-deserved week-long break and is ready to get back at it against lower Merion Monday night at 9 pm at Skatium.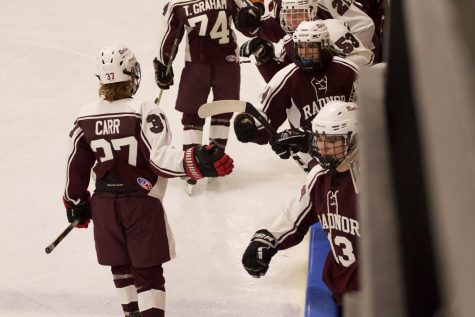 Ice Hockey (boys) – Olivia Brubaker
The Boys were busy over break and played tough games against Henderson, Conestoga, and Springfield. Against Henderson, Radnor dominated through the 1st and 2nd periods with 2 goals from senior Robby Toomey but ultimately fell 2-3. At a well anticipated Thanksgiving eve game against Conestoga, the boys battled with the Pioneers' aggressive offense and even some former teammates. Unfortunately, goals from Robby Toomey and Dominick Laudicina's killer slap shots were not enough to beat the Pioneers. A late Monday night game against Springfield proved to be challenging for the Raptors. Senior Will Graham claimed, "they might have won the battle, but we won the war," referencing Tucker Graham's confidence-boosting goal which led to juniors Drew Knight and Colin French scoring.  
The boys weren't discouraged by their 10-3 loss to Springfield and were eager for their rematch against Conestoga this past Friday. Radnor started out strong with a 3-1 lead in the 1st period but ultimately couldn't hold on and fell 6-5 to Conestoga in overtime. Junior Drew Knight led the team with 3 goals and a hat trick. Robby Toomey netted an effort goal, outworking several defenders in front of the net. Tucker Graham also had an impressive goal involving controlling a loose puck with his hand before slipping it in the goal as he went down. 
Swimming (boys) – Nathan Kellerman
Radnor Boys Swimming has continued to work hard in the water, especially as practices are gearing up in anticipation of their first meet against Conestoga on the 14th. The boys completed their first "challenge set" last week, which consisted of 2,000 yards of straight swimming on a set interval. Coach Robinson has thrown many other challenging sets at the team in order to build endurance and confidence for an extremely busy upcoming meet schedule. Radnor Swimming was relieved to hear that spectators will be allowed at home meets this year. Senior captain Rhett Cosgrove is "stoked to have fans back in the stands" and referenced how it was "pretty weird to get on the blocks last year for a race and have the pool be so quiet."
The team has started racing, holding a 50 yard freestyle time trial last Saturday morning. "The 50 free time trial went really well with a lot of good surprises which show depth. I'm really excited to see what the young guys can do in our first meet," said Cosgrove. When asked about his experience so far this season, freshman Howard Feng stated how the team has "given [him] a great opportunity to meet new friends and communicate with new people." Other underclassmen have voiced similar sentiments, with sophomore Jacob Kellerman stating "it's been rewarding to get in the water with that group of guys and get to work." The captains are ready to maintain this positive momentum into upcoming meets and are excited to see what this exceptionally young team can do.
Swimming (girls) – Tess Brennan
Radnor Girls Swim kicked off the week of Thanksgiving practices with a Relay Carnival before getting back to coaches Jeremy Byrne and Lauren Packer's intense practices. The Carnival consisted of many fun events and served as a great opportunity to show newer swimmers how an official meet runs. With just over one week left before their first meet, the Radnor Girls Swim Team continues to train hard. Both the coaches and captains believe that this year's Conestoga meet is a good matchup and will push the swimmers to get some of their best times. Audrey Collins, one of the captains, says, "this year we have a lot of really strong underclassmen, which provides a ton of depth to our team…I know for a fact that everyone's hard work in practice will pay off with some amazing swims!" The team was also happy to find out that this year home meets and spectators will be allowed once again. Another swim captain, Kaitlyn Lee, spoke for many members of the team when saying, "it's hard to not have anybody cheering you on…A sense of familiarity goes a long way in races. I'm really excited to have parents back in the stands watching us compete in another good season." 
Indoor Track (boys) – Senny Farhy 
Radnor Boys Indoor Track did not hold practices over Thanksgiving Break; however, the guys all worked hard over break in individual workouts. The boys reconvened after break, joining the girls on Encke Field for some workouts on the turf. The distance team ran 1,000 meter repeats while the sprinters kept it shorter with 100-200 meter reps in preparation for their first meet on December 11th at Lehigh University. Sprint captain Michael Rocheleau expressed his excitement about the upcoming season, stating "I can't wait to see the sprinters show off their potential by the near end of this winter season." An overarching theme of hype and enthusiasm can be seen at the boys' practices, which will surely translate into a successful racing season. 
Indoor Track (girls) – Senny Farhy
Although not in school for the week, Radnor Girls Indoor Track did not let Thanksgiving Break interrupt their training. The captains held captains practices every day of break, running distance runs from the school, track workouts at Harriton's track, and hill workouts at Odorisio Park. On Monday, November 29th, the first day back from break, the season officially began. Coach Flanagan did not hold back on the first day of practice, as the girls had to endure a 5×400 meter workout around Encke Field. Due to construction, RGIT is forced to get creative with their workouts and runs. Coach Flanagan, however, has made the most of the available resources. Captain Lucy Henkel is not concerned about the lack of a track, stating that "with or without a track, we're still going to put in the work and be successful this season." This Saturday marks one week until the first meet at Ursinus College on December 11th. All of the girls have expressed their excitement to put their training over the past few weeks to show.
Squash (boys and girls) – William Meyer
Radnor High School Squash has entered the midst of their season, with the past few weeks filled with varsity-deciding ladder matches, elections for team captains, and the first Varsity match of the year. Two middle schoolers, Blake Krizek (7th Grade) and Luke Howard (8th Grade), joined the team and finished their ladder matches on the Varsity team. With the two new players, Radnor was able to create a complete Varsity and JV team. Last week, every player – with the exceptions of Blake and Luke because they aren't in high school – got to vote for captains of the Varsity team. This year's senior captains are Patrick Maggitti and Josh Tessler and the junior captain is Grant Forman. The captains led the team in its first match against Malvern Prep on Thursday, December 2nd. The exhilarating day included riding in the team van to Malvern and playing nine matches. The matchups involved multiple victories, such as Will Krizek, the #1 seeded player, who dominated the court by winning a best out of five-match in just three games. Along with Will's match was Grant Forman's match that went to 5 out of 5 games but after a tough battle ended in a loss. The exciting season has just begun and players on Varsity and JV have been working hard on-court to prepare for more matches like those against Malvern.  
Colorguard – Cynthia Maz
Colorguard's indoor competition season began on November 20th, and each Tuesday, Thursday and Sunday night the team has been working hard learning the choreography for their show. Tryouts for weapon line occurred during the marching season and the team is proud to announce who will be spinning rifle and sabre this year. Bekah Tessler will be spinning sabre this year; Jill Spiller, Tessa Klimowicz, and Inez Virdone will make up the rifle line; Rina Matsumoto, Minnie Madden, and JC Church will be spinning both rifle and sabre. The team will feature their show in competitions nearly every weekend from January 22nd through May 1st and will be scored on dance, equipment (flag and weapons), performance, and general effect. Their final competition will be a three day event in Wildwood, NJ, where they hope to break their previous record of 91.39. While the team cannot disclose much information about the show theme or song at this time, they are excited to share more news in future Roundups.
Diving (boys and girls) – Lily Wagner
Radnor Diving is commonly known for being one of the smallest teams at Radnor, but this year started off the season strong with a larger-than-normal team of eight divers. The large amount of divers greatly helps Radnor's chances, as the potential for points is significantly higher. As the first meet against Conestoga is approaching, the team is preparing by learning new tricks to impress Central League judges. "We are all excited to have the first meet be against one of our hardest competitors but we're ready to kick some stoga butt," says Nuala Dill, one of the divers competing next week. New divers have been learning how to overcome the fear of flinging one's body through the air. Freshman Olivia explains, "when [Coach] Doug says to try something I've never done before, I try to not think about it too much the first time and just go for it. Sometimes you can hit the water pretty hard but that's the learning process." As the 2021-2022 season begins, Seniors Chloe Pepper, Natalie Denhardt, Mia Coppola, and Lily Wagner are working hard to learn as many dives as possible. As Senior diver Nick Lavine says, "if you got it, you got it!" Stay tuned for more updates about Radnor Diving's progress!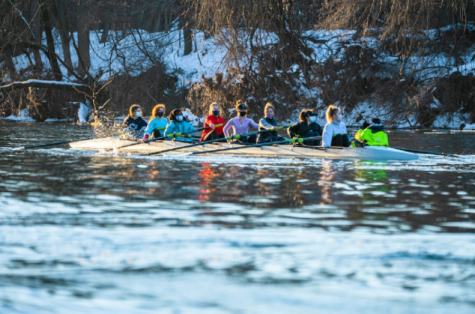 Crew (boys and girls) – Ellie Davis
For the winter season, the Radnor girls and boys crew teams are braving the cold weather with on-water practice. Normally, during the winter season, crew teams get together indoors to get in grueling meters on the erg, the indoor rowing machine, but last year with COVID, RGCC and RBCC didn't have this indoor option. Instead, the teams practiced on the water as much as possible. When the weather permits, the teams will take to the water for practice accompanied by their coaches in motorboats. "Winter crew is going to be so important for the development of our team," said boys captain Fred Mehra. RBCC is on the water two days a week and three days a week in the gym lifting and erging, and RGCC has a similar model of three on-water days with outside erg and lifting workouts. "I think it will be beneficial for the novices and newer rowers, but we are definitely expecting the cold weather that comes with that," added boys Captain Joey Odorisio. Despite weather challenges, both teams are excited to get in water miles this winter. 
---
Note: There will unfortunately be no wrestling coverage this week; our next edition will hopefully involve this sport.
---
Interested in joining the Sports Editorial Board? Find Nathan Kellerman or email him at [email protected] to inquire!