Radnor Sports Roundup: Edition #6
Prelude:
This year, Radnor Sports dealt with unprecedented times, working through COVID restrictions, the effects of on-campus construction, and vastly different competition seasons. As the end of the year approaches, it is important to recognize the perseverance our student-athletes have displayed through all of these circumstances. 
Winter sports are in high gear, with teams practicing hard to place well and qualify for championship competition in the new year. If you haven't had the chance to, I would highly suggest stopping by a Radnor High School sporting event—it's really cool to see community members compete and bring all of their aforementioned perseverance to fruition! Whether it's during an ice hockey game, basketball game, or swim meet, spectators make competing special to athletes; there's also nothing cooler than cheering for people you know and getting excited for them.
That being said, here's our last sports Roundup of the year!
—Nathan
---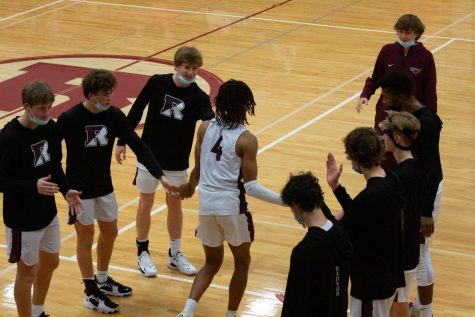 Basketball (boys) – George Economides
RABA has come out of the gates hot this season, jumping to a 4-0 start with wins against Harriton, Penncrest, MLK High School and Holy Ghost Prep. When asked about the factors leading to the team's success, Senior Forward Clifford Smith attributed "high-energy defense" and "[the] ability to get the ball into the paint" as primary reasons for the RABA's undefeated record. Although the team has been impressive as of late, Smith believes that there are some aspects of the game that still need improvement. "Our ball movement could be better and so could our three-point shooting." The team's shot percentage from beyond the arc has been particularly uncharacteristic of RABA as they only made 4 of their 24 attempted three-pointers heading into the game against Harriton. As this team has so many talented shooters, however, it's hard to imagine those long-distance struggles sticking around for long. One notable sharp-shooter, junior captain Jackson Hickie, has led the team in scoring with roughly 20 points a game. RABA will look to maintain their momentum through upcoming games against Marple and Henderson. Stay tuned for more updates about this exciting team.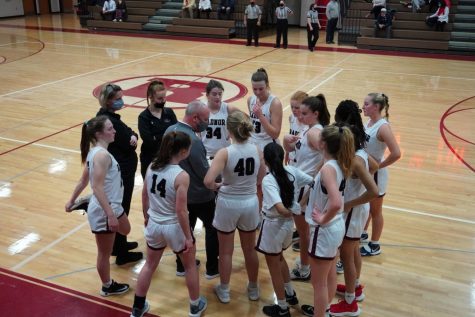 Basketball (girls) – Ellie Davis
After a few scrimmages, Radnor Girls Basketball had a tough loss against Gwynedd Mercy, with a score of 19-45. RGB, however, bounced back with a buzzer beater 55-54 win against Penncrest. At one point, RGB was down 18-29 with 90 seconds left in the first half; with a three from Maddie Bader, two consecutive steals from Caroline Monahan and Paige Yurcheck, and a Mary Sareen three and layup, though, RGB brought it back to 26-29 game at the half. This momentum led RBG to hold onto a close game until the last 17 seconds, with Penncrest up one point. Penncrest missed a critical free throw, setting up Mary Sareen to pass the ball to Ellie Davis, who whizzed a pass to Paige Yurckuck under the basket for a reverse layup to bring RBG to a win with three seconds left. The game was "much better effort [than versus Gwynedd Mercy]," and the team played with "a lot more confidence," according to head coach Rob Baxter. "I thought on Sunday, [the team played] really scared, and today I don't think anybody played scared." RBG went into their next away game against Harriton with the same energy as the Penncrest game. "They have two returning varsity players that we really have to worry about and I think that if we can knock them down we can walk away with a win," reported captain Maddie Bader before the game. Unfortunately, with a good effort, RBG lost 49-53 in overtime. "We definitely outplayed them, our defense was really good, and our effort was definitely there, but we gave it back to them in that last quarter and overtime," said Bader. The next day, RGB played Chichester and walked away with a 51-19 win. "We started off [the season] kind of rough but I see us starting to jell better as a team," said Bader. Tomorrow night, RBG will travel to face Marple Newtown.  
Ice Hockey (girls) – Olivia Brubaker
After a packed November schedule, Radnor Girls Ice Hockey has been winding down before break. Their highly anticipated rubber match against Conestoga was postponed due to dangerous ice conditions. Fortunately, a last-minute out of league scrimmage against Rustin proved to be confidence boosting for the team. Senior co-captain Ella von Czoernig ditched her goalie pads and enjoyed a game out of goal on the wing against Rustin. Radnor Girls Ice Hockey was excited to learn that 3 of their players made the All Star Team, senior co-Captain Caitlin Fram, junior defender Miya Slaim, and sophomore defender Laura Girton! The team is very proud and excited to cheer them on January 1st at 11am at Ice Line! When asked about the festivities, Fram cited excitement "to play with and against old club teammates" and claimed she is "looking forward to the challenge." Slaim expressed her excitement, as well, saying she is grateful for the opportunity to play with the best players in the league. With only one practice left before break, the girls are looking forward to getting back into full swing after the new year.  
Ice Hockey (boys) – Olivia Brubaker
After dangerous ice conditions canceled RAHO's matchup vs Haverford on December 6th, the boys were eager to get back on the ice against Strath Haven. Although they led the Panthers through the 1st and 2nd periods, 3 goals late in the third period allowed Strath Haven to steal the win. The team was excited for their last game of 2021 against Penncrest, another highly anticipated Central League match up. Last week, Radnor Boys Ice Hockey took an unorthodox route in naming Sophomore Tucker Graham captain; Senior Assistant Captain Robby Toomey claimed that "it has only affected the team positively," however. Toomey said the team has "been playing better as a unit" since Graham was appointed captain and that Tucker's knowledge and passion for the game positively influences his teammates on and off the ice. Graham's maturity benefits the entire team, and Senior assistant captains Chris Boulden and Robby Toomey round out the leadership unit well.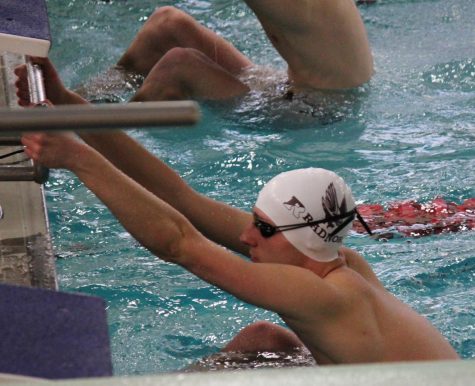 Swimming (boys) – Nathan Kellerman
The past two weeks have been busy for Radnor Boys Swim, with three action-packed meets occurring in the last six days. Newly voted Senior Captain Jason Trosset described the overall atmosphere of the team throughout the week as "resilient," referencing "strong [performances] throughout each of our three meets." The boys "doubled" on Monday (practicing once in the morning before school and once more after school) to get in Coach Robinson's needed training yards before their first meet against District One powerhouse Conestoga the next day. Many of Radnor's swimmers tried out new events to determine where the team has depth for future meets —junior Ray Luan and freshman Howard Feng swam the 200 Individual Medley, freshman Luca Jones competed in the 100 Breaststroke, and freshman Timmy Ledbetter sprinted the 100 Freestyle. Radnor fell 93-78 but was satisfied about how the meet went. The boys took their racing experience against Conestoga as an opportunity to adjust for an upcoming meet against Haverford High School which Coach Robinson described as "our most competitive meet all year." Against the Fords, the Raptors needed all of their swimmers to "dig deep" and "get those second and third-place finishes," as told to the team pre-meet by Coach. Radnor's boys set the tone with a first-place finish in the 200 Medley Relay and didn't look back. First-place finishes in nearly every event and impressive depth-producing second and third place finishes secured the 97-83 win for Radnor. Senior Captain Chase Bentley was "proud of the guys for really stepping up." Junior PJ Duffy had critical swims for Radnor, dropping time in the 200 and 400 Meter Freestyle races. Duffy feels "off to a good start" and is hoping to use the winter break as an opportunity to "drop some more time [in the new year]."
To cap off their successful week, Radnor Boys Swimming took a trip up to Ridley for the Delco Invitational, a meet against eight other regional teams. Coach Robinson entered his swimmers in their best events and hoped to see championship qualifying times out of his team. The boys did not disappoint, placing first in six out of the eleven events. "A lot of guys had really good swims, especially the younger guys who are dropping a lot of time and making me excited for the rest of the season," said Senior Captain Rhett Cosgrove. "Looking forward, the Harriton meet next Tuesday should be a good opportunity to try new events for different guys, and after that we're back to work in winter break practices." When asked about working through winter break, Cosgrove referenced "a tough stretch of training coming up," saying that "some practices are more fun than others." The four year Radnor swimming veteran is looking forward to practices like the Octathlon (when everyone swims all eight meet events in a row for time) and is gearing up for hard practices such as "one hundred one hundreds," which is 10,000 yards of straight swimming on a set interval taking approximately 2.5 hours.
Swimming (girls) – Tess Brennan
Radnor Girls Swim started off their competition season with a home meet against Conestoga on Tuesday, December 14. When asked about the meet, head Coach Jeremy Byrne detailed that "many of [our] swimmers had some outstanding races and even got their best times." Multiple swimmers agreed that the team's strongest and closest swims were during the relays (200 Medley Relay, 200 Freestyle Relay, and 400 Freestyle Relay). Despite their best efforts, however, Radnor Girls Swim lost to Conestoga 90 to 63. In preparation for their next meet against Haverford two days later, the team had a skill-based meet practice the day after the disappointing loss. Freshman Skyler Semisch, says, "meet practices are a lot of fun and we definitely go through many techniques that we will need. I love at the end how our captains give us an emotional pep talk." On Thursday December 16, the girls put their practice to good use and journeyed to the Haverford School to swim Haverford High School. Before the meet, senior captain Avery Barber told the swimmers, "our team and the Haverford team have always been very well matched up. My freshman year, Radnor lost by one, my sophomore year we won by one, junior year we didn't race because of covid, so this year let's beat them by a lot!" At the Haverford meet, the girls team devoted lots of energy to cheering. Freshman Cailin Kelly revealed, "I love when everyone cheers at the bottom of the lanes. The cheering really added to my relay. I think it honestly made me swim faster knowing people were cheering and excited for me." Thanks to hard work, cheering, and Avery's pep talk, Radnor ended up winning 104 to 79. The team has one more home meet before winter break, and will then continue to train hard with their special holiday practices.
Indoor Track (boys) – Senny Farhy 
Radnor Boys Indoor Track began their meet season bright and early at approximately 6:30 am on December 11th when they journeyed up to Lehigh University. Starting things off strong in the distance department, cross country star Jimmy Kurtz put his talent on the track to show, placing second in the mile with an impressive time of 4 minutes and 44 seconds. Luke Bodden also put out an impressive race, finishing first in the 3,000 meter run in 9 minutes and 29 seconds. The relays of the meet included a 4×800, which took home sixth place, a 4×200, which finished in seventh place, and a Distance Medley Relay, which earned fifth place. Dave Kenney, who anchored the DMR with a 4 minute 59 second mile leg, stated that "heading into the meet, we all had high expectations and the whole team exceeded them. Radnor boys track is making a big name for themselves." Kenney's comment reflects the sentiments of an inspired team, one which is expected to exceed expectations throughout the season. 
Indoor Track (girls) – Senny Farhy
Radnor Girls Indoor Track kicked off the meet season at Ursinus College on Saturday, December 11th. Even though most of the girls had never raced on an indoor track before and the few that had had not done so in two years, the meet was very successful for the team. On the distance end, sophomore Zoe Margolies took second by about 0.01 seconds in the 3,000 meter run in a hard fought battle, finishing 15 laps in 11 minutes and 30 seconds. Lucy Henkel ran her debut mile, covering the distance in an impressive 5 minutes and 21 seconds, earning her fourth place in the state and second at the meet. She expressed her excitement for trying the event out for the first time, stating that "I didn't know what to expect when running the mile for the first time, but it went pretty well! Usually I go out too fast, but I had very even splits on Saturday. I actually really liked it and am excited to get better at it!" In the relay department, the Distance Medley Relay of Zoe, Jillian Matunis, Norah Seasholtz, and Amelia Dole took home eighth place. In the field events, Julia Salinero jumped 15 feet, earning her a fifth place finish and Sophia Hill dominated the pole vault, finishing in first place with a jump of 12 feet, which ranked her fourth in the state. Merely one week into the meet season, two state standards have already been met, and Radnor Girls Indoor Track expects more to come.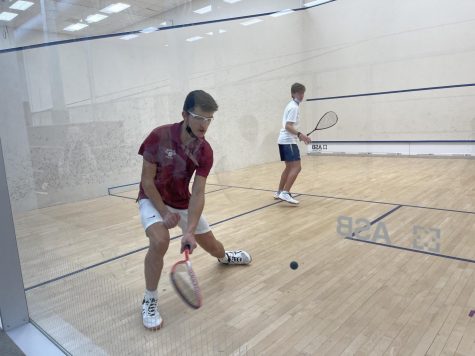 Squash (boys and girls) – William Meyer
​​In the past two weeks, Radnor High School Squash's varsity and junior varsity have been energized by their high-powered performances. The two teams have played multiple matches including the JV's first, which took place on December 16th against The Hill School's JV. Radnor unfortunately lost overall, but Daniel Kaper-Barcelata and Will Curley gained individual victories by beating their own opponents. 6th seed player on JV, Rhea Howard, notes that "the first JV match was a great experience" and that she's "really proud of how everyone performed even though [the team] didn't win." Over on varsity, there have been a whopping three matches with two being a tri-match against The Hill School and St. Andrews hosted at Episcopal Academy and a third being down in Delaware against St. Andrews on their own turf. In the three-hour long tri-match, Radnor beat St. Andrews 8-1, but lost to The Hill School 2-7. By the end of the day, everybody stood around court 6 at EA to watch Will Krizek win a match 3-1 against a senior recruited to play squash at The Hill School. In Delaware, Radnor walked into St. Andrew's Hogwarts-esque building and learned to adjust to the incredible bounciness of the squash balls on their fancy courts. The overall match finished in an 8-1 victory for Radnor and spectators surrounding Arjun Jaswal, 2nd seed player on varsity, as he dominated his opponent by nearly "bageling" him (winning a game without giving up a single point). The varsity team now stands with a 2-2 record and has officially qualified to play in the U.S. High School Team Squash Championships in February. Whether a varsity player or brand new to the sport, Rhea points out that "squash is such a great community, every practice is so fun, and Coach Wright and our captains make sure that everyone is included."
Colorguard – Cynthia Maz 
The Colorguard team is continuing to learn choreography for their indoor competition season. Unfortunately, at this time, the coaches and director for the team have requested that no information regarding the show's theme and music be shared until January 10th. More information to come in future Roundups!
Diving (boys and girls) – Mia Coppola
"We truly couldn't have had a better start to the season," said Senior Captain Lily Wagner about Radnor Dive's first two meets. On Tuesday, December 14th, the team faced Conestoga High School in a heated match. It was a successful showing for sophomore Jordan Weitzman who was able to show well in all of her dives. Radnor's newest diver, senior Nick Heerkins, placed first in the boy's section of the meet, making coach Doug Nowak and the team proud. The team ended up taking a tough loss to Conestoga, but that only kept them more motivated for the meet on Thursday, December 16th when they faced off against Haverford High School. Senior Chloe Pepper made her season debut with her fan-favorite dive: black flip half twist. Sophomore Nuala Dill wowed the crowd as usual with her mind-blowing dives, as well. Radnor High School took the win against Haverford, with Nuala Dill taking 1st place and Lily Wagner taking 2nd. With a great start to the season, the dive team is excited to improve as the season progresses and cannot wait to face off Harriton High School this Tuesday!
Crew (boys and girls) – Ellie Davis
Radnor Girls Crew and Radnor Boys Crew are both hard at work erging and rowing on the water in preparation for racing in the spring. Keep a lookout for more reporting on Radnor Rowing in March when the first spring races on the Schuylkill begin. 
Wrestling – Nick Lavine
The Radnor Wrestling team is off to an excellent start this year with no signs of stopping. The hard-working team, after having their first few competitions, now boasts an impressive 5-1 record. Their tournament occurring from December 17th to the 18th allowed the wrestlers to show off their grit against tough competition, coming in 5th place out of 28 teams. The success this year can be largely attributed to the hard work the boys are putting in at practice everyday, as sessions contain extreme conditioning, drilling, and live wrestling. With each intense practice, everyone has been getting better and better, and with an excellent coaching staff containing four elite wrestlers with lots of wrestling knowledge, the wrestlers see nothing but success in the future. Senior captain Mason Brown says "wrestling is crazy hard, but everyone in this room has what it takes to make the team great this season." When asked about the season so far, senior wrestler Zack Barbarisi believes "this could be the best year of wrestling yet." The team cannot wait to show off their skills again this Wednesday, December 22 and prove their grit on the mat; stay tuned for more wrestling updates!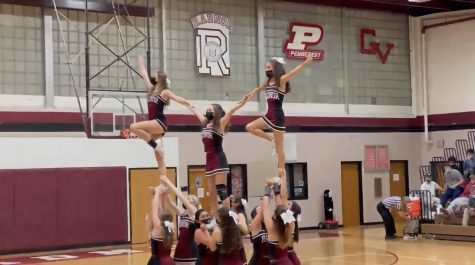 Cheerleading – Meghan Moyer
Coming off of an intense LM week, Radnor Cheerleading transitioned into both basketball and competition season. With much on the agenda, the cheerleaders got right to work perfecting their routines and learning new basketball cheers. Sophomore Izzy Moak, recovering from a serious injury, was placed back into the routine, joining flyers Jordyn Weitzman and Meghan Moyer. Radnor boys basketball faced Harriton on Friday, November 17th and reigned victorious, with Rad Cheer on the sidelines supporting them. Bright and early on November 18th, the cheerleaders headed to Haverford for their first competition as a team in seven years. The routine went particularly well and Radnor brought home the sixth place trophy. At the competition, junior Kelsey Dunkel won the tumbling contest, pulling out her incredible twisting skills on the mat. Moving forward, the cheerleaders are busier than ever, with an upcoming basketball game on the 21st and their next competition on January 16th. Spirits remain high as Rad Cheer pushes through a busy basketball and intense competition season.
---
Interested in contributing to the Radnor Sports Roundup in the future? Find Nathan Kellerman or email him at [email protected] to inquire!