Radnor Sports Roundup: Edition #7
Prelude:
2022 brings to us a new year of Radnor sports. The first week or so of 2022 has consisted of rigorous training and intense competition, with multiple teams fighting through difficult circumstances to make the best of their seasons.
Although different pandemic variants have been running rampant through the cold, wintry air, Radnor's commitment to ensuring safe competition and practice has allowed winter sports to keep running. Measures taken include limiting competition spectators to family only, and although this isn't ideal, athletes understand the importance of remaining safe and continuing their seasons illness-free. Teams are entering a period of heightened competition where comradery is all-important; as we continue into the winter, it is especially important to maintain the perseverance we have shown thus far. Championship competition is on the horizon, so now more than ever it is important to buckle down.
That being said, a new year means a new Roundup; enjoy!
—Nathan
---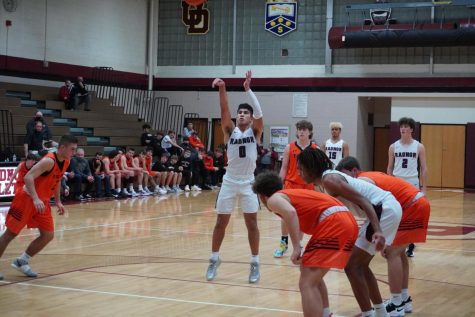 Basketball (boys) – George Economides
The Raptors have kicked off the new year in style with wins against Strath Haven and Garnett Valley despite the lack of fans in the stands due to the increase in COVID cases. The 35-19 win against Garnet was extremely impressive as Garnet is an established powerhouse in the Central League. Junior Jackson Hickie proved pivotal in the win against the Jags as he got 20 of Radnor's 35 points. Their defense was also impressive as they held a strong Garnett team to a measly 19 points. The two wins maintain their unbeaten record of 9-0 and puts them tied for first in the Central League with rivals Lower Merion being the only other team able to match Radnor's record. Senior Captain Pierce Justice described how in the past few games, "[the team] has come out flat in the first half [but] then made key adjustments after halftime to stop [the opposing team's] progress." The key is "telling each other what we see [during halftime] about the opposing team's defense…to devise a way to break it," according to the Radnor Basketball veteran. The boys must continue their momentum and cannot afford to rest on their laurels, as a busy remainder of January lies ahead of them with multiple postponed games to be played. When asked about the upcoming month, Justice said "I feel really confident going into January, as team chemistry is at its highest and we are finding new ways every game to utilize our strengths. All in all, I think January is going to be great." For more coverage on RBB check back on future roundups.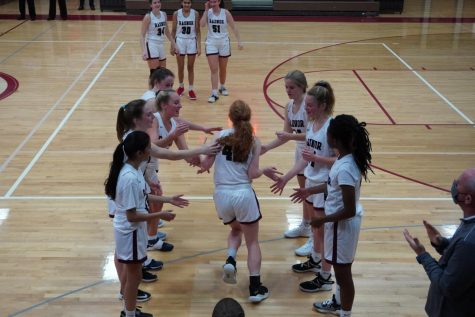 Basketball (girls) – Ellie Davis and Audrey Rubenstein 
With the increasing COVID cases, RGB unfortunately had both their final games of December—versus Notre Dame on the 23rd and Interboro on the 28th—canceled. Coming into the new year, the girls were more than excited to start up playing again. They successfully beat Strath Haven 42-37 on Tuesday with sophomore Kate Gallagher scoring 10 points and Caroline Monahan making her two foul shots to put Radnor ahead by five points and win the game. While they were successful, senior Ava Gummel still wants to acknowledge that the team was "struggling to pass the ball," evidenced by Radnor's 23 turnovers. RGB took on Ridley on Thursday and fought a tough fight but their hard work ended up winning them the game. Radnor led the game at the half 23-20 but the battle was far from over. Ridley got into team fouls early on in both the game's halves, and luckily these opportunities at the line helped Radnor secure the victory. Mary Sareen went 11-for-12 from the line, ending with a whopping 22 points to help lead RGB to another victory. As Lord Gaiser said, "Mary Sareen was automatic tonight." Paige Yurchak also dropped 14 points and five rebounds for the Raptors. "I'm really happy with the outcome of this game, we played really well as a team and we're really starting to gel," said Captain Maddie Bader.
"I'm so pumped. I think that our team is finally coming together and believing in themselves and how good they are," added RGB's assistant coach. Since Ridley beat RBG's next opponent, Garnet Valley, they were hoping to come home with a win this past Saturday. Garnet held onto a 10-point lead from the first half, though RGB came back in the 4th quarter to bring the score to 37-32 with Garnet still five points ahead. Despite a strong effort, Garnet Valley took the win with a final score of 50-39. This week RGB is gearing up for two big games against Conestoga and Haverford. 
Ice Hockey (girls) – Olivia Brubaker
Radnor Girls Ice Hockey enjoyed a two-week holiday break and are gearing up for the second half of their season. The team resumed practices this past Thursday and are looking forward to their next game against Conestoga on Friday, January the 21st. 
Ice Hockey (boys) – Olivia Brubaker
Although RAHO was off for the holidays, sophomore Captain Tucker Graham and junior defender Connor Baumann were called up to represent Radnor for the All Star Game on New Year's day. Both Baumann and Graham had assists leading to the Central League team beating Ches-Mont 9-7. After two weeks off the ice, the boys were more than ready to start off the second half of their season with Senior Night this past Thursday. The team was able to break their losing streak with a 7-3 win over Penncrest, starting 2022 off on a high note. Tucker Graham scored an impressive 5 goals and junior Drew Knight scored two and had one assist.
In the spirit of reflecting on 2021, when asked to reminisce on his favorite Radnor Boys Ice Hockey moment, Senior Assistant Captain Robby Toomey referenced beating Lower Merion during Radnor's 2021 senior night: "it was the most competitive game we played that season [and] was [a] close [game] but we were able to pull through with the win." Toomey went on to say how "having fans back in the stands for the first time since COVID added to the energy in the rink" and how most of all, he'll miss representing Radnor on the ice next year. When asked the same question, Senior goalie Luke Mallory said, "my favorite moment of my high school career was qualifying and playing in the Flyers Cup last season," adding how "[he's] going to miss playing alongside the teammates [he's] grown up with in the program." Senior Assistant Captain Chris Boulden said, "playing Strath Haven with only three defensemen [his] sophomore year" was one of his favorite memories. Of all aspects of the RAHO experience, Boulden said what he'll miss most about the team is "hanging out with everyone in the locker room before practice." Although Covid was a big hit to the class of 2022's "normal " high school experience, it's clear that the boys have preserved and made the most out of their time on and off the ice at Radnor. Stay tuned for more Radnor Ice Hockey updates in future Roundups.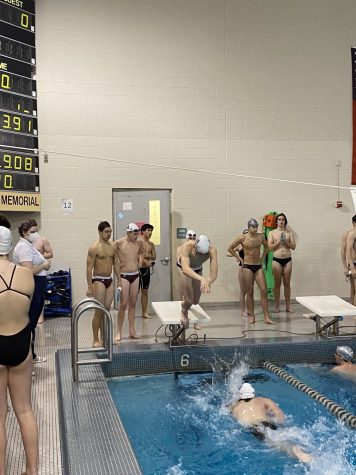 Swimming (boys) – Nathan Kellerman
The boys swam hard over break despite being hit by illness and weather circumstances, and Coach Robinson's infamous winter break sets made sure his swimmers had something to look forward to during their three-hour break practices. A few swimmer-favorites involve "points to get out," a set involving continuous swimming until one swims a certain predetermined amount of laps, "mini mind-bender," which consists of two hour-long mini sets and a 30-minute mini-set, and "Swedish fish," which entails of swimmers earning a certain amount of the gummy, red candy for each lap they finish within a certain amount of time. The boys were perhaps most excited for the Octathlon, in which everybody on the team swims all eight meet events in a row; Captains Chase Bentley and Nathan Kellerman took first and second overall, respectively, and junior Ray Luan stole third from his nemesis PJ Duffy. When asked to comment about winter break practices, senior Captain Rhett Cosgrove referenced a "rough stretch with people getting sick," but was quick to mention the team's desire to "come out swinging" in future meets. This itch for racing was met during meets against Harriton and Strath Haven, the former on Tuesday the 4th and the latter on Thursday the 6th. The boys claimed victory in both matchups, with impressive butterfly performances from Jacob Kellerman and promising back-to-back swims from Howard Feng. Cosgrove is excited about the flexibility of potential meet lineups, stating how lots of relay combinations "have allowed a lot of guys to get in" and yielded positive results. Success hasn't been limited to the sprint relay events, however; sophomore Colin Mucksavage, an up-and-coming distance swimmer, has referenced how tough training has made him "prepared and ready [to] drop time in future meets." The team is excited to see what he can do in these events in the future. When asked to comment on the team's performance, Coach Robinson mentioned how this year's dual meets have "given encouragement for success over the remainder of the schedule," expressing excitement from "progress out of freshmen Howard Feng, Tim Ledbetter and Jake Barber." The veteran coach was also quick to mention how "other underclassmen such as P. J. Duffy, Ray Luan and Colin are improving rapidly to provide the hope to finish among the top 3 or 4 teams in the Central Leauge."
After their two meets this past week, Radnor Boys Swimming hit the water hard right after their virtual day on Friday from 3:30-5:30 and on Saturday morning from 9:00-11:30. The team had picture day this past Saturday, and the boys enjoyed team bonding over catered Chic-Fil-A. Captain Jason Trosett claimed, "I haven't ever spent that much time at a pool, but it's probably the most fun I've ever had in a pool after practice." The team is ready to carry this positive energy forward and "see some competition against Springfield [they] haven't seen since Conestoga," according to Cosgrove. Radnor Boys Swimming will swim Springfield this Tuesday and Penncrest this Thursday, both at-home matchups.
Swimming (girls) – Tess Brennan
Radnor Girls Swim trained hard over winter break, putting in over 6000 yards daily. Their dedication paid off when they won their meet against Harriton on January 4th, 97 to 83. The next day at practice, Coach Jeremy passionately told the team, "I'm very proud of the work that you girls have been putting into the season so far, so keep it up." On January 6th, the girls had an away meet against Strath Haven which they won 103.5 to 74.5. There were a lot of great swims, with Captain Audrey Collins winning the 200 IM with ease and Captain Avery Barber winning all four of her races. Freshman Rafaela Gonclaves, who helped the team's C-relay steal 5th place against the Panthers, says "I've already noticed myself getting better each week, and it's nice to have so much support and encouragement from the upperclassmen. The swim team gives amazing opportunities for teens like me to have a great experience while having fun." Amidst the successful training and wins, Assistant Coach Laura Packer announced that she would be leaving the team after practice on Saturday to pursue journalistic coverage of the upcoming Olympic season. Senior Payton Breck, one of the team's up-and-coming 500 Freestyle swimmers, expressed her sadness about Laura's parting with the team. "She has had a profound impact on my swimming strength and confidence. Because of Laura I've moved all the way up to lane four in practice." Next week, the girls will have two home meets; one on Tuesday the 11th against Springfield and another on Thursday the 13th against Penncrest.
Indoor Track (boys) – Senny Farhy 
Radnor Boys Indoor Track has been taking full advantage of the busy meet season. Although school died down over break, track season most certainly did not, as the boys competed in two meets at Lehigh University on December 23rd and 29th. The first meet brought two fifth-place finishes, one for Jimmy Kurtz in the 800 meter run with a time of 2:02, and one for Jack Halberstadt in the mile with a time of 4:50. The next meet, the Burdette Classic, was a very successful meet for the boys with lots of impressive performances. Ethan Catoe qualified for the finals of the 60-meter dash and finished in seventh place, running 7.45 seconds. Amir Byrd finished fifth in the 200-meter dash and qualified for the Meet of Champions with a time of 23.76 seconds. Aidan Scott took home third in the mile, covering the eight laps in 4:46. 
The boys then joined the girls at Penn State for the Kevin Dare Invitational on January 8th. The hype environment of running at Penn State ensured lots of PR's for the boys, including the 4×200 meter relay team of Amir Byrd, Ethan Catoe, Michael Rocheleau, and Gaven Williams. Together, that squad finished in third place with a time of 1:35.12, ranking them sixth in the state. After the race, Michael commented "the boys 4×200 performed superbly… I am extremely proud of us and our team as a whole. Shoutout to Amir, Ethan, and Gaven for being a part of the greatest sprint relay I have ever run with." The close bond of the boys can be seen in their dedication to each other on the track. In fact, the closeness displayed by the sprinters was echoed by the entire team this weekend, as stated by captain Jimmy Kurtz: "the team got the job done and I'm looking forward to the second stretch of the season." This big weekend is surely just a quick glimpse of what's to come for the rest of the winter.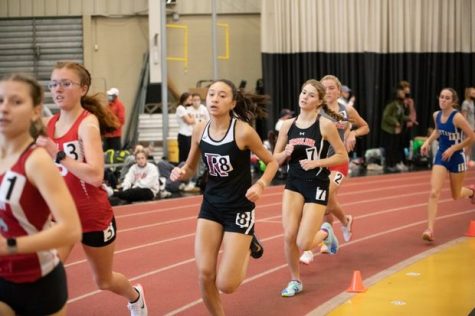 Indoor Track (girls) – Senny Farhy
As meet season comes into full swing, Radnor Girls Indoor Track has been working hard both in practice and during races. Ursinus College hosted the girls' second meet of the season on December 18th, where they were able to put their hard work to show. Tying her personal record of all time, Sophia Hill vaulted 12 feet for a third-place finish. The 4×800 meter relay of Seneca Farhy, Jillian Matunis, Olivia Dhavale, and Amelia Dole fought a hard battle to finish fourth.
The following week, on December 27th, the team was shrunken down (due to Covid and winter break) to just four girls who made the trip up to Ocean Breeze in Staten Island to compete in the Distance Medley Relay. Mile leg Zoe Margolis expressed her excitement for the opportunity to run at a new facility, stating how "the track was so cool and the race felt very fast which made it much more fun."
Arguably the biggest meet for the team was the Kevin Dare Invitational, hosted by Penn State University. The girls made the trip up the afternoon before and spent the night in a hotel together, bonding over Olive Garden and fun games with noise-canceling headphones to pass the time. The following day, race day, brought lots of impressive performances. Lucy Henkel placed fifth in the mile with a time of 5:18, a new personal record. RGIT's other speedy Lucy, Lucy Minning, took home fourth place in the 60-meter dash in 7.93 seconds. Minning laid out her race plan, stating that "I knew going into the race it was going to be competitive, so I talked with Coach Sydnor before. I was hoping to get a PR or close and ended up matching my PR so I was satisfied." A big day for the girls brought lots of personal records, which is a good indicator for what's in store for the rest of the season. 
Squash (boys and girls) – William Meyer
After winter break, Radnor High School immediately returned to the squash courts with a week full of practices, an away match on Friday, January 8th, and a tri-match (a match against two other schools) on the 9th. The matches this past week have been by far the most riveting, and as soon as the online school day on 8th ended, the varsity team traveled to play Shipley. After playing eight of the nine matches, the score between Radnor and Shipley stood at 4-4, leaving the winner to be decided by a match with senior Jonah Horwitz representing Radnor. After 4 intense games, Jonah, unfortunately, lost despite hitting top-tier shots. The day following the unfortunate 5-4 loss against Shipley, the varsity team went to a tri-match at EA. First up was Delbarton, coming from New Jersey. Heading into the match-up, Radnor expected to gain practice for future matches rather than a victory since Delbarton has historically been one or even two divisions higher than Radnor at the High School Nationals. To Radnor's surprise, the varsity team was once again tied 4-4 in matches. The only match left was between the 9th seeded players, including Radnor's Charlie Wallace. Radnor once again lost 5-4 after playing incredible squash. Considering how highly ranked Delbarton has historically been, it's safe to say that this was a moral victory in Radnor's books. As the afternoon arrived, the varsity started to play the second school of the day, St. Joseph's. Contrary to Delbarton and Shipley, the matchup went smoothly in Radnor's favor. Radnor claimed victory sweeping St. Joseph's 9-0, with most individual matches going to Radnor 3-0. After the fierce weekend, Radnor Squash is set to cool down and work on technical skills without any matches this coming week.  
Colorguard – Cynthia Maz 
Radnor's Colorguard is proud to announce their show theme and song for this year's indoor competition season. This year, the team will be spinning to Barbra Streisand's cover of "Imagine" by the Beatles and "What a Wonderful World" written by George David Weiss and first performed by Louis Armstrong. The show follows a group of people during a rainy day, initially focused on themselves and their own priorities; however, as the storm passes and the sky clears, they notice the beauty of the world around them. This Saturday, January 15th, the team will be performing at Avon Grove High School's exhibition show and will begin competing the following Saturday. Stay up to date with future Roundups for more Colorguard updates!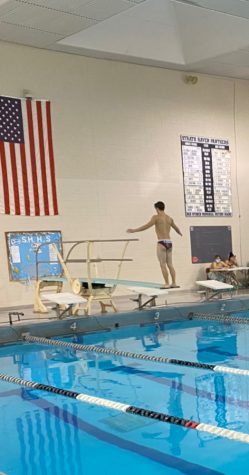 Diving (boys and girls) – Nathan Kellerman
Radnor Dive has continued to work their dives over the past three weeks and is excited to continue through competition season. Sophomore Nuala Dill, Senior Lily Wagner, and Senior Nick Heerkins dove against Harriton last week, showing off their poise and grace at home. Results were similar against Strath Haven later that week, as almost all Radnor divers improved their scores from their Harriton matchup. Heerkins has stepped into a leading role for Radnor Dive, becoming the team's go-to male diver, as well as a member of the swim team. "It is definitely an interesting experience, and I remember being a little bit nervous at first thinking it would be hard to balance my time [between the two teams], but once I joined I really had a fun time diving and also made some new friends doing it," said Heerkins. "Improving can be difficult at times…but [the team] has a great environment and is a really fun experience." Stay tuned for more about Radnor Diving in future Roundups. The team will face Springfield and Penncrest this week with the swim team, as well.
Crew (boys and girls) – Ellie Davis
Radnor Girls Crew and Radnor Boys Crew are continuing to be hard at work erging and rowing on the water in preparation for racing in the spring. Stay tuned for more reporting on Radnor Rowing in future Roundups when the first spring races on the Schuylkill begin in March. 
Wrestling – Nick Lavine
That Radnor Wrestling team continues their strong start to the season, currently boasting first in the central league. The team went to the Conestoga Valley tournament, one of the most competitive tournaments in the entire state, in which three competitors came away with spots on the podium and medals, thanks to the hard work being put in on and off the mat. Starting off the new year, the team went down to the Haverford School to wrestle a dual meet, where they came out victorious in the Varsity and Junior Varsity matchups. Next week, Radnor goes to battle against Conestoga, one of the team's biggest rivals. In the past years, Conestoga has come out on top in the competitive matchup; however, this year, Radnor is expecting to give a good fight because of their intensive training and rigorous discipline on the mat. With more expected victories and intensive practices to make the team stronger, Radnor wrestling expects the best to come this season.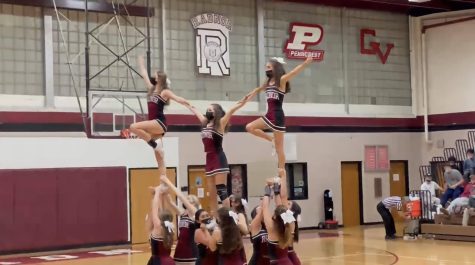 Cheerleading – Meghan Moyer
With the first competition of the 2021-2022 season completed, the Radnor cheerleaders are working diligently on their routine in preparation for their next competition on January 22nd. The season thus far has been like no other, as the girls have faced challenges from injuries, absences, and Covid-19. Nevertheless, Rad Cheer has persevered. As junior Calista Hubbard said, "competition season, although challenging, has proved just how resilient and adaptable our team is. It's amazing to see how much progress each girl has made in such a short amount of time." To add, captain Meghan Moyer remarked that "at our last competition, I was incredibly emotional seeing how the team left everything on the mat and worked so hard the entire season to get to this point." In the new year, the cheerleaders are trying new stunts and striving for difficult skills. Stay tuned for the amazing things Radnor Cheerleading has planned in the upcoming weeks.
---
Interested in contributing to the Radnor Sports Roundup in the future? Find Nathan Kellerman or email him at [email protected] to inquire!