Radnor Sports Roundup: Edition #8
Prelude:
As the shadowy "midterm cloud" bypassed the High School this past week, Radnor athletics have stayed in full force. The second semester is upon us, meaning most winter sports are nearing their championship competitions. Radnor continues to be a hub for rigorous training and fierce competition. Despite recent weather and COVID inconveniences, Radnor has continued to preserve and compete at a high level as usual.
I would like to dedicate this Roundup to all of the seniors who are nearing the end of their Radnor High School winter athletic journeys. It can be an emotional experience for one to compete in their last tournament, race, or meet, so as a community it is important to show support as these last dances are carried out.
Sports are a part of one's identity, which is why the Sports Editorial Board and I find it so important to spotlight the hard work that makes our student athletes themselves; that being said, here's the next roundup. Enjoy!
—Nathan
---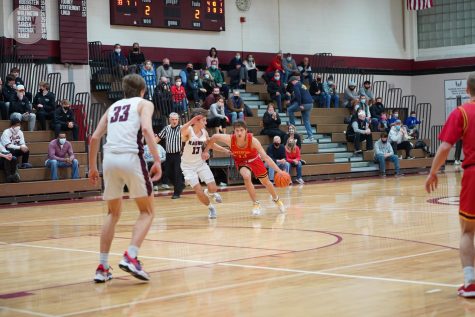 Basketball (boys) – George Economides
Throughout the middle of January, the Raptors fought to keep their unbeaten record alive with wins against Conestoga, Palumbo, Upper Darby, and a strong Haverford team. However, the team's greatest test approached as they prepared to face rivals Lower Merion in a battle for Central League first place. The game was on a Friday night and the stage was set for an electric high school basketball game, with a local news crew even trekking to Radnor's gym to cover the match. A win would cement the team as a force to be reckoned with in Delaware County, so pressures and attendance were high. During the game, Radnor led at the end of the 1st quarter, but LM caught fire in the 2nd, creating a sizable gap between them and the Raptors. The boys battled back well to shorten the lead to only a score or two, but in the fourth the Aces again pulled away, ultimately winning the game 60-48. After suffering their first loss of the season, Radnor would rattle off two more wins against Springfield and Penncrest before losing again, this time to Marple. Nevertheless, the Raptors kept their heads high as Senior night arrived. Seniors Pierce Justice, Eric Vollmer, Mason Hill, Jude Wallin and Clifford Smith started the game, keeping pace with the Strath Haven Panthers before the usual starters entered. However, with the game already in Radnor's hands late into the fourth quarter, Coach Chadwin called the seniors back in to finish out the contest. In the dying minutes of the game, seniors Clifford Smith and Jude Wallin both hit threes before Mason Hill scored a breakaway layup just as the clock expired, sending the gym into an absolute uproar. Hill would later describe the game as "electric" and "surreal." The win on senior night put Radnor at 15-2, a great position entering the final stretch of the season. According to Mason, "there is still a lot this team can fight for, [as] we can go far in the District tournament and maybe even make States; first, however, we will need to improve our overall team play if we want to get that far." The boys will take on Springfield on Tuesday, February 7th; stay tuned for future Roundups for more coverage!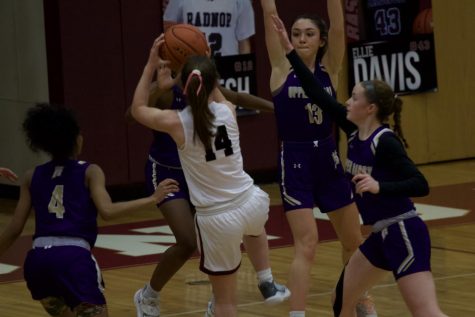 Basketball (girls) – Ellie Davis and Audrey Rubenstein 
Radnor Girls basketball had tough competition these past few weeks including Haverford, Conestoga, Marple Newtown, and Harriton, coming out with a record of 11-7. After a tough loss to Conestoga on a buzzer-beater, the girls were ready to get a win against Haverford. RGB's solid defense left Haverford with zero points after the first quarter, and although the Fords came back to score in the second half, RBG won in OT by a mere 3 points. The team carried this energy from this game to help fuel their 52-40 win against Upper Darby on Senior Night, which recognized Maddie Bader, Courtney Wolfington, Ellie Davis, Ava Gummel, Nandita Ganesh, and Karla Meyer. RGB then went on to gain another two wins, one against Lower Merion (50-27) and another out of league against West Chester East (44-30). Sadly, RGB's four-game winning streak ended against Springfield with a hard-fought loss of 35-43. That same week, RGB played Penncrest; a somewhat chaotic first quarter with a close score left Radnor down at the half, but in the 3rd and 4th quarters they brought it back to win the game. Next, RGB faced a difficult game against Marple Newtown on Tuesday, with both teams battling to keep their standings for the Central League Playoffs. Radnor was down at the half but chipped away at the score in the third and fourth quarter. Caroline Monahan came in clutch, making the game-winning 3 with only seconds to go on the clock, leading Radnor to a successful win of 49-46. Mary Sareen dropped 14 points, and Kate Gallagher had 9. Radnor has put itself in a good position for Districts, but the next few days will determine whether they will make it to the Central League playoffs. RGB's last home game tomorrow at 7 pm against Springfield is critical.
Ice Hockey (girls) – Olivia Brubaker
After nearly a month off the ice, the team resumed practices in early January, eager to start their 2021 season off against Conestoga. Outnumbered on the bench, Radnor struggled to keep up with the Pioneer's intensity and fell 5-1. Left with a sour taste in their mouths, Radnor was pumped up for Senior Night against Lower Merion. After a bittersweet ceremony which honored Captains Caitlin Fram and Ella von Czoernig as well as Norah Kaplan, Leni Hartman, and Reese Hillman, the team beat LM 2-0. The game was highly competitive, but Radnor skated hard through the second and third periods and were aggressive in front of the net with goals from Norah Kaplan and Miya Slaim. Stay tuned for more updates as their season picks back up, and Radnor competes in the first annual outdoor Mainline Cup.
Ice Hockey (boys) – Olivia Brubaker
Continuing with their hot start to the second half of the season, RAHO dominated Ridley 7-2. The first period was close with no goals, but Radnor came back in the second to score 3. Sophomore Reed Gall started the scoring streak with his first career varsity goal. Goals from Tucker Graham and Hajoon Kim kept Radnor Boys Ice Hockey ahead of Ridley, and Colin French and Robby Toomey both scored in the third period to solidify their lead, with Drew Knight netting two to ice the win. The boys were hungry for a third win, and they delivered by beating Unionville 9-5. Hat tricks from Drew Knight and Tucker Graham kept RAHO ahead, and Hajoon Kim had 2 nifty goals. Assistant Captain Robby Toomey closed out the game with one as well. Unfortunately, an incredibly competitive game against Haverford broke their winning streak, but goals from Tucker Graham, Drew Knight, and Colin French kept Haverford on their toes. 
Swimming (boys) – Nathan Kellerman
The Radnor boys have been hard at work this past month, making sure to get in at least two hours of practice each day to build up strength for a gradual taper-down ahead of the Central League Championships, District One Championships, and PIAA State Championships. The team has swam in seven dual meets since the last Roundup, claiming victory in six matchups and falling only to the ultra-deep Springfield. Radnor took on weaker teams such as Penncrest, Marple Newtown, and Garnett Valley, allowing swimmers to try out events they usually do not have experience in. This allowed Coach Robinson to write the strongest possible lineup for Radnor's meet against Lower Merion, a matchup anticipated to be the team's closest all year. Following an inspiring speech from senior Captain Rhett Cosgrove, the boys went into the meet tech-suited up and ready to fight hard against a fierce Lower Merion team. Although LM won many events, it was Radnor's third, fourth, and fifth place finishes that allowed the team to emerge victoriously. "We won that meet not because of the guys getting first or second place, but because of the guys fighting for those extra points," said a proud Coach Robinson. Following the LM performance, the team worked through more tough practices and cruised through a few other meets, one of which being senior night versus Upper Darby. Senior Captain Rhett Cosgrove, who has been racing in the Radnor High School pool for upwards of ten years, mentioned how it was "pretty heavy knowing it was last time racing in that pool" after all his memories. Captain Chase Bentley echoed the same sentiment, stating that it was "sad to see that last race finish especially after so many hours spent in that pool." Juniors Owen Shiels, Ray Luan, and PJ Duffy contributed some "really nice" gifts according to Cosgrove, and the seniors are looking forward to finishing their season strong at championship meets. 
This past weekend, those who did not qualify for the Central League Championships swam at the "Silver Meet." Radnor had a strong showing, winning the 200 Medley Relay (Groebel, Jones, Rayer, Page), 200 Freestyle Relay (Groebel, Covello, Jones, Page), and placing second in the 400 Freestyle relay (Groebel, O'Shea, Rayer, Shiels). After seeing the boys perform at Silvers, Rhett Cosgrove says the team is in "good hands for the next few years." Those who did not swim at Silvers will continue practicing and start to taper down as the Central League Championships approach this upcoming weekend and the District One Championships follow soon after.
Swimming (girls) – Tess Brennan
Radnor Girls Swim had a busy month of meets and training in January. The week of January 10th, Radnor raced against Penncrest and won 102 to 81. The following week, Radnor beat Marple Newtown 95 to 78. The girls had two meets the week of January 24th, the first a 103 to 78 win against Lower Merion and the second against Garnet Valley, winning 105 to 80. The month of February started off with what seniors had been both anticipating and dreading: Senior Night. Hanging on the windows of the pool deck were large, blown-up individual posters of all of the seniors. The balcony was packed with family and friends of Radnor Swimming and during the senior night ceremony, underclassmen formed a tunnel for the seniors to run through with their parents; moreover, Coach Jeremy Byrne spoke some heartwarming words about each swimmer. 
Looking back at the meet, Coach Jeremy summarized it perfectly: "The senior meet was lit." Senior Chloe Pepper added, "senior night was such a fun night. It was very emotional realizing swimming was over. All the memories came flooding back of the past four years and I'm so glad that I got to be on RGS, it's the best team ever and I'm going to miss them so much." Captain Audrey Collins admitted that the last duel meet in the Radnor pool made her emotional: "I don't think I was sad during the actual ceremony but then when I was swimming my last race, I teared up a little bit when I hit the wall in the four free relay." Captain Kaitlyn Lee had a similar experience when finishing her last race: "the 100 backstroke is something that I have been swimming my entire life. For high school that was the event that I always spent my time chasing for Centrals time, so when I touched [the wall] it was very sentimental." Lastly, Captain Avery Barber says, "spending time with the people I love [and it] being our last meet in the pool that I've swam in for over a decade has been amazing. I love this team so much and I'm so excited to see how these girls do next year." The senior girls want to shout out Gigi Bloomfield, Holly Bevenour and Campbell Coonley for putting together the ceremony and getting everyone amazing gifts.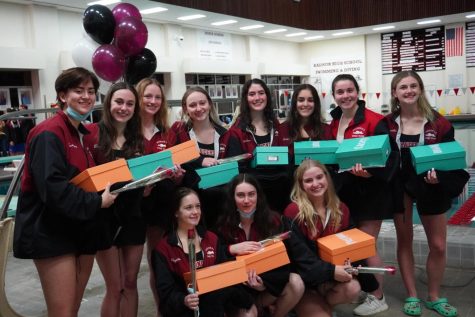 Radnor ended up winning the meet against Upper Darby 94 to 72 on Tuesday, and finally finishing the duel season with a 122 to 64 against Ridley. The team will be swimming and showing support at the Central League Silver Championships on Saturday the 5th and the Central League Championships on Saturday the 12th.
Indoor Track (boys) – Senny Farhy 
Radnor Boys Indoor Track has been steadily improving over the past few weeks as they competed twice at Glen Mills. The first meet, the Delco Championship, brought a win for sophomore Luke Bodden in the 3,000 meter run. Bodden covered the 15 laps in 9 minutes and 41 seconds, with Aidan Scott finishing 4 seconds behind and claiming third place. Another impressive performance in the boys distance department was seen in the mile, as Dave Kenney finished in fifth place with a time of 4 minutes and 59 seconds. Moving on to the sprint events, Gaven Williams took home first place in the 200 meter dash with a time of 24.31 seconds. Williams also put his talent on display in field events, trying out the high jump for the first time. The rookie jumper jumped a mind blowing 6 feet for a second place finish and was coached from the sidelines by fellow runner Amir Byrd. Byrd had a solid day of competition as he finished in third place in the 55 meter dash in 7.03 seconds. The following weekend, the boys were back at Glen Mills for a coaches association meet. The boys sprinters had a strong performance, with third place finishes in the 55 meter dash (Ethan Catoe – 7.03) and 200 meter dash (Amir Byrd – 24.44). In the 800, Preston Breck posted an impressive time of 2 minutes and 20 seconds for a sixth place finish. Junior Gardner Sheehan ran the mile in 5 minutes and 17 seconds and finished in seventh place. Overall, the boys have had a strong season and are in good shape to keep the momentum going until the end. 
Indoor Track (girls) – Senny Farhy
Radnor Girls Indoor Track competed at two meets over Martin Luther King weekend, one at Alvernia University and the other at Glen Mills. At Alvernia, the girls ran well, with Captain Lucy Minning taking home second place in the 60 meter dash in 7.95 seconds, Zoe Margolis finishing seventh in the mile with a time of 5 minutes and 41 seconds, and Amelia Dole earned seventh place in the 800, covering the four laps in 2 minutes and 34 seconds. The following meet at Glen Mills, the Delco Championship, was held on Monday and was also packed with exciting performances. The girls 4×800 meter relay of Seneca Farhy, Sadie Rubin, Emma Hyde, and Jillian Matunis took home a fifth place medal. Olivia Dhavale placed ninth in the 800 meter run with a time of 2 minutes and 48 seconds. Niva Menon earned a seventh place finish in the 55 meter hurdles with a time of 10.86 seconds. The following weekend, the girls were set to compete at the Ocean Breeze High School Invitational in Staten Island; however, due to unforeseen weather conditions, the meet was canceled. Captain Jillian Matunis expressed her feelings about the unfortunate circumstances, stating "it's obviously super frustrating that we don't get to race this weekend but I know that we'll get some good training in and come back strong for the next meet." As the girls are approaching championship season, practices have picked up in pace and workouts have been tougher than ever. The girls are in good condition to post some impressive times as the season continues ramping up. 
Squash (boys and girls) – William Meyer
Heading into its final month, Radnor Squash has its eye on the season's finale, the 2022 U.S. High School Team Squash Championships. The varsity team is currently placed in Division V this year, but there is a small possibility the team may be moved to the bottom of Division IV. Mr. Wright, the team's coach, points that the U.S. Squash organization "usually has a pretty good sense of where [the team] ends up on the national squash scene." More recently, the varsity team has played against multiple teams including Princeton Day School, voyaging from New Jersey, and SquashSmarts in North Philadelphia. Princeton Day School posed a great challenge, with many players rated above Radnor's. Upon arrival, the team did not expect a day full of victory, but nevertheless, hoped for the best. After eight of the nine matches were played, Radnor was down 8-0. They watched the final game for one of Radnor's middle schoolers, Luke Howard, who could save the team from getting swept. Heroically, Luke won his match in only three games. Fast-forward a week, and Radnor was ready to take on SquashSmarts, an amazing program that serves less fortunate kids in North and West Philadelphia by intertwining academic excellence and athletics. Needless to say, it was great to play with these amazing kids. After school on Thursday February 3, the varsity team headed to Philly in the team van. At the facility, the team got an entire 40 minutes of warm up time, setting everyone up to do their best. Amazingly, Radnor won every single match, making it the team's very first sweep. The next three weeks of squash are jam-packed with six matches, and the many other matches to be played at U.S. Nationals. The season is nearing an end, but fear not, for a lot of squash is still to come.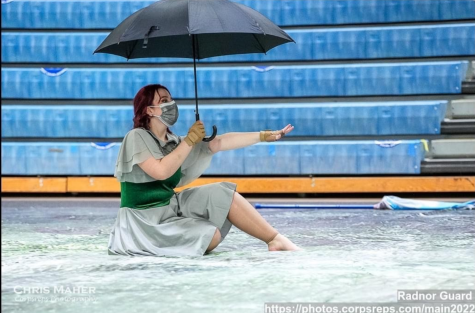 Colorguard – Cynthia Maz 
Radnor's Colorguard team began their competition season on Saturday, January 22. Performing their show "Just Imagine" at Springford High School's MAIN competition, the team competed against other regional high school colorguards in the Scholastic A division. Radnor's team took home the silver medal with a score of 55.25, and their sister guard, M
ain Line Independent, came in first place. This past weekend, the team traveled with the band to Universal Studios in Orlando, Florida to march with Radnor's band, spinning to "Boogie Shoes" and "Ain't No Mountain." The team will be returning to their regular competition season next weekend at Marple Newtown High School.
Diving (boys and girls) – Nathan Kellerman
Radnor Dive has continued to be hard at work, diving in eight dual meets since the last Roundup. Because swimming and diving are scored together, Radnor Divers have worked in conjunction with swimmers to boost scores, allowing the Radnor boys team to boast a 9-2 record the the girls team a 10-1 record. As with boys and girls swimming, Radnor's senior night occurred against Upper Darby on the 1st of February, and seniors Lily Wagner, Chloe Pepper, Natalie Denhart, and Nick Heerkins were all honored with a traditional Radnor Swim and Dive human tunnel and heartfelt ceremony midway through the meet. Coach Doug Nowak had many nice words to say to his team, making sure to thank the divers for their "hard work this season." Thanks to the efforts of the swimmers and divers alike, Radnor was able to pull out the win to cap off the night. The divers had their Silver Central League Championship meet earlier last week, with notable performances from Nick Heerkins (2nd overall), Olivia Cohen-Fruhe (2nd overall), Lily Wagner (3rd place overall), and Chloe Pepper (7th place overall). The team is excited for some of its members to continue on to the Central League Championships in the coming week and will continue to work hard at their dives to go up against the best of the league. 
Crew (boys and girls) – Ellie Davis
Radnor Girls Crew and Radnor Boys Crew are continuing to erg hard and row on the water in preparation for exhilarating racing in the spring. Stay tuned for more reporting on Radnor Rowing in future Roundups when the first spring races on the Schuylkill begin in March. 
Wrestling – Nick Lavine
Radnor wrestling continues to dominate as the final month of the season comes around. This past weekend the varsity team traveled to Martin Luther King High School for a dual meet tournament where they ended up securing third place in a very competitive bracket. Similarly, the Junior Varsity athletes traveled to Haverford High School for a tournament where multiple Radnor wrestlers took first place in their respective weight classes. This success can be contributed to the great work ethic the team has been showing all season on the mat and in the practice room. Coming up, Radnor is wrestling Strath Haven on Wednesday, February 9th for their senior night. This year, Radnor Wrestling has a huge senior class with nine seniors, so the celebration will be especially meaningful to Radnor's community. Make sure to stop by on Wednesday night to cheer on the team for senior night with Junior Varsity starting at six and Varsity starting at seven.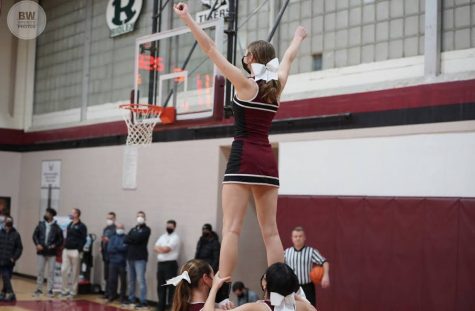 Cheerleading – Meghan Moyer
Coming back from a terrific routine at Garnet Valley, Radnor Cheerleading set their sights on their final competition of the season, in which all Central League teams compete. With Covid-19 benching some of the team, the cheerleaders were forced to adapt with only days before the competition. Regarding competition season as a whole, Head Coach Alesa Robinson said, "after not competing for seven years, these girls were more than ready to take the mat. We've had our fair share of obstacles just like every other sport, and they have also proved to us coaches that they were ready to work and make any changes needed for a successful routine. My coaching staff and I are so proud of these girls. We have an amazing team and we can't wait for this program to grow." Stay tuned for updates on Rad Cheer's last competition on February 6th and their cheer clinic on February 13th. 
---
Interested in contributing to the Radnor Sports Roundup in the future? Find Nathan Kellerman or email him at [email protected] to inquire!