Radnor Sports Roundup: Edition #9
Prelude:
As the cold weather wanes and days get longer, the decisive sounds of spring are in the air and, more importantly, Radnor's 2021-2022 winter sports are nearing their end. Multiple teams have already wrapped their seasons, such as Cheerleading and Diving, while others like Basketball, Indoor Track, and Swimming are nearing their championship meets. While it is the beginning of the end for some, it is the exciting start of something new for others; never-covered before spring sports such as Tennis and Softball are ready to be uniquely spotlighted by Radnor student-athlete-journalists!
This is an exciting time for Radnor Sports, so show out as winter teams make their final push. As always, enjoy this week's Roundup thanks to the Sports Editorial Board!
—Nathan
---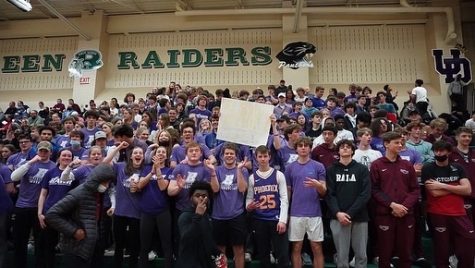 Basketball (boys) – George Economides
The Raptors rattled off three more wins against Ridley, Springfield and Harriton to conclude the regular season, finishing with an outstanding record of 19-2. This remarkable record would earn Radnor a first-round bye in the Central League Playoffs, thus giving the boys a few days rest before facing off with Haverford in the semi-finals. Radnor vs Haverford would start off as a considerably close contest throughout the first two quarters, but Radnor would turn up their defensive effort in the second half as they stifled the Fords' offense. The Raptors would ultimately pull away in the fourth quarter winning 53-38, punching their ticket to the CAL final, where they would once again meet arch-rivals, LM. The stage was set for yet another fierce matchup between Radnor and LM as fans from both sides would fill up Ridley's gym for what would undoubtedly be an entertaining game. The Raptors and Aces again battled it out during the first three quarters, with LM holding a small lead throughout. The Raptors would cut their deficit down to just one score right as the third quarter came to a close; however, the Aces would come out of the break hot, pulling away in the fourth quarter, securing the 2022 CAL title, in a 59-49 win. A heartbreaking loss nonetheless, but RBB's season remains alive as districts swiftly approach, a Tournament Radnor holds the #1 seed in. Senior captain Pierce Justice says the team has very high hopes for this tournament, stating how "winning the district would mean a lot to me and the team." Justice told the Radnorite how "[the team] has worked all season to put [themselves] in the position that [they]  are in now, and winning it all would make [them] ecstatic." Next up is Sun Valley, a team that presents its own unique set of problems to deal with. Justice gave further comments about RBB's first-round opponent, explaining how "Sun Valley is a solid team [who plays] a 3-2 zone defense which we haven't seen in excess this year, but right now we are more concerned with ourselves and how we play." On Wednesday the 23rd, the Raptors play at our home court; come out and support the team as they embark on their journey to seek out a district title.
Basketball (girls) – Ellie Davis
Radnor Girls Basketball has gone through a roller coaster of ups and downs over the past week. They went into their game on February 8th against Springfield, the top-seeded team in the league, knowing that they needed to win to get into the playoffs, and they came out winning by the skin of their teeth. It was a nail-biter, with Radnor trailing Springfield from the start. Fortunately for Radnor, Springfield got in foul trouble early, letting Radnor get 1-and-1 shots early in the second quarter to end the first half only three points down (15-18). Both teams kept playing a scrappy game with many fouls, and early in the fourth quarter Springfield pulled ahead to a seven-point lead. When Radnor needed it most, Ava Gummel nailed a wide two-point shot and Maddie Bader drilled a three in consecutive possessions, bringing the game within two points. However, some good foul shooting from on-the-floor fouls brought Springfield back to a five-point lead. Then, Mary Sareen took matters into her own hands and drove to the basket, making the layup, drawing a foul, and finishing the free throw. A crucial steal from Sareen got Radnor possession, and more free throws from Sareen brought the game within one point with 20 seconds to go. A five-second call on Springfield's inbounder gave Radnor possession again, and Sareen drove hard to get another layup. With 16 seconds left and multiple failed-shot attempts, Springfield failed to answer, leaving Radnor victorious 31-30. "We knew this game was important and despite Springfield's constant lead, nobody stopped playing hard and no one gave up," said Sareen. "We know how far we've come from the beginning of our season and every game we play can be ours whether it's the best or worst team in the league."
Critically, that same night, Conestoga had lost to Garnet Valley, giving Radnor the sixth seed in the Central League Playoffs. Read more about the game from reporter Matt Smith here. Unfortunately, the Raptors lost the first game of the playoffs against Marple Newtown 48-37, a team that they had both lost to and beat earlier in the season. However, thanks to RBG's decisive win against Penncrest last Friday, the girls have a chance to play Marple Newtown again in the District 1 tournament (read more about the Penncrest game from Matt Smith here). First, they need to win their away game against Upper Moreland, tonight at 7 pm. When asked about the opportunity to play, senior captain Maddie Bader explained how "today at practice, we were given the news that if we win our game on Tuesday, we will secure a spot in the state playoffs." Bader went into how it has been the team's goal to make states, citing how she is "confident in [the team's] ability to win on Tuesday because of the amount of preparation [the team is] doing." 
Ice Hockey (girls) – Olivia Brubaker
With their regular season coming to a close, the girls battled it out with Pennridge resulting in two losses; in an incredible turnaround, however, the first ever Main Line Cup restored the girls spirits. The cup brought the boys and girls teams together and was a great way to extend the Radnor vs Lower Merion rivalry through hockey. Radnor came out kicking with the eventual goal to drink from the championship cup; their hard work paid off, and Radnor crushed LM 8-2. Caitlin Fram was on fire with a hat trick and two assists. Freshman Brooklyn Brown found the net twice and Ashlyn Fram scored too. The girls played with intensity and were extra rowdy thanks to a record-breaking number of fans in the stands. Radnor Girls Ice Hockey proudly drank from the Main Line Cup and are looking forward to playoffs starting on Tuesday, March 1st.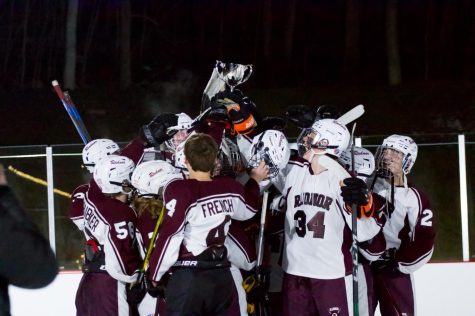 Ice Hockey (boys) – Olivia Brubaker
As their regular season is winding, down the boys competed in the first annual Main Line cup versus 125 year old rival Lower Merion. It was a close and intense game and although Radnor started off strong with the first goal from Tucker Graham, LM was quick to match their intensity. As the rivals battled it out, Radnor's leading scorer Drew Knight pulled through with a hat trick and Senior Robby Toomey also scored. As the game went back and forth, defender Dominick Laudicina made a great shot off the rush to set Radnor ahead. Luke Mallory had an impressive 33 saves and the team was able to skate hard through the final buzzer and beat L. Like the victorious girls, the boys drank from the cup and celebrated the whole bus ride home. Radnor Boys Ice Hockey finished off the 2nd to last game of their regular season with a 7-4 win over Great valley on Presidents' day. Drew Knight had a hat trick and Tucker Graham and Colin French solidified the boys win with 2 goals respectively. Stay tuned for more updates as they head to playoffs.
Swimming (boys) – Nathan Kellerman
When the boys heard that the Central League Championships were to be hosted at Ridley and not at Radnor per tradition, they were disappointed about having to compete in the away atmosphere; nonetheless, as the Central League meet progressed, the boys persisted through the unknown atmosphere and posted record-breaking times. For the week leading up to Centrals, the majority of the team tapered down to have the best chance at dropping time. Some members even spent their lunch periods warming up in the water during the latter half of the week leading up to Centrals, showing the team's commitment to showing out. As the meet approached, some team members were nervous; as stated by rising talent Jacob Kellerman, however, "I trusted my taper going into the meet and was not disappointed." The team's preparations were effective, as every single swimmer dropped time in at least one event in an unprecedented performance. The team's 200 medley relay (Chase Bentley, Nathan Kellerman, Rhett Cosgrove, Andrew Yu) placed fourth in an extremely competitive field and looks to qualify for states at the upcoming district meet. The 200 freestyle relay (Jason Trosset, Timmy Ledbetter, Jacob Kellerman, Nathan Kellerman) had an impressive performance, qualifying for the district meet, as well. Radnor's final relay, the 400 freestyle relay (Rhett Cosgrove, Andrew Yu, Chase Bentley, Ray Luan), placed third and will look forward to swimming other fast teams at districts on the 25th and 26th of February. Other top 8 finishes in individual events were Rhett Cosgrove's school record in the 200 Freestyle (1st), Andrew Yu's season-best 50 Freestyle (8th), Chase Bentley's personal best 100 Freestyle (5th), and Nathan Kellerman's personal best in the 100 Breast (4th). Radnor's success went deeper than the top eight, however, with many team members recording top ten times in Radnor's history. Other successes came from Jacob Kellerman, PJ Duffy, Colin Mucksavage, Timmy Ledbetter, Howard Feng, and Ray Luan. Senior captain Rhett Cosgrove described Centrals as a "bag of trail mix," stating how "there were some m&ms but there were also some raisins." Cosgrove clarified that "raisins aren't bad but they're no m&ms or peanuts or anything like that. Our relays for example have a lot of room for improvement, and I've got to do better in the medley and we all have to do better in the 4×100." When asked for any concluding remarks about Centrals, the Radnor swimming veteran said "we definitely will do better at districts. Expect a lot of m&ms."
After Centrals, the nine district qualifiers were back in the water training. Everyone still practicing for the team is tapering down, and according to senior Chase Bentley, "these taper practices are a reward for all the tough workouts we completed so far this year." When asked about districts, the varsity veteran explained how he is "psyched for [the meet]" but is "a bit nervous since this is our only chance to make states."
The boys will compete in the district one championships in York this upcoming Thursday and Friday. The team will be sure to support each other and tag each other on the back in the school's hallways to reinforce the team spirit established all year.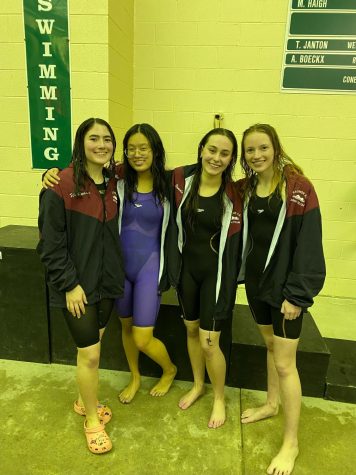 Swimming (girls) – Tess Brennan
The week of February seventh, Radnor girls swim suited up for the Centrals meet, which was hosted by Ridley. All twelve of the Central League teams participated, with Radnor ranking second overall on the girls' side. Both the girls 200 Yard Medley Relay (Marina Wang, Audrey Collins, Maly Lindgren, Avery Barber) and the 400 Yard Freestyle Relay (Audrey Collins, Kelsey Wakiyama, Avery Barber, Marina Wang) placed second. Co-Captain Audrey E. Collins says, "I was really happy with the Medley Relay even though we didn't get first. Going into the race, I knew we would have some tough competition with Conestoga, but how we swam makes me really hopeful for districts." Other Co-Captain Avery Barber added, "Conestoga's relays last year not only made it to A Final at States, they also made All-American. Being so close to their times really shows what amazing progress we have made this year." Radnor dominated in the 100 butterfly, with Audrey Collins placing first, Maly Lindgren fifth and Kelsey Wakiyama sixth. Radnor also had many memorable races in the breaststroke, fifty free and one hundred free. Freshman Maly Lindgren says "it was super exciting to swim at Centrals for the first time because I used to watch my brother swim in it and think ahead to when I would be competing, so it's crazy that that's happening right now." Centrals marked the conclusion for many of the team's swimmers. Kelsey Wakiyama says, "practices are always different when this part of the season comes. The energy is completely different." The swimmers will continue to train up until the weekend of February twenty-fifth, when they will be traveling to York for the two-day District meet. As Districts approaches, freshman Skyler Semisch admits, "I am a little scared being so young racing against older girls but this is a great opportunity so I'm more excited." All of the swimmers hope to drop time at the meet and are excited to have the potential of making states. 
Indoor Track (boys) – Senny Farhy
As the season intensifies, Radnor Boys Track has been working hard and posting some impressive results. On Saturday, February 12th, they headed up to Lehigh University to compete in the PTFCA Track Carnival. Their first event was the 4×800 meter relay and consisted of Jack Halberstadt, Aidan Scott, Aidan Leonard, and Jimmy Kurtz, who finished in 8 minutes and 31 seconds, earning them a second-place finish and a ranking of twentieth in the state. The boys joined together again for the Distance Medley Relay (DMR) and took first place in 11 minutes and 19 seconds. Mile leg Jimmy Kurtz explained the race, stating "the boys put me in a good neck-and-neck position for first heading into the anchor, and with a strong finish, we were able to cruise to a first-place medal." Both the 4×800 and DMR are in contention to make the state championship meet, meaning the boys will be working hard over the next week and a half. Another relay likely headed to states is the 4×200 meter relay of Amir Byrd, Ethan Catoe, Michael Rocheleau, and Gaven Williams. At the Track Carnival, they took home a gold medal with their first-place finish in 1 minute and 35 seconds. The highlight of the meet to most athletes, however, was not the multiple first-place finishes, but a last-place finish. Dave Kenney, Michael Farhy, Luke Bodden, and Quinn Schultz joined together to run in their second race of the day, Radnor's 4×400 meter relay, which was by far the most memorable race. Bodden, a distance runner in a sprinters event, led off the relay and fared well in an unusual race for him. He then handed off to Farhy, who smiled during the entire race and was extremely amusing to the rest of the team to cheer on. Schultz kept the momentum going on his third leg of the relay and then handed off to Kenney, who took things out at an extremely fast pace. Kenney ran so hard off the start that he whipped out of the curve into the outside lanes on the back straightaway, where the entire team was situated. As he put nearly all of his energy into the first lap, Kenney's finish was very strained and the relay finished last. The boys will continue to work hard over the next few weeks and will likely send some competitors to keep an eye on states next weekend. 
Indoor Track (girls) – Senny Farhy
As the championship season draws closer, Radnor Girls Indoor Track has picked up the pace significantly. On Monday, February 7th, Lucy Henkel, Seneca Farhy, and Amelia Dole competed at the Varsity Classic at the Armory in New York City. Henkel walked away with a third-place finish and a state-qualifying time of 2 minutes and 20 seconds. Farhy and Dole went home with season bests. Rest was minimal for the three as they joined the rest of their team at Lehigh University that Saturday for the PTFCA Track Carnival. The very first event on the track, the 4×800 meter relay, stunned the competition, winning the entire event out of the slower heat. The team of Courtney Kearns, Amelia Dole, Zoe Margolies, and Lucy Henkel finished in 10 minutes and 2 seconds, earning them a ranking of 13th in the state. Dole expressed her excitement about their accomplishment, stating "I knew the competition would be fast here and I'm really happy that we were able to stay up there and win. I'm really excited to hopefully go to states." The meet continued with stellar performances, as sophomore pole vault sensation Sophia Hill vaulted a new personal record of 12 feet and 6 inches. Her performance also broke the Delaware County record. Hill will be headed to states next weekend and is definitely one to keep an eye on, as she is tied for second in the state right now. This week of competition brought lots of improvement and state qualifications, so keep an eye out for the next few weeks as the season wraps up with its biggest meets. 
Squash (boys and girls) – William Meyer
The season's end is near, but not over. Radnor squash has officially completed all seventeen individual matches it was set out to compete in this year. This coming weekend, however, is the big kahuna: the 2022 U.S. High School Team Squash Championships. These past two weeks, Radnor played three critical matches which helped practice intense situations. First was EA's JV team. Both teams practice at EA, making it a home game for everyone. The matchup went as usual, with some teammates winning their matches and others losing. However, the overall winner came down to the final match played by senior Josh Tessler as both EA and Radnor had won 4 matches. As the crowd roared between every single point, the match went to the fifth game in the best of five. Josh started off with a bang with a sizeable six-point lead and later won his match, carrying Radnor to a 5-4 victory over EA. After a rest day for the team, Radnor faced Tower Hill. Radnor, unfortunately, lost the match 6-3, but there were many close matches in the works including two five-game matches played by both senior captains, Patrick Maggitti and Josh Tessler. The last of the three matches was against Princeton Day School. The last time Radnor played them, they lost 8-1, but this time Radnor was able to claim 2 victories and nearly a third: the third being first seed Will Krizek's match. The match was the only one that had not finished, so an enormous crowd gathered and watched intensely. The match went to the fifth and final game and Will sadly lost, but regardless, he clearly showcased his skill and endurance in the fifty-four-minute match. For context, most of the matches were around twenty minutes, but his match was sheer blood, sweat, and tears for practically an hour. Now, it is time for Radnor to send its seven highest seeded players to compete in Nationals. Radnor is currently projected to place high in the competition, so stay tuned for future updates about this exciting team!
Colorguard – Cynthia Maz 
After returning from their trip to Universal Studios, Radnor's Colorguard team jumped right back into their competition season.  On February 12th, the squad went to Marple Newtown High School, where they competed against Springford High School and Upper Moreland High School. During the team's performance, the music cut out, and they had to complete the rest of their show with only counting to keep in time. Despite this, the team won first place with a score of 64.42. This previous weekend, the team traveled to Council Rock South High School, receiving a score of 70.73 and coming in second place. At this time, Radnor's Colorguard holds second place in the Mid-Atlantic Indoor Network's Scholastic "A" division. Over the next three weeks, the team will be taking a break from competitions to finish learning the choreography for their show and perfecting their performance. The team would like to take this opportunity before their break to thank their director, Maria Drew, and coaches, Dakota Duffy, Tyler Shives, and Joey Diruggieri, for their hard work and dedication to making Radnor's Colorguard a winning team. 
Crew (boys and girls) – Ellie Davis
Radnor Girls Crew and Radnor Boys Crew have just wrapped up their winter seasons and are ready to start spring crew on Tuesday the 22nd. Many of the athletes on the girls and boys team chose to participate in Main Line Slide, an indoor 2k competition hosted by Lower Merion High school. The event's participants ranged from coxswains to senior citizens. Congratulations to Colin Mucksavage for getting fourth in the men's under-19 lightweight category, and Devon Long for getting second in the women's freshman category. See photos from the event at Row2k.com. Stay tuned for more reporting on Radnor Rowing in future Roundups when the first spring races on the Schuylkill begin in March. 
Wrestling – Nick Lavine
The wrestling season is wrapping up as the boys close out their season against a tough Unionville team. This has been an amazing season for Radnor, as they finished with an incredible 13-6 record; compared to the last two seasons where the team finished 6-6 and 8-8, this 2021-22 year has been a great turnaround. Some highlights from the season include senior night, where the Radnor student body came out to support our wrestlers and the Cure SMA foundation. Another highlight was when Radnor hosted Conestoga for a dual meet and beat them 40-32 (the team's first victory in 20 years)! There were a lot of other great memories from one of Radnors best seasons. Now that the regular season is over, it is post-season time, and the varsity wrestlers have been pushing themselves in the room to prepare for districts on February 26th. We wish everyone wrestling in the district tournament the best of luck and to represent Radnor well!
Diving – Nathan Kellerman
Radnor diving's numbers have been shaved down since the Silver Central League Championships, with solely sophomore Nuala Dill competing at the Central League Championships. Dill placed 8th in the league (girls diving) and scored 11 critical points for Radnor with a score of 330.2. With the sophomore's promising performance, Radnor diving's 2021-2022 season comes to a close; the team and coach Doug Nowak will reunite at the swim and dive banquet on April 24th. 
Cheerleading
Radnor cheer has finished their current season; stay tuned for more coverage in June regarding tryouts for the upcoming season. Congratulations to all the girls for their accomplishments this year!
---
Interested in contributing to the Radnor Sports Roundup in the future? Find Nathan Kellerman or email him at [email protected] to inquire!