Book requests for RHS library undergo more robust review process from RHS administration
The appropriateness of books in the library has been a growing debate during the 2021-2022 school year. Members of the public have raised concerns about books currently at RHS that contain sexual material, such as Gender Queer by Maia Kobabe, Wild by Cheryl Strayed, and All Boys Aren't Blue by George Matthew Johnson. (Read: To ban or not to ban: What belongs in Radnor's classrooms). Now, the RHS administration may be using a more deliberate review process for some recently ordered library books. This new procedure led to a longer-than-normal review period of one title in particular: Mediocre by Ijeoma Oluo.
School board policy 144.1 dictates procedures for curating the Radnor library collections. As Superintendent Batchelor explained at the November 16, 2021, School Board Business Meeting, "We do have a board policy when our community members do have a concern about any type of material." This policy offers a form by which a complainant can present concerns over school media. Submitting this form prompts the creation of an ad hoc committee, which must include an administrator, a principal, a librarian, a board member, a classroom teacher in the subject area, and a parent to review the media in question. "We are doing that for whenever we receive those written concerns about those materials in our library," said Batchelor. 
The only filed form that the Radnorite knows of targets Gender Queer, a graphic novel memoir about Kobabe's experience as a young queer person. The review committee's decision remains unannounced, and until it reaches a decision, the book should remain in circulation at RHS, in accordance with school board policy. Gender Queer, however, has remained checked out and unavailable for months with an "unknown" estimated wait.
In terms of adding books to the libraries, Policy 144.1 specifies that the district curates the library collections with the chief objectives of building "support for the school curriculum, and the encouragement of recreational and special-interest reading." In a statement to the Radnorite, Dr. Shawn Dutkeiwicz, RTSD's Director of Elementary Teaching and Learning, echoed this policy, saying that "With respect to library books, our first objective is to support the district curriculum and secondly, to encourage recreational reading. As with everything that we do, we want to be sure that our selections are age-appropriate, meet the needs of our curriculum, and offer students with options that relate to their self-interests." 
  Unlike books that teachers hope to add to required classroom reading material, library books do not require board approval. The process for adding library books, however, is currently evolving. According to Dr. Batchelor's statement at the November 9, 2021, Curriculum Committee Meeting, "administrators are currently examining our approval process for library books." In a recent statement to the Radnorite, Dr. Batchelor specified that policy 144.1 "is something we plan to review, but we haven't taken any steps to begin that review at this point." 
Policy 144.1 doesn't specify who is doing the book selection, but in practice, prior to this year, according to RHS librarian Michelle Wetzel, the librarians routinely added new, popular, and critically acclaimed books to the library at will. The administration traditionally only approved the funding for the new books, without any specific review of the selections.   
Recently, according to Mrs. Wetzel, there's been a more meticulous review of specific book titles. Policy 144.1 makes no explicit mention of any library book prior review process. While RHS normally adds to its collection monthly, new books haven't reached the library since October, as the lists of new books from November through February were under review until the week of March 28th, when the order was officially placed. This delay has left many kids eagerly waiting for their top choices to make it to RHS's library shelves, reported Mrs. Wetzel.
At the elementary school level, Dr. Dutkeiwicz reported that "Like all teachers and staff, we submit our requests for books and materials through our building principals." The Radnorite reached out to two different elementary-school librarians to learn more about the K-5 book review process but was unable to speak with a librarian directly. 
Mrs. Wetzel reported that during the review process for one of the high school book lists, Mediocre was subjected to an unusually-long review period. When the Radnorite first reached out to district administration for comment, we received a copy of Policy 144.1 in response, with no comments specifically addressing Mediocre, as we requested. Ten days later, the Radnorite learned that the book would be added to the library. As far as the Radnorite knows, Mediocre is the only book to receive such a deliberate review. The RHS administration did not offer comments on the record in response to our most recent inquiries regarding the library-book approval process.
According to Mrs. Wetzel, Mediocre's content most closely relates to pieces of the curriculum in courses such as 9th grade Government, 11th grade American Studies, and Senior Seminar — all key points in the administration's decision to allow the book in the library. 
Ijeoma Oluo, author of Mediocre: The Dangerous Legacy of White Male America, has a long list of credentials. She's also the author of the #1 New York Times bestseller So You Want to Talk About Race. Mediocre, first published in 2020 and now prefaced with rave reviews from the New York Times Book Review, the Washington Post, TIME, and others, "examines the last 150 years of American history to expose the devastating consequences of white male supremacy on women, people of color, and white men themselves." Oluo explains how "we also have to imagine a white manhood that is not based in the oppression of others. … We must start asking what we want white manhood to be, and what we will no longer accept." Addressing the abrasive reputation of the book, in her review Professor Brittany Cooper concludes that "for many, this book will appear to be a closed fist, but for the keen eye, it is an open hand."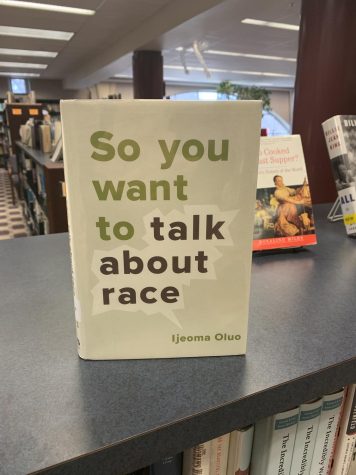 Books with content similar to Mediocre are already present in the library. The Other Talk: Reckoning with Our White Privilege, by bestselling author Brendan Kiely, argues that white children need to have discussions about race, and "offers young readers a way to understand one's own white privilege and why allyship is so vital, so that we can all start doing our part — today," according to the inside cover. Similarly, Just Us, by poet and playwright Claudia Rankine, "invites us into a necessary conversation about whiteness in America." Ijeoma Oluo's first book, So You Want to Talk About Race, is also currently on our library shelves. 
In response to cases of book censorship, the American Library Association released a statement affirming that "the unfettered exchange of ideas is essential to the preservation of a free and democratic society," and encouraging libraries to honor their commitment to the First Amendment by "making available the widest possible range of viewpoints, opinions, and ideas…regardless of their content or the viewpoint of the author."
Mrs. Wetzel affirmed her support for the American Library Association's statement, explaining how "part of my action plan over the past two years has been a diversity audit and that requires taking a look at each book to get an idea of what we currently have, and where our holes are in representation of perspectives and student backgrounds." Mrs. Wetzel believes the RHS library has made great improvements, in alignment with the districts' [diversity, equity, and inclusion] initiative. "I don't want to make anyone feel like they can't see themselves here," she said.