Radnor Sports Roundup: Edition #12
Prelude:
As the long-awaited fourth quarter begins, Radnor's spring sports teams are easing into their packed schedules. This point is a pivotal adjustment period for teams looking to either turn things around or maintain early success; it seems Radnor has been grinding through adversity on all fronts, so far.
For maybe the fifth time in the past week, it seems the weather has reached a turning point for the better. That being said, try your best to make the journey out to a Radnor sporting event. There's nothing more exciting than watching hard work pay off, afterall. 
—Nathan
---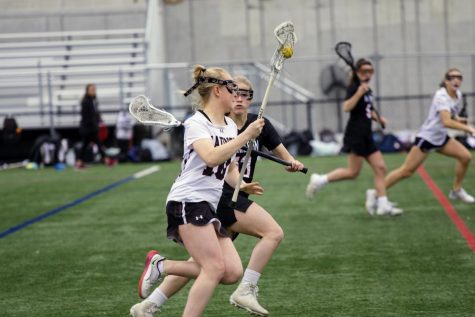 Lacrosse (girls) – Lauren Kelley
It's been a while since the last Radnor Sports Roundup, but Radnor Girls Lacrosse has rest-assured remained busy. Since a tough game against Manheim, the team has trained hard to come out on top. With the return of goalie Arden Jansen, the team won against top opponents such as Strath Haven, Villa Maria Academy, Downingtown East, Harriton, Wissahickon and Haverford. The key to such success is the hard work and dedication of the players. While others may have traveled to warm destinations over Spring Break, RGL stayed for 8AM-3PM practices to put in the work and improve. Following Spring Break, a Tuesday night Springfield matchup was chalked up to be a hard fight, and at halftime, the score was 6-2 Springfield. Said best by Varsity Captain Telly Schwarz, "we didn't come out hard in the first half but we regrouped and pumped each other up so we could reset and win the second half." In the 25 minutes that followed, Radnor scored 7 goals to Springfield's 1 to come out with another win. The team is enthusiastic about such a successful season so far. Margot Johnson, Varsity Sophomore and starting defender, states to readers, "this is a team to follow all the way to States!"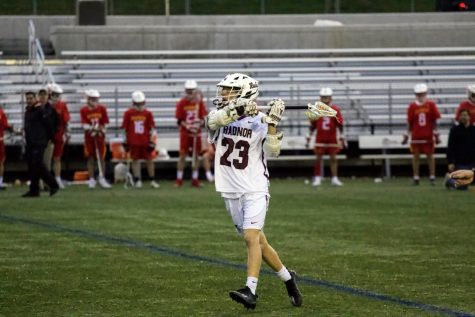 Lacrosse (boys) – Olivia Brubaker
The defending state champs are holding up to their title with 8 straight wins in the last 3 weeks. Radnor Boys Lacrosse's winning streak started against Conestoga and their momentum carried into their next central league games against Haverford and Harriton, as they crushed both teams with scores of 16-5 and  15-0, respectively. 
The boys hit the road for a few out-of-state competitive matchups against ANC (9-7), Cape Henlopen (12-8), and New Canaan, who they beat 9-8 in double overtime with a game-winner from senior Will Kaplan.  
After a busy spring break, RALA returned home to defeat Springfield 10-6 and Penncrest 12-6.
This past Saturday they blew Strath Haven out of the water with a 16-2 win. 
Colorguard – Cynthia Maz
After a long break from competitions and the Sports Roundup, Radnor's Colorguard team makes a return! Before spring break began, the team attended one competition at Upper Dublin High School, receiving a score of 82.9 out of 100 and coming in 3rd place. With this score, the team is seeded in 1st place in the MAIN circuit, hoping to keep this title and claim a trophy at MAIN Championships. As the team's season wraps up, they are also preparing for TIA Championships in Wildwood, NJ, where they will spend three days competing in hopes for a medal. The last time Radnor placed in Wildwood was in 2010, when the team was still competing in the Scholastic Novice class. Please wish the team luck, and if you'd like to see the team perform before they leave for their final competition, please come to Radnor Middle School at 8:00 pm on Tuesday, April 26th.
Softball – Caroline Monahan
The softball season is in full swing, despite some questionable weather. Hopefully, the rain slows down so RSB can get consistent games in and enjoy some nice spring weather. The team has had some ups and downs this year, but the girls have been able to bounce back. Before the break, the girls were able to scrape together a win against Strath Haven. RSB played well as a team and was able to make some amazing plays. The team's hitting performance lifted them above Strath Haven, leading the way for a 9-8 win after 7 hard-fought innings. Star sophomore pitcher, Audrey Rubenstein, is very proud of the group, relaying "we are a young team and have already grown a lot this season. We have a great group of girls and I'm looking forward to a good year." RSB has improved and adjusted as needed after their first couple of games and will continue to practice hard throughout the season. Coming up, the team will face some tough opponents, but they're up for the challenge.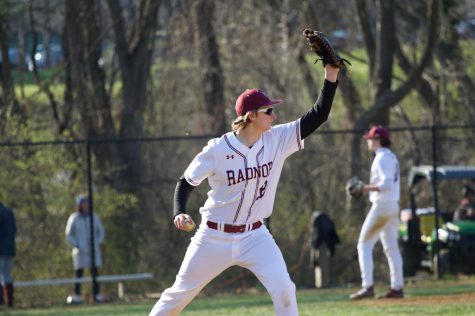 Baseball – Jacob Farhy
Although it hasn't been the start that many Radnor baseball players may have preferred, things are beginning to look more promising for the Raptors. Following four disappointing conference losses, the Raptors' offense burst onto the scene in Florida, boasting 12 runs on Canandaigua Academy. Senior Jack Condran led the way for the scoring as he smashed a grand slam over the left-field wall in the bottom of the sixth inning, while teammate Jonah Horwitz silenced the Braves' offense on the mound. Since returning from Florida, the Raptors suffered a tough 14-12 loss against Conestoga. When Radnor was down 13-5, stellar performances at the plate from Seniors Jack Pachella and Patrick Mannix helped cut the lead to one run; however, ultimately, they were unable to complete the comeback. The very next day was a game that star shortstop Will Reger will never forget. During a home contest with the Upper Darby Royals, the Senior threw a complete no-hitter, a feat that no Radnor pitcher had achieved within the past 20 years. "I just went out there, threw strikes, and did my thing," said Reger. Things on the JV side of the baseball program have looked promising as well. After starting the season on a three-game skid, the JV team has rallied to win three of their next four games to pull within one game of an even record. Not too shabby for a program that was only expected to win 10 combined games on both teams.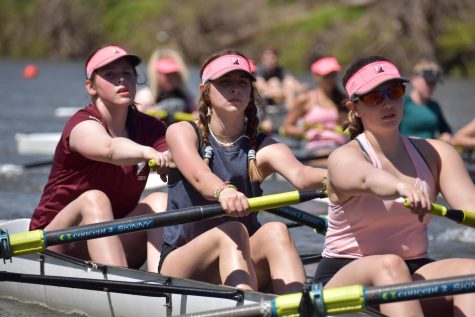 Girls and Boys Crew – Ellie Davis 
The girl's and boy's Crew teams have been training hard through spring break, gearing up for the spring racing season's biggest competitions yet. The teams have participated in the 3rd, 4th, and 5th Flicks of the season, named after Manuel A. Flick, who created this series of racing for scholastic teams in the 1950s. These flicks offer opportunities for crews to earn points. During the 3rd Flick, Radnor girls grabbed points from the JV four that got 1st in their heat and the varsity eight that got 2nd place in their heat. The boys did well with their novice eight that placed first with the fastest time out of 19 boats. Leading up to the 4th flick, the "very high" current flow combined with the "debris floating downriver and winds picking up [that] will make for a difficult and potentially dangerous day," according to the Chief Referees. Consequently, the officials made the move to cancel all novice and freshman races. Amidst the high flow, RGCC gained 3rd place wins from the varsity eight and the JV four, and RBCC took home a 1st place win from the varsity four, and 3rd place wins from the lightweight JV four and the varsity pair. 
At the most recent and 5th Flick, the boy's team's novice eight gave a strong performance once again, getting fourth out of twenty-two, a varsity pair with Joseph Odorisio and Colin Mucksavage took first out of four boats, and a varisty four took third in their heat. The girl's team had an especially exciting race day, getting to christen their new eight-person boat, the Hydra, before taking her out for her first race. The 5th Flick brought the most challenging competition, as it was the last opportunity for the team to score points. Yesterday, RGCC likely maintained their position as the fifth-highest-point earner out of thirty teams, earning points from the lightweight four.  As head girl's coach Travis Schilling said, "moving forward, our focus will be on boating crews that we feel have the greatest potential to advance to the grand final event in each of their races." Two weeks from now, "RGCC will enter three varsity, one JV, and one freshman boat in our league Championship Race in hopes they all do well and qualify for national champs." Assistant coach Annie Sniffen stated, "we have a lot of work to do in the next two weeks but we are confident."  And as assistant coach Crystal Brostek said, "I wanna see some hunger."
See more photos from Hadley Perkins here.
Tennis (boys) – Manato Matsuoka
The Radnor Boys Tennis team continued their strong start to the season, bringing their total victories to eleven as they won against Strath Haven, W.C. Henderson, Haverford, Penncrest, Springfield, and Upper Darby. However, Radnor faced tough losses against two challenging matches: Harriton and Lower Merion. While the match versus Harriton was a close game for Radnor, with Sophomores Arriston Dafonseca and Antonio Fidelibus and the doubles team of Manato Matsuoka and William Shih winning their respective games, Radnor lost 3-4 against their rivals. "It was a great match," Antonio said, "a great performance from both teams." While exhausted and sore, Radnor faced another obstacle the next day: Lower Merion. Although the rest of the team struggled against last year's state champions, Senior Captain Heyonjin Kim won a fantastic victory against his third singles player. "It's a shame that we lost overall but it was a great game," Hyeonjin said, clutching his thighs in pain. "It's definitely an improvement from last year." Stay tuned in through the RBT Instagram account as we finish our season and enter district playoffs.
Outdoor Track (girls) – Senny Farhy
Radnor Girls Outdoor Track has kept the momentum of their already impressive season going strong throughout Spring Break and beyond. The first meet of spring break, Delco Relays, brought together the typical 4×4 team of Lucy Henkel, Lucy Minning, Courtney Kearns, and Julia Salinero; this time, however, the squad ran the Sprint Medley Relay. An event consisting of two 200-meter legs (Minning and Salinero), a 400-meter leg (Kearns), and an 800-meter leg (Henkel), the distance was covered in 4 minutes and 10 seconds, earning them a strong first-place finish. Although the event is not a PIAA standard event, the team ranked first in the state. Unfortunately, it appears not to be on schedule for the rest of the season, so the girls will have to return to their classic 4×4. 
The next meet of spring break was hosted at West Chester Rustin on a scorching hot Wednesday. Despite the conditions, Lucy Henkel finished in a strong fifth place in the 400-meter dash, covering the one lap in 59.92 seconds. Julia Salinero cracked the top five in the long jump as well, jumping 14 feet and 9.5 inches. The final field medal was picked up by none other than Sophia Hill, who vaulted 12 feet and 4 inches for an impressive second-place finish. 
After spring break, the team headed out to Shippensburg University to compete in the Jack Roddick Invitational. Lucy Minning finished first in her heat (sixth overall) with a season-best of 12.52 seconds in the 100-meter dash. Lucy Henkel was able to take home the gold in the 800-meter run, edging out her competition by tenths of seconds and finishing in 2 minutes and 14 seconds to take the win. Courtney Kearns and Julia Salinero both joined the Lucys in the 4×4 after their own individual events to nearly match their best time, finishing the four laps in 4 minutes and 13 seconds. The girls have a lot to look forward to with Penn Relays and many championship meets just around the corner, so stay tuned to see what they accomplish!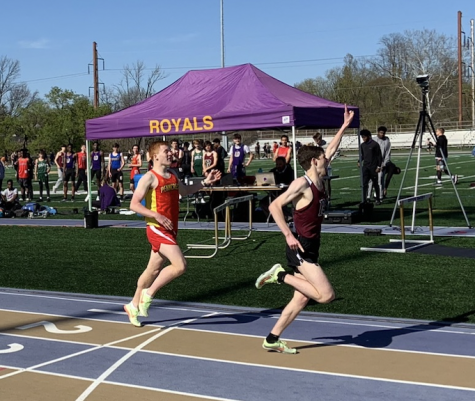 Outdoor Track (boys) – Jimmy Kurtz
On Wednesday, the boy's track team competed in a challenging meet at Upper Darby High School. Unlike most tracks, Upper Darby's features longer turns and shorter straights than usual, making for unique racing conditions. The boy's team came away with many successful races. Captain Jimmy Kurtz kicked off a successful day, throwing down a sub 4:30 1600-meter and clocking in at 4:29 to take first place by .2 seconds in an exciting final sprint. The success continued throughout the day with Captain Aidan Leonard getting a 2:06 time while competing in the 800-meter run. Sophomore star Luke Bodden got in on the action with a 1st place 9:48 in the 3200-meter race. In hot racing conditions, Luke began his race "feeling like crap" but realized with "200 meters to go I could win and kicked." Most amazingly, Freshman stud Joseph Garzio continued his strong breakout by throwing down a 2:12 800-meter race, stating "the race today felt great… I love contributing to my team and getting personal bests." The boy's team looks forward to the beginning of championship season which in the next two weeks will see them competing at Great Valley High school and Penn Relays.
Ultimate Frisbee (girls) – Reese Hillman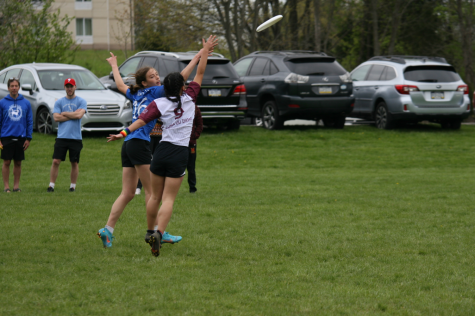 Radnor Girls Ultimate has had an amazing season thus far. Victorious in every game but one, the girls are ranked 22nd in the country as of 4/24 (Ultiworld). On Wednesday, the girls faced Masterman where they grinded out a 9-8 win, with three points apiece scored by senior captain Isabelle Deputy and sophomore Rona Lui-Zhong, aided by an outstanding five assists from sophomore Sofia Dillon. This weekend, the girls played at Hip Hop, a two-day Pennsylvania-wide tournament. The girls beat North Allegheny 12-1 in their first game on Saturday, with Isabelle Deputy putting five points on the board. They rounded out a successful day one with a 10-1 win against Haverford and an 11-6 win against Masterman. The girls woke up bright and early on Sunday to play the tournament's semifinals and finals. Braving an intimidating wind, they pulled out a 13-3 win against Pennsbury, with five inspiring assists from sophomore Diana Huang. Energy ran high as the girls entered the final against Masterman. After a number of long and hard points, RGUF wrapped up Hip Hop with 5-6 loss. Even so, the girls are excited for the next few weeks of games leading up to Cities and States. 
---
Interested in contributing to the Radnor Sports Roundup in the future? Find Nathan Kellerman or email him at [email protected] to inquire!