Radnor Sports Roundup: Edition #13
Prelude:
While AP testing and end-of-the-year activities have halted Sports Roundup production, Radnor sports teams have continued to work hard through their spring seasons. Multiple squads are making their way to and through championship competition, proving the determination and resilience of Radnor's teams. Just as this school year and sports seasons are starting to see their end, this year's coverage of Radnor's sports happenings is halting as well. Alas, Roundup #13 will be the last of 2022. 
When I first started working on the Sports Roundup, I decided to do it because I wanted everyone to know just how much work each athlete puts into their craft. While working towards this goal has been rewarding, it has been even more satisfying to realize that the stories behind each victory or defeat are just as important as the results themselves. Working to put forth this product every two weeks has been an integral part of my year, and I hope that the Sports Roundup has added value to the lives of our readers.
Finally: to the hard-working Sports Editorial Board and to The Radnorite's audience, I extend a striking "thank you." 
Here's to Radnor Sports and here's the Radnor Sports Roundup: Edition #13. Enjoy!
—Nathan
---
Lacrosse (girls) – Lauren Kelley
Although The Radnorite's coverage of spring sports is coming to a close, the girl's lacrosse season has just reached its peak. Having played all of their  Central League games, Radnor Girls Lacrosse is number 4 in the league, winning them a bye in the first round of district playoffs. The team played #13 seed, Kennett, on Thursday and competed hard to come out on top 11-8. This was the perfect gift for goalie Arden Jansen, as she was celebrating her 17th birthday; Jansen thanked the team, "saying thanks for making my birthday an unforgettable one!" The team played in the District tournament one on Saturday, May 21st against #5 Unionville in the district tournament and pulled an 11-6 victory through 96-degree weather. When asked to comment on the States journey to come, captain Olivia Kelley relayed, "we have to take everything step by step. Our focus should be on the next game so we can come out strong and give it everything we got." 
Lacrosse (boys) – Olivia Brubaker
Radnor Boys Lacrosse dominated the Central League this season with an 18-2 record and advanced to round three of district playoffs this past weekend. They continued their 8 (plus) game-winning streak, beating Marple Newtown 13-4 and Lower Merion 13-3.  RALA kept their momentum against Garnet Valley (17-8), Upper Darby (15-1), Downingtown East (11-7), and nearly shut out Ridley with a 15-1 victory on Senior Night. After beating Salesianum 10-8 on May 12th, they knocked them off of Inside Lacrosse's top 25 list, a great way to end the regular season. RALA kicked off districts with a great win against Kennett (16-3), whom they had not played since the 2021 State Championship. The boys advanced to the second round this past Saturday, where the team endured almost 100-degree temperatures but pulled through with a 16-3 win over CB East. As the defending State Champs, the boys have proven that they still have what it takes to make it in the state tournament this year. 
Colorguard – Cynthia Maz
After a long competition season, Radnor's Colorguard was ready to compete in championships in the MAIN and TIA circuits. On April 23rd, the team competed in the TIA regional competition, where they came in second place with a score of 87.98. With this score, the team was seeded first in the TIA circuit for the Atlantic Coast Championships in Wildwood, NJ. A day after their silver placement in TIA, the team traveled to the PPL Center in Allentown to compete in the MAIN championships, where they received a score of 89.22 and came in first place, making them the 2022 Scholastic A Champions in the MAIN circuit. The next weekend, the team took their long-awaited trip to Wildwood. In their prelims performance, the team came in first with a score of 88.94, only 0.03 points ahead of the second-place team, Downingtown West. After a day to cool off and hang out at the beach, the team performed for the last time this year on Sunday, May 1st. Not only did Radnor's Colorguard beat their previous record of 91.39 with a score of 91.71, but they also came in first place, being the first Radnor team to win a gold medal at TIA Championships since 2010 and the first to win in the Scholastic A division. The entire team is sad to see this wonderful season end, but they're excited to have achieved so much this year. Radnor's Colorguard will be spinning with the RHS Marching Band at this year's Memorial Day parade in Wayne. If any students are interested in joining the successful, fun team, there will be an informational meeting on June 9th at 7:00 pm in the RHS band room. 
Softball – Caroline Monahan
The RSB 2022 season came to an end last week. The team had an exciting year with many ups and downs, but through all adversity ultimately grew as a team. The squad, unfortunately, did not make their way into the playoffs but had a nice win at the end of the season against Harriton. Radnor Softball is losing their only senior and commonly-loved captain Kelsey Moore. After playing for four years in the program, she has made unforgettable memories. When prompted, she recalled her favorite memory as "pegging tennis balls at Megan Dole" and recounted her favorite thing about the team as "how close we all are and how quickly we bond with freshmen and new players." She will be greatly missed next year. In the future, the team's chances of improving look bright, due to lots of great returning players such as junior Naomi Gross, who is the team's amazing lead-off hitter and first baseman.
Crew (boys and girls) – Ellie Davis
These past few weeks, the girl's and boy's crew teams participated in their biggest races of the year. Last weekend, the full boy's team and one boat from RGCC traveled to Lake Mercer in New Jersey to participate in the Mid-Atlantic Youth Championships. Typically, RGCC doesn't participate in this regatta, but there was one boat in particular — the Novice four coxed by Annie Sears, with rowers Kristin Spykerman, Caitlin Roeltgen, Zara Taylor, and Devin Long — that needed another chance to race because they had previously missed out on Flick #5 due to illness. They took third in the under-17 four category, bringing home a bronze medal. The boy's novice eight also did well, placing second and gaining a silver medal, with rowers Matthew Tyburski, Theo He, Nate McCreary, Gavin Payne, Timmy Ledbetter, Isaac Denham, Louis Martin-Labille, Taylor Kellett, and Graham Teehan coxing.
Both teams went into this past weekend with hardware already acquired, but nonetheless were hoping for more. On Friday and Saturday, the teams rowed in the biggest regatta of the season — the Stotesbury Cup. This race has been running since 1927 and brings over 5,000 athletes from across the U.S. and nearly 10,000 spectators. This two-day regatta consists of a three-step process to winning a medal: 1) placing well enough in a time-trial race 2) placing well enough in a heat of six boats in a semifinal race 3) getting onto the podium in a final race. As boys captain Joey Odorisio said, "This is what we wait nine months for. We are definitely excited." The boys junior four placed 6th in their heat and made it to finals. Though they didn't medal, they were excited to have beaten their rival school, St. Joseph's Prep, to the finals and only by .25 seconds. Boys assistant coach Bob Lennon said that he felt "elated" listening to the announcer say "holy smokes it's Radnor" the moment they pulled ahead of St. Joseph's Prep. The boys lightweight four also secured a spot in the final. The girls' same novice four, racing in the second varsity four category, placed first in their time trial and rowed a close final race to get second, earning themselves a second set of hardware.
Yesterday, the teams participated in the City Championships — their final race on the Schuylkill river course or the equivalent of a last "home game" for many of the seniors. The boy's team took home bronze from the novice eight, silver from the lightweight four, gold from the JV four, and gold from the varsity pair — a medal from every single boat. The girl's novice four took home gold as well. As girls freshman coach Annie Sniffen said, "I think all of the freshmen have surprised themselves with how strong they really are." Assistant coach Crystal Brostek added, "I think the team showed grit — gutsy, scrappy, period." Sadly, the girl's varsity eight missed medaling by a mere second, though the season is not done yet, as multiple boats from both teams were accepted to participate in the 2022 SRAA "nationals" Regatta in Camden New Jersey on the Cooper River this weekend.
Tennis (boys) – Sam Hilbert
The Radnor Boys Tennis team's first district match was against Upper Dublin at the RHS courts. The matches were all very close until Radnor managed to pull away and win 3-2. The next match was against Lower Merion on May 3rd at LM's courts, and after some tough matches, Radnor, unfortunately, lost 0-5. The boys' season came to an end on May 5th when Radnor faced Harriton in their third district match and lost 1-4. Despite the final score of the event, the matches were very close and everyone fought hard. When asked to reflect on the season, Senior Hyeonjin Kim replied "I think our team improved a lot this year, especially the doubles teams. For the most part, we all got better as a whole this year, there was a big jump in skill level and it's nice that most of the team is young so we have lots of room for improvement." Another senior, Manato Matsuoka, was asked how he felt the team chemistry was this year and responded "I think overall it was nice to be back with everyone, I felt like this year the team was more close compared to other years." While the season may have ended, there are still events such as the banquet for the team to say goodbye to the seniors and celebrate a successful year for the team.
Outdoor Track (girls) – Senny Farhy
Radnor Girls Track sent a relay and four individuals to the PIAA District 1 Championship at Coatesville on May 21st and 22nd. The first event on the track was the 4×800 meter relay of Courtney Kearns, Amelia Dole, Zoe Margolies, and Lucy Henkel. Together, the team finished in 9 minutes and 54 seconds. Dole was able to tie her best time and Margolies lowered hers by 2 seconds. Next up was Lucy Minning in the 100-meter dash trials, who cruised to the finals with second place in her heat with a time of 12.52 seconds. Lucy Henkel took the track once more in the mile, running a school-record time of 5 minutes and 1 second and earning a second-place finish from the slow heat, punching her ticket to the state championships next weekend. Another individual headed to states is Sophia Hill. Hill placed fourth in the pole vault with a jump of 11 feet and 6 inches on a windy day. The following day, Lucy Minning ran the 100-meter final for a podium finish of 6th place. Minning later ran the 200 in 26.6 seconds. Lucy Henkel then joined with Courtney Kearns to run the open 800. Both girls tied their personal bests (Kearns- 2:21, Henkel- 2:14) on a scorching hot day, an extremely impressive feat! Radnor Girls Track is excited to cheer on their teammates as they head to states and possibly run some postseason races!
Outdoor Track (boys) – Jimmy Kurtz
The boy's track team finished off the season at Districts in Coatesville. The meet featured Senior Captains Jimmy Kurtz (3200m), Michael "Big Mike" Rocheleau (200m), along with sophomore Luke Bodden (1600m & 3200m). The meet largely took part on Saturday which had staggering highs of 95 degrees, causing Luke to "fold like an omelet" after leading the whole 3200 field through the first 5 laps (2000m). After racing an insane 200m last week to qualify for districts, sprinting Captain Rocheleau placed 5th in his heat and 26th overall. The senior sprinter came away happy with the final race of his track career, saying "[his performance was] not the time [he] had hoped for but [that he was] just glad to run at districts this season, and was happy to see everyone compete." Distance Coach Joe Manion also came away satisfied with the results of the season. "I am proud of everyone's effort for the team, I thought we had a chance to get more people in districts and states, but I am happy with how the season played out." Overall, Radnor boys running has a lot to be proud of this year with multiple state championship appearances in Cross Country and Track, and a new school record in the 3k indoor distance race.
Baseball – Jacob Farhy
As afternoons have begun to heat up, so have the Raptors. Since their disappointing start, the varsity squad went on to take seven of their next nine games, capping it off with a 12-5 crushing of the Harriton Rams on Senior Night. The bats were led by senior captains Patrick Mannix, Austin Marx, and Jack Pachella, as well as standout junior Dante Hopson. All four hitters recorded extra-base hits in the offensive explosion for Radnor. On the mound, pitching ace Will Reger put together five solid innings of work while freshman Danny Armstrong was able to close the game out strongly and secure the win. Following the win streak, the red-hot Raptors took on the Plymouth-Whitemarsh Colonials in a distant but tight match. Down 5-2 in the seventh inning, Radnor was able to rally late and knot up the score at 5; in the next half-inning, however, Plymouth-Whitemarsh was able to squeeze home a run and take the game 6-5. Although they may not have completed the job, the performance showed signs of heart and fight against a strong 15-5 opponent. The varsity team takes on the Oxford Hornets Monday, May 23 in the first round of the playoffs. Over on the JV team, the Raptors rallied together behind their dominant pitching trio, consisting of sophomores Ryan Carr, Andrew Barbarisi, and Logan French to rip off seven straight wins. "After a tough first few games, our season turned around once we stopped playing so tense, and tried to have more fun during games," said Carr. Both teams should be proud of the way they turned around their seasons; Radnor Baseball will be an exciting squad to keep an eye out for in post-season competition.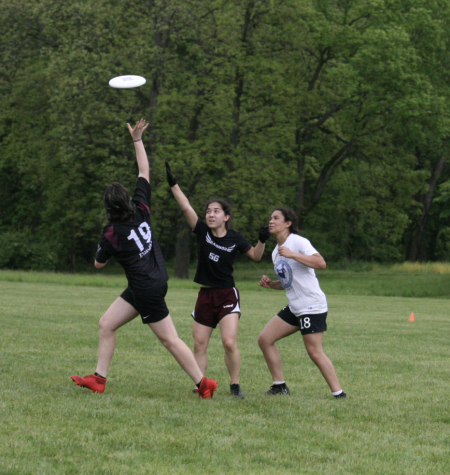 Ultimate Frisbee (girls) – Reese Hillman
The girls' ultimate team has had an eventful few weeks on their road to states. Following their 2nd-place finish at the Hip Hop tournament, the girls faced Pennsbury on April 29. Although they found themselves down 0-7 at halftime, the girls were able to muster some inspiring spirit and battle their way a few points up for a 7-12 finish. Only a few days later, RGUF faced Garnet Valley for the first time, defeating the new opponent 13-4 with help from senior captain Isabelle Deputy, who has an astonishing eight D's (knocking the opponent's disc away and turning possession over to our team). The following week, the girls played two more games. First, RGUF defeated Haverford on May 10, 13-4, with sophomore Diana Huang securing five assists. Two days later, the girls pulled out a 12-5 win against Strath Haven. With only one off-day, the girls sprinted into the weekend's tournament: Cities (the qualifying tournament for States). RGUF started out strong on Saturday morning with an 8-1 win against Science Leadership Academy and a 7-3 win against Pennsbury, made possible by sophomore Sofia Dillon's outstanding 10 D's. Thoroughly soaked to the bone from the pouring rain and missing a number of seniors who had departed to get ready for prom, the girls, unfortunately, lost 1-9 to Masterman in their third game but were able to wrap up Saturday with a 10-2 win over Haverford. The team returned to Lower Perkiomen Valley Park on Sunday to complete the tournament, first losing 3-8 to Lower Merion. However, thanks to an emergency coffee run by Erica Clarke's mom, which rejuvenated the seniors recovering from prom, the girls finished Cities with an 11-1 win over Strath Haven. The girls will be practicing hard over the coming week before traveling to Pittsburgh for the state tournament over Memorial Day weekend!
Ultimate Frisbee (boys) – Petros Karamanides
RUF has concluded its regular season and the team is looking forward to states after qualifying at cities. After a slow start to the season, Radnor quickly established itself as one of the best teams in the state, built on a foundation of athleticism and impressive team chemistry. The sudden surge has been anchored by senior captains Ben Robinson, Zack Barbarisi, and Seb Kaper. We "proved all 7 of our haters wrong," says Robinson, the primary handler and centerpiece of the team. Radnor secured their first major win after beating Science Leadership Academy, a win that gave them the confidence to succeed for the rest of the season. RUF then followed this up with consecutive wins against Plymouth Whitemarsh and Methacton. Senior and deep-deep extraordinaire Henry Piatt described the season as "great." This sentiment has been echoed throughout the team, and spirits are sky-high leading up to the biggest tournament of most of the team members' lives. At states, Radnor will seek revenge on Pennsbury after a close loss at cities. Ben Robinson puts it best: "Pennsbury, Trashbury, Pillsbury doughboy, it doesn't matter … RUF in 6."
---
Interested in contributing to the Radnor Sports Roundup in the future? While Edition #13 caps off The Radnorite's coverage for this school year, stay on the lookout for new information at the start of the 2022-2023 school year!