Radnor Spreads the Holiday Spirit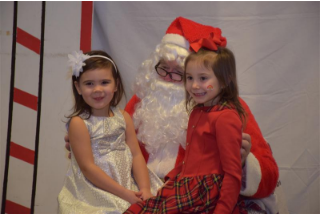 Radnor Township hosts many events throughout the year, including the annual Saturday-morning Breakfast with Santa. While there was much going on during the 2-hour event, it didn't fail to spread holiday spirit in typical Radnor charm.
The festivities took place in the Radnor Middle School cafeteria on December 10. Tables were decorated with festive embellishments, and Christmas music played on repeat all morning. Kids of all ages ran around, eating French toast and strawberries, decorating sugar cookies, getting their faces painted, and coloring in Christmas trees and reindeer-pulled sleighs. The best part seemed to be when they finally got to meet the big man himself. While they were playing, adults gathered, talked, and took pictures, and it was clear that the Radnor Christmas traditions were for more than just kids.
The great work done by volunteers in Radnor Township definitely pays off for events like this one where people of all ages can get together and share the holiday spirit. If the true meaning of the holidays is to spend time with the people we care about, then Radnor definitely makes the most of this, providing many events for its residents in December, such as Breakfast with Santa and the Wayne tree-lighting night.