RUCKUS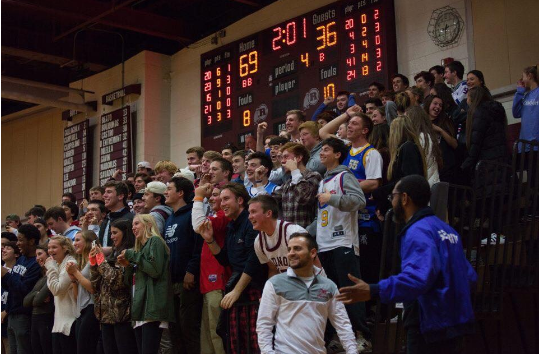 From early September to the end of June, Radnor sports create an exciting environment here at Radnor High School.  The electricity is almost tangible.  The intensity is unparalleled. The togetherness is undeniable.  For one to imagine these realities, they must know the Radnor Ruckus, Radnor's student body that attends sports events.  
Some define this Ruckus as "a rowdy group of hooligans set on distracting opposing players and teams".  But when one witnesses the group of students firsthand, this definition falls flat. This group surely is rowdy, but its presence has meaning. The idea of our school's great pride becomes defined as a network of students coming together in encouragement of our athletes.  The Radnor Ruckus, in victory and defeat, remains solid, as our school's fundamental symbol of unity in athletics.
As a basketball player, I can confidently affirm the value of student support at games.  I can stand in solidarity with my teammates, but also look to the bleachers when encouragement becomes necessary in achieving our goals.  I can hear the deafening outcry of student voices in times of nail-biting circumstances.  When the game is tied, with fate hanging in the balance, the Ruckus is there for that extra boost, to push our team to heights we could perhaps not reach on our own. The opposing team undoubtedly feels the student presence, pushed into competition against the loud nature of our students, all the while having to focus on the actual game.  
To highlight the value of student support, look to the Radnor soccer's historic state tournament run.  Along with the team's success came a statement from our student body on our overall unity.  At each of the playoff games, even the ones long distances away, Radnor students came, cheered, and celebrated the soccer victories in massive numbers.  One such instance was the District 1 State Championship against Holy Ghost Prep, where the Ruckus' large turnout demonstrated to our soccer team our commitment to it and the school.  
My evidently strong belief in the Radnor fan section has caused me to ponder what the true foundation of it is. Could it be that students have nothing better to do? Or they want to find a place to simply hang out with friends? While these ideas could be convincing, I somehow always come back to the Radnor student body's unique sense of community. We seem to have a knack to attend these games not out of something artificial, but rather a genuine dedication to our peers wearing the maroon and white. Whether it be a busy Monday night or the Friday before Winter break, Radnor students seem to pay no heed, with consistent turnouts at most games.
So, my discussion here not only recognizes the value we as students bring to the table, but also calls on those who haven't made it out to Radnor events to join in behind our teams. To be a part of this Radnor Ruckus lives on as an experience like no other, effectively combining school pride and the rush that sports create. It is the backing of our peers, especially on athletic fields, that sheds light on the tremendous value of the tight-knit family we have and cherish at our school.