Divide Review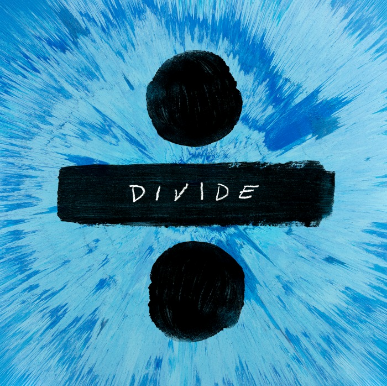 Ed Sheeran has always broken the barriers between hip-hop, folk, rock, and pop.  The beautiful blend of these genres is what makes Ed so unique, and has earned him his astounding fame.  Ed Sheeran's new album both offers a bigger blend of genres and more success than his two previous albums.
Plus and Multiply had some variation in their songs, but Divide goes even further.  "Dive" provides the album with a bluesy ballad, while "Galway Girl" adds celtic-folk.  Divide also has many powerful songs, most notably "Castle on the Hill" and "Eraser".  "Castle on the Hill" tells the story of Ed Sheeran and his friends growing up, while "Eraser" has Ed Sheeran describe his musical upbringing.  
The most popular song, "Shape of You", is a catchy dance song, but not one with much merit.  As of now, the radio has played it countless times and will continue to do so for months.  But in a few years it will most likely be forgotten among the hundreds of other pop songs.  The lyrics are bland, while the music offers little to the table.  
However, despite the curtain of catchy-dance music the album might portray, the album has several nuances that give it a beautiful touch.  The silver lining comes with songs like "Supermarket Flowers", "Perfect", and "What Do I Know?".  Ed wrote "Supermarket Flowers" honoring his grandmother who recently died, and sung it from the point of view of his mother.  Because of the song's sad nature, the instrumentation is little more than a piano.  This may seem like a lacking feature, but instead it allows the music to take a backseat, and for Ed Sheeran's lyrics and emotions to truly shine.  "What Do I Know?" uses this same technique, using only an electric guitar and minimal percussion.  Ed Sheeran has stated that "Perfect" is the best song he has ever written, and frankly I agree.  The song presents itself slowly, but wraps itself up as a very powerful and emotional song.  Despite many of Ed's ballads, the lyrics in this song feel personal, and add a warm touch.
Divide tries its hardest to appeal to the masses, and achieves great success in this area.  Currently, Divide is placed number 1 on the billboard top 200 and "Shape of You" is placed number 1 on the hot 100.  Ed Sheeran has always achieved success since his major label debut Plus, but Divide opens him up to an even greater audience.  Overall, Ed Sheeran's new album offers a beautiful blend of genre that further proves why he is one of the most creative artists of our generation.