A Photographic Look Back on LM Week
Perhaps the most celebrated tradition in all of Radnor is our rivalry with LM. Each year in mid-November, Radnor students continue the tradition of celebrating LM Week through decorating hallways, organizing spirit days, and the all-important pep rally. If, like me, you're already longing for another LM Week, hopefully this reflection will help ease the Post LM-Week Depression.
———-
As per tradition, Radnor students covered the halls with posters in preparation for LM Week. In the spirit of the theme, each grade was assigned a different Nickelodeon cartoon as inspiration for their respective hallways.
The freshman class took on "Dora the Explorer" and "Go Diego Go."


Sophomores impressed with a "Fairly Odd Parents" themed hallway.


Juniors covered the International Cafe and language hallway with "Jimmy Neutron" themed posters.


Seniors certainly wowed with a "Spongebob" theme for their hallway.


A second traditional aspect of LM Week is the series of spirit days. This year's lineup was Pajama Day, Tiki Tuesday, USA Day, and Throwback Thursday. For Friday, as always, students wore their LM t-shirts for the rally.
To kick off the week, students stayed comfortable and warm on Monday celebrating PJ Day.


Because Election Day and LM Week usually overlap, there typically is no school Tuesday of LM Week. Since this school year started later than usual, though, Election Day fell a week earlier. Thus, a Tuesday spirit day was necessary this year. Tiki Tuesday was embraced with open arms as students donned Hawaiian shirts and other festive gear.


Students sported red, white, and blue to celebrate USA Day on Wednesday, which also was Veterans' Day. During what would have been community period that day, students gathered in the main gym for an assembly on the holiday and its significance.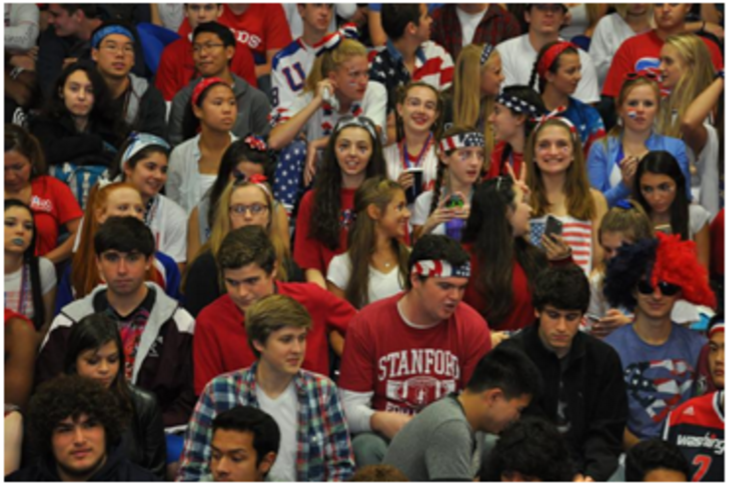 On Thursday, students payed homage to the past in the spirit of Throwback Thursday. Halls were filled with tributes to events as recent as PJ Day and as far back as prehistoric times.


Friday, the day of the rally, marked the climax of the week with respect to spirit. Students wore their LM shirts and put on glow-in-the-dark face paint.


As usual, the rally was marked by a succession of impressive shows beginning with the Senior Partner dance and ending with the Senior Boys' dance.