Embattled State Senator Daylin Leach Gave a Presentation on Government to Radnor High School Students Last Thursday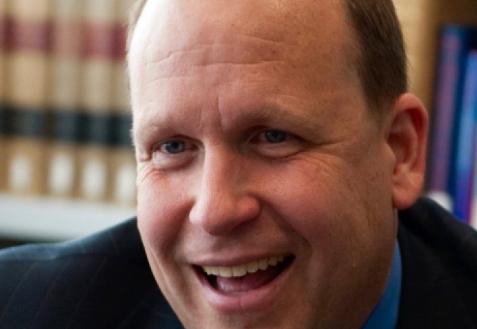 On February 24th, Daylin Leach ended his campaign for Congress amid allegations of sexual misconduct. Last Thursday, May 31st, he was at Radnor High School to talk about government with Radnor students. Mr. Leach is a state senator for the 17th district, representing Radnor, other parts of Delaware County, and parts of Montgomery County. He has served in this capacity since 2009 and before that as a representative to the Pennsylvania State House for five years.
In the lead up the to campaign, Mr. Leach hit the apex of his internet fame for his frequent use of Twitter and colorful commentary on the Trump Administration. Mr. Leach has referred to Mr. Trump as "Cheeto-faced," a "Mutant Cadmium Wag," a "bloviating odoriferous toad-woppet," and a "loofa-faced, shit-gibbon."
Mr. Leach, despite being a self described advocate for women's rights, stands accused of several instances sexual harassment. At least eight women have accused him of behavior that ranges from sexualized jokes and comments to inappropriate touching. These actions included repeated discussions in front of female staffers of "women [he'd] like to f—" . Aubrey Montgomery, who was the finance director for Leach's first senatorial campaign in 2008, said, "As great as [Daylin Leach's] legislative record is for women globally, he can be awful to women individually."
Mr. Leach responded to those allegations with a written statement in December. He attributed the scandal to political opponents and reporters being "hungry for a story." He then addressed allegations that he had made inappropriate and often sexual jokes by noting that he is a "humorous guy" with a comic sensibility that is "no more racy than the average person's, but … not pure either." He admitted to using "bawdy humor" and attributed his numerous invitations for speaking engagements in part to his "humor." Mr. Leach then denied that the alleged incidents ever happened, while at the same time saying he did not remember them.
"This disturbing behavior is absolutely unacceptable. Senator Leach should resign," said Pennsylvania Governor Tom Wolf back in December. Mr. Leach did not. After the first statement, Mr. Leach attacked accusers on Facebook, wrote a letter expressing remorse, and missed a mandatory sexual harassment training for the Senate Democratic Caucus.
Radnor has a complicated history with visits by politicians. In April of 2008, Senator Hillary Clinton visited Radnor High School without incident. Two years later Vice President Joe Biden was invited and then disinvited from RHS, which caused controversy. In response to that embarrassing situation, the Radnor School Board adopted policy 910 in 2012. This policy encouraged campaigning visits by politicians and made concessions to both sides including the stipulation that "no student will be required to attend a campaign event. Nor will students be penalized or rewarded academically for either attending or not attending the event."
However, Mr. Leach's visit was not campaign related. Mr. Leach instead was visiting as a sitting state senator in order to give a talk about government. This in turn renders the aforementioned policy irrelevant. In the resulting vacuum devoid of a guiding district policy on what to do with an educational visit by a politician who has been accused of sexual misconduct, the correct course of action is debatable.
Junior Etienne Falquet commented, "If they are valid accusations backed up by evidence then he should not be in office, but they should investigate to make sure it's not just someone or group of people out to make him look bad." Falquet added, "If he said those things then he probably shouldn't come [to RHS] because that's not a good role model for students since he is showing morally wrong actions."
Mrs. Stern, the vice president of the school board, noted that we "live in a time of heightened awareness…[and] if a student feels uncomfortable [with Mr. Leach]… they should feel empowered to voice those concerns to the proper channels." Mrs. Stern also added that given that the allegations at this time are just allegations and not investigated, Mr. Leach should be able to speak at RHS because he is our elected official.
Life spins in small circles, and especially in this age of Twitter, previous words return to us with elevated energy. In 2009, while on his way to give a seminar on government, Mr. Leach tweeted that he would tell the audience, in reference to Harrisburg's recent actions, "Don't do that." Is this statement a still timely burst of snark or a piece of self-parody?