Save Stoneleigh!
The public natural garden, Stoneleigh, lies, shrouded in trees, not too far from the commotion of Lancaster Avenue. A sign sits outside of its newly opened gates, welcoming visitors into the property. This sign reads "preserved forever…", and yet, Lower Merion school district is  attempting to redefine forever.


Anyone who's spent the majority of their life on the mainline has, on at least one occasion, seen the wooden rabbits on County Line Road. When I was a child, I would peer out of the window with glee whenever my family drove past them, especially if they were adorned with accessories for the next approaching holiday. The bunnies sit on the edge of a 42-acre estate known as Stoneleigh, formerly inhabited by John and Chara Haas, who passed away in 2011 and 2012 respectively. The family of rabbits represent John, Chara, and their five children.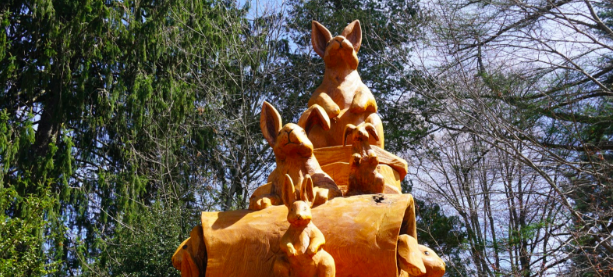 It's no secret that the couple was incredibly passionate about bettering their community. John's father founded the William Penn Foundation: a charitable organization committed to improving quality of life in the greater Philadelphia area, with a focus on watershed conservation. The family donated $10.5 million to Penn Medicine. They supported local organizations, as well as gardens such as the Morris Arboretum. Undeniably, the Haas family was a pillar in their community. Their final and perhaps most valuable gift was Stoneleigh.
John Haas' estate donated the land in 2016 to Natural Lands: a nonprofit that seeks to save land, care for nature, and connect people to the outdoors. The purpose of the donation was to create a beautiful place for everyone to enjoy the scenery and appreciate  nature. The gates opened on May 13, and the property is stunning.
A couple of my friends and I visited the property on a Sunday afternoon. As soon as you walk in, you suddenly understand how special the property truly is. The place is a haven; it's peaceful, breathtaking, and loved. County Line Road disappears.
From the entrance point, you find a small building with glass walls housing boxes of Save Stoneleigh lawn signs. Then, the path forks. To the right, you see the gorgeous stone mansion sitting atop a sloping, green lawn. To the left, there is a series of meandering pathways. One particularly interesting structure is a statue of organ pipes. The Haas couple had an affinity for the instrument; in fact, the second and third floors of the mansion, in an agreement with Natural Lands, are serving as a library, office, and archives for the Organ Historical Society.
Nestled behind trees, a pergola with branches lying across the open top creates criss crossed shadows. Gardner Fox was hired by Natural Lands to renovate parts of the property, while Pentecost, Vitale, and Olmsted Brothers installed historic landscape features. A team of Natural Lands staff designed the gardens and installed 10,000 plants, a number that will surely grow.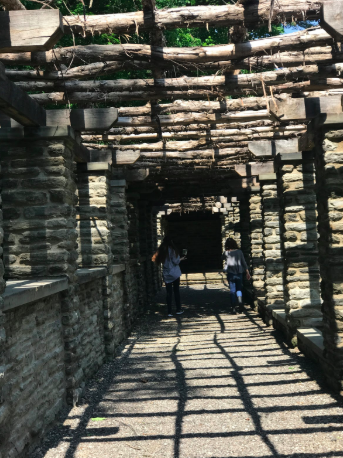 Drooping tree branches shelter the path into a grove of sorts, one of several around the property. Encircled in stone, the otherwise shaded area is hit with sunlight in the middle of the clearing.


The variety of native species is impressive, and new treasures are constantly revealed as you walk further. I could go on describing the unique landscape, but it's really better to visit for yourself. Entry is free!
Many of us on the Main Line who have visited the garden appreciate that Stoneleigh is a special place. Consequently, we are dismayed that the Lower Merion school district announced its intentions to seize the property in order to accommodate the growing student population.
Initially, LM only wanted 6.9 acres in order to build athletic fields; however, now the district wants the whole 42 acres. They plan to seize the property through the use of eminent domain: the government obtaining private property for public use with payment as compensation. No payment is worth losing this local treasure.
In a letter to the editor of the Main Line Times, the school board president, Dr. Melissa R. Gilbert, and superintendent Robert Copeland boasted that "Lower Merion has no shortage of spots where residents and visitors can enjoy nature." However, this is not the first time the district has threatened the use of eminent domain on one of these "spots."
Worryingly, Lower Merion has been guilty of threatening the use of eminent domain in the past. In 2016, the district announced plans to develop the 28-acre Ashbridge Park, located in Rosemont. Just a few years before that, local citizens shut down attempts to turn that very same park into a bus depot.
Furthermore, similar rifts between a school district and its citizens are occurring right now elsewhere in the state, proving that this is a growing issue. Cumberland Valley School District, another one of Pennsylvania's rapidly growing school systems, is also currently attempting to seize open space for district use. The land in question is that of McCormick Farm: a 116-acre site designated open space "in perpetuity."
It's important to know this when reading statements from the district such as the one above: "Lower Merion has no shortage of spots where residents and visitors can enjoy nature." The website lists 15 parks and open spaces, and yet the district has already tried to destroy 2 of them. The practice of threatening eminent domain on preserved open space is dangerous; once properties like these are gone, they're gone forever.
The campaign to Save Stoneleigh, initiated by Natural Lands, has attracted an enormous amount of attention. Support has been shown through the hashtag #savestoneleigh on instagram and twitter, as well as through an abundance of support for the movement on facebook. A petition created by Natural Lands has upwards of 27,000 signatures. On June 6th, state representatives Warren Kampf, Kate Harper, and Marcy Toepel took a step that gave hope to these 27,000.
Kampf introduced House Bill 2468, which would require the school district to obtain approval from the Orphans' Court, a court that deals with estate administration, in order to use eminent domain to seize Stoneleigh. Kampf hopes to hold a committee hearing and vote the week of June 11th. He said, "My goal is to at least have it over to [the] Senate in time for them to act on it before budget is done at the end of June." Many are hopeful, as the bill has had several other legislators sign on already. LM, knowing this bill is being deliberated, is still considering Stoneleigh as an option for future use. Help is still needed.
How can you help?

To officially pledge your support to save Stoneleigh, sign the Natural Lands Petition linked here: https://www.change.org/p/communitycomments-lmsd-org-save-stoneleigh-from-condemnation?recruiter=875107499&utm_source=share_petition&utm_medium=email&utm_campaign=share_email_responsive
To let your community know you support the movement, and that they should too, visit the property and pick up a lawn sign for you to proudly display.
Contact your local legislators and let them know you support the transition of HB 2468 from bill to law! Below is a link that will allow you to email your legislator:
https://bit.ly/2sYhjWD
Additionally, contact Lower Merion School District to let them know how you feel. The actions of the school district are watched closely by our community, but even closer by the students themselves. LM is not teaching their students, or, in their own words, "unique treasures," proper values regarding environmental conservation. Nor are they teaching their students the importance of respect; the district is disrespecting the last wish of two esteemed community benefactors. Furthermore, LM's shortage of land is a result of their own poor planning. In the past, the school district sold surplus properties near Harriton. Supporting community expansion without a plan for expanding schools is simply unwise. Their inability to anticipate a growing student population should not destroy the incredible legacy left by John and Chara Haas.