Remembering Stan Lee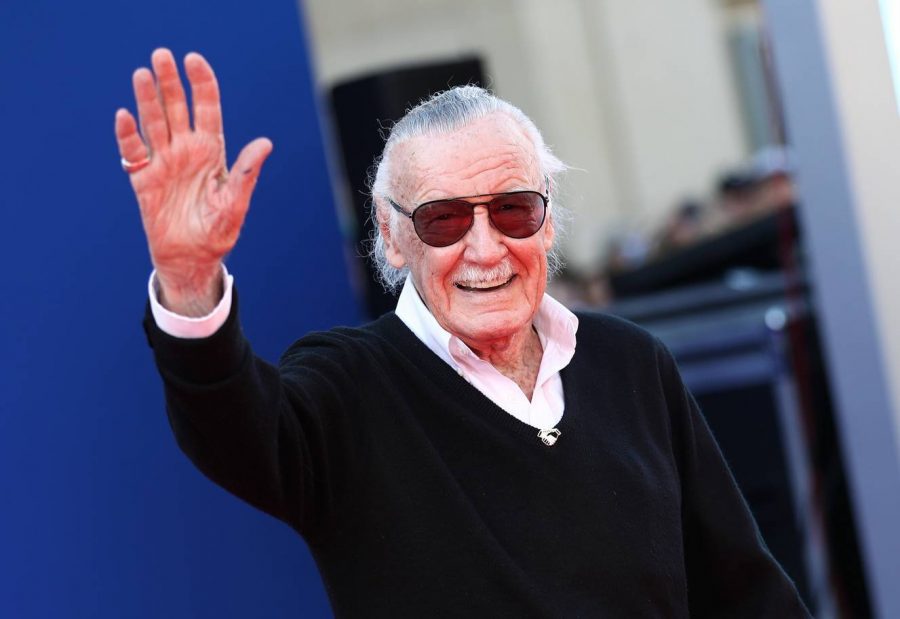 On November 12, 2018, the world lost a true hero. At the age of 95, Stan Lee died in Los Angeles, California, having inspired millions of fans around the world. His comic books and characters serve as both role models and entertainment to many generations. His creation of the Marvel Universe sparked a graphic novel empire and multi-million dollar movie franchise. His ability to push the boundaries of books, cinema, and ultimately society led to his significant imprint on modern culture.
Stan Lee was born in New York City, on December 28, 1922. Growing up, Lee (whose real name was Stanley Martin Lieber) loved to write and obtained several quirky jobs to explore his passion. After graduating from high school, Lee began working at Timely Comics in 1941 where he published an installment in the Captain America series.
As war plagued the world, Lee was drafted to fight in World War II, interrupting his writing career. From 1942-1945 Lee served in the Signal Corps. Upon his return, as an honorable veteran, Lee took the position of editor for Timely. He authored in varying categories over several years. His family grew in that time frame as well, as he married Joan Boocock, and they had two baby girls. Unfortunately, the youngest died within three days of being born.
In this period of time, Lee's passion for writing wavered. He lost his previous motivation and desire to write. He debated leaving Atlas (the new name of Timely) and even writing altogether. However, as the 1950s came to an end, DC Comics monopolized the graphic novel industry with their "Justice League of America." To avoid DC having complete control, Lee was tasked with creating a potential rival universe. In 1961, Lee's company became Marvel Comics and released its first comic, The Fantastic Four. What followed was a complex and compelling universe with some of the most famous superheroes in the world. These superheroes, humanlike in their moral philosophies and erroneous ways, created a new type of comic hero.
Lee became a legend in comic book history. He implemented several revolutionary techniques, including "The Marvel Method" and "Stan's Soapbox". "The Marvel Method," an unorthodox approach to creating comics, eliminated the need for full script submissions to graphic novel artists. The artists were given a simple plot outline for their designs, and left to their own devices. The writer then used these designs to finalize the comic book, using the newly created art to guide their dialogue. "Stan's Soapbox," an additional column to the back of Lee's comics, pushed boundaries as it allowed a space for Lee to comment on current events and related topics. He used this platform to address social issues amidst the 1960s civil rights movement, and express his desire for national change.
He became the publisher of Marvel Comics in 1972, and moved to Los Angeles in the 1980s to pursue the expansion of Marvel to both television and film. He became the producer of several Marvel television shows, including the "Incredible Hulk" series starring Lou Ferrigno and Bill Bixby.
After several attempts, including the short lived Stan Lee Media company, Stan Lee's comics were brought to the big screen. X-Men spawned a world renowned superhero action franchise and many instant box office hits after 20th Century Fox bought the movie rights. They created films such as X-Men (2000), X-Men 2 (2003), X-Men: The Last Stand (2006), X-Men Origins: Wolverine (2009), X-Men: First Class (2011), The Wolverine (2013), X-Men: Days of Future Past (2014), X-Men: Apocalypse (2016), and Logan (2017), as well as three upcoming movies including X-Men: Dark Phoenix (2019), The New Mutants (2019), and Gambit (2020).
Marvel Studios (later bought by Walt Disney Studios) maintain the movie rights to the characters in the Avengers, inspired by Lee's creation, whose movies gross over $688,000,000. The movies included in this Marvel Cinematic Universe are Iron Man (2008), The Incredible Hulk (2008), Iron Man 2 (2010), Thor (2011), Captain America: The First Avenger (2011), Avengers Assemble (2012), Iron Man 3 (2013), Thor: The Dark World (2013), Captain America: The Winter Soldier (2014), Guardians of the Galaxy (2014), Avengers: Age of Ultron (2015), Ant-Man (2015), Captain America: Civil War (2016), Doctor Strange (2016), Guardians of the Galaxy Vol. 2 (2017), Spider-Man: Homecoming (2017), Thor: Ragnarok (2017), Black Panther (2018), Avengers: Infinity War (2018), and Ant-Man and the Wasp (2018). Additionally, three more movies are currently in production, including Captain Marvel (2019), Avengers 4 (2019), and Spider-Man: Far From Home (2019).
Stan Lee's legacy will forever be imprinted on our society, whether it be from his movies, comics, or overall universe. His devotion, creativity, and talents introduced dozens of relatable role models to people of all ages, races, and walks of life. His comic books inspired both television shows and a movie empire, and are engraved in our hearts and minds. Stan Lee may be dead, but he will never be forgotten. Thank you Stan Lee, for bringing out the inner hero in all of us.