LOBBY404: INSIDE RADNOR'S 'INTERNET RULERZ'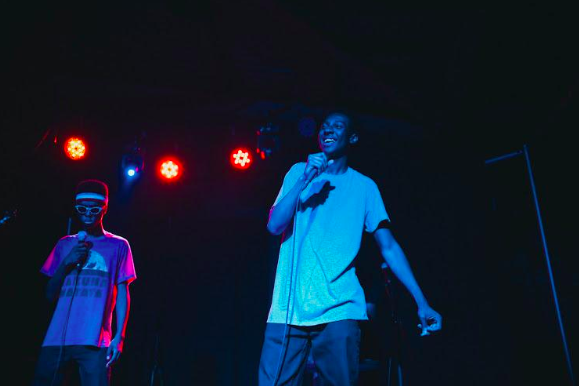 Packed into the Voltage Lounge in North Philadelphia, a mob of teenagers is getting impatient. There's barely any room to stand (think an overcrowded elevator, but with sticky floors), but they don't care about that. They just want the show to start. Someone starts to chant, and before long the whole house shakes. "LOBBY! LOBBY! LOBBY!…"
Backstage, Domino Gilley, Anthony Odum, and Dylan Roche hardly believe their ears. After a moment, they take a deep breath and cross the threshold to the stage, taking everything in. The three friends smile and laugh until Roche hits play on his laptop, and the show begins. The crowd quiets as an electric piano dances around, and horns come crashing in off the venue's speakers. Gilley hops into one of his trademark verses, beginning what would become an unforgettable night.
The date was August 12, 2018, when those eighty some teenagers congregated from every corner of the Main Line in that dimly lit, cramped, dive bar. They were all there for one reason: to see Radnor High School's latest sensation, Lobby404.
In the span of just one year, the group known as Lobby404 have successfully made a name for themselves in the rap game. They've gone from a school sponsored open mic night to a paid gig in Philadelphia, from a GarageBand demo to a Spotify release. Entering this school year, Lobby404 continues to grow its popularity and following. I recently had the pleasure of sitting down with two of the three core members of the group, Domino Gilley (senior) and Dylan Roche (junior).
Lobby404 is a trio of close friends; however, they were largely strangers before the group's creation. According to Domino Gilley, it all began in October, 2017, at a meeting for the Black Student Union, which Dylan Roche and Anthony Odum also attended. It was here that the three realized they all had something in common: a passion for creating music. Through discussing and then sharing music with each other, they created a unique chemistry. Dylan had been doing instrumentals, and both Domino and Anthony had been writing lyrics. It was almost too perfect.
As Dylan remembers, "We all said we had to collab on something. And it sort of went from a collab to a group." 
Just like that, three relative strangers who shared a love of hip hop became "Lobby404." The name itself came from the group's frequent hangout at the time: the Radnor High School main lobby. With Domino and Ant passing the mic and Dylan as the producer, Lobby404 was ready to go. The group got to work immediately, writing songs and looking to perform.
"There was an open mic night coming up in about a month, and we thought we should write our first song and perform it there," Dylan says about Lobby404's debut.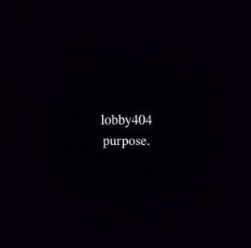 That first song came in the form of the mellow, piano-driven tracked titled "Purpose." Published on soundcloud the night before their first performance, "Purpose" marked the official beginning of the group. They had some worries, though, about how their debut would go over.
Domino remembers, "I was actually really terrified of what people would think. I wasn't even gonna put it on my story. I was like everyone's gonna laugh at me, they'll think it's so bad." 
Domino's insecurities couldn't have been further from the truth. From the minute they took the stage, Lobby404 captivated the audience with their energy and showmanship. Their public debut went better than they could have imagined, and Lobby404 emerged with a new cult following.
Domino recalls people's reactions to the debut: "I remember going home and seeing everyone's Snap story. I was just like, 'Oh my god, I don't even know these people, this is wild." 
Dylan continues, "We knew from then on we wanted to keep doing this, no matter what."
The group now had the task of delivering new music to their small, but growing fanbase. Each of the members was determined to keep pushing and creating, and the group worked on a number of songs in the following months. The anticipated follow-up came in January 2018 with "It May Be Glamour Life (remix)." The remixed Childish Gambino song presented an upbeat contrast to "Purpose," and that trademark chorus: "From the lobby to the penthouse!"
With "Glamour Life" becoming even more popular than "Purpose," Lobby404 continued to bring in new fans and generate conversation within the school and community. People began to see that the group really had some talent, both lyrically and musically. The question on everybody's mind was: What's next?
Moving into the spring of 2018, the group had ambitious plans for a full length album. Although this never fully came to fruition, a shortened version of the album became the group's biggest release since their inception: the five song EP, "Internet Rulers." Production was lengthy, and at times difficult, but the group was determined to put out the best product possible, no matter what.
On Lobby404's writing process, Domino explains that a song usually starts with a beat made by Dylan: "He'll [Dylan] mess around with stuff and send us a video. And we respond with a 'I like that' or a 'I don't like that' and we'll go from there."
"Recording is always the most chaotic part," adds Roche, the producer.
The recording environment was unique in Lobby's early days, as Domino says, "We used to be at the ABC house, which has a bunch of people living there. They'd either be just outside in the main area, or they'd be in the room with us recording."
Dylan talks about having other people in the room. He says, "Sometimes if it's less people, it's a lot easier to rewrite or make last minute changes, but when it's more people, it's a lot more hype. It's a lot more energetic."
This kind of hype and energy is present on Lobby404's most popular and well known song to date, "The Check In." 
Dylan goes on to explain that the voices heard in the background during the track's interlude are just their friends and whoever happened to be at the ABC house on that day: "I said, 'You know what? This track is about like who we are and how much fun we have making this music, so I might as well just put what we really did in the background of the song,"
"The Check In" was released in early April and  became the the most popular by far. Now, with the "Internet Ruers" EP on the horizon and the "The Check In" receiving  more soundcloud views than the group thought possible, Lobby404 gained an even larger audience going into May 2018. 
"There was a little bit of pressure'" says Domino. "But it was more like motivation, to write more, and do more with my lyrics, make them better. I thought, we have an audience now, people enjoy our stuff, I gotta make sure we keep them around. This is exciting."'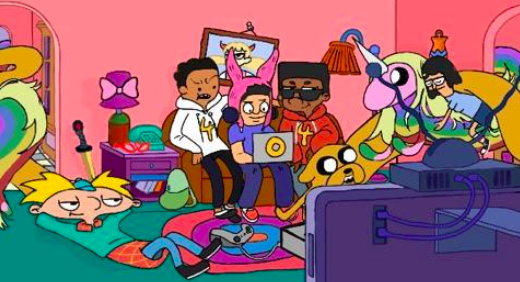 The anticipated "Internet Rulers" EP dropped in May. Now, for the first time, fans had more than just one song to digest at a time. By releasing multiple songs together, the group started to find a unique voice and an ethos. Musically, the EP is a strange but thoughtful mix of several different sounds. From the lo-fi chill vibe of "Rugrats" and "Gepetto" to the upbeat, soulful feel of "Lift Yourself" and  "The Check In," the EP offered much to its listener.
As Dylan puts it, "We give each song kind of a new style, so people will want to keep listening."
The tape covers a lot of ground lyrically, as well. From Avatar the Last Airbender references to jabs at Trump to even complex internal reflection, "Internet Rulers" proved to be the most artistically ambitious release of the group so far.
"There's a lot going on in those songs, for me at least," says Domino, "but I felt like we had something to say, and we said it." 
Dylan continues, "It's very impromptu at times. Whatever they feel like they need to write down is what will come out on the song, which I think it a very honest approach. Nothing is fake, or fabricated. We make our music tailored to how we want to, and say whatever we want, rather than just trying to get the mass appeal,"
This honest approach is evident in all of Lobby404's music, making them easy to latch on to. They aren't famous millionaire rappers, they're just teenagers having fun.
"Internet Rulers" skyrocketed Lobby404 to local fame entering the summer of 2018. The only thing left for the group was performing. Outside of two school open mics, the group had barely appeared publicly. Luckily, they had been discussing for a while with a local music promoter a plan to have a show at the end of summer. "Summer Scorcher," a showcase for up and coming local musicians, was to be held at the Voltage Lounge next to the Electric Factory in North Philly. Aside from releasing the single "The Come Up" in July, the group spent the majority of the summer crafting their performance.
"We worked on just the show alone for like a couple months," remembers Dylan, "just to make sure the setlist was good and we brought the right energy."
If energy is what they were going for, Lobby404 hit it out of the park. From the minute the band began their first set, fans in the room went nuts. All during setup, "LOBBY" chants broke out across the floor until it was time for the show to begin.
Dylan remembers it well: "That was definitely one of the highlights of my life. All this hard work that we had put into it finally paid off for this one amazing night."
Domino, too, was floored when he looked at the crowd. "This many people actually liked our music and paid and came out to Philly, all to see three people perform… that's wild."
The most memorable part of the night, however, was still yet to come. The show went smoothly, until the group performed their newest song, "The Come Up." As Jahmir "Jahboo" Rider (who is featured on the song) entered his verse, the unthinkable happened. Suddenly the music cut out and the mics were off. Even the lights behind the group turned off. The entire performance came to a screeching halt. The sound engineer, who had single handedly stopped the entire performance, ran up and explained to the group that they were way over their allotted time to play.
"It was the bands that went on before us." says Domino. "They went on too long and somehow we were the bad guys."
Dylan laments, "We were just frustrated because we had made sure our songs were the right amount of time, and we rehearsed it so many times. He basically said, 'I don't know what to tell you other then just leave.'"
Domino was heartbroken, but he didn't want to give up. He thought of a plan and proceeded to make an announcement that would dramatically alter the course of the night.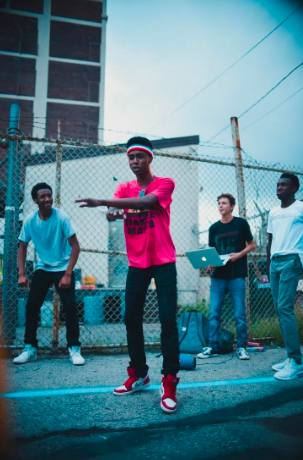 "I was like, 'Everyone, if you wanna hear the rest of our concert, go out to the parking lot in the back, and we'll finish it off!'"
The outrage of the crowd suddenly turned into excitement. One by one, everyone who came to see Lobby cleared out of the room.
"I went backstage to get my bag and my laptop," remembers Dylan. "I went back out and everybody we had brought was gone. The lights were on. All the hype in the room was just totally gone. I was in complete shock. Like, 'Oh my god, everybody actually went outside.'"
A massive semicircle of Lobby fans had congregated in the North Philly parking lot just outside the venue, and Lobby404's second entrance was met with even more applause than the first. Armed with nothing more than a laptop, a bluetooth speaker, and their voices, the group finished their last two songs.
"At that moment, just seeing everybody in the parking lot, it kind of made it feel like a community, I think," says Domino. Dylan then continues, "That was the most memorable part for me, the community. Because it was nice to just see everybody. There was no stage out there, obviously, so we were just all on the same level."
Domino talks about that community feeling: "This picture [shown below], this is probably one of my favorite pictures ever because it just shows everyone who was there, and a part of the family. It was so nice."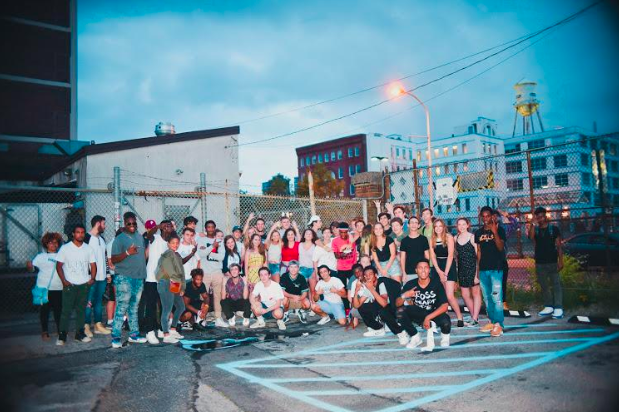 He continues, "Seeing everyone from different backgrounds, social groups, races, it was great. It was a bunch of people you wouldn't think would hang out, yet in that moment they were all best friends."
The parking lot incident turned an already successful night into an unforgettable one. It also served as a defining moment for Lobby404's first year. Around ten months after their inception, they had released a variety of music, gained a following, and created a distinct community in their fanbase. Continuing into the 2018-19 school year, the second year of Lobby404, the future looks bright for these young musicians.
The group has been relatively quiet since the show in August, but they have big plans on the horizon, telling fans to "be ready" for new music. The trio is optimistic for the year ahead of them, for both their music and their friendship.
"The friendship evolved with the music," says Domino. "And we're just gonna keep growing together."
It's rare to see such successful collaboration in music, much less with high school students. But that's Lobby404. From their first day together in the band room to now, the group has strived to be different, fun, and unapologetically authentic. It's hard not to fall in love with these outgoing, goofy, but always sincere kids, and that's what makes Lobby404 so unique.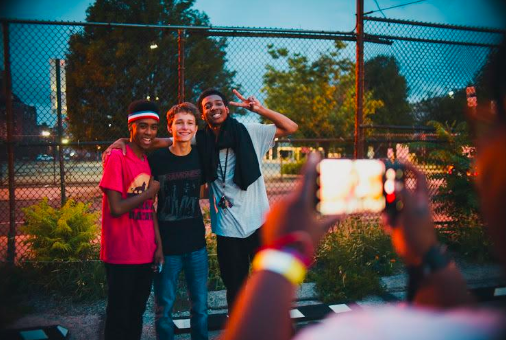 You can listen to Lobby404 on soundcloud here: https://soundcloud.com/user-457192610/tracks or by searching "Lobby404" on Spotify or Apple Music