Grubbin' with the Boys: Cheeseburger Edition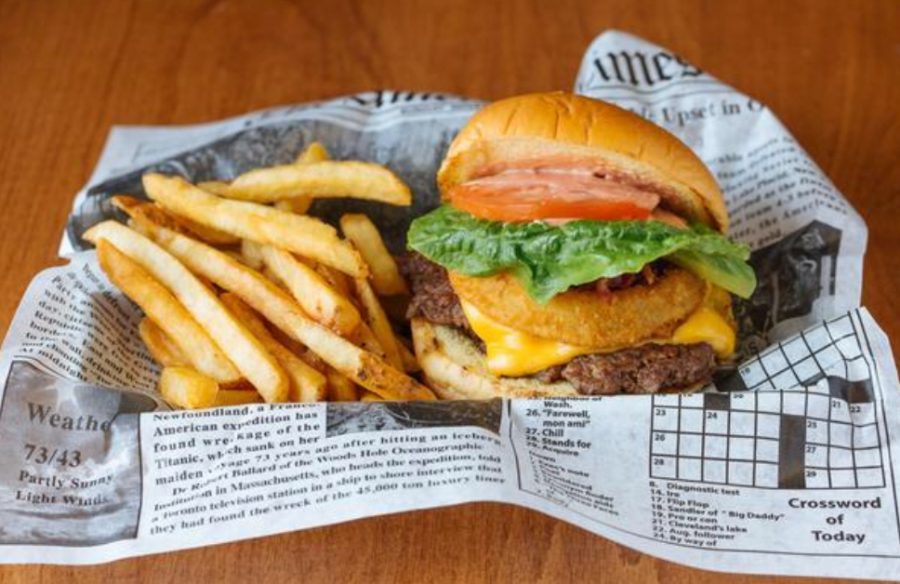 In lieu of Donald Trump's "hamberder" dinner, I think it's only necessary to have an article written on the best burger places, so you can recreate the dinner that I'm sure Clemson was pumped for. I mean, there's nothing I'd be more excited for after winning a college football championship, than a 1 dollar cheeseburger grown in a lab by your trusted McEmployees. So, in order to not write an article where I could just get some chunky Clemson lineman to tell me how they tasted, we did fast casual places. No McDonald's, Burger King or Wendy's. Now, writing this article with burger grease still coating my innards like a fine coat of paint, I give you our opinions on what the best fast casual burger is for your cravings.
Locations we tried
Smashburger

Five Guys

Elevation Burger

Shake Shack

Freddie's

HaveABurger
Rules: We ordered 2 burgers from each place: one with just cheese and one with their standard /toppings like special sauce, lettuce, tomato, and/or onion. We then judged the burgers based off the meat, cheese, bun and toppings.
Taste Testers:
Connor O'Sullivan

Will Gallagher
Eric Vollmer
Noah Conen
(My Brother) Jesse Conen
(My Dad) Zach Conen
     Burgers Ordered: 1 Create Your Own with just cheese, 1 Classic Smash
Starting off our list is the burger store closest to the high school: Smashburger. Apparently it gets its name from the fact that they smash their burgers fresh on the grill in a little butter to get a nice caramelized crust and sear in the juices. If that promise doesn't make you salivate, then I don't know what will. The first thing that I noticed, along with my brother Jesse, was the butteriness of the patty. Unfortunately, there wasn't really any other seasoning other than butter, so it makes for an unusually rich burger. This isn't a bad thing, just strange for a burger. The cheese was average at best, and the egg bun wasn't really unique enough either. The two positives for this burger were the crisp, fresh produce and the yin and yang of the crispy, caramelized crust on the outside and the juiciness of the patty on the inside. The produce didn't distract from the meat, but still elevated the experience, which I liked.  The burger was pretty juicy and crisp, which I also liked. This being said, it just wasn't as good as some of the other things on this list. As Eric, Connor and Jesse all said, it was just average.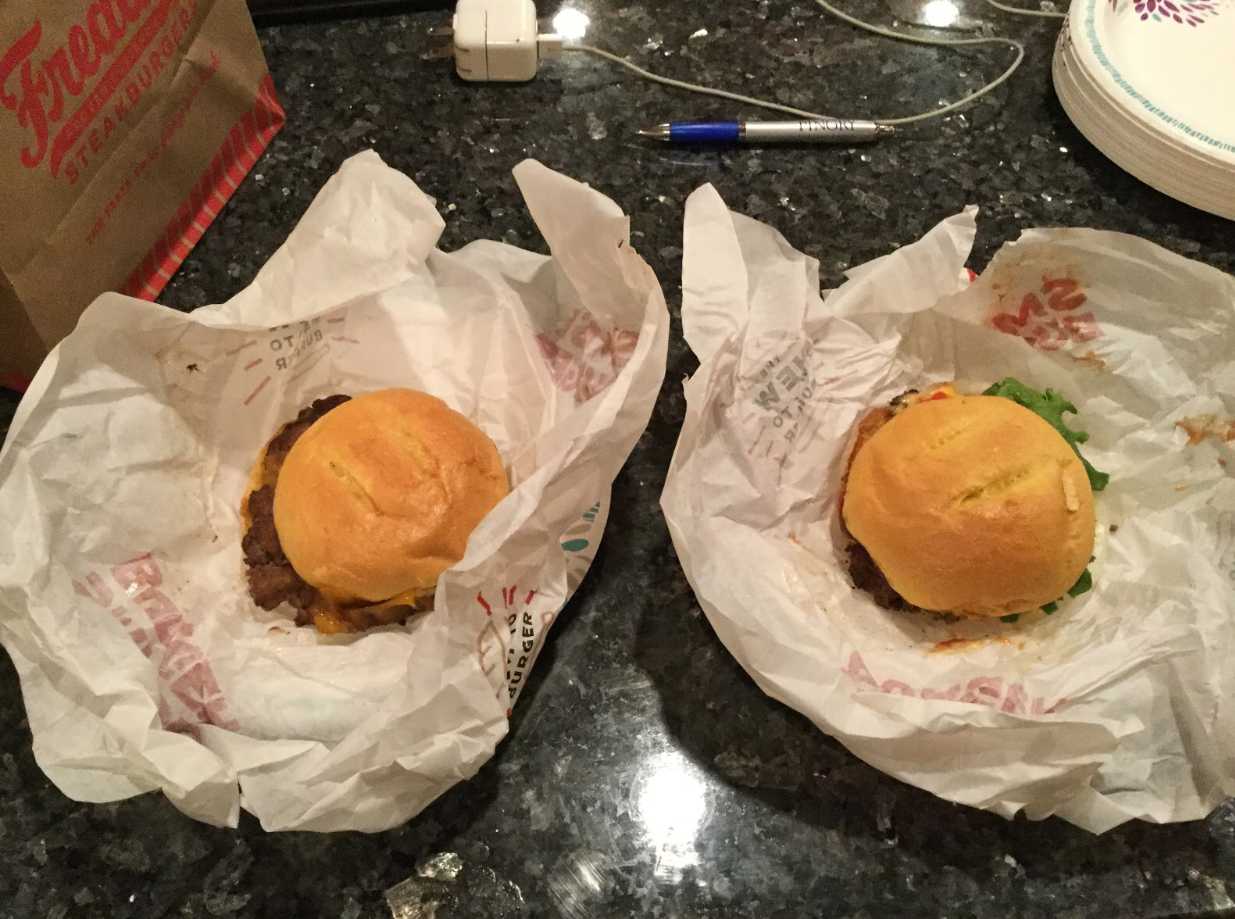 Burgers Ordered: 1 Cheeseburger, 1 Cheeseburger all the Way
The Walk through Wayne staple, Five Guys, was one of the main hubs during my 3 year tenure at RMS. It is a really solid burger. The cheeseburger all the way is loaded to the max with numerous toppings, like grilled mushrooms and onions, lettuce, tomato, mustard and ketchup. It is juicy, the cheese is nice and melty, and the seasoning on the burger is great. The produce is nice and fresh, and the sesame seed bun is warm and perfectly compliments this delicious burger. No wonder these restaurants are spreading like wildfire, because they have one heck of a patty to back it up.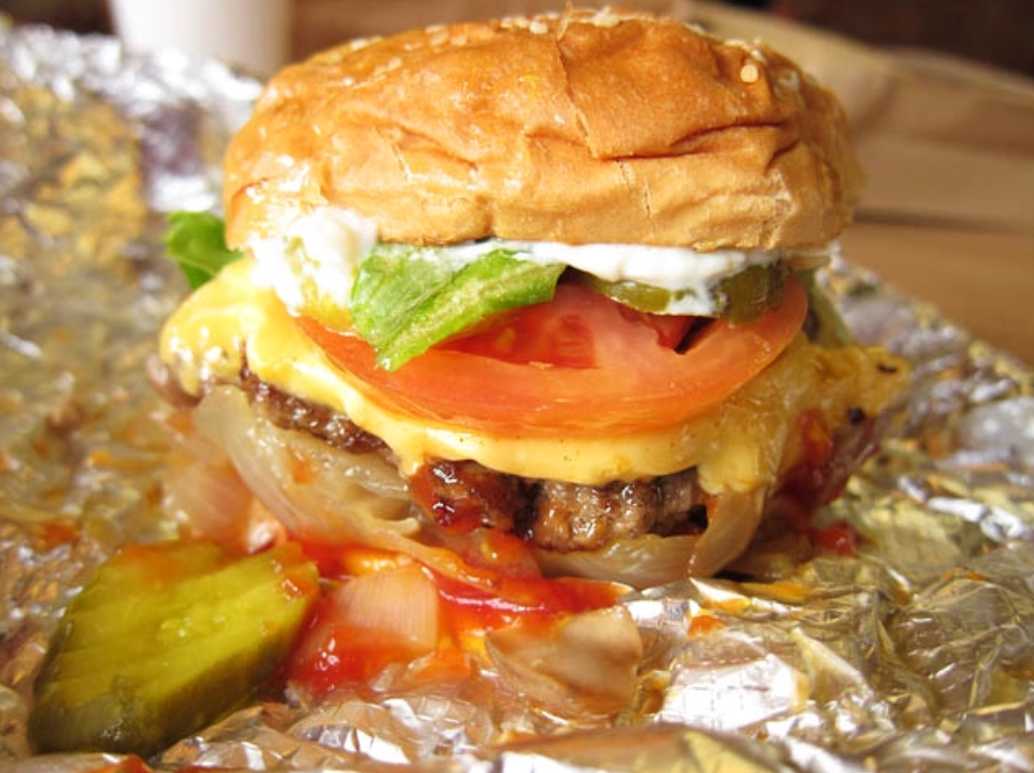 Burgered Ordered: 2 Elevation Burgers (They screwed up and gave us two topping burgers)
Elevation Burger used to be the place I went to when we visited my mom at work, since it was directly across the street. I don't know if it's because I was like 7, or if because they have amazing milkshakes, but the burger isn't as good as I remember. It has a Brioche bun that, to be quite honest, is the most delicious and noticeable flavor on the sandwich. After my dad exclaimed that the meat was like a hockey puck, dry and weirdly thick, he also lamented that he needed a shower to get rid of all the grease. It was bland and almost all lettuce, the produce was not very good,and the cheese was overpowering the flavor of the meat. It was not a particularly stand-out burger.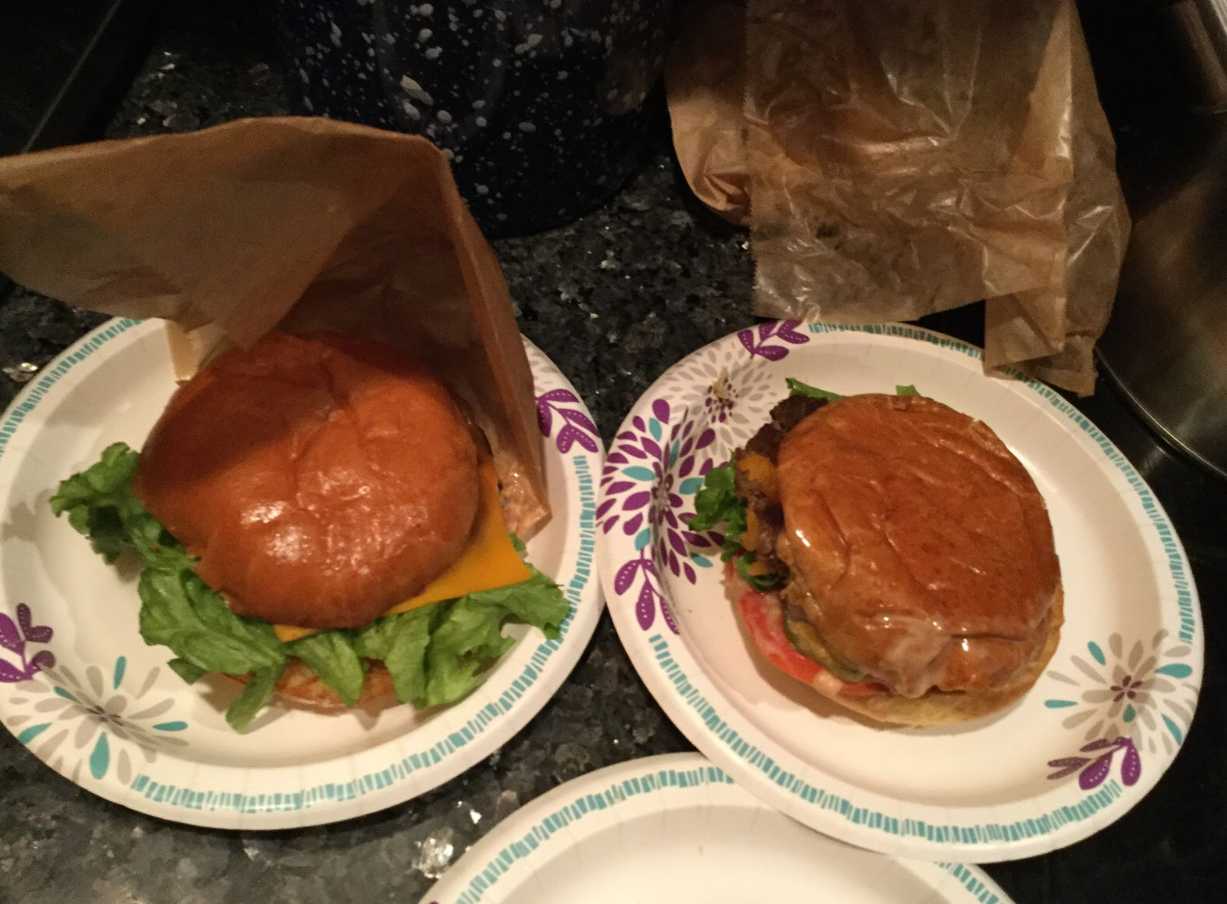 Burgers Ordered: 1 Burger with just cheese, 1 Shackburger
Oh baby. Now this is what I call a burger. Shake Shack is home to the Shackburger, a thick, juicy patty that is super fresh, moist, and well seasoned. The produce was fresh and didn't overpower the beef patty, and the cheese had a nice meltiness to it. The potato bun was nice, and my Dad, Eric and I all loved the special sauce. This burger was just plain fantastic. There was little that could make this experience better  besides adding a slice or two of bacon, or maybe a milkshake on the side.

Burgers Ordered: 1 Burger with just cheese, 1 Original Double
Freddie's is a chain that specializes in steakburgers and custard. This was the burger that you either loved, or you didn't really like. I didn't really care for it. I honestly thought the toppings, pickles, special sauce, and onions were bland and weird. The meat was dry and not really flavorful, and the cheese was twice the volume of the meat. Jesse and Zach both thought it was the 2nd best, while Eric, Will, Connor, and I all thought it was decent at best.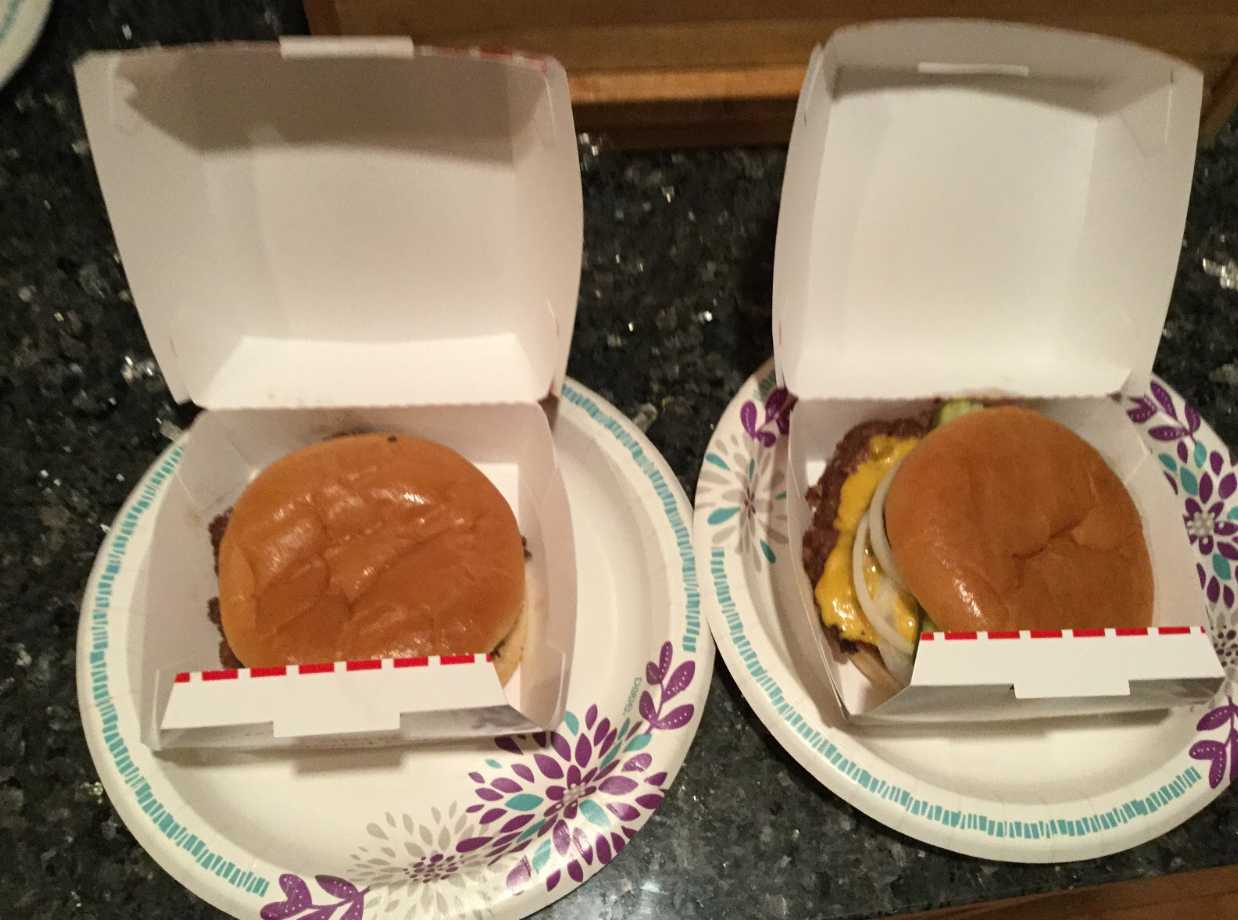 Burgers Ordered: 1 Cheeseburger, 1 Our Burger
Finally, we added a special last minute place to the taste test. We didn't really know what to expect from a chain burger place located inside the Skatium, but besides some nice service, their burger just doesn't make the cut.This place is definitely not meant for takeout, the skatium location would probably drive away any casual clientele. The cheese was very weird and overpowered the other components, and the meat had no seasoning. The toppings were there, but all kind of flavorless. Don't let this turn you away from the restaurant, just pack some skates and you'll have a great time finishing with a burger that, hopefully, is better than the one we had.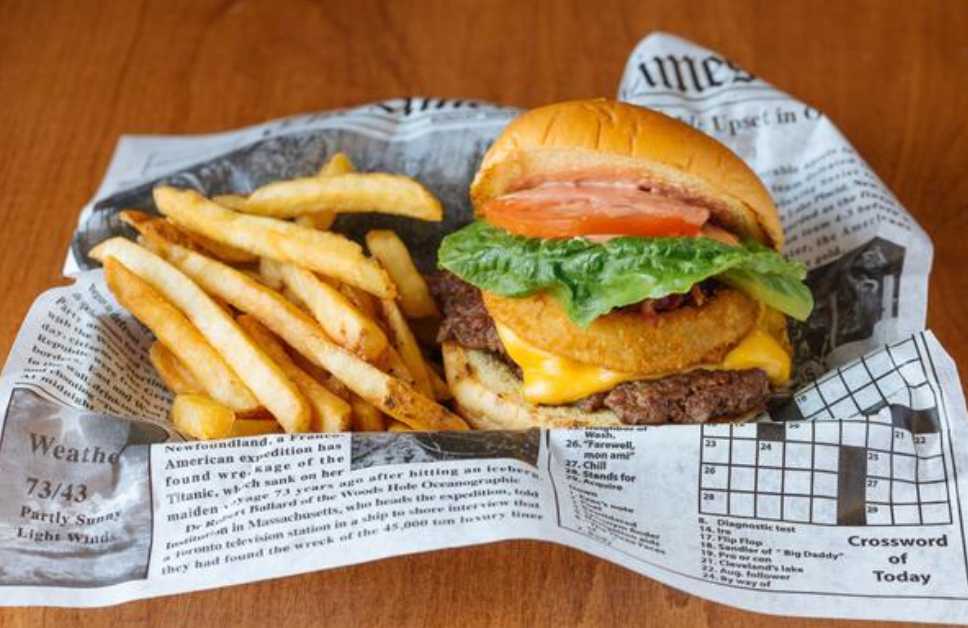 Final Rankings:
| | | | | | | |
| --- | --- | --- | --- | --- | --- | --- |
| Name, Rank | Zach | Jesse | Will | Eric | Noah | Connor |
| 1st | Shake Shack | Shake Shack | Five Guys | Shake Shack | Five Guys | Shake Shack |
| 2nd | Freddie's | Freddie's | Elevation Burger | Five Guys | Shake Shack | Five Guys |
| 3rd | Five Guys | Five Guys | Shake Shack | Freddie's | Smashburger | Freddies |
| 4th | Smashburger | Smashburger | Freddie's | Smashburger | HaveABurger | HaveABurger |
| 5th | Elevation Burger | Elevation Burger | HaveABurger | HaveABurger | Freddie's | Smashburger |
| 6th | HaveABurger | HaveABurger | Smashburger | Elevation Burger | Elevation Burger | Elevation Burger |
Shake Shack

Five Guys

Freddie's

Smashburger

HaveABurger

Elevation Burger
For the month of February, Grubbin with the boys will review The Goat's Beard.