Barbie's New Look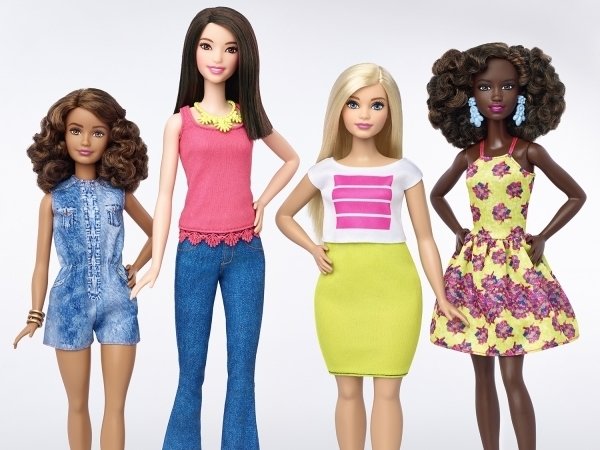 As the times change, so do our toys. Barbie, the most popular doll in history, has added numerous distinct designs ever since its original release in 1959. On January 29th of this year, Mattel officially announced the 2016 line-up, emphasizing Barbie's diverse selection. The dolls boast 7 skin tones, 22 eye colors, 30 hair colors, 24 hair styles, 14 face structures, and 3 new body types: curvy, tall, and petite.
When I was younger, I was more of a Legos kid; however, I dabbled with the occasional Bratz and Polly Pocket, so I understand the significance of a doll's appearance. Personally, I'm thrilled that Barbies are continuing to accommodate children of every size and background. I especially adore the curvy Barbie with her rounded waist and thick hips, even though the 'curvy' body type is closer to a realistic body than that of a regular Barbie. In the future, I'd like to see Barbies that push the 'comfortable' boundaries even further – figures that are small and thick, or large and muscular. Add some Ken dolls into the movement for gender inclusivity and we'll have an amazing gallery on our hands.
Of course, this does not mean Mattel has solved every problem associated with Barbie's designs, but the new lineup is a huge step in the right direction. I previously wrote an article about representation in media such as movies and television, and it is equally important that young children, especially those from marginalized groups, can learn to love and appreciate themselves though toys.
Barbies continue to develop as our society develops. No wonder Mattel's new slogan is: "Imagination comes in all shapes and sizes. That's why the world of Barbie is evolving." Together, we can conquer self-image issues of our youth – one doll at a time.