Radnor Makes AP District Honor Roll: Reasons for its Success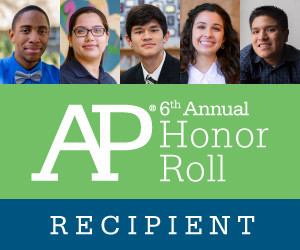 Hang on for a minute...we're trying to find some more stories you might like.
While Radnor has undoubtedly been known for excellent accomplishments throughout the years, be it in sports, arts, or academics, it has now caught the attention of the College Board. Its students' commitment to the AP curriculum, as well as the school's further support and introduction of its numerous programs, earned it a spot on the College Board's AP District Honor Roll.
The AP District Honor Roll was established in 2011, and 425 districts throughout the United States and Canada secured a position on it this year. In order to be honored, Radnor had to meet the criteria: 4-11% more students had to participate in the AP program, depending on the "size" of the district, which is determined by the number of students enrolled in AP courses, more students had to earn a score of 3 or higher than in 2013, unless at least 70% of students who took the AP exams in that district had already earned that amount, and the percent of Native American, African American, and Hispanic students that took the tests had to remain the same or increase.
Many of these accomplishments were a direct result of the Radnor High School students' commitment, dedicated studying, and hard work that they invested into their AP courses, in the end being welcomed by glistening 4's and 5's in their mail. As a result, 167 RHS students, including those who graduated last year, were also individually awarded the title of National AP Scholar, AP Scholar with Distinction, AP Scholar with Honors, or AP Scholar, all of which require students to earn a 3 or above on multiple AP exams.
Congratulations to all of Radnor, especially the dedicated teachers and successful students, who made this achievement possible, and it is no surprise that they did, considering the recent changes in the Radnor High School curriculum and the tendency of numerous students to stride down the AP path.
Throughout the years, Radnor's Program of Studies has undergone considerable amounts of change, with some key changes being made within the last few years that could have contributed to higher amount of people taking the AP tests and the availability of more AP classes. First of all, as of last year, those who decided to take an AP class were required to take the test in order to keep the AP designation on their transcripts, and after doing all the necessary homework and studying that goes into the AP curriculum, it is likely that most students did not wish for this to go to waste by not being recognized for it and therefore chose to take the exams. Not to mention, with some courses, such as European history or world history, being offered only in AP format or being significantly different in the course material from the integrated or honors classes, students who yearned to learn the information no longer had a choice but to take the AP test if they chose to participate in the course, which most likely seemed like a much better option for them than opting out of the class and losing the opportunity to educate themselves on the subject. Furthermore, as the competition in colleges continues to grow, students are increasingly drawn to AP courses so that they could put them on their transcripts and gain an advantage. Whereas they could previously do this without spending that additional $92 for the test, in order for that "AP" to stay, the students must now take the exams.
Since 2013, Radnor has started offering additional AP courses including World History, English Language and Composition, and Computer Science. This both increased the amount of AP classes available at the high school and increased the amount of students taking the exams as they were exposed to new AP course options that interested them. Another recent change made was the replacement of the Honors Physics course with AP Physics I. When sophomores that planned to continue with honors the following year had to choose between AP and Advanced, a significant amount likely chose to go to the AP course so that they would get the educational and future benefits of being in a higher-level class, even if they would have otherwise never taken an AP Physics course. Collectively, these alterations that may have formerly seemed minute or insignificant could have greatly played a role in Radnor making it into the AP District Honor Roll; more AP classes and an impetus to take them were offered, so more students altered their paths, turned the corner, and traveled down the AP course, learned the material thoroughly, and, consequently, did well on the exams.
Finally, the overall appeal of the Advanced Placement Curriculum is spreading, attracting more students to it like a neon sign for an extravagant show, promising exceptional opportunities and a rewarding future. Even though the benefits that AP classes may have when applying or when already attending college are definitely not always the sole reason why students decide to take AP courses, there is no denying that they are a contributing factor. According to the College Board, the AP curriculum can help students gain the skills you need for college, earn college credit, and be able to take higher-level classes in college. While the number of these privileges that you could be granted depends on the university, the possibility of them is often enough to convince students to sign up for an AP course, whether they actually want to or not.
No matter what the cause, making the honor roll is still a great accomplishment on the part of everyone who is or has been involved with teaching, taking, or impacting AP courses at Radnor, and we can never know what other victories for this school lay ahead.