Hurricane Matthew
Hurricane Matthew, the defining natural phenomenon of late September and early October, has been mostly noted for its extensive impact on numerous countries. Matthew's origins have been traced to waters near Africa, and began its rapid development into a category 5 intensity as it approached the Caribbean sea.  The power of the hurricane wavered between categories 4 and 5,  and made its first landfall in the Tiburon Peninsula of Haiti.
Effects on United States
After years of low hurricane activity in the US, reports of dire forecasts were dismissed.  Some Floridians chose not to flee the storm, referring to the minimal damage they've experienced in the past.  Specifically, in Palm Beach County (a mandatory evacuation zone), few residents located in high risk areas like 12th floor condos chose to stay, while over 7,000 people fled to designated shelters.
 As Matthew advanced towards the Florida coast, Gov. Rick Scott warned citizens of "immense human suffering," along with other weather reports making similar ominous claims.  However, despite the deadly prospects, Hurricane Matthew didn't make a complete landfall as it did in Haiti, minimizing its full capacity .
Once Matthew passed, the southeastern United States began to suffer the consequences.  There were a total of 43 casualties: 22 in North Carolina, 12 in Florida, four in South Carolina, three in Georgia and two in Virginia (Note: this number is subject to change as water levels recede and body search continues).  In addition to death count, post-hurricane flooding is another significant issue.
North Carolina was among the hardest hit states, with over 2,000 people rescued and exceeding river crests of up to four feet.  Even weeks after the initial storm, and the ironically beautiful weather, the effects of the flood present a threat until all rivers have crested. President Obama has declared 31 counties in NC as federal disaster zones, enabling affected citizens to apply for housing, medical, and property grants.  
While the United States was fortunate to miss the extreme hurricane landfall, there remains concern over people's response in regards to the next major storm warning.  Majority of the occupants in the evacuation zones obeyed the blunt warnings, leaving their homes and businesses. However, as aforementioned, some skeptics decided to stay, and proved to be fine after the storm failed to reach land.  This, unfortunately, impresses upon those who evacuated that warnings are "exaggerated" and can be treated casually.  Applying misinterpreted precedents in an unrelated context is a dangerous gamble with public safety.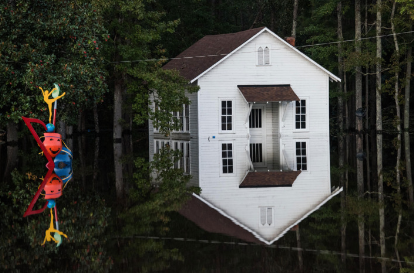 Effects on Haiti
Haiti remains in critical condition after enduring Hurricane Matthew's 145 mph winds. As reported from the UN Office for the Coordination of Humanitarian Affairs, around 1.5 million people, one-third of them being children, require humanitarian assistance.  Estimations put totals around 1,000 direct deaths, but only 473 of them have been confirmed thus far (October 11, 2016).  
Recovery from this disaster looks to be a much more complex process than previously anticipated.  While essential structures like houses, hospitals, and schools have been destroyed, the obliteration of 60-90% of crops creates an imminent threat of famine.  Cholera, introduced to Haiti back in 2010, became much more potent after the hurricane contaminated water sources. The UN reported around 510 cases of cholera. In efforts to prevent any further infections, the World Health Organization is making urgent attempts to send in vaccines, clean water, and shelter. Even though we might not recognize the effects of Hurricane Matthew, this storm has left a trail of devastation that merits an immediate and focused attention.