A Moon Shaped Pool Review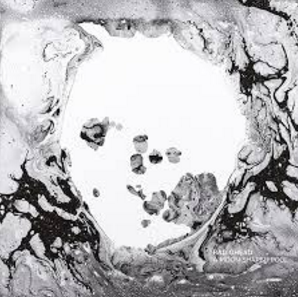 Ever since a friend of mine introduced me to the band Radiohead, I have been in love with their music and everything they have to offer.  Radiohead is a British alternative-rock band that made up of members of Thom Yorke (lead vocals, guitar), Jonny Greenwood (lead guitar), Ed O'Brien (guitar), Colin Greenwood (bass), and Phil Selway (drums).  Radiohead first joined the post-Nirvana grunge scene with their hit single "Creep" in 1992, and their debut album Pablo Honey in 1993.  
They followed up their debut with the album The Bends in 1995, but didn't achieve international success until their 1997 album OK Computer.  This album has been hailed as a landmark of rock, even being labeled the twentieth greatest album of all time by NME.  Since then, they have released six more albums: Kid A, Amnesiac, Hail to the Thief, In Rainbows, King of Limbs, and A Moon Shaped Pool.
A Moon Shaped Pool has achieved great success with Radiohead fans eager for a new release.  Unfortunately, in recent years, Radiohead has been relatively unsuccessful.  Their two albums preceding A Moon Shaped Pool, King of Limbs and In Rainbows, didn't achieve the same level of success Radiohead had experienced in the past.  Their previously-most recent success was their 2003  album Hail to the Thief.  Fans have been waiting 13 years for another spectacular Radiohead album, and luckily, A Moon Shaped Pool did not disappoint.   
A Moon Shaped Pool is similar to the recent Radiohead albums with its ominous, psychedelic tone that is consistent through most of their songs.  In the past, this tone sometimes led to songs being overly slow, lacking any driving rhythm.  With A Moon Shaped Pool, these problems are much less prevalent.  For the most part, the album does a good job maintaining flow and reducing repetitiveness.  But there are a few exceptions: most notably with the song "Daydreaming", a 6 minute 24 second-long track that lacks consistency and a moving force.
Overall, the album uses its ominous tone in the most effective way possible, delivering a beautiful, fully polished work.  The album uses a wide range of instruments including piano, folk-style acoustic guitar, and even several string arrangements.  Drums are prominent  in almost every track, and they do a good job of adding a much-needed tone of alternative rock.  With all of these instruments, the album is able to maintain a real sound, contrasting with previous albums like Kid A and Amnesiac that were heavily focused on synthesizers.
There is also plenty of electric guitar shining throughout the album.  It is not, however, noticeable in every song, rather is scattered throughout the album. This steers away from presenting the electric guitar as the band's core, with the album featuring only one iconic shrieking Jonny Greenwood guitar solo in "Identikit".  While the electric guitar might not be used to the extent of early Radiohead albums like The Bends and OK Computer, this offers no surprises (pun intended), as Radiohead has been shifting away from their grunge sound since 2000 with Kid A.  
Some fans might feel this shift away from grunge is a bad thing, but others, including myself, disagree.  While I do fully appreciate the grunge genre and everything it has to offer, grunge suffers from self-restriction and extremely limited instrumentation.  Some grunge songs feature varied instrumentation, but most incorporate nothing but electric guitar, drums, and bass.   Some of the most notable grunge songs such as "Smells Like Teen Spirit", "Cherub Rock", "Everlong", and even Radiohead's "Creep", only use these three instruments.  A Moon Shaped Pool contrasts this grunge sound completely, and is a whirlpool of instrumental creativity.  This creativity offers an emotionally calming sound than previous albums, and is one that is extremely pleasant to listen to.  
As with all Radiohead albums, Thom Yorke uses his voice brilliantly, adding a layer of beauty.  Thom Yorke's voice, however, is often indistinct, and it often difficult to make out the lyrics.  This problem is common on all Radiohead albums, and several times I have found myself having to look up the lyrics.  But this is only a minor inconvenience, and it is worth the sacrifice to listen to someone with a magnificent voice.
It is hard for me to favor individual songs on this album, but if I had to pick my top three favorites they would be "Burn the Witch", "Decks Dark", and "Numbers".  "Burn the Witch" was the first of two singles released a week prior to the album's release.  The song is dominated by an orchestral arrangement by Jonny Greenwood, also featuring a driving rhythm section.  This piece is the most unique song on the album because of the style of orchestral arrangement and the lyrical depth.  The lyrics suggest high tension in a society controlled by a corrupt government, similar to many earlier Radiohead songs.  This depth makes for an enticing track that I have found myself playing on repeat several times.
"Decks Dark" is similar to many other tracks on the album, but feels more polished.  The song continually builds as the song progresses, adding drums, bells, background vocals, and multiple electric guitar parts.  These added layers keep the listener engaged with a driving pace.  Thom Yorke's vocals are perfect in this song, providing a soothing voice with lyrics that are surprisingly easy to understand.  
"Numbers" is a beautiful song with an extremely pretty melody.  The song features a multitude of instruments including acoustic guitar, sleigh bells, piano, and an orchestral arrangement.  The song maintains a continuous pace, and with so many different instruments, the song invites the listener into an emotional journey.
A Moon Shaped Pool is a brilliantly written album.  It is apparent that Radiohead and producer Nigel Godrich put a lot of time and effort into making this album, and it has paid off.  With a wide use of instrumentation and beautiful melodies, this album is a step in right direction for Radiohead, and is currently my favorite album of 2016.