Will the Supersonics Surge Back into Reality?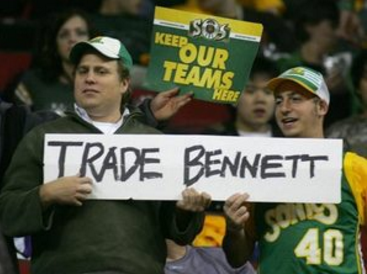 Bobby Amarant
October 27, 2016
Hang on for a minute...we're trying to find some more stories you might like.
Ah, the NBA's version of never knowing love until it is lost. It seems as if any NBA fan not seen rooting for the Oklahoma City Thunder misses the days of the Seattle Supersonics and despises their former (and now Thunder) owner Clay Bennett for purchasing the team with his intention seeming to be solely to move it down south to the Sooner State. Ever since the Northwest division only has had one team that is actually in the American northwest, that being the Portland Trailblazers; that is, unless Minnesota is considered the northwest these days. However, it seems like the pipe dreams former Sonics fans had for bringing their beloved team back might become reality.
According to several NBA media outlets and reporters, the preposition to bring an expansion team to Seattle will be on the table after the NBPA and NBA can work together and pass a new Collective Bargaining Agreement (CBA). However, there are a few evident issues with this expansion. Firstly and most importantly by far, there is not an NBA ready arena in Seattle. While the Supersonics former stadium, KeyArena, still stands and is in use, it was not adequate as an NBA arena and it was one of the reasons that the team's move to Oklahoma City was passed to begin with. An unnamed NBA source has been quoted in saying, "An hour after Seattle approves the arena they'd have an expansion offer in hand." Seattle is a big enough market and had a big enough fan base with the Supersonics that it would be foolish not to jump at the business opportunity when it becomes possible. The next problem the expansion faces is that the NBA is almost certainly not going to have an odd number of teams, so another expansion would have to occur.
There are a few possible cities where expansion would be likely. The main three that seem likely are Pittsburgh, Louisville, and more likely than either, Las Vegas. Pittsburgh is a huge market on the east coast with an NBA ready arena in Consol Energy Arena. However, the east coast is bloated in teams with big markets already with the New York Knicks, Boston Celtics, and Philadelphia 76ers. Louisville is a basketball town and Kentucky hasn't had a professional sports team since the Kentucky Colonels in the 70's playing in the ABA. The KFC Yum! Center is ready to go, making Louisville an interesting market. However; Las Vegas stands above them all. Sin City opened the T-Mobile Arena in the past year and has always been an interesting market for sports fans. The big drawback here is if people think Vegas would have a steady fanbase rather than just tourists piling in an out of casinos.
No matter how the vote goes after this CBA, this will not nearly be the end of Seattle's efforts to obtain an NBA team. You can take that to the bank.