Feeling the Pressure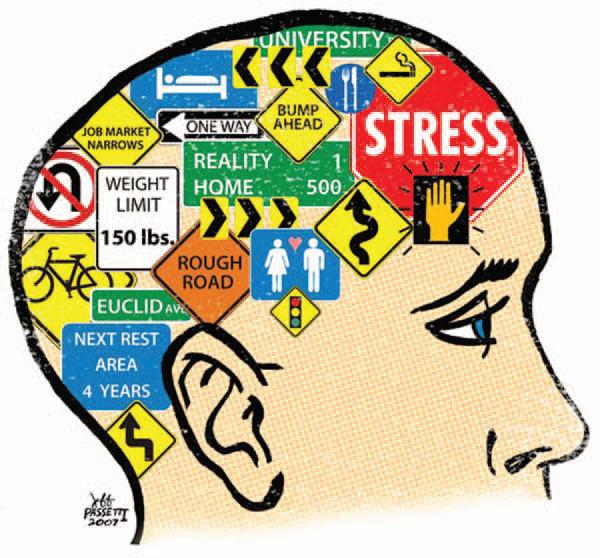 Hang on for a minute...we're trying to find some more stories you might like.
Gabby Schwartz
In middle school, social experimentation was common. The melting pot of friend groups was constantly being stirred as kids ventured into different social spheres. For many, these three years of friend group hopping were anxiety-provoking and disappointing. Some students felt as if they didn't fit in anywhere, while others hastily assimilated. Regardless of stance at the end of eighth grade, freshman year provided an opportunity for a clean slate. Students could design new paths unique to their passions. The angst of finding the perfect set of friends didn't have to be the center of attention. Though this statement may be true, a more potent wave of stress rolled in: academics. Sure, in middle school there was the occasional algebra worksheet, spelling test to study for, or reminder to bring a gym shirt. The first day of freshman year in high school, multiply the workload by at least two and keep the thought of college in the back of your mind. You might ask: college? Don't freshmen still have four years? Yes they do, but college admissions officers look at applicants' grades from each year to see how the student developed academically. I decided to take a look at the mentality inside each grade to consider other opinions.
"I felt the pressure on the first day I walked in," freshman Jess Bogutz claims.  "A lot of the responsibility comes from my older siblings who have gone through the process of getting into college." Jess is implying that the younger siblings tend to follow in the footsteps of their role models, whether they be siblings or parents. Yet, all of the volunteers in the interview agreed that an immense portion of the college pressure derives from parents.
Sophomore, Maya Zahra, says she too, felt the pressure of college starting as a freshman. "Everything you do now influences what you do next year and the year after that," she says. "I constantly think about which qualities are the most important for college." Maya isn't the only one. Several students agree, that taking and succeeding in AP classes looks good particularly as a sophomore. From freshman through junior year, students take the PSAT in preparation for the real SAT. "Taking the PSATs makes me think about all I have to do next year; it's October of sophomore year, why am I thinking about junior year already?" When asked to rank from most to least significant to spend time on, Maya started with school work, friends, family, then personal leisure time.
Though Maya feels unremitting pressure as a sophomore, Erika Zaslow argues that junior year is by far the toughest. "I'm tired all the time, have five hours of homework and on top of that, have to study for the ACT's. And the ACTs have such a huge impact on what colleges think of you, so you can't just put it to the side."  Erika isn't wrong. A study conducted in the Frontiers of Psychology journal interviewed 128 high school students, teachers, and administrators and found that 50% of students within two public high schools do at least three hours of homework per night. Erika explains to me that she feels as though the work isn't just for her anymore, but for the people around her–parents, teachers and college– to be proud and happy. Like other students, Erika reveals that she pushes herself to work hard and do better, but sometimes it's too much.
Senior year is one of the most talked about years. Seniors are the oldest, most respected, and are about to embark on one of the grandest journeys. Yet for at least the first semester, the aroma of college pressure still lingers in the air. Along with all of the school work, and the finalization of standardized test scores, the application is a critical and timely stage. A senior boy, who choses to remain anonymous, explains that "you aren't going to be a high schooler for much longer. You need to be organized…utilize every hour of the day for schoolwork…these are the last grades that college will see, you can't give up now." Around the wintertime, seniors who applied early decision or early action start to hear back. The tension is quite palpable in the presence of seniors while others wait for March and April to roll around.
The high school experience for each student is different. However, it's common amongst high schoolers to start feeling the competitiveness and stress from freshman all the way through senior year. Should this college pressure be commonplace in a high school? According to these interviewed students, if this certain pressure gets in the way of happiness and leisure time, then there's is a clear problem. If stress consumes a large portion of a student's time, how are they supposed to discover their passions and interests?