Social Media Has Hit the Polls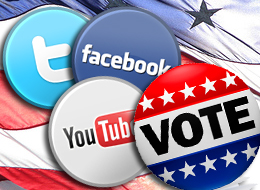 Lena Armstrong
The presidential election has been transformed by social media.  With social media, president candidates have the ability to share their ideas efficiently and effectively with a diverse group of people. With the click of a button, politicians can send messages to their supporters, respond to the media, and advertise their views.  Additionally with millennials increasing usage of social media, the presidential candidates are racing to adapt to these platforms in order to ensure their vote.   
The millennial demographic is crucial for presidential candidates in order for them to win.  As young adults rapidly prefer social networks to traditional advertisements, the politicians adapt to social media platforms in order to stand out.  Social media usage is not only appealing, but it also allows young adults to participate and support particular candidates. Politicians and supporters alike can post messages about the election and discuss the issues.  This means of communication is effective at spreading awareness between millennials and encouraging them to vote. Many young adults also claim that reading something on social media would affect their vote.  This utilization of social media gives presidential candidate's better chances of getting the votes of younger voters.
In the 2016 presidential race, social media has threatened to surpass traditional news outlets and paid advertising as the best platform to rally voters and bash on rivals. It provides a debate stage where candidates and their supporters can argue in a way that was unthinkable just a decade ago.  Hillary Clinton, Bernie Sanders, Donald Trump, Ted Cruz, and John Kasich use social media sites like Facebook and Twitter to discuss issues. The candidates, especially Hillary Clinton, are even beginning to use Snapchat and Instagram to get their messages out.
Hillary Clinton, a democratic candidate, has one of the strongest social media presences with over two million "Likes" on facebook and over five million Twitter followers. She also has a variety of other social networks that allow her to use different types of content messaging to target a more diverse group of voters with well-designed, carefully crafted posts. All of her posts are meticulously planned out according to her specific strategies to get voters. An example of this in how Clinton posted on Snapchat a photo with high school students wishing them a good first day and on Pinterest images of inspiring women, family photos, and photos of her campaign.  The goal of her social social media presence is to humanize her and make her more relatable.
In contrast to Hillary Clinton's approach, Bernie Sanders, a another democratic nominee, has an anti-establishment campaign that focuses on very progressive social issues and economic redistribution that is alternative to the Democratic Party's mainstream. For this reason he is very popular amongst the younger voters, that use social media the most frequently.  Most of the millennial generation wants to reject the traditional mainstream establishment for a more revolutionary one.  Due to this Bernie Sanders has the younger voter support.  Since the younger voters are more tech-savvy they are very effective at rallying liberal support for him on social media sites, a "#feeltheBern" slogan has been plastered all over the Internet.  Bernie Sanders appeal to younger voters ideologically has translated to a large support on social media. His anti-establishment campaign coupled with his resulting social media presence has made him a more popular candidate than expected.
Donald Trump has a much different approach to his colleagues.  His oppugnant and bombastic use of social media has upstaged all of his opponents and constantly put him in the spotlight. His highly praised characteristic of always being able to speak his mind has been facilitated through his antagonistic approach to social media.  His fierce, scurrilous, and bossy attitude and frequent mockery of rivals makes contrasting to his opponents. He understands the element of social media that triggers immediate, spontaneous responses and even brutal authenticity.  Donald Trump's twitter following of almost 7 million people is directly correlated to his publicity from his outlandish and unconventional behavior.  Donald Trump has utilized social media to showcase his uniqueness in order to gain popularity and attack his opponents.
While the presidential candidates utilize social media differently, they all are aiming to gain votes from the younger voters and spread their campaign slogans.  Social media allows a newer platform in which politicians can campaign and spread their ideas.