Trump's Message To Erdogan Found To Be Just One In An Extensive Collection of Self-Published Letters
Following the release of President Trump's confidential letter to president Reccep Tayip Erdogan of Turkey, the Radish investigative journalism team has obtained exclusive copies of similar letters written to other important figures in the US president's life. They can be read in their entirety below: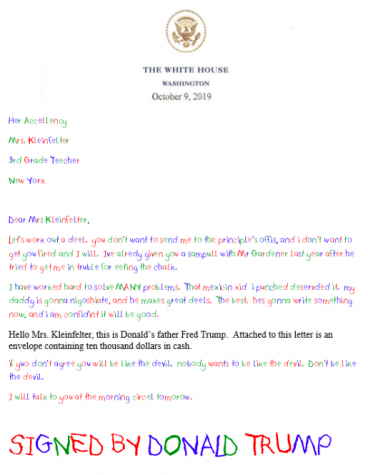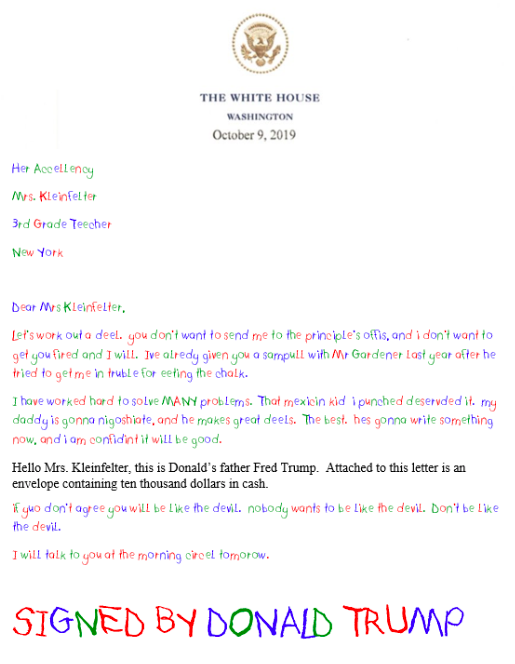 THE WHITE HOUSE
Washington
October 17, 2019
His Excellency
Mr. Santa Claus
Father Christmas
North Pole
Dear Mr. Santa Claus,
Let's work out a good deal! You don't want to be responsible for not giving me any presents this year, and I don't want to be responsible for having a temper tantrum if you ruin my Christmas—and I will. Melania says there's no more room in the timeout corner because both of my boys are already there. I'm warning you now that it's dangerous to mess with a businessman as powerful as me. I've already given you a little sample in the form of the sanctions I put on your elf factory in the North Pole. Don't forget I'm president of the United States!
I've been a very good boy this year. If you give me coal in my stocking, I might not invite you to the White House's Christmas dinner next year. Not good! Promise me that you'll drop off my present first, and I'll stop fracking on your reindeer sanctuary. Mr. Wheeler can work out a deal with you, but not I'm not sure if he's resigned. I also think I own Greenland. I don't know where it is, but I hear it's cold there. You can have it as long as you're nice to me.
I'm including a top-secret, classified message from the loser Kurds. They say they're sorry for confusing you with Abu Musab Al-Zarqawi. It was probably the beard. Here at the White House we think of you very highly as an old, fat, white man. My friend Mike is a huge fan! Don't make me send out any mean tweets about you. I would call you Corrupt Claus—my best idea ever. I also think I'm developing carpal tunnel. I have a lot of dirt on you, too. I'm starting to think that maybe you're not real. Another hoax from the Left! Anyway, don't try to be Jesus. That's me!
I'll send you a WhatsApp message later. 
XOXO,
Donald Trump

THE WHITE HOUSE
Washington
October 17, 2019
His Excellency
Jair Messias Bolsonaro
President of Brazil
Brasilia
Dear Mr. President:
First of all: big fan! I like how you're dealing with the left wing in your country — nothing wrong with a little murder of political dissidents. America is too intelligent and civilized to have communists like your country does, but the evil Democrats are trying. Not good! If we did have more left-wingers around here, I'd definitely start taking care of them like you do.
Remember: us Americans installed that military dictatorship you like so much! Good thing this letter is confidential, because let me tell you: I'm told we did a lot of secret illegal stuff to get that coup going. Nothing says 'USA' quite like 'secret arms deals with a Central American military junta,' am I right? 
Enough with the formalities. Let's get to business here. As you can see, we've been doing great things for your dictatorship, so I think you should do something for us. The international community knows that one good turn deserves another. If you refuse, bad news for Brazil! Not worth it!
I'm not even asking for much: I just need you to stop the Amazon Rainforest fire. Pretty simple stuff. Now, I'll be the first to admit it: we don't need that many trees. Trees are annoying! They block the sun, cats get stuck in them, NOT a good situation. All they have going for them is bearing tasty fruit. But, even though we could stand to get rid of a few trees, we should choose another rainforest for the job. I have many friends at Amazon — some major higher-ups, very important people — and they're not happy with you burning their stuff. You wouldn't like Bezos when he's angry!
Anyways, buddy, I'm sorry I had to get all mafia-boss on you, but that's just the way it is in life. An "offer you can't refuse," am I right? Whenever a smart guy (me) makes a good deal, he wins and the other one loses. Snapchat me later so we can talk more. If you break our streak, things will not look good for you!
Sincerely,
Donald J. Trump, President of the United States

THE WHITE HOUSE
Washington
October 17, 2019
His Excellency
Mr. Bill Gates
Technology Guy
Seattle, Washington
Dear Mr. Bill Gates,
I am asking you to do me a favor; it's going to be a really great deal for the both of us. I have worked really hard to solve your problems—the hardest out of everyone you know. Now, I am asking you to help me out here, because I have a lot of respect for you and the work that you do. Believe me, it is very hard to earn my respect, just ask Melania. Haha! 
Just a few days ago, I received an email that asked if I wanted to find hot, single Russian women near me. I clicked on the email and put in my credit card number and my social security number, you know, the usual. But the next day, when Mick was reading my daily bank statement, I noticed, very sharply, that there was a withdrawal of $50,000! I did not withdraw any money because Putin has not asked in a long, long time, and I asked Mick if he withdrew any money, and he said he did not. This is very bad. The fingerprints of the Democrats and Liberals are all over it—they are extremely poor and will do ANYTHING for money. 
People have told me you are the guy to go to for technology, you know all about technology. I need you to track down which Democrat did this (My bet is on Warren!) and get my money back for me. Be careful, these are some very tough and crooked guys you will be dealing with. They will spread lots of fake news with the Fake News Network about you, so just ignore them. However, I am sending Gina Haspel, the CIA director, to help you out. She is very capable for a woman and she can help you out immensely—with the CIA. You can also work with the Secretary of Defense, but I don't know who that is, so you will have to find him. You don't want to be responsible for all my money being stolen and I don't want to be responsible for destroying your family if you do not help me. Don't let me down. 
If you can get these things done, I will help you out again in the future—big time. Mark my words, you will get the biggest help from me you have ever gotten, ever. And you will get my respect, and believe me, it is incredible if you can get my respect. I will send you an email soon with some really great facts that my people put together for you. They are the best at what they do, and I am also the best. And I only hire the best. I hope you are also the best, Bill.
Sincerely,
Donald Trump