Radnor's Fall Sports Roundup 2019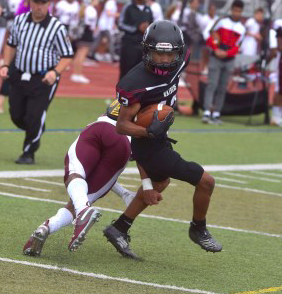 Boy's Football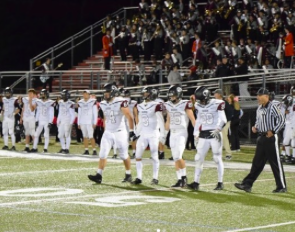 Radnor Football captains (left to right) Pat Boujoukos, Brendan Surbeck, Taylor Margolis, and Sam DiLella approach centerfield for the coin toss prior to a league game
After a surreal campaign last year, including the program's first playoff win and numerous seniors off now playing college football, it is easy to overlook the quiet success of this year's team. At the helm for his 12th season, coach Tom Ryan had a large responsibility during the 2019-2020 season, as the pressure of maintaining Radnor's winning expectations was a new challenge for the team to navigate. However, the team handled the task with flying colors, winning the games necessary to clinch a District 1 Class 5A playoff berth for the fourth consecutive year. 
This year's Radnor football team was marked by a streaky, yet explosive offense, led by senior quarterback Sam DiLella. DiLella's arm strength and precision have helped him secure one of the top spots in Delco in terms of QB Rating, cementing him as one of the best in the area. Helped by a receiving core of junior Jahmir Dixon, senior Brendan Surbeck, junior Reece Evans, and senior Gavin McCall– Radnor's offense has surged to fourth in the county in YPG (344.3) and top-ten in PPG (27.3). Dixon, in particular, has made a name for himself this year as one of the best wide receivers in this corner of the state, leading the county in terms of touchdowns, receptions, and total yards. Bolstered by a top-ten county rusher in junior Scott Belveal, and a solid offensive line including seniors Pat Boujoukos, Nick Hart, Peter Dustin, Lincoln Twedt, and junior Duncan McDermott, Radnor's offense has had no trouble putting the ball in the endzone.
On the defensive side of the ball, senior Taylor Margolis, Belveal, and sophomore Damian Falcone make up a fantastic core of linebackers that are dominant at stopping the run. Pass pressure has also been a strong point of the team this season, thanks to Boujoukos, senior twins Elijah and Jeremiah Hall, senior Lyle Rutty, and senior Brendan Fay– racking up multitudes of sacks and QB pressures throughout the course of the season. Surbeck and senior safety Cameron Williams rounded up a strong defense as the main components of the secondary, capping off a defense that is 4th in defensive YPG (186.4).
With a yardage differential of 158 yards, and a 5-5 record (4-5 CL; Finished 7th CL; one loss by more than 14 points), this Radnor team has quietly put together an impressive season. With this season marking the breakeven point with LM on wins in the entire series, as well as featuring a record-breaking performance by Dixon for the most single-game receiving yards in program history (210 yards, 3 TDs vs Conestoga), the Raiders sure had a memorable season.
Boy's Soccer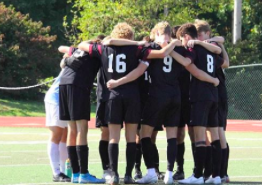 The starting Gents huddle up before kick-off on Prevost Field
On a chilly Thursday night in mid-October, the crowd fell silent as CB West scored an overtime winner, cutting Radnor's playoff run short. Hoping to emulate the state title run last season, which in its own right ended in controversy and anguish, the team was struck a blow–off a set piece that found its way past goalie Cole Schwartz and into the bottom corner. However, the season was, by all means, a successful one, despite the shock that came on that Thursday night. 
An interesting statistic about this year's Gents has to be that every non-goalie senior scored a goal for the team. A stat completed when senior defender Josh Savadove scored in the first half of the playoff game to give Radnor an early lead, the amount of scoring seniors represents the diversity of scoring options for Radnor this year. Over 60 percent of the team tallied at least one goal during the course of the season, with the leaders being senior forward Bobby Hydrisko and junior forward Peter Vitale with 5 apiece. Senior defender Jake Lee and senior forward Ben Engstrom each tallied 4, with numerous players just below them at 3. Hydrisko and Lee, the two All Central-League First Team selections were instrumental in lifting Radnor to a third-place Central League campaign, with Hydrisko leading in goals and assists (9), and Lee being a defensive stalwart at the back. Engstrom, a Second Team All Central-League recipient, was also key to the attack in his fourth year of varsity play, being a reliable penalty taker and hardworking winger. Center midfielders Nick Lucchesi and Michael Sears were the engine for this year's team, finding a reliable starting spot alongside forward Matt Miller, whose hustle and touch led to  a successful first year as striker.
Schwartz, who had a minimized varsity role last year thanks to two star senior goalies, stepped up his game exponentially in his last year, making game-clinching saves in monumental games, most notably against CB West in the regular season and Methacton. Other seniors wrapping up their careers include Danny Kelly, Morgan Page, Cole Albany, Erik Moscol, Harrison Fritz, and Jackson Birtwistle, all of whom helped positively impact the team in some way this season.
All in all, coach Joe Caroulo has to be happy with the way his 2019 Gents played, as if a few bounces turned out differently, this team had the heart to make another deep run.
Girl's Field Hockey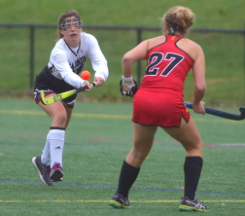 Senior Maggie Rosoff (white) lunges for the ball against Gwynedd Mercy in the District playback game
Déjà vu struck the Radnor Girls' Field Hockey team Tuesday afternoon, as a dominant Radnor team exited the competition empty-handed in the same fashion as last year's juggernaut team. Both teams earned the one-seed with impressive records, only to lose to Villa Maria in the district playoffs before being eliminated by Gwynedd Mercy in playbacks. This year's gut-wrenching loss came on Encke Field resulting in a score of 4-2, with senior captain Brigid Lowry nabbing one of the goals in her last game under fourth year head coach Katie MacGuire. Lowry's year was highly successful, sharing the title of top scorer and assister, the only player to do so.
Lowry and seniors Maggie Rosoff and Haley Kemp all tallied ten goals during the season, sharing the title of top scorer on the best team in the district. The scoring title was also shared by a fourth player, senior captain Barb Civitella, who missed half of the season due to a serious bone fracture and still was able to be one of the team's most statistically impactful players. Lowry and Civitella both plan on playing field hockey in college at Louisville and Duke respectively. In the assist column, junior defender Madison Milhous, senior Genevieve Mehra, and Lowry all had 7, leading the way in terms of passing. Looking to next year, Mehra also plans to play college field hockey at Johns Hopkins while Milhous' continued success on the defensive and offensive ends will be the centerpiece of the 2020 Radnor team.
On defense, junior Rory Harper emerged as one of the league's best young goalies, earning a top 100 mark in GAA for the entire city of Philadelphia (0.59). Senior captain Olivia Decain, a Richmond commit, anchored a strong defense, making six defensive saves during the season, second on the team only to star sophomore Hope Delaney's 7. Milhous also contributed with 5 defensive saves, with the trio as a whole combining for one of the most staunch defenses in Pennsylvania, only allowing 14 goals during the regular season.
This year, the girls added to the program's accolades, nabbing a second place finish in the Central League, snapping Conestoga's legendary League winning streak, all while maintaining a 15-2 record. Next year though, Milhous, Delaney, Harper and others return to try and capture the only accolade that has eluded the team in recent years, a state championship berth.
Girl's Soccer
With mud caked to the bottom of cleats, and jerseys heavy with torrential downpour, RGS trudged off of Neshaminy's field proud and determined. The field, deemed unplayable after regulation, was destroyed through a combination of horrendous weather and fantastic soccer, forcing the 2-2 game to be decided the next day. 21st seeded Radnor led 2-1 late thanks to goals from sophomores Jane Daiutolo and Julie Breedveld, only for the higher ranked opponents to equalize late and force penalty kicks to be taken the next day. Losing from the spot, Radnor's 9-7-2 season came to an end, wrapping up a season of significant improvement and promise.
The girl's soccer squad saw significant personnel change from last year to now, saying goodbye to 14 seniors, ushering in a new era of players for coach Jake Solderitsch's fourth-year. Emerging leaders included senior captain and goalie Katie Bell, whose impressive 1.37 GAA average was influential in the team's success. Seniors Lu Mackenzie, Keara Seasholtz, and High Point commit Sophia Mutterties were also instrumental to both the successful play and team dynamic, carrying the team to their impressive 42 goals on the season.
Underclassmen were also very beneficial to the team's play, the MVP for the season being sophomore First Team All Central League selection Emily Daiutolo. Daiutolo and her twin Jane were the engines for this year's team, and provide much hope towards the program's future success. The Golden Boot winner was also an underclassmen, with junior Avery Ciatto's 12 goals leading the way for the year.
While the team's success was unfortunately cut short in unfortunate fashion, the success of the year cannot be taken away from RGS, whose impressive goal scoring created numerous memories for the squad.
Girl's Volleyball
After saying goodbye to the core group of seniors that comprised last year's RGV program, there was a lot of work to be done with this year's junior-heavy group. This year, unsuccessful on paper, served as a learning curve for the inexperienced team that will benefit the team for next year. 
3-17 for the year, Radnor saw many close games slip out of their grasp late, luck and inexperience playing key roles in many losses. With bright spots including 3-0 wins over Chichester and league rivals Upper Darby, Radnor saw some players emerge as key cogs for next year's team. Most notably, junior Josie Darrach surfaced as a presence in both the front court and back court, playing nearly every minute of close games for the team and providing valuable height and power. Juniors Jordan Dell and Emma Kirsch split defensive roles as libero, both proving to be potential defensive specialists for the next season. In the front court, consistency will be the name for next year's group as bright flashes from players like Samantha Worontzoff, Lucy Criscuolo, Mary Kate Colleran and Pati Castro must be sustained if the team is to find success. 
Seniors Grace Remphrey, Helen Hu, and Lindsay Kent will be leaving the team this year, each having overall positive careers with the program. But, the focus has to be on next year's group, which with the experience and trials of this season, could have an unforgettable year next year.
Girl's Tennis
Perhaps the most under-talked about success story this fall is the rise of the girl's tennis team. Going 15-2 in regular season play, the team claimed a Central League title, tying with rivals Harriton and Conestoga. Led by two-time (soon to be three-time) team MVP winner Kanon Ciarrocchi, the team made it all the way to the state semifinals, eventually losing to eventual runners-up to district rivals Downingtown West. Ciarrocchi finished the season 16-1 at the number one singles, with seniors Bridget Dougherty (14-3) and Lucy Hederick (15-2) playing the number two and three spots respectively. 
In doubles, each of the four pairings lost only once, amounting to a total individual record of 106 wins and 10 losses for the team, an impressive mark. The senior pairing of Caroline Egg-Krings and Annie Burton occupied spot number 1, while senior Grace Frigerio was paired up with freshman Mia Xie at doubles two. Rounding out the varsity lineup were the pairings of Jessica Gussdorf/ Ellen Hederick and Zana Moldavsky/ Nicole Lomazoff at the three and four slots respectively.
Tennis also remains the only girl's fall sport that still has matches left to play, as the District 3A champion pairing of Ciarrocchi and Hederick compete at the doubles state championship this weekend in Hershey. The number one ranked team breezed through their District playoff matches and now have a legitimate shot of bringing home the doubles state title for Radnor. The partnership of Burton and Dougherty also ended their season on a high note, finishing sixth in district placements.
To recap, the team has a duo in states this weekend, were state semifinalists, and nabbed a Central League title, all while maintaining a 106-10 total record. In short, this season has been one of the most successful in the program's history, and it is not over yet.
About the Writer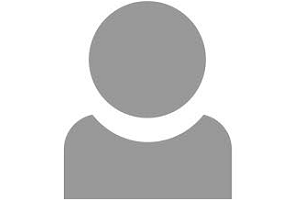 Jesse Conen, Sports Section Editor
Jesse has been a Radnorite reporter since 2017, specializing in the area of local sports journalism and sports previews. Jesse is a member of the Model...