5 Fun Ways to Spend Your Time while Social Distancing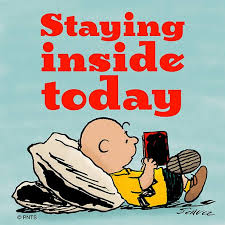 When we left RHS on Thursday afternoon, I don't think many of us were expecting  that we wouldn't be back at school until at least March 30. Over the next few weeks, even with online assignments, we will all have a lot more free time than usual. With little work to complete and parental restrictions on hanging out with friends, many of you  may be looking for some fun ways to make the days go by. Here is a list of things you might do to keep yourself entertained:
First Idea: Bake
  A great way to use your time, which also produces a scrumptious result, is baking. If you have been to the store in the past few days, then you have probably witnessed the vastly empty shelves, but that shouldn't keep you from baking. These Three-Ingredient Peanut Butter Cookies,  are just what you are looking for – unless you have a peanut allergy. The cookies are made of ingredients you're almost certain to already have at home. When you are finished baking the cookies, you can share them with your family whom you are stuck with for who knows how long, drop them in the mailbox of a panicked neighbor or friend, or if you prefer, eat them all yourself! This recipe involves just a few simple steps. Blast some good music and get baking for the apocalypse!
Get the recipe here: https://www.allrecipes.com/recipe/11352/three-ingredient-peanut-butter-cookies/
Second Idea: Watch a good movie 
Of course going to the movie theater during this Covid-19 pandemic is not a great idea. Luckily, there are plenty of great movies that you can rent or buy from home, whether using Fios, Netflix, Disney Plus, Hulu, or Youtube. With so many options to stream or buy, there are no shortage of great things to watch. I would highly recommend the movie Bombshell, released only a few months ago but for rent On demand, and available on Youtube and Amazon. This movie is the perfect blend of  meaningful, empowering, and entertaining. With drama and suspense from the very beginning, Bombshell is based on the true story of three female Fox News anchors who confront the powerful FOX News CEO Rodger Ailes about sexual harassment. While the movie portrays a deeply compelling story, be forewarned that it is also intense and disturbing, so it might not be for everyone. The film brings critical awareness of the sexism and misogyny women face to this day in the workplace and in society. The story includes strong characters who are well acted by the famous Margot Robbie (Kayla Pospisil), Nicole Kidman (Gretchen Carlson), and Charlize Theron (Megyn Kelly). Overall, Bombshell is not only an exciting movie to watch but also thought provoking and relevant. 
Some great options for families include any of the Disney remakes( such as Aladdin or the Lion King), Jumanji: The Next Level, or Little Woman. 
Third Idea: Discover a Trail
The weather has been beautiful and just because we can't get together with a lot of  other people inside, it doesn't mean we can't go outside and enjoy nature. Mckaig Park, for example, has multiple trails that wind through calm woods and beside a stream. The park is a great place to take your dog (on leash) and offers an amazing way to enjoy the lovely spring weather. You can access the park from Roberts Elementary School( 889 Croton Rd, Wayne, PA) and off of Bower Ln (which is off of King of Prussia Rd). But again, please try to limit your contact with other people by staying at least six feet away from others and stay inside whenever possible. 
Fourth Idea: Use an app to pick up a new skill
Try spending some time learning a new language or an instrument using an app on your phone. Duolingo has many great options to learn new words in a foreign language, or maybe you want to work on the language you are already learning in school. You also might want to try using an app such as Piano App by Yokee or Flowkey to learn some easy notes and songs on the piano or keyboard,  if you happen to have one at home. When you are focusing on learning something new and fun, time goes by quickly.
Fifth Idea: Read a Book
Getting pulled into a story is a fantastic way to spend time. Take this time off from school to find a book that you truly love, one that engages you from the very beginning and keeps you reading  in order to find out what is going to happen. Reading doesn't always have to revolve around school-assigned books, which are often beaten into our brains with analysis questions and essays. A new book that I highly recommend is Long Bright River by Liz Moore. The story takes place in Kensington, Philadelphia, and follows a police officer, Mickey, as she searches for her missing sister, who is also addicted to heroin. At the same time as Mickey is looking for her sister, she is trying to solve a string of mysterious murders. Written in an intriguing style that shifts between the past and the present, the mystery catches your attention immediately. The book is both entertaining, and very relevant, dealing with the rough reality of issues related to drug abuse, addiction, and overdose, especially in low income areas. If looking for a light hearted read try Six of Crows, an exciting fantasy novel.
Some other quick ideas:
Garden
Make blanket forts
Play board games or yard games
Pick up a new skill like sewing or playing an instrument
Facetime friends and family
No one can be  sure about what will happen in the next few weeks with COVID-19, but we can take this opportunity of being home without a lot of work to do to discover new  pastimes that will keep us entertained while also being productive. Stay Healthy and have fun!