Blowing Up The Kremlin Among Series of Inventive Tasks on This Year's AP Exams
With the AP exams just one week away, the College Board recently announced their adapted testing policy in response to the Coronavirus pandemic. The open ended questions on this year's exams will be nearly unsolvable, as they require obtaining information from sources that are either "one-of-a-kind or 'dead.'" For example, a proposed World History exam question involves travelling to the cave in Mecca where Mohammed first transcribed the words of God that would later become the Quran, and waiting for God to deliver the correct answer (B). It is likely that the real questions for all exams will be of such caliber. "In this age of technology, anyone can call their friends to ask for the answer to a question. But I'd like to see 1,000 World History students get on a flight to Saudi Arabia to find the solution to a question that they only have 45 minutes to answer. That is the kind of real world application that will be useful for these kids," explained College Board CEO David Coleman. However, AP Islamic Art students complain that this question does not rival their task of drawing a picture of God. 
The theme of the 2020 exam is collaboration. For example, AP Physics C students are currently working with AP US Government students to build a time machine and direct Christopher Columbus to the actual Far East in 1492. As the exam is open book, the students are allowed to use Google Maps to aid Columbus in his navigation. Per the AP's new scoring policy, the College Board will only be accepting physical samples of Eastern silks and spices within the provided 5 minute upload period. Meanwhile, AP Chemistry students will be working with the CIA to develop a thermite bomb that will detonate inside the Kremlin, reports Edward Snowden; however, the details surrounding this question are still somewhat unclear as it is a classified operation. In conjunction with this question, AP Macroeconomics students will be analyzing the wide-scale economic implications of such an event. After running out of ideas, the College Board decided to give AP Microeconomics students the same question, but explained that these students will be working with much smaller fonts and miniature models. In terms of the AP World Language exams, the AP Latin students will have to film themselves conversing with a native Latin speaker. 
The College Board reported that based on the 18,000 students they surveyed about wishing to take the tests, the answer was a "resounding yes." However, official College Board statistics suggest that there are only 8,000 students enrolled in AP exams throughout the country, which would make up less than a majority in this vote. Interestingly enough, there are exactly 10,000 College Board employees as of March 2020, and the survey results were released just one week after the College Board announced that they would be offering full refunds to anyone who no longer wished to take the exam. Additionally, Coleman recently declared that anyone who did not contact the College Board before their opt-out policy was released would not be allowed to opt-out of the exam. "We want to be equitable in our decisions," Coleman said, "and you have to remember that there are thousands of College Board employees demanding your money, I mean who need your money. Wait, scratch that, there are thousands of college students desperate to get into college who need the exams to proceed as normal."
The College Board recently announced its adapted testing format for this year's exams. While a normal test would include a lengthy multiple choice section, the exam this year has been shortened to only include two Free Response Questions. However, the College Board explained that they will fit the multiple choice section of the exam into the FRQs through 45 sub questions (a-s1). This will supplement the 6 existing FRQs, each with their own 3 sub questions, which will be listed as sub-sub questions (i-i18) under the multiple choice questions. Unlike the money issues previously described, Coleman was quick to dismiss the suggestion that these changes were made to enable more space for the College Board sponsorship deals. "We would have plenty of room for companies to advertise their products even with the updated version of the exam. The inclusion of multiple choice questions was done to enable college admissions officers to critically judge candidates solely based on their exam scores, as they traditionally do every year. It is our greatest pleasure to reduce students to a number: a single, beautiful, whole number. We as a society value our standardized test scores too much to cut the beloved multiple choice off of these iconic exams," Coleman explained in a statement. Chomps Grass Fed Beef Jerky, Sealed Air Bubble Wrap, and Barbo AJ Pest & Termite Control all look to continue their 15 year partnership with the College Board on the exam this year, especially with the addition of College Board's Online Special Ad™ and Full Width Extra Large Ad™. 
In addition to the challenging questions, the College Board has introduced a series of questionable test-taking requirements after ruling out "every other secure testing measure." The first, and most controversial, rule criminalizes the use Bing, Firefox, Chrome, Internet Explorer, and Safari to take the exams. Consequently, students will be required to use SeaMonkey and K-Meleon. Other options that the College Board is considering include MacWWW, which is discontinued, Agora, which is written in the programming language Pearl, thus preventing hacking as few students are familiar with the programming language Pearl, and Ecosia, because they donate the majority of their income towards planting trees. Additional miscellaneous rules ban the use of calculators and Ticonderoga pencils, and prohibit students from drinking water within 48 hours of the exam. 
"These measures were implemented in the name of fairness," the College Board emphasized, "and we feel that not including material from after March makes this a fair tradeoff." Radnor High School administrators are confident that Radnor students are well prepared for these exams, but also hope that introducing the synchronous learning tool BigBlueButton will give AP students an extra boost in preparing for the exam. "Remember, however nervous you are, that you are more prepared than all those poor people who don't have access to the internet or online school at all," reminded the district. This statement received considerable push back, however, as the majority of students in this demographic were unable to afford the AP testing fees required to sign up for the exams.
About the Writer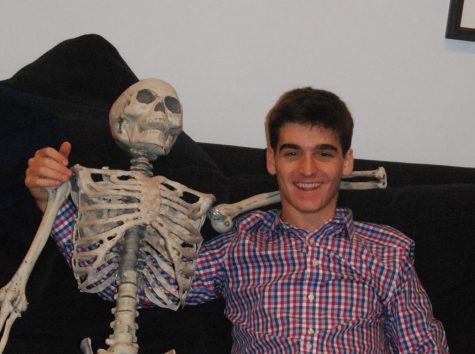 Andrew Rosin, The Radish Editor
Andrew is the founder and Editor-In-Chief of The Radish, Radnor High School's first satirical newspaper. He won first place in Editorials at the 2021...