In Trump's Upside Down World Insider Trading Seems to be Okay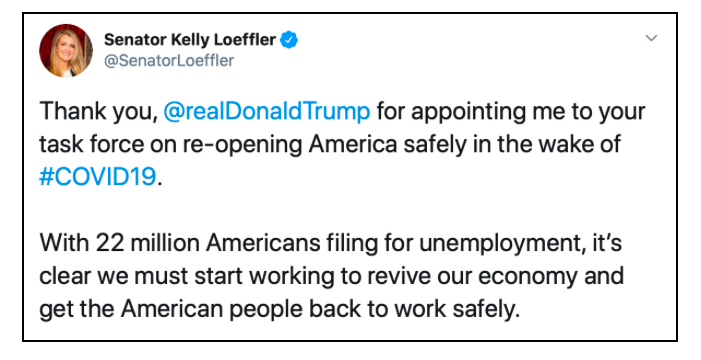 WASHINGTON —Amid speculation that states will be re-opening, Senator Kelly Loeffler of Georgia might be better off staying inside the comfort of her gated compound rather than having to take questions from the press about insider-trading accusations. Supposedly, she began selling stocks on January 24th—the same day that the committee she was in held a private meeting on COVID-19— and continued making trades throughout late February and early March.
Senator Loeffler is not the only US government official that has reaped the benefits of "insider-trading." A study conducted by Professor Alan Ziobrowski of Georgia State University entitled "Abnormal Returns From the Common Stock Investments of Members of the U.S. House of Representatives" found that, over the course of fifteen years, U.S. representatives have profited tremendously. After analyzing 8,294 transactions in the stock market, Professor Ziobrowski concluded that US governmental officials outperformed the S&P 500 by 6 percentage points. It is no coincidence that some consider the representatives to be a part of the "US Representatives Trading Hedge Fund" that turns over a profit regardless of market instability. 
Looking deeper into Senator Loeffler's past, she served as CEO of Bakkt, a subsidiary of commodity and financial service provider Intercontinental Exchange, in 2018. After making a few million dollars, she left "the private sector to serve the people of Georgia, not [to] make a profit." But according to her latest financial disclosure, she made several trades in the millions. These include buying $18.7 million of Intercontinental Exchange stock (since she made that sale, the stock has dropped by 16 percentage points), purchasing $200,000 of DuPont de Nemours (this company supplies much of the protective gear for COVID-19 medical workers), and purchasing an undisclosed amount of Oracle and Citrix (a company that makes teleworking software). Senator Loeffler hit the jackpot, winning millions of dollars, despite the odds being against her. 
It's comical how President Trump, in several of his campaign speeches in 2016, said that he would, "drain the swamp of government corruption." If this isn't government corruption, what is? But even if she is found guilty violating the STOCK Act (see below), it doesn't matter. Senator Loeffler seems to be in President Trump's good graces, after being promoted to his special COVID-19 task force. 
President Trump has a record of invoking presidential pardon among those that have dealt in the dirty business of insider trading. In 2018, Carl Icahn, billionaire investor, "special adviser" to the Trump campaign, and long-time friend of President Trump, sold one million shares of a steel-related stock just days before President Trump imposed tariffs on steel imports. He resigned his position a few months later after he was accused of using his position of power to protect his financial interests. A more prominent insider trading case appeared a few years ago when Martha Stewart was caught selling stock in a biotechnology company through accessing private information. President Trump later bailed her out. I sure hope that Senator Loeffler stays friends with President Trump, as a presidential pardon may come handy some day.
 The STOCK Act was signed into law by President Obama in 2012 "prohibiting lawmakers from trading on insider knowledge gained from their privileged position in the government."