With White Privilege Comes Responsibility: The Main Line March for Black Lives
On Thursday, June 4, supporters of the Black Lives Matter Movement marched 7 miles from Wayne Train Station to Paoli Train Station. 
The searing heat and long walk never once dampened the energy of those who marched. Chants of "NO JUSTICE, NO PEACE" rang out high above the crowd. Signs listing the names of those who have died at the hands of systematic racism were held high, not letting their names be forgotten. Personally, this being my first big event emerging from months of quarantine, I was overwhelmed by the beauty that happens when people come together and unite for a just cause. I'd almost forgotten what that felt like. 
The march was incredibly peaceful, with the Radnor Township, Easttown Township, and Tredyffrin Township Police Departments managing traffic and securing the crowd. The turnout was huge; from the front of the march we could see our peers marching behind us as far down Lancaster Avenue as the eye could see.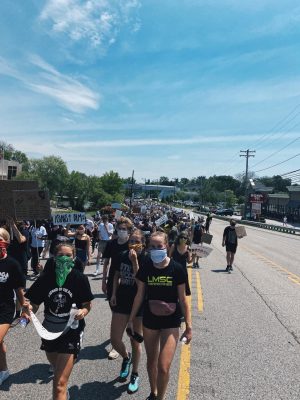 However, while the energy was high and friends found each other in the crowd, the march and rally revealed to me, someone who has been privileged enough to have been largely unaware of the extent of this issue in my community, the reality of racism on the Main Line. Recently, an Instagram account went live with a goal to expose casual racism among teenagers on the Main Line. Screenshots of social media interactions or videos of teens saying racial slurs were posted by an anonymous manager of the account. 
I marched with my head buzzing as I heard familiar names being mentioned from these posts. I kept looking at one particular sign about ten feet ahead of me: "Discrimination is worse in the suburbs." Once the crowd reached our final destination, the Paoli Station, the rally portion of the march began. Members of the Conestoga High School African American Student Union, the organizers of the event, delivered a series of speeches. I am immensely grateful to have had the opportunity to learn about their experiences first hand. While it was not their responsibility to educate white people on the issue, as we have a responsibility to the black community to educate ourselves, the members of the AASU took the time to share their uncensored perspective. While there is so much more out there to learn, I walked away from the event thoroughly moved, more knowledgeable than I was when I first started walking in Wayne, and understanding that this was only a jumping off point. Our own Main Line culture has been riddled with micro aggressions for generations, and the Conestoga AASU made this clear to me.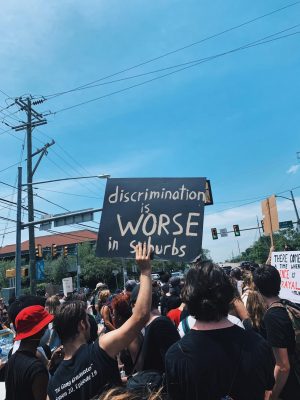 I left not feeling like a better person, because this march was not intended to cleanse our collective white conscience of any responsibility for the racism still prevalent in our society, but with a desperate desire to become a better person. We have all witnessed instances of discrimination in our schools and communities, and many of us have stood by and watched. I feel fortunate enough to be surrounded by people who share similar ideals as me, and grateful for this fact, but it made me all the more shell shocked when I truly realized just how deeply ingrained, insidious racial biases have become in a community defined by white privilege.
Later on Thursday night after reflecting on the experience for a while, I couldn't help but feel complicit. I had always considered myself to be someone who participates in activism, performs her civic duty, has very liberal perspectives, and is a fairly "good" person when it comes down to it. I've spent the past four years of my life participating in extracurriculars that are 95% centered around politics. I've canvassed, met with representatives, worked the polls, made phone calls, and engaged in political conversations. However, I never really processed until this Thursday that I too was complicit. I was complicit every time someone I knew used a slur, even if there was no one around to hear it. I was complicit because I never acknowledged that my first battleground as an ally hoping to fight for equality should  not have been at the polls but in my own school. 
While this realization was certainly an uncomfortable one, white people will never be able to fully align themselves with the Black Lives Matter movement unless they look inside themselves to see what they can change about how they personally envision an anti-racist society. "White silence is violence," another common sign sported at the march, does not just apply to speaking out in political settings or on social media. White silence is an issue in our cafeterias, at our parties, and in the comforts of our own home.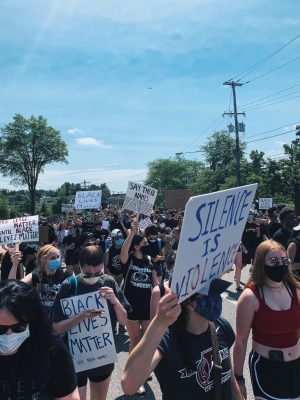 Never before have I attended a protest or political event that so directly attacked the root causes of the issue at hand. The welling music, each aching, sunburnt step, and the speeches that shot right into the hearts of every audience member, rendering them completely silent as they listened, impacted us. All of us. Many emotions were felt by many people, and change is born from the issues that affect our hearts and not just our minds. 
On behalf of everyone who marched, everyone on the sidelines who raised a fist, and every car that drove by and honked in support, thank you to the Conestoga AASU for organizing this event and for being a force for the Main Line to look up to, and thank you to my community for showing up and amplifying the voices of those who need to be heard.