Teacher's Union Celebrates As Annual Salary Finally Surpasses National Average
For the first time in 87 school years, the average salary of America's teachers eclipsed the average income of individuals in the United States. "It took 39 million people losing their jobs for teachers' to earn equitable pay," commented the President of the American Federation of Teachers, Randi Weingarten, who later revised her statement to read "It took 39 million people losing their jobs for teachers' regular salaries to be considered equitable pay." Teachers' Unions throughout the country gave up on their campaign to earn higher wages decades ago, opting instead to use nuanced statistics to convince union members they were making progress. "It started as a way to boost morale and self-esteem," the RTSD Teacher's Union Director wrote in a letter last week, "But after our yearly pay failed to meet the national average even when we included the salaries of children, the elderly, children and the elderly, and people who have been dead for decades in our calculations, it became quite depressing."  
For teachers working at inner-city school districts, however, the excitement was short-lived. Mr. Jeff Brady, a 5th-grade teacher in the Philadelphia School District, collected his monthly paycheck on Friday only to return home that night and find that the bank foreclosed on his house. "I guess that's just the give and take of living on a teacher's salary. One minute I've made more money than the volunteers at the local nonprofit for the first time in my career and then next I've lost my house," Mr. Brady reflected. According to a report from the Penn Graduate School of Education, many urban school districts withheld teacher's paychecks altogether this year "because it just didn't feel right to pay teachers a cent more than the average American," but promised to allocate the funds for luxuries like new pencils and textbooks. "The system is designed to swallow you up and then spit you out, just like me and the repulsive tacos I eat for lunch," Mr. Brady, who eats on a prepaid school lunch plan, analogized. 
There was significant outcry following the release of these figures. "It is a disgrace that the common teacher earned such prolific salaries this past year," United States Secretary of Education Betsy DeVos declared, "In a time of fiscal shortages, as in any time, school teachers should earn very little for their meaningless and insignificant contributions to society." DeVos promised that any surplus cash would return to its rightful owners among the administrative bureaucrats, citing their "challenging task of sitting in an office all day and doing…stuff." Devos' aides hope that this action will add to her already impressive record of screwing over the American school system.
Public school's have explored every shortcut possible in recent years to raise at least some of their employees' salaries to national standards. "Not even discriminating against female teachers would give male teachers enough of a boost," concluded the National Education Association after lowering female teacher's salaries to 50 cents to the dollar and finding that the male teacher's salaries were still $25,000 dollars per year short of the national average. Recent salary reports do indicate that teachers in the past decade have done better than teachers at the beginning of the century, when the government first mandated its "negative salary" policy. During this five-year span, teachers would pay the school $1,000 to $1,500  per year in order to be eligible to teach. A century before that, teachers were paid in expired civil war bonds and jugs of milk, which were only pasteurized once every 3 school years. However, teacher's salaries did not rival those of businessmen or oil-refinery supervisors until the pandemic caused millions of working Americans' salaries to slide to zero. "Like many great politicians have said," Radnor Township School District posted, "it was always going to take a pandemic to guarantee fair salaries in our schools."
Many teachers, skeptical from the last time they were promised better wages only to be paid $100,000 in monopoly money in 2009, point out that their income did not increase, but simply appears larger relative to the decreasing national average. This fact, however, did not stop teachers from partying with the cash brought in on their annual paycheck this June. At the end of year teacher parties on Friday at Philadelphia Public Schools, some faculty even splurged to buy food from Whole Foods. "We're living it up while we can," one English teacher commented, "because Trump has already announced his plans to cut teacher's salaries at the beginning of the next school year." 
About the Writer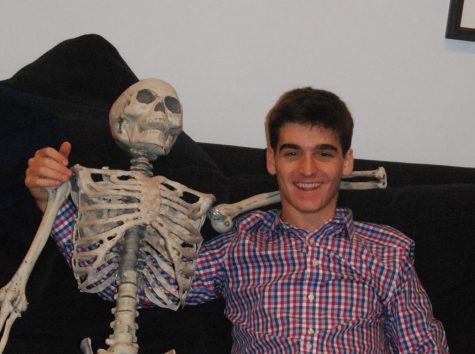 Andrew Rosin, The Radish Editor
Andrew is the founder and Editor-In-Chief of The Radish, Radnor High School's first satirical newspaper. He won first place in Editorials at the 2021...