Young Republicans Club Warns Phase 3 Reopening Could Have Disastrous Effect on Lunchroom Economy
Citing the School Board's plans to reopen Radnor in the fall, the RHS Young Republicans Club warned that an entirely virtual Phase 3 reopening would cripple the lunchroom economy. "We're not certain that we understand what it means for COVID-19 related cases and deaths to be rising, but it is our belief that a Phase 3 reopening should be avoided at all costs," a Young Republicans Club representative wrote in a statement last week. The club later added that precautions such as testing, vaccines, masks, and social distancing would be "thoroughly explored and then disregarded once the lunchroom economy is back up and running."
With a fully stocked cafeteria, a snack bar, multiple vending machines, a school store that operates on no particular schedule, and off-the-record vape transactions, the RHS lunchroom–champion of the free market economy–was once a model for school districts throughout the nation. When schools were shut down because of the COVID-19 pandemic in March, however, this once booming economy suffered extreme losses. As of August, the school estimates that hundreds of students are out of work: "We have students who used to buy and then resell pretzels for a profit, students who were hired to purchase snacks for peers from the vending machine, students who raised thousands of dollars in seed capital for a business producing fake Student IDs, students who became quite prosperous ordering wholesale vape cartridges and then marking them up for retail in the bathrooms, all without jobs now," commented Russell Dilkes, Chairman of Radnor's Snack Exchange Committee (SEC). Additionally, at least ⅓ of the school's small, independently owned vending machines are expected to go out of business, as they are unable to support themselves without constant monetary injections from hungry teenagers. 
The Young Republicans Club continues to advocate for an entirely in-person Phase 1 reopening to counteract the damaging effects of the pandemic on the lunchroom economy. "We can't allow the School Board to tell us when we are and are not allowed to go to school," proclaimed the president of the Young Republicans Club, who organized protests at Radnor High School's main entrance during recent months. At these protests, students peacefully wielded weapons fashioned out of sharp school supplies. "A Phase 3 reopening would violate our individual right to an excellent, liberally-biased education," he added. 
In response to concerns about the safety of reopening schools, the Young Republicans Club promised to "wear a mask when it is in our best interest and social distance if we feel like it." Despite these students' additional pledge to wear personal protective equipment every way possible except for the correct way, school nurse Stephanie Grabuski raised concerns about Radnor High School's ability to accomodate coronavirus patients: "With only 3 beds, the spread of COVID-19 through RHS will quickly overwhelm the nurse's office," Grabuski warned. Grabuski's co-nurse, Patricia Resnick, added, "Despite receiving intel about an outbreak at the Wuhan Yangtze International School in January, RHS still lacks the PA Board of Education recommended 5 ventilators, 2 anasthetic machines, and 13 Bi-level PAP machines." Records show that the principals' enjoyed frequent lunch trips to HoneyGrow during this time and did not take the warning signs seriously. Without the capacity or equipment to treat a large number of cases, Resnick concludes, the threat to the lunchroom's economy does not justify reopening schools.
With school activities and sports slowly resuming in recent weeks, the Young Republicans Club did celebrate as the value of the School Lunch Index increased by more than 100 points, and parents continue to pump money into their children's lunch accounts. Most experts argue that the Public School Stock Exchange does not accurately reflect the health of the lunchroom economy, pointing out that many student lunch food vendors remain jobless and that multiple small-scale snack distributors have filed for bankruptcy.
Even after the district failed to save the lunchroom economy and contain COVID-19, the majority of Radnor students remain optimistic. "If everybody quarantines, we can eliminate the coronavirus within 6 school weeks, or approximately the time of half a marking period. The Young Republicans' attempt to reopen schools under Phase 1 is foolish, unsafe, and in the long term, only jeopardizes my livelihood," one rising senior, and active participant in the cafeteria food trade, commented. Unlike many lunchroom workers, the Young Republicans unanimously voted on Monday that their club is nonessential, a classification many students agreed with long before the pandemic started. 
About the Writer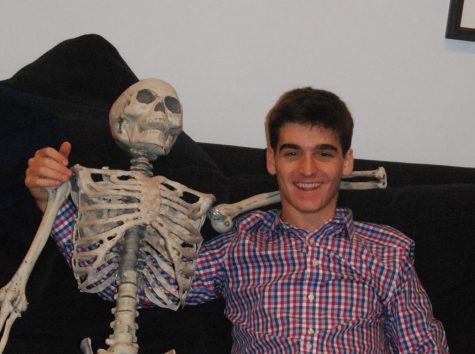 Andrew Rosin, The Radish Editor
Andrew is the founder and Editor-In-Chief of The Radish, Radnor High School's first satirical newspaper. He won first place in Editorials at the 2021...