2020 Billboard Music Awards Recap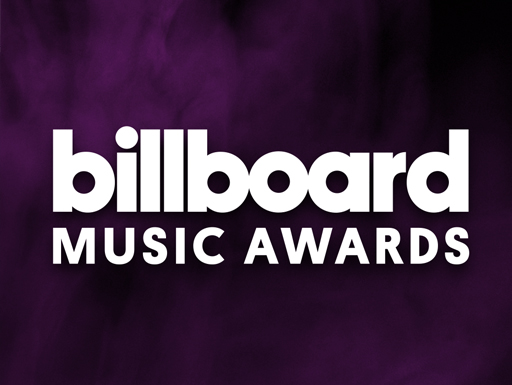 For those of you who don't know, the 2020 Billboard Music Awards happened this past Wednesday. While it may be fun to watch these award ceremonies, sometimes it is not worth it considering the large number of commercials. From fabulous outfits to politics to awesome musical moments, here's a quick recap!
Kelly Clarkson hosted for the third year in a row, and I think most would say she dressed to impress, having a total of eight outfit changes. The most nominated of the night   was Post Malone with 16 nominations  across 15 categories. Right behind him was Lil Nas X with 13 nominees and Billie Eilish and Khalid tied with 12 (Look at the bottom to see all of the winners).  
Some artists used their screen time to make political statements. First off, we have Demi Lovato with her song "Commander-in-Chief" which she used as an Anti-Trump anthem to get viewers into the voting booths. As her performance broadcasted, fans rushed to social media, warning her that she should not be political, as it will "ruin her career." Lovato replied to these comments by saying "You do understand as a celebrity, I have a right to political views as well? … I literally don't care if this ruins my career. This isn't about that. My career isn't about that. I made a piece of art that stands for something I believe in." Another example of this is Lizzo who voiced her opinion to the public in multiple ways, starting on Wednesday, first by wearing a dress covered in the word "VOTE," and then touching on serious topics in her speech. She starts her speech by saying thank you and continues by saying "And I wonder: Would I be standing here right now, if it wasn't for the big black women who refused to be suppressed?" 
And now onto the highlight of the night, the live performances which included Doja Cat, John Legend, and Sia (if you want to see the full list of performers, then scroll to the bottom). Sia delivered a performance of her new song "Courage to Change" and the message of this song; that you are not alone is especially powerful considering we are facing the coronavirus and its effects. Doja Cat performs her hit songs "Juicy," "Say So," and "Like That," in a different style than usual. While normally her music and clothing style correlates more with modern trends, her outfit and slowed-down renditions of her songs reminded people of something that would be seen in old-Hollywood or Chicago. Host Kelly Clarkson performed as well, alongside acapella group Pentatonix and Sheila E. On a more serious note, John Legend dedicated his emotional performance of new song "Never Break" to his wife, Chrissy Teigen, after suffering a miscarriage. From fans singing along virtually to Garth Brook's "Friends in Low places" to BTS performing a slow, yet smoother version of "Dynamite," this year's performances packed a punch!  
Perhaps the topic that has brought the most drama at this year's Billboards is the selection of presenters. Many viewers were annoyed by the fact that TikTok star Addison Rae Easterling was a presenter alongside iconic and well-respected names in the music and Hollywood industry such as Cher and Jane Lynch. To make matters worse, not only did Easterling present an award, but she also accepted it on behalf of popular singer Harry Styles, causing even more disdain. The cherry on top of the whole situation is that before announcing the winner, Addison forgot to actually open the envelope containing the winner of the award. Another choice that confused the virtual audience was the selection of Keish Lance Bottoms, Mayor of Atlanta, but she does have a connection to music. Bottoms is the daughter of Major Lance, a huge R&B singer in the 60's.   
Here are some of the most notable (and some of our favorite) fashion looks from the red carpet! 
Nicole Richie wearing a sheer Christian Siriano gown styled with diamond jewelry by Anita Ko.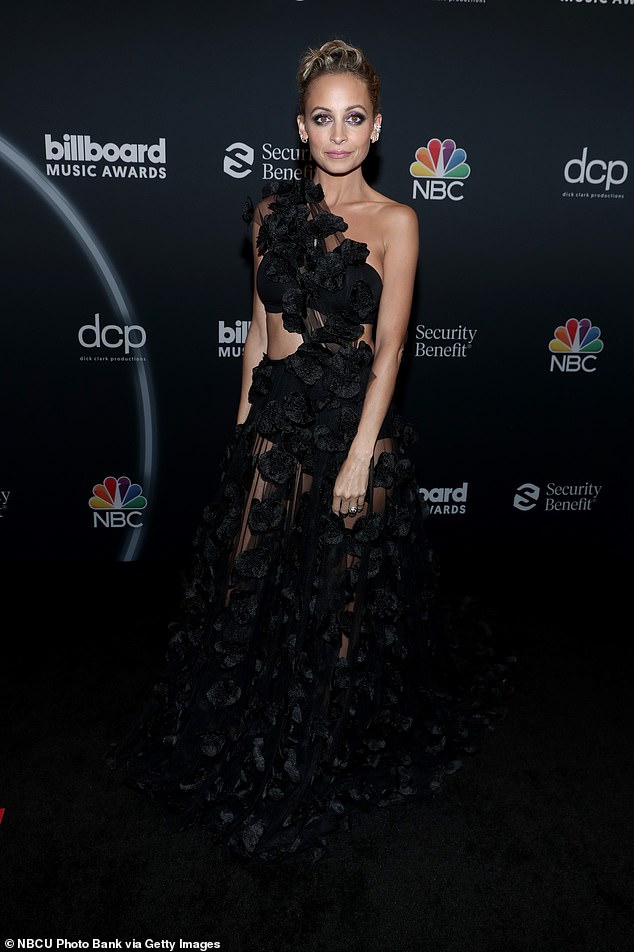 Lil Nas X sporting and pink and green Gucci snakeskin suit paired with orange tinted sunglasses.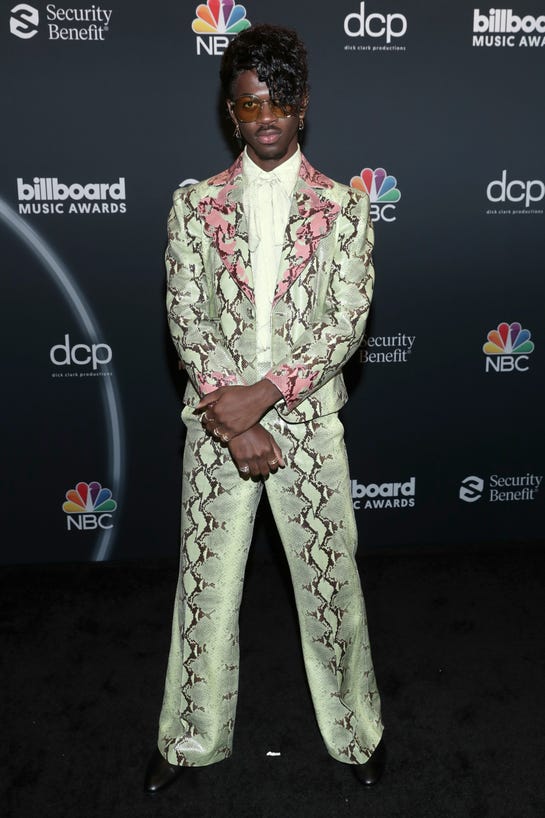 Cher is wearing a black mini-skirt and shirt set with sequined detailing. The singer paired her look with fishnets and black heels.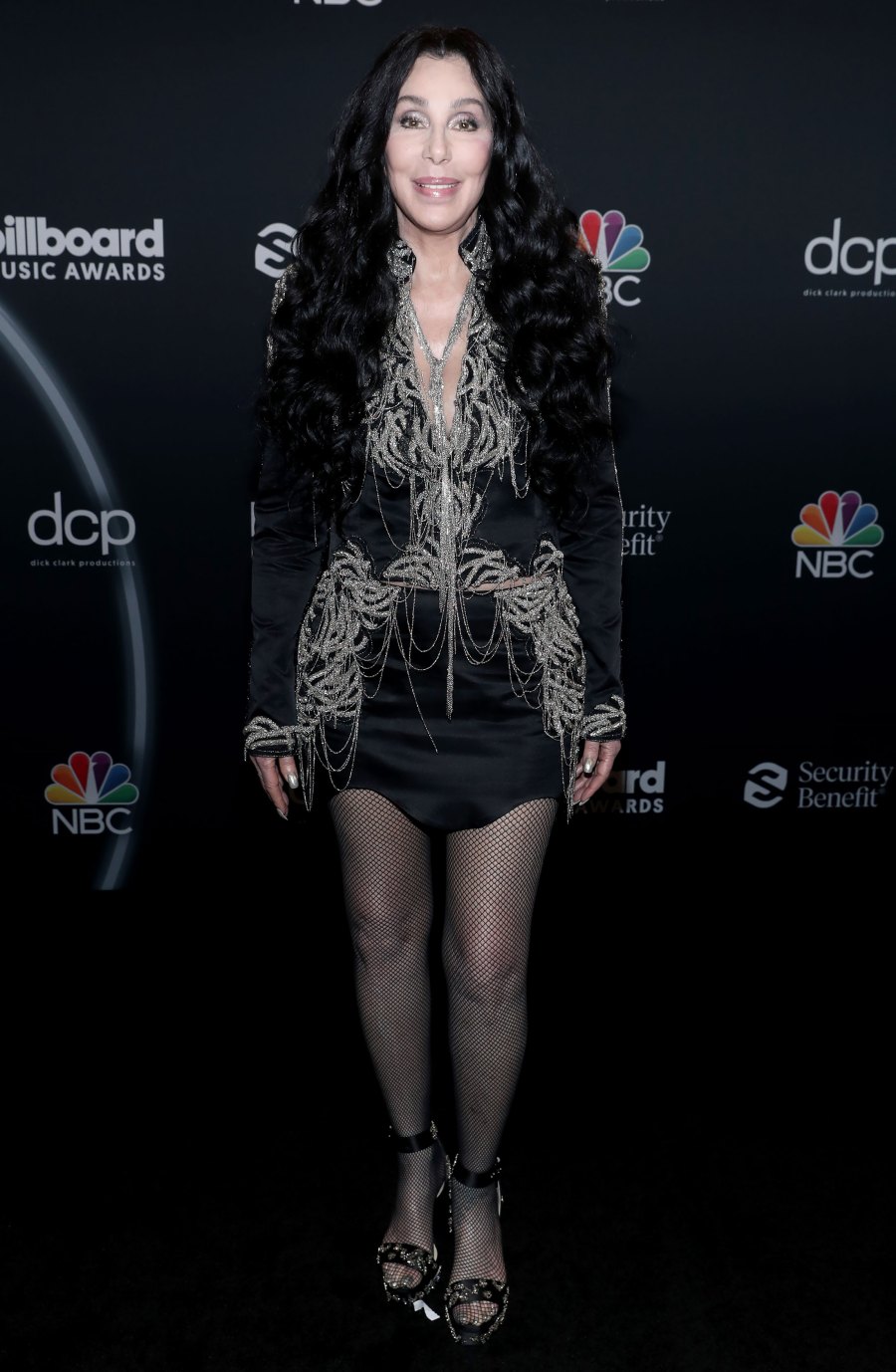 Post Malone is wearing an all-black look that includes a fringed leather jacket with a black t-shirt, a knee-length pleated skirt, and knee-high socks.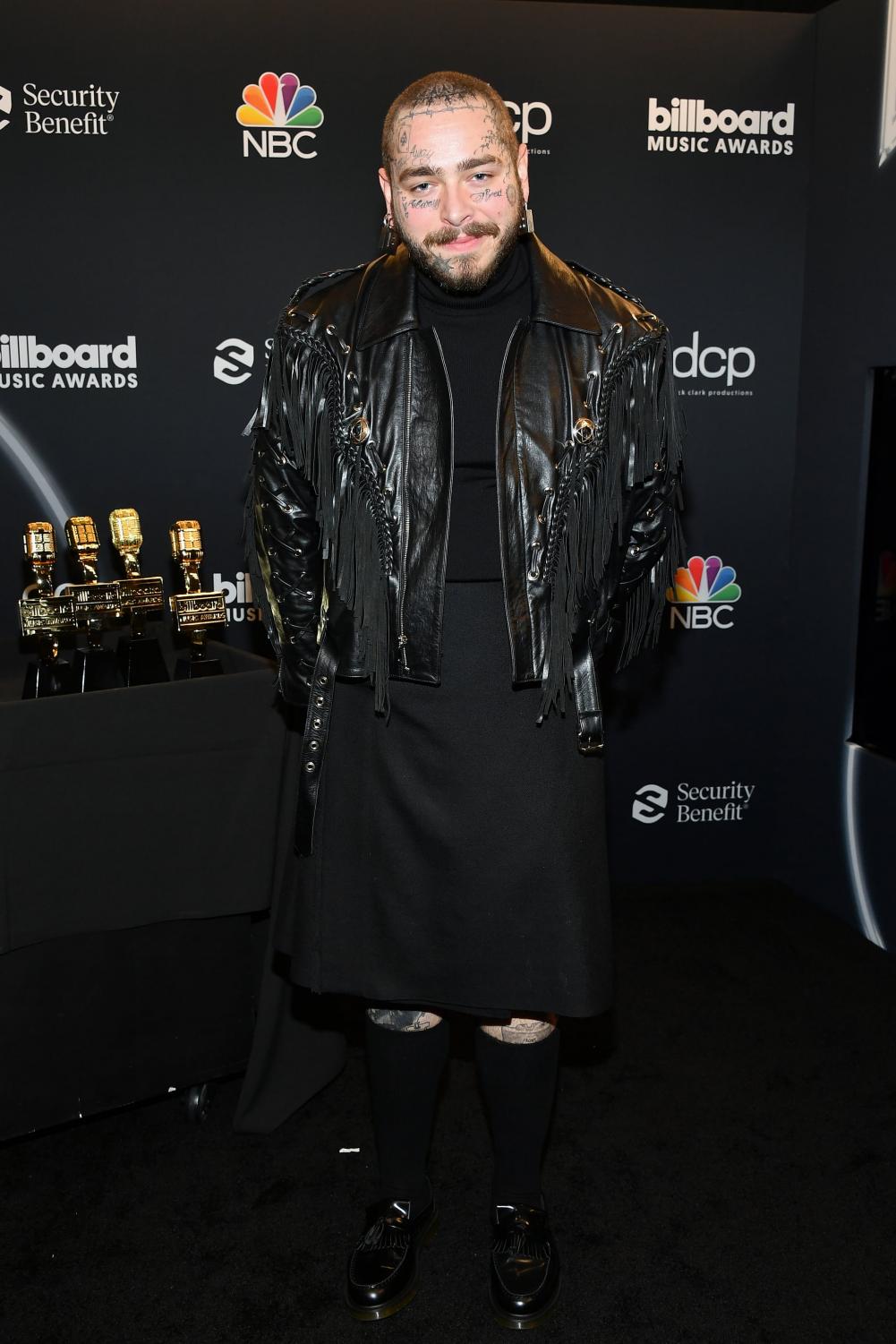 Billie Eilish is wearing an Army Green Gucci ensemble, resembling a pajama set with a bucket hat and her signature, a mask.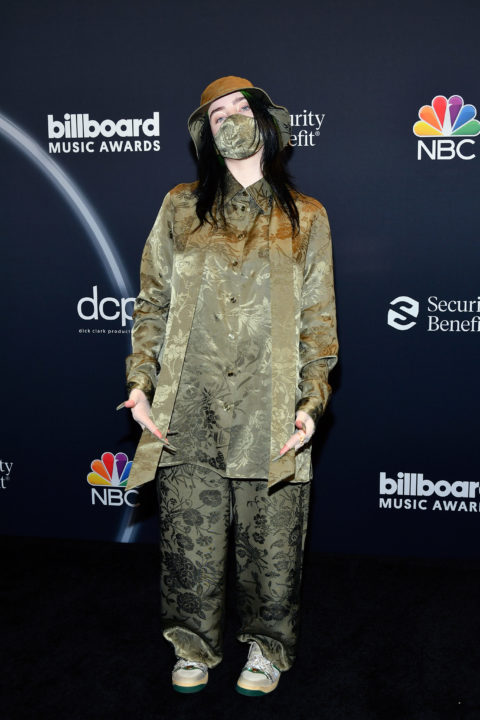 It doesn't seem fair or safe that celebrities are gathering in fairly large groups, mostly without masks, while COVID-19 guidelines say gatherings like this shouldn't be happening. Afterall, celebrities are not superior to everyone else and do not have immunity. However, although we don't know exactly how the Billboards adjusted to the COVID-19 guidelines, we do know they did take some measures. For most performances, a virtual band was used, and if there was in an in-person band, they were wearing masks. Additionally, many background dancers wore masks, and singer, Billie Eilish, wore one throughout the entire show. Kelly Clarkson also mentions how she rolled Post Malone's awards to him on a cart. Lastly, there was no live audience this year, Overall, the Billboards proved to be as entertaining as any non-pandemic year. Even though 2020 has not been the best year, the fashion, the music, and the Billboards overall really were a 20/20!  
ARTIST AWARDS 
Top new artist: 

Billie Eilish  
Billboard chart achievement: 

Harry Styles 
Top male artist: 

Post Malone 
Top female artist: 

Billie Eilish 
Top duo/Group: 

Jonas Brothers  
Top billboard 200 artist: 

Post Malone 
Top hot 100 artists: 

Post Malone  
Top streaming song artist: 

Post Malone  
Top song sales artist: 

Lizzo  
Top radio songs artist: 

Jonas brothers 

Top social artists: 

BTS 
Top r&b male artist: 

Khalid 
Top r&b female artist: 

Summer Walker  
Top rap artist: 

Post Malone 
Top rap female artist: 

Cardi B 
Top rap tour: 

Post Malone 
Top country artist: 

Luke combs  
Top country female artist: 

Maren Morris  

Top country duo/group: 

Dan + Shay 
Top country tour: 

George strait  
Top rock artist: 

Panic! At the disco  
Top rock tour: 

Elton john 
Top Latin artist: 

Bad bunny  
Top dance/electronic artist: T

he Chainsmokers 
Top Christian artist: 

Lauren Daigle 
Top gospel artist: 

Kayne West  
TOP BILLBOARD 200 ALBUM 
Top billboard 200 album: 

Billie Eilish "When We All Fall Asleep, Where Do We Go?" 
Top r&b album: 

Khalid "Free Spirit" 
Top rap album: 

Post Malone "Hollywood Bleeding" 
Top country album: 

Luke Combs "What You See Is What You Get" 
Top rock album: 

Tool "Fear Inoculum" 
Top Latin album: 

J Balvin & Bad Bunny "Oasis" 
Top Dance/Electronic album: 

Marshmelllo "Marshmello: Fortnite Extended Set" 
Top Christian album: 

Kayne West "Jesus is King" 
Top gospel album: 

Kanye West "Jesus is King" 
SONG AWARDS 
Top hot 100 song: 

Old Town Road  
Top Streaming song: 

Old Town Road 
Top Selling song: 

Old Town Road  
Top radio song: 

Sucker: Jonas brothers 
Top collaboration: 

Shawn Mendes & Camila Cabello "Senorita"  
Top R&B song: 

"Khalid "Talk" 
Top rap song: 

Old Town Road 
Top country song: 

Dan + Shay & Justin Bieber "10.000 Hours" 
Top Rock song: 

Panic! At the Disco "Hey Look Ma, I Made It" 
Top Latin song: 

Danny Yankee ft. Snow "Con Calma" 
Top dance/electronic song: 

Ellie Goulding X diplo ft Swae Lee "Close to Me" 
Top Christian song: 

For King & Country "God Only Knows" 
Top gospel song: 

Kayne west "Follow God" 
Presenters  
Addison Rae  

Cher  

Garcelle Beauvais  

Jane Lynch  

Jay Ellis  

Jharrel Jerome  

Julia Michaels  

Lilly Singh  

Mayor of Atlanta, Keisha Lance Bottoms  

Nicole Richie  

Spencer X  

Taraji P. Henson  

TwinsthenewTrend  

Twitch  
Performers 
Alicia Keys 

Bad Bunny 

Brandy featuring Ty Dolla Sign 

BTS 

Demi Lovato 

Doja Cat 

En Vogue 

Garth Brooks 

John Legend 

Kelly Clarkson, Pentatonix & Sheila E. 

Kane Brown, Swae Lee & Khalid 

Luke Combs 

Post Malone featuring Tyla Yahweh 

Saint Jhn 

Sia