Harry Styles: Dismantling Toxic Masculinity One Dress at a Time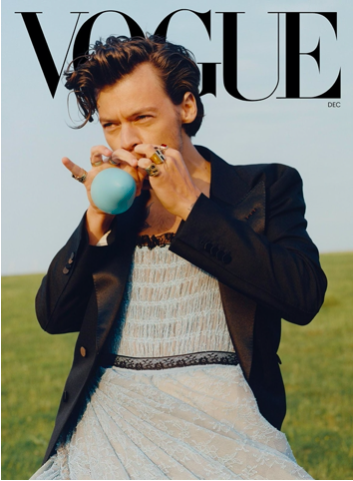 If you are not a crazy Harry Styles fan, then you may not have heard the big news: the "Adore You" singer is going to be on the cover of Vogue. Although we have seen male celebrities on the cover before, such as Styles' former band member, Zayn Malik, with his wife Gigi Hadid on the March 2017 issue, or Justin Bieber with his wife Hailey Baldwin in the March 2019 issue, Harry Styles makes Vogue history as the first man to be on the cover by himself since 1892. 
In the online article, Styles tells Hamish Bowles, his interviewer and the writer of the piece, about detailed aspects of his life, from his six-day juice cleanse and his daily meditation to the impact of the Black Lives Matter uprising on his life. 
Styles career was launched when he tried out on the 2010 X Factor, a British singing competition show. After initially being eliminated, he was  brought back to the show and grouped with other eliminated contestants, Niall Horan, Zayn Malik, Louis Tomlison, and Liam Payne, and together they formed One Direction. He is now a solo artist and, with his two best selling albums, two new movie deals, and one of the biggest fanbases, Styles has come a long way from throwing up before performing and being afraid to sing outside of the bathroom. 
As of now, Styles is working on the upcoming movie "Don't Worry Darling," with well-known cast members Florence Pugh, Chris Pine, Dakota Johnson, and Gemma Chan. Like the rest of us, Styles has many planned activities for when life returns to normal, one of which is moving to Tokyo, a place that he feels has "…a respect and a stillness, a quietness that I really loved every time I've been there."
If you want to learn more on this subject, click here to see Vogue's online article.
Here are all of Style's looks from the Vogue photoshoot ranked, from our favorite to least favorite based on the outfits alone (although we love them all).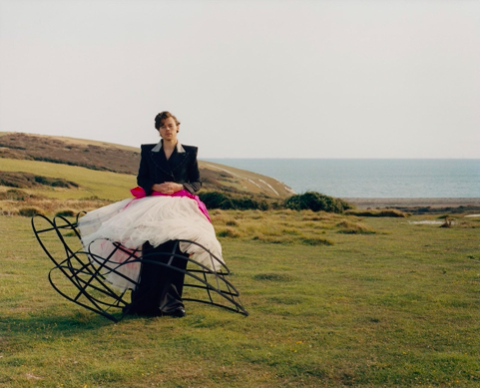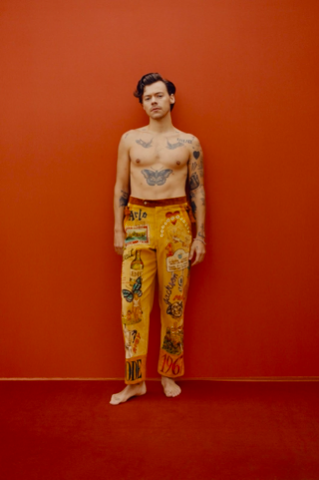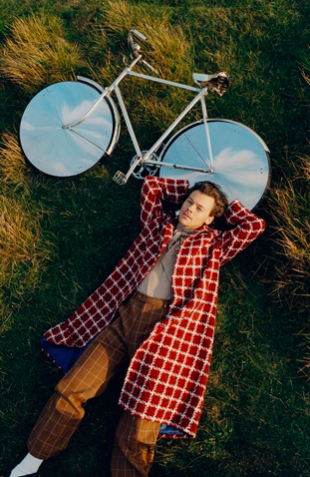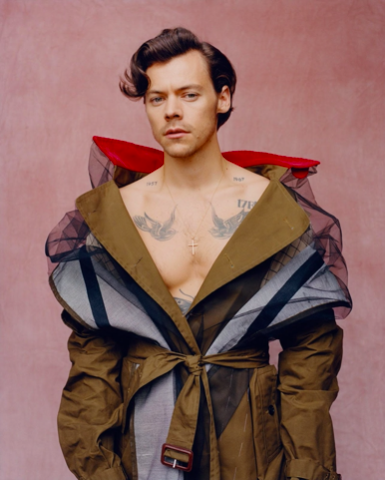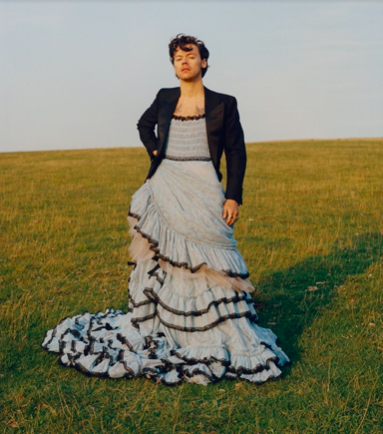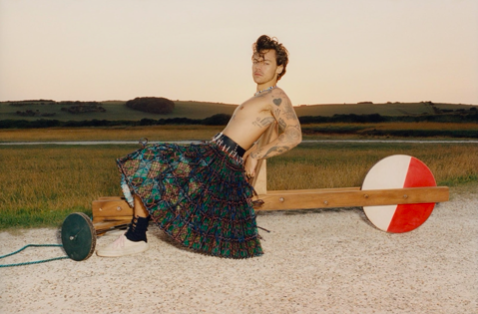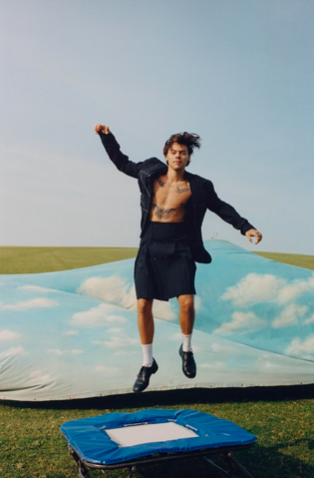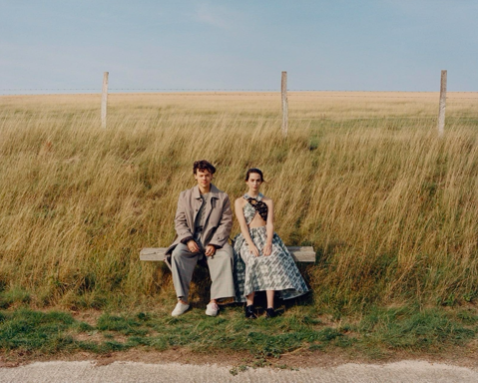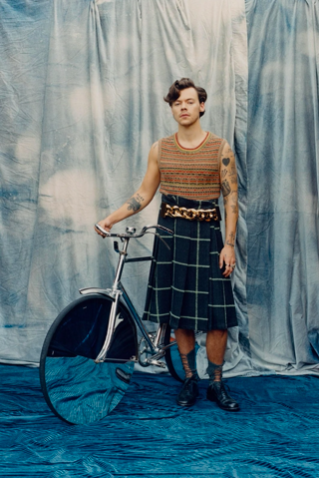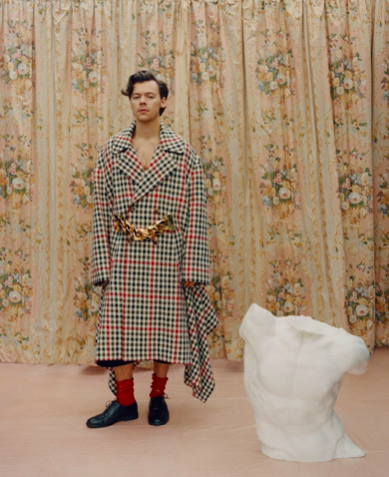 Toxic masculinity is defined as "a set of attitudes and ways of behaving stereotypically associated with or expected of men, regarded as having a negative impact on men and on society as a whole" (Oxford English Dictionary). 
Harry Styles often defies toxic masculinity through his fashion sense and demeanour.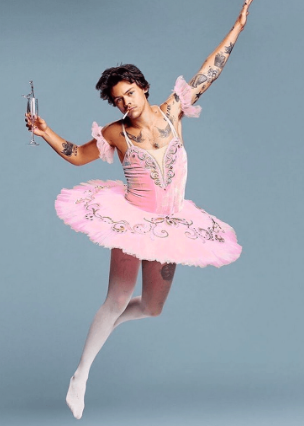 Styles really says "bring it" to toxic masculinity, as he dresses as a ballerina for his Saturday Night Live host photoshoot.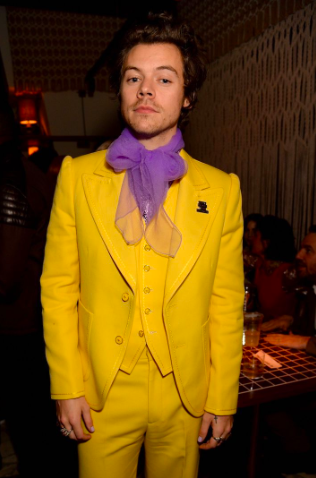 Styles wore this canary yellow Marc Jacobs suit for his third outfit at the 2020 Brit Awards. However, he was not the first celebrity to sport this suit. That title goes to Lady Gaga who wore it on the cover of Elle magazine. Both celebrities looked amazing in this bright suit and purple necktie that takes inspiration from both feminine and masculine fashion trends.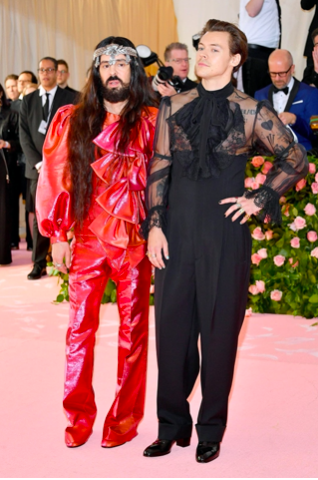 Styles struts the 2019 Met Gala carpet and serves us an all-Gucci outfit consisting of a black lace top and sheer sleeves paired with a Gucci pearl earring and heeled boots. Vogue saw this statement as a "New Romantic movement to the Victorian era." Styles walked the carpet with his stylist and the co-chair and co-sponsor of that year's Met Gala, Alessandro Michele. Michele's pink ruffled jumpsuit is also from Gucci and is accessorized with a silver flower headband. Both men kicked down gender barriers- and they did it in heels.
Harry Styles continuously doesn't let himself be restricted by gender norms. He told Vogue, "I like playing dress-up in general" and this has been true since he was a little boy. His sister Gemma remembers how their mom used to love to dress them up and, while Gemma hated it, Styles always enjoyed the activity. He recalled that, "As a kid I definitely liked fancy dress," and he attributes the start of his love of feminine and elaborate clothing to when he was cast as a church mouse in his first school play and had to wear tights. He views fashion as something that you're meant to have fun with and feel amazing in, no matter if that article of clothing traditionally exists for men or women. Styles believes that if you feel good in the clothes, then why does it matter? As he told Vogue, "I find myself looking at women's clothes, thinking they're amazing," so he chooses to ignore the barriers separating men and women's clothing.
Styles' latest album, Fine Line, symbolizes his embracing and blurring of masculinity and femininity.  A fine line means "a very small difference," and the album cover colors are pink, typically a representation of girls, and blue, typically a representation of boys. Some say the color scheme represents the small, yet exaggerated, difference between men and women.  Others say it might have something to do with his sexuality, since fans have compared the Fine Line album cover with the bisexual Pride flag. 
Styles cleared up these rumors by saying that he didn't choose those colors as a comment on his sexuality in order to make himself seem more interesting or to show his personal preferences at all, since that isn't a public matter anyways. Styles stated, "I want things to look a certain way. Not because it makes me look gay, or it makes me look straight, or it makes me look bisexual, but because I think it looks cool. And more than that, I dunno, I just think sexuality's something that's fun. Honestly? I can't say I've given it any more thought than that." No matter the meaning of the Fine Line colour scheme, Styles is still someone who is well known for defying gender norms and supporting the LGBTQ+ community.
Although we thought this photoshoot was spectacular, not everyone agreed, as it stepped outside of our society's comfort zones. This discomfort and dislike caused a major social media war surrounding toxic masculinity. Candace Owens, an author and political activist, started the war with her twitter comments: "There is no society that can survive without strong men. The East knows this. In the west, the steady feminization of our men at the same time that Marxism is being taught to our children is not a coincidence. It is an outright attack. Bring back manly men." 
However, the Harry Styles fandom and many celebrities truly showed the internet and the world that they have his back. Lucy Hale, best known for her role as Aria Montgomery in "Pretty Little Liars," rising star Jameela Jamil who plays Tahani Al-Jamil in "The Good Place," and comedian and actress Kathy Griffin all showed their support for Styles on social media. Logan Paul, a well-known controversial YouTuber, gave one of the most popular responses to Styles achievement when he defended him in his podcast. 
Styles also got support from Olivia Wilde, the director of his upcoming movie "Don't Worry Darling," in which Styles plays the male lead. Before this social media war even took place, Wilde showed support for Styles' rebellious sense of fashion as she told Vogue, "To me, he's very modern." She goes on to say that she "…hope(s) that this brand of confidence as a male that Harry has—truly devoid of any traces of toxic masculinity—is indicative of his generation and therefore the future of the world.." Additionally, Gucci's Creative Director Alessandro Michele, who has been friends with Styles since 2014, comments on Harry's style saying that "He's really in touch with his feminine side because it's something natural." `Michele sums up everything that we and many others feel Harry Styles represents by saying, "…he's a big inspiration to a younger generation—about how you can be in a totally free playground when you feel comfortable. I think that he's a revolutionary."