Free Speech in the Politically Divided Digital World
Social Media Giants Cut Off Trump's Platforms Following Violent Riot
The first amendment states, "Congress shall make no law…abridging the freedom of speech, or of the press…" In 1791, guaranteeing free speech to all US citizens was simpler than in 2021, as the internet and social media did not exist. Proper use guidelines did not form boundaries on what a person could say or share with the public, and someone could not communicate with people all over the world in a matter of seconds. Twitter's recent ban on Donald Trump's account emphasizes how complicated free speech has become in the current politically divided digital world.
Following the violent riot at the capitol on January 6th, social media giant, Twitter, temporarily suspended President Trump's account for twelve hours. Once this block was lifted, the president returned to his usual hype posts riling up his supporters. On Friday the platform took a major step by permanently banning our former president from tweeting. The move came after Trump posted two messages that Twitter feared would "…risk…further incitement of violence."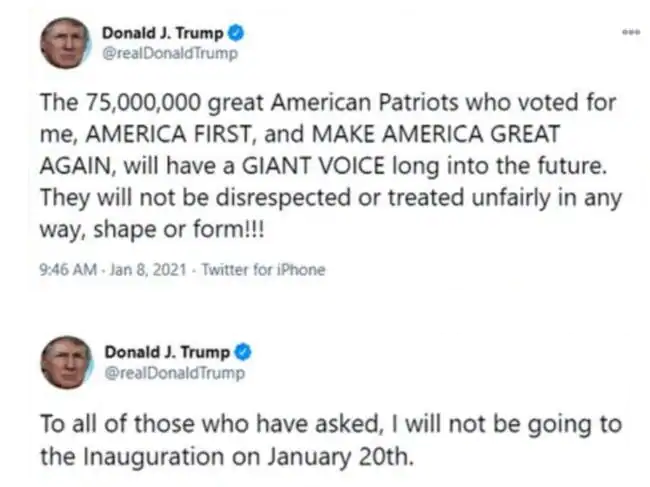 A day prior to Twitter's ban, Facebook shut down the president's platform at least until the "peaceful transition of power is complete," wrote Facebook's CEO, Mark Zuckerberg. In the past, Facebook has received criticism from the public for not censoring the president's posts that often spread misinformation. The company is changing course, Zuckerberg explained, because the "current context is now fundamentally different."
Just as any other American would do if their digital megaphone to the public were muted, Trump searched desperately for ways around the ban, posting four tweets from the POTUS account that were removed by Twitter soon after they went up. One of these posts read, "As I have been saying for a long time, Twitter has gone further and further in banning free speech, and tonight, Twitter employees have coordinated with the Democrats and the Radical Left in removing my account from their platform, to silence me." The last portion of this post, "to silence me" was fuel for the debate about Silicon Valley's role as the switchboard operator to the public's free speech. 
 Since Twitter and Facebook, as well as Facebook's daughter platform, Instagram, banned the president, multiple other sharing sites have followed suit. Thus, if the public is looking to hear directly from Trump any time soon, they will have no luck in checking Pinterest, Twitch, or Reddit. 
After Twitter permanently banned Trump's account, figures all over the political spectrum responded rapidly; Republican Senator Lindsey Graham tweeted, "Twitter may ban me for this but I willingly accept that fate. The Ayatollah can tweet, but Trump can't. Says a lot about the people who run Twitter." Graham's argument is not uncommon, many others have pointed to the fact that Twitter allows dangerous world figures such as the aforementioned Ayatollah Ali Khamenei, anti-Semite Louis Farrakhan, and Venezuelan dictator Nicolas Maduro among other names to keep their accounts. The platform is often accused of only handing out warnings by removing inappropriate or offensive posts. 
In a similar fashion, Twitter has turned a blind eye towards false information concerning the pandemic from Chinese media outlets. In late November, People's Daily, China posted, "All available evidence suggests that #COVID19 did not start in central China's Wuhan, but may [have] come into China through imported frozen food products and their packaging: experts." Several months prior to this tweet, however, the CDC acknowledged the source of the virus, stating, "Using [given] information, epidemiologists determined that the virus possibly came from an animal sold at a market." Though additional sources have identified this animal as a bat, the WHO is sending a group of various medical professionals to China in a few days to study possible origins. In the meantime, the tweet by People's Daily, China remains up to the public, untouched by Twitter.
Nonetheless, employees of these platforms as well as democrat politicians have declared that Twitter's decision to suspend Trump's social media use was long overdue. Senator Mark Warner of Virginia commented, "While I'm pleased to see social media platforms like Facebook, Twitter and YouTube take long-belated steps to address the President's sustained misuse of their platforms to sow discord and violence, these isolated actions are both too late and not nearly enough." Similar to Warner's response, Jonathan Greenblatt, CEO of the Anti-Defamation League, stated the action was, "a fitting end to a legacy of spewing hate and vitriol, President Trump incited the violent riots at the Capitol using social media & paid the price." 
Regardless of their political position, such an authoritative act to shut out the voice of any individual disturbs many Americans. Silicon Valley holds immense power over the right of free speech. Worldwide communication has shifted on to the internet over the past twenty years, and though users can speak directly to the public in seconds, this privilege has come with the possibility of being shut down if their words do not fit the appropriate language guidelines. Unaware, all American social media users have placed a major portion of their right to free speech in the hands of technology giants. Free speech still exists, yet there is an undeniable difference between walking into a public space and announcing one's opinions to a handful of people and posting a tweet that is seen by thousands in just a few minutes. 
Kate Ruane, a lawyer for the American Civil Liberties Union, commented, "We understand the desire to permanently suspend [Trump]…But it should concern everyone when companies like Facebook and Twitter wield the unchecked power to remove people from platforms that have become indispensable for the speech of billions — especially when political realities make those decisions easier." Ruane's words speak of the subtle fear of social media users after the past news cycle.
In a time when humans depend on the internet as their primary means of communication, Twitter's ban on Donald Trump reveals the truth of social media: on the internet, free speech comes with limitations.