The Official Top 35 NBA Players Right Now from Radnor's Unofficial Sports Debate Club
Late into the waning hours of a bitter cold Monday night, Radnor High School's (unofficial) Sports Debate Club argued, squabbled, and ultimately curated our definitive ranking of the top 35 NBA basketball players right now. Heading into the All-Star break in the slightly abridged 2020-2021 season, this year has arguably seen the fiercest and deepest competition in the league's history; every single team has one, two, or even three star players. As a result, picking the 35 best players in the NBA right now was no small task. In addition, panelists were forced to consider recent accomplishments and past playoff successes in their placements, as the nature of the 2020 NBA Bubble meant that the previous playoffs ended less than six months ago. So, enjoy our club's analysis and ranking of the Best 35 Players in the NBA Right Now.
Club members involved with the placement were: Matthew Miller, Carson Smith, Justin Green, Duncan McDermott, Ryan Klein, Samuel Chung, Dean Aljian, Juan-Pablo Moreland, and Chris Begier.
Honorable Mentions
Pascal Siakam, PF (Raptors)
Ja Morant, PG (Grizzlies)
Shai Gilgeous-Alexander, SG (Thunder)
De'Aaron Fox, PG (Kings)
Malcolm Brogdon, PG (Pacers)
Jerami Grant, SF (Pistons)
Julius Randle, PF (Knicks)
Christian Wood, C (Rockets)
Top 35
Tobias Harris, PF (Philadelphia 76ers)
In his second full season with the 76ers, Harris has improved on last year's scoring and rebounding marks, averaging 20.2 points and 7.6 rebounds a contest. More impressively though, Harris has a FG% of 51.2, 3PFG% of 40.2, and FT% of 88.7, all massive improvements to his efficiency. 
Gordon Hayward, SF (Charlotte Hornets)*
It seems as if the NBA gods put 2016-17 All-Star and Utah Jazz sensation Gordon Hayward into a time capsule, and decided to bring him out three years later. With the Hornets firmly in the playoff hunt, largely in part to Hayward's 21.5 points per game, this season has been a renaissance for the 10-year vet out of Butler.
33. Rudy Gobert, C (Utah Jazz)
Although his shooting percentages are down from last year, his stat line isn't exactly eye-popping (14.2 points, 13.1 rebounds), and his offensive capabilities rival that of a donkey's, the Stifle Tower's defense is again what keeps him in such high regard. Averaging a career-high 2.7 blocks a game, the two-time Defensive Player of the Year, 3x All-NBA inclusion, and 4x All-Defense first teamer's ability to block, deflect, and disrupt any and all shots in the paint has had an incalculable impact, leading his Jazz team to the best record in the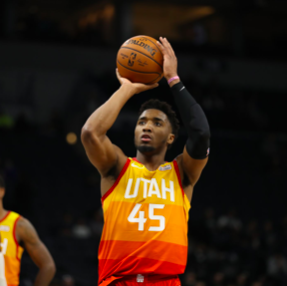 NBA heading into the Break.
Donovan Mitchell, SG (Utah Jazz)*
Mitchell has been a consistent scoring threat over his four-year NBA career, always grabbing between 20-24 points per game and then not doing much else. Another solid scoring year for Mitchell, coupled with a meteoric rise in 3PFG% (.366 to .415) and the Jazz' number one record, equate to a very deserved inclusion on this list for the young guard.

Domantas Sabonis, PF (Indiana Pacers)
NBA fans were shocked to see the son of Soviet basketball legend Arvydas Sabonis among last years' All-Star inclusions, but in just one season, the 24-year-old Lithuanian has grown into the heart and soul of a criminally underrated Pacers side and is back in the All-Star roster. 21.1 ppg, 11.1 rpg, and 5.9 apg is an impressive, well-rounded stat line for a 6' 11" forward, but Sabonis will have to work on his turnovers if he is to ascend any further on this list.
Ben Simmons, PG (Philadelphia 76ers)
Simmons' year-to-year statistical changes are minimal, highlighting his main characteristic: consistency. Ben Simmons' consistently plays phenomenal defense, distributes the ball well, and is back to his usual scoring marks of around 15 or 16 a game. The fourth-year guard isn't exactly lighting the world on fire every time he steps out on the court this season, but his value is evident through the respect he commands from players and writers alike.
Trae Young, PG (Atlanta Hawks)
People like to forget Trae Young was an All-Star starter and fourth in league scoring last year; the now 22-year-old guard is continuing his stardom down in the Peach State. Averaging 26.4 ppg this year to go along with 9.4 apg, Young has all the tools to be a perfect offensive-minded point guard—all he needs is to improve his shot selection and he's there.
WRITER's NOTE: Absolutely snubbed from the All-Star Game! I'd take Trae's elite playmaking-shooter combo over half of the East reserves.
Nikola Vucevic, C (Orlando Magic)*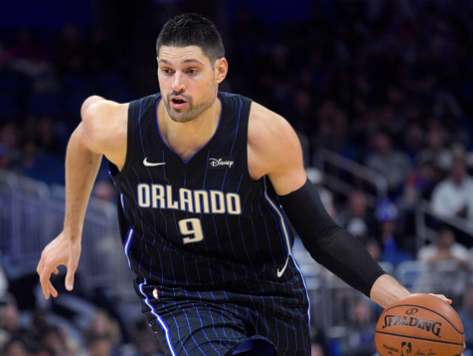 One of the most underappreciated players in the NBA, Vucevic has toiled away with the Magic for nine years now, and this one has been his best by far. 24.6 ppg and 11.6 rpg are perfect marks for a franchise big man, and Vucevic has been largely responsible for his team's recent playoff berths.
Russell Westbrook, PG (Washington Wizards)
One of the most polarizing athletes of our current generation, the future Hall of Famer is just not where he used to be in terms of sheer athletic dominance. Averaging a shade above 20 ppg, Westbrook's efficiency has been the main drawback to his case, and the 9x All-Star might miss out on the game for the first time since 2014.
Chris Paul, PG (Phoenix Suns)
Chris Paul has had a very Nashian season. Both are Suns' point guards, both are reliable for 15-18 points and 8+ assists a game, and both offer invaluable court leadership. Paul has aged like fine wine and continues to add to his already legendary Hall of Fame resume with every game on the now electrifying Suns.
Zach LaVine, SG (Chicago Bulls)*
Zach Lavine is heading to Atlanta for the first All-Star berth of his career, and rightfully so. The guard known most for his legendary Dunk Contest wins is averaging 28.7 ppg on incredibly efficient percentages of 52 FG% and 43.5 3PFG%. His meteoric rise has been relatively sudden so we were hesitant to put him higher, but Zach Lavine has undoubtedly grown into one of the league's best offensive players.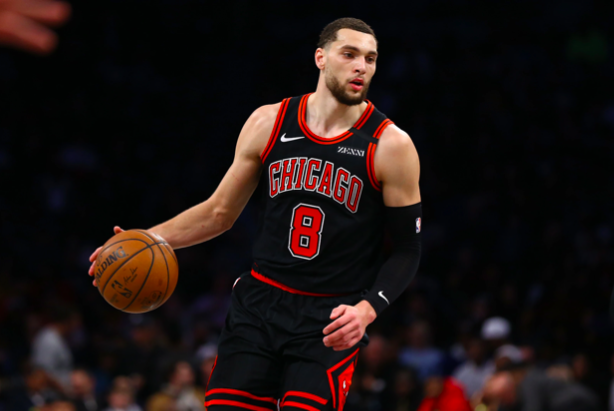 CJ McCollum, SG (Portland Trail Blazers)
Although only playing in 13 games before being sidelined with a foot injury, McCollum's 27 ppg to go along with a 47 FG% was more than worthy of a top 25 placement. Save for the Splash Bros and the newly formed union in Brooklyn, McCollum and Dame continue to make a case with every game they play together for the title of best NBA backcourt.
Brandon Ingram, SF (New Orleans Pelicans)
One of the more head-scratching snubs from a trip to Atlanta is the slender forward continuing to ball out in New Orleans. Ingram, fresh off a Most Improved Player campaign, has again improved his game in nearly every conceivable facet, including impressive turnover decreases and point increases.
Bam Adebayo, PF (Miami Heat)
Improved in every major stat category, amounting to 20 double-doubles so far this season. Check. Unsuspected NBA Finals appearance last year. Check. Snubbed from the All-Star game because of his team's lackluster start and due to a plethora of talent in this year's NBA. Check. Bam Adebayo is a stellar player on a stagnant team right now, but thanks to last year's memorable playoff run and his dominance on the defensive end, Adebayo is still able to keep a high spot on the list.
Karl-Anthony Towns, C (Minnesota Timberwolves)
Two things have undermined a potential Hall-of-Fame fast track career for Karl-Anthony Towns: the increase in depth of younger big men league-wide taking All-Star berths from him (Jokic, Embiid, Gobert, Adebayo, Davis) and his less-than-desirable market in Minnesota. With all the talent in the world at his disposal, Towns has been plagued with misfortune, tragedy, and bad luck, but he remains one of the most dynamic two-way centers at just 25. In the right situation, KAT would be the perfect complement to a superstar on a championship team.
Devin Booker, SG (Phoenix Suns)
The shocked reactions to his initial All-Star snub alone should provide the proof necessary to make a case for Booker, but his resume speaks for itself. After leading his Suns to an 8-0 record in the bubble, Booker has continued his scoring dominance, effectively taking the Suns to a record of 23-11. The young guard has one of the highest ceilings in the game, and is finally starting to see tallies in the win column thanks to all his efforts.
Zion Williamson, PF (New Orleans Pelicans)
The sophomore sensation has officially proven his worth in the NBA. Coming into the league with hype not seen since the early 2000s with LeBron, Zion's style of graceful athleticism mixed with bullish inside play has granted him a statline of 25.6 ppg and 7.2 rpg. Forming a deadly frontcourt partnership with Brandon Ingram, Williamson will play in the first All-Star Game of his career this weekend, which will hopefully be the first of many.
Jaylen Brown, SF (Boston Celtics)
Often losing time in the spotlight to his teammate superstar Jayson Tatum, Jaylen Brown has made excellent strides in his play, landing a deserved first All-Star selection. The fourth-year player from Cal can get anywhere he wants on the court, averaging 24.8 ppg and backing it up with top-level defensive play too. Brown already plays with the confidence and court presence of a seasoned veteran, and will only continue to get better.
Khris Middleton, SF (Milwaukee Bucks)*
In a year chock full of people scoring 23+ ppg, Khris Middleton's 20.0 is just as impressive. 2 FT% from 50-40-90 marks, Middleton has been the efficient, dependable Robin to Giannis' Batman for three years now, and is subsequently one of the most overlooked players in the league. Middleton is a perfect piece for a team trying to get to the next level, and the Bucks are lucky to have him playing on their side. 
Bradley Beal, SG (Washington Wizards)
Leading the league in scoring with 32.9 ppg, the All-Star starter is absolutely balling out on one of the worst teams in the NBA. Shooting above 50% from the field and 90% from the line, Beal's 3-point efficiency is the only offensive aspect of his game he could improve, but defensively he is statistically one of the worst in the league. So, as a result, he lands at #16.
Kyrie Irving, PG (Brooklyn Nets)
Kyrie is back to his old self, averaging 27.2 ppg and 6.0 apg as (amazingly) the third-best option on a red-hot Brooklyn Nets squad. Back to All-Star starter status as a result of his impressive play, Kyrie is still a defensive liability going up against stronger, more athletic guards. His odd 20 game season last year also docks him points, but as controversial a human Kyrie is, he is without question a future Hall of Famer.
Paul George, SF (Los Angeles Clippers)
After being memed to oblivion following his string of terrible playoff performances that basically eliminated the Clippers last year, Paul George set out to show the world why he was an All-NBA First Teamer just a few years ago. It is safe to say he succeeded. 23.7 ppg, 6.1 rpg, and 5.4 apg comprise George's solid statline, but more impressively, his shooting percentages in all three categories have had incredible increases to almost 50-40-90 levels, including a 7% jump from his career 3PFG%.
Jimmy Butler, SF (Miami Heat)
The two-way forward's renowned fourth-quarter play and all-around leadership amounted to one of the most unexpected and entertaining playoff runs for his Miami Heat during the 2020 NBA bubble. Now back after starting this season out to COVID-19, Butler's consistent well-rounded 20 points, 8 rebounds, and 8 assists per game have revitalized a Heat season that looked destined for failure without him.
Jayson Tatum, SF (Boston Celtics)*
Jayson Tatum embodies the new generation of young talent slowly taking over the NBA. Named to an All-Star position in consecutive years now, an All-NBA Third Team slot last year, and having notched two ECF berths in three years, Tatum is on the rise to stardom. If the Celtics, most likely thanks to Tatum's 25 ppg and stifling defense every game, are able to somehow break the streak of losing ECF's this year, it would speak volumes about this young star's ability.
Anthony Davis, PF (Los Angeles Lakers)
Out with an Achilles injury right now, Anthony Davis lands just outside the top 10 for the sole reason that his current stats show signs of regression from previous years. However, before the injury, his averages were still at 22 points and 8.5 rebounds a game, and combining that with his contributions to a championship last season, Davis is deserving of his spot among the league's upper echelon of talent.
Luka Doncic, PG (Dallas Mavericks)
Luka could easily be first on this list next year. Wonder Boy can do it all, averaging 28.9 ppg, 8.4 rpg, and 9.0 apg a contest, to go along with some of the best-advanced metrics in the league. Doncic has rebounded from early criticisms about his efficiency and the Mavericks' record by leading his team to a playoff berth heading into the Break. Luka faltered with his shot selection early in the year and is still paying the price for that in these rankings, but his all-around style of play and clutch shooting ability could push him further up this list in no time.
Damian Lillard, PG (Portland Trail Blazers)
Watching Damian Lillard in the final minutes of a basketball game is one of the most exhilarating things one can do. Unanimously considered the league's clutchest player, Dame Time has still been in effect this season, with Lillard top 3 in clutch points and assists.
James Harden, SG (Brooklyn Nets)
After the frankly annoying Harden saga in Houston, the former MVP has landed on the Brooklyn super team and is playing out of his mind. Leading the NBA in assists with 11.1 per contest (and 25.3 ppg as well), Harden's new double role as playmaking-scoring extraordinaire is refreshing.
Joel Embiid, C (Philadelphia 76ers)*

Embiid has been nothing short of outstanding this season and is generally considered to be the MVP frontrunner. The 7-footer from Cameroon brushed his disappointing last season right off his back and is currently averaging 30.2 ppg and 11.6 rpg, to go along with extremely solid efficiency lines. Embiid has spearheaded the rise of the Sixers as the best team in the East, and is only this low due to his dud of a season last year.
Stephen Curry, PG (Golden State Warriors)
The main half of the Warriors superstar tandem of guards is without a doubt playing like the best point guard in the NBA. 29.7 ppg, 6.3 apg, 93 FT%, and a 41 3PFG% are the current marks for Curry, whose only drawback is the mediocrity of his once-dominant Warriors.
Giannis Antetokounmpo, PF (Milwaukee Bucks)
Fresh off his second consecutive MVP, "The Greek Freak" has had an almost identical season to last year, maintaining averages of 29 ppg, 6 apg, and 12 rpg. With slight improvements to his shooting numbers and defensive stats, it may be odd to see the most dominant player since Shaq, reigning MVP, All NBA First-Teamer, and DPOY barely squeak into the top 5. However, the committee felt his lackluster playoff success over the past two seasons, including a humiliating 4-1 second round exit to the fifth-seeded Heat this summer, to be a glaring mark on his otherwise consistent dominance.
Nikola Jokic, C (Denver Nuggets)
The first truly heated debate between panelists arose early in the list's formation, as a vocal contingent believed Jokic's current dominance to be worthy of a top-3 spot on the list. After all, the Serbian 7-footer is top-10 in the league in every major per game stat category besides blocks (27.3 points (8th), 11.0 rebounds (10th), 8.6 assists (6th), 1.7 steals (3rd)), and is currently shooting an impressive 57% from the floor and 89% from the line. The advanced stats support his dominance, as Jokic leads the league in Value Over Replacement Player (VORP), Box Plus/Minus (BPM), Player Efficiency Rating (PER), and Win Shares (WS). With a couple of All-Stars, All-NBA selections, and overachieving playoff runs already under his belt at just 25, Jokic is just getting started, and his trajectory has him at number 1 in just a few years time. 
WRITER'S NOTE: I was personally pushing for a Jokic top-3 finish based on that fact he led his underdog Nuggets to a seven-game series victory over Kawhi's Clippers a few months ago in the NBA bubble (which included an overlooked 16 point, 22 rebound, 13 assist performance in Game Seven). 
Kawhi Leonard, SF (Los Angeles Clippers)*
Kawhi Leonard is the definition of a silent assassin. The soft-spoken forward in his second year with the Clippers has continued to establish himself as the league's best pure two-way player. In addition to being the first player to ever win Finals MVP for teams in different conferences, Kawhi's proven ability to lead a team to playoff victories helps his case here strongly.
Kevin Durant, SF (Brooklyn Nets)*
The second-best active all-time player only behind number 1 on this list, KD was able to overcome a devastating achilles injury last year to earn a berth as the East's All-Star Captain this season. In just 19 games, Durant is continuing to display his impressive scoring ability, averaging 27 ppg on 52% shooting. Perhaps one of the best scorers of all time, Durant's injury troubles will continue to hamper his longevity in the NBA, but right now he is showing no signs of decay.
LeBron James, SF (Los Angeles Lakers)*
If Chris Paul has aged like fine wine, then the King has aged like a 1992 Cabernet Sauvignon, as in his 18th season LeBron James is still undoubtedly the best basketball player in the world. Fresh off his fourth championship, LeBron's ridiculous stat line of 25.8 ppg – 8.0 rpg – 7.8 apg is unprecedented for a 36-year-old, and the Lakers are favored to repeat as NBA champions this season. Another impressive note about James' season so far are the improvements he's made across the board to his shooting percentages, steadily upgrading his overall efficiency. With 4.9 a VORP of 3.0 (2nd) and a BPM of 7.5 (4th), the advanced stats also support the potential MVP-winning narrative that the King is not only playing some of the best basketball of his career, but he is not slowing down any time soon either.