Senior Seminar: Sexual Assault, Consent, and Healthy Relationships
On February 25, seniors attended a seminar on healthy relationships and sexual assault presented by Katie Koestner and Travis Marshall of Campus Outreach, sharing personal stories and real-life scenarios. Using the story of 'Erica' and 'Jake' students were able to talk about consent, substance use, and sexual assault using language that felt real and useable, rather than textbook dialogue. 
The story of 'Erica' and 'Jake' was full of real-life complicating elements including alcohol and information asymmetry. Too often, instructors create impossibly perfect, clear-cut situations. While well-intentioned, these resources fail to address the nuisances of sexual encounters. Thursday included these difficulties, challenging students to confront them. 
The Zoom format allowed students to anonymously engage and respond to surveys genuinely. Students were asked about the 'Erica' and 'Jake' situation as well as what signs indicate that someone is too incapacitated to give consent. Below are student responses.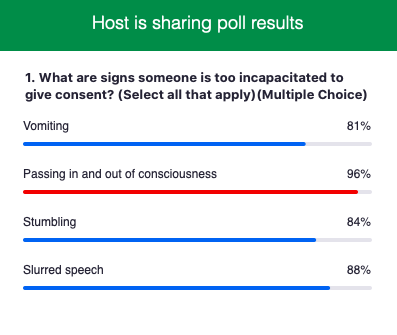 Students were able to anonymously ask their own tough questions about consent: "a clear 'yes' to sexual activity. Not saying 'no' does not mean you have given consent", according to the Department of Health and Human Services. 
Some asked what happens if both parties were incapacitated while engaging in sexual behaviors. Answer: It's complicated; if one party encouraged or facilitated the consumption of the substance, they would bear greater responsibility. Others asked about the reporting process if alcohol/substances are involved. Answer: Most colleges have an amnesty policy where students can report sexual assault without fear of repercussions related to the substance. 
The presentation also provided definitions for sexual behaviors. The visual used is below.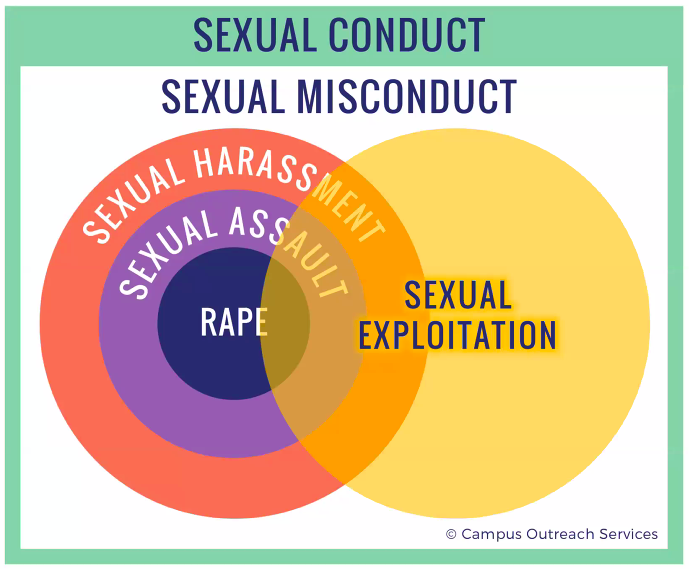 To begin, the green box illustrates all sexual conduct, including positive, consensual activities. Under the umbrella of sexual conduct is sexual misconduct. Within the definition of sexual misconduct, is sexual harassment, defined by the Association of American Universities as "behaviors with sexual connotations that interfered with an individual's academic or professional performance, limited the individual's ability to participate in an academic program, or created an intimidating, hostile, or offensive social, academic, or work environment." While the definitions of sexual assault and rape differ from state to state and school to school, this graphic offers a universal visual categorization. Notably, sexual exploitation, which can include recordings and their distribution, can coincide with any form of sexual misconduct. 
Language plays a critical role when speaking about sensitive topics, particularly when the audience is a sea of teenagers. Similar to bullying, no one in real life ever says "I will not be a complicit bystander" or insert [term made up by older researcher who hasn't spoken to a teenager since they were one]. The presentation dialogue was natural, with partners asking for consent in ways such as "You good?" 
As seniors, most of whom will enroll in an undergraduate program, the realities of sexual assault will become unavoidable, either through similar fact-based seminars or tragically, through lived experiences.  
According to a 2019 Association of American Universities survey, 13% of all graduate and undergraduate students experience non-consensual sexual contact in colleges.
The same study determined that for undergraduates, 26% of women, 7% of men, and 23% of transgender, genderqueer, and nonbinary people experience rape or sexual assault. Other studies have also found that people of color are more likely to be sexually assaulted than caucasian people.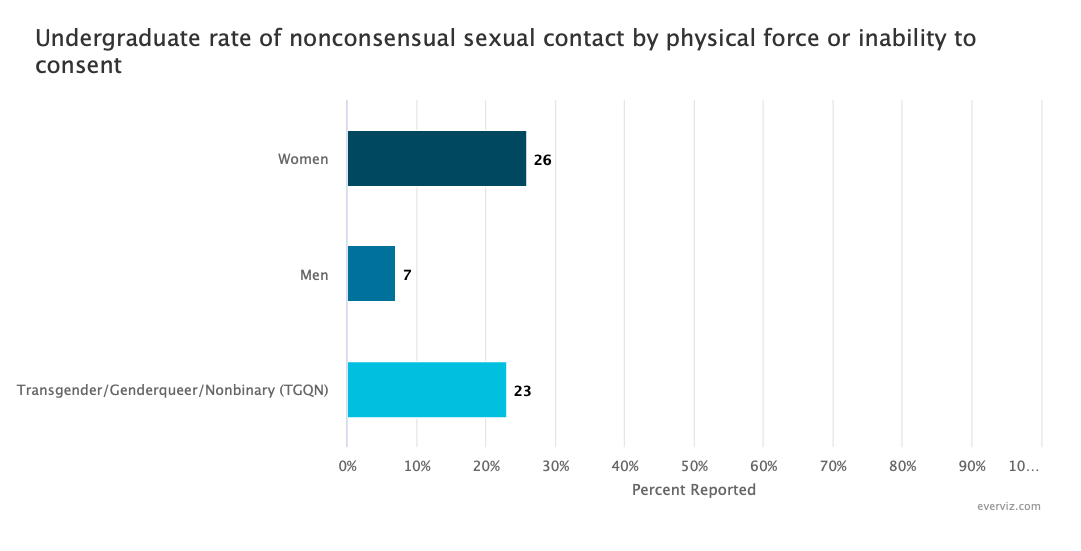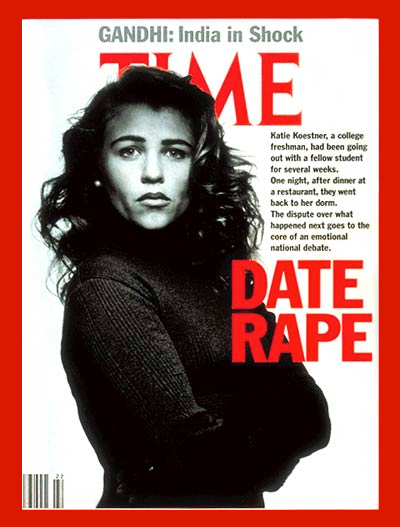 Our presenter, Katie Koestner began her activism following her own assault after which she became the first woman to publically speak out nationally as a victim of campus "date" rape. She later appeared on the cover of TIME magazine and gave testimony on Capitol Hill in support of the Victim's Bill of Rights and the Campus Security Act. 
Lastly, the mandatory nature of the assembly anchored its valuable lessons in accountability. Operating within a shared definition will hopefully create a safer school environment. When asked "Are sexual misconduct cases more common with strangers or people you know?" the presenters shared that more than 75% of sexual misconduct cases involve people who are well known to each other. 
As a senior class, this was our second senior seminar— the first being about stress management, another relevant topic. These aren't easy conversations, but they're necessary. The maturity and participation of the senior class were admirable during each discussion. Hopefully, armed with more information and resources, the Radnor Class of 2021 will graduate as successful, informed adults. 
Resources:
Campus Outreach Services, a leader in safety and wellness for 5,000+ schools
Take Back the Night, the earliest widespread movement to stand against sexual violence.
NPS: The History Behind Sexual Consent Policies
Best Colleges: The Realities of Sexual Assault on Campus
RAINN: Campus Sexual Violence Statistics
American Psychological Association: Black women, the forgotten survivors of sexual assault
About the Writer
Anne Griffin, Editor-in-Chief
Anne has been a Randorite reporter and photographer since 2017. She is an active member of the Radnor's Model United Nations club and the ACLAMO Spanish...