Grubbin' With the Girls: First Watch Edition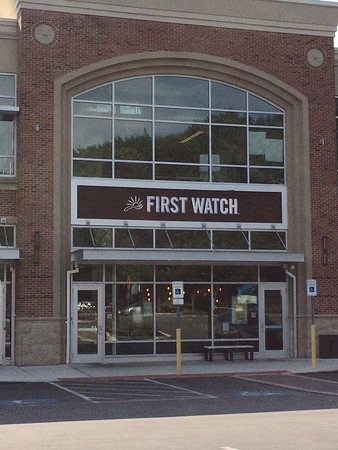 I want all of you to think back to before when Coronavirus decided to take a vacation to America. You could hang out with people in large groups and not risk melting your lungs … unless you were vaping, of course. You could travel the world and see members of your family. You could even play a game of baseball. That last one isn't really related to COVID, it's more the fact that I'm just really in my feels about the whole knee thing. Anyways, something else comes to mind when I think about pre-covid times. You see, right before lockdown started, I had tried scheduling a "Grubbin with the Girls," because you know, equality. That, however, went about as poorly as you'd expect from a slightly overweight kid with the body of a 35 year old man in the middle of a mid-life crisis. 
I decided that the girls at Radnor must get a chance, and I attempted to schedule Grubbin with the Girls once again. This time, somehow, it couldn't have gone smoother. I don't know what it was―maybe it was me finally being 6 feet tall, maybe it was the fact I am the best looking kid at the school, or maybe it was that I'm not a socially awkward man-child anymore. But what I do know is that my ego was dangerously high knowing that I was now going on a triple date. When the reality of the situation hit me, however, it all came crashing down. I asked what they wanted to eat, suggesting tacos and bottled water (which I believe is a brilliant idea), yet one of the ladies who I asked said First Watch, and being the simp, I mean Gentleman, that I am, I agreed. This particular girl then canceled on me because of lacrosse. Ouch. Plenty of fish in the sea I suppose. 
I scheduled the feast for the Monday before we came back to school from Spring Break, and it just so happens that on the day before, I would be driving back home 10 hours from the Smoky Mountains in Tennessee. Tennessee was nothing like I expected it to be; cold, windy, and rainy. Going ziplining in 30 degree weather doesn't scream Spring Break now does it. I was actually really looking forward to this review as it would mean escaping the cold, but yet  another problem revealed itself as I left for the restaurant. You see, I am occasionally what some might call an idiot, a trait I exemplified when I unknowingly drove my car to First Watch with the parking brake on. Yeah, it was an embarrassing scene when my Dad literally shifted something down and the car started working perfectly. Whatever, it wasn't my fault and was obviously the wind. Now onto the reviewers.
Reviewers: 
Me (Noah Conen)
Avery Barber
Cammi Goldenberg
Julie Breedveld
First Watch is a small breakfast and lunch chain serving healthy food and beverages. Because of this, it has the honor of being a stereotypical "main line white girl" establishment, joining the illustrious company of Azie and Starbucks. It was fitting that when I walked in, all I saw were tables full of white girls in lacrosse uniforms. The menu at First Watch consists of breakfast fare such as pancakes, waffles, french toast, omelettes, and hashes. Here is what we ate:
Me: Pork carnitas omelette.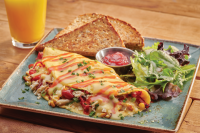 I ordered this omelette―which was a special― and it was pretty solid. It had a slew of pork, onions and cheese wrapped in egg and was topped with avocado, tomatillo hollandaise, chive cream, pico de gallo, and cilantro. It made for quite the satisfying meal and had a very nice, fresh flavor which definitely satisfied my hunger. As fate would have it, this ended up being the only real meal that was ordered. If you are confused by what I just said, you'll see what I meant in just a second.
Avery: Side dish of sausage, side dish of potatoes, side dish of fruit.
Oh man. This is where a fundamental problem of Grubbin' with the Girls come into play. You see, I had a wonderful time with the ladies at breakfast and they are a truly great bunch. But I don't think they understood the concept of getting food for a review. I first observed this problem when Avery ordered three side dishes instead of an actual entrée. Granted, she told me she has an egg allergy, but still. She was also not very impressed with her food. The side of potatoes was a bit too overcooked for her, and the onion flavor was nice but a bit overpowering. Her side of fruit was tasty but a bit overripe. Last but not least, her sausage patties were a bit rubbery and lacking in flavor. Her summary was that she had fun and liked the great service, but the food was overall meh.
Cammi: Avocado toast.
Out of all the girls, Cammi came the closest to actually ordering a dish. She loved the Avocado Toast, calling the crisp, sourdough bread "super fresh." She did have a gripe with the overload of Avocado on top, but then proceeded to call that an easy fix. She gave additional points to the egg, calling it nice and runny, deeming the entire meal a 9/10. I guess Avery must have studied for Grubbin by watching Gordon Ramsay sample dishes on Kitchen Nightmares, while Cammi did so by tuning into Diners, Drive-ins, and Dives.
 Julie: Yogurt with granola, a muffin.
Julie ordered yogurt. I never thought in my young freshman mind that Grubbin would ever cover yogurt with granola on it, but then again, I never thought I'd be able to talk to a girl in 9th grade either. She said the yogurt was yummy, the granola was crunchy, and the fruit was fresh. Her muffin was good, but she was disappointed that there were no chocolate chips, saying, and I quote, "smh."
Overall, First Watch is a solid Main-Line breakfast joint that has a little something for everyone, even if that something is a side dish or something that requires little assembly. To that girl who canceled right after she coerced me into going to First Watch, and you know who you are, thanks for being an enabler. At least it made for the shortest article to write.
Next time on Grubbin' with the Boys, I'll review something. I don't know what it is, my future is clouded, so hold your horses folks.