The Melody of a Virus: How the Music Industry is Battling COVID-19
In March of 2020, after the United States issued a nationwide shutdown, people began to question the stability of many things that influence our daily life, one of those things being the music industry. With artists cancelling concerts and tours and postponing album release promotional activities, it was hard to imagine the future of live music. Many questions arose: how would new artists gain popularity, and how would old artists stay relevant, if they weren't connecting with their audiences through pre-pandemic means? 
The answer to this question was simple: artists would use social media. One of the main platforms that plays a significant role in the boosting of songs and artists is TikTok, an app where a user films short videos to snippets of songs that are trending on the app at that time. Even before the pandemic, TikTok was beginning to illustrate how one video could change a whole artist's career. With the abundance of free time provided when schools and workplaces shut down, many people found themselves spending countless hours on social media platforms like TikTok. Many artists were gaining new fame from this same app; if their song blew up on TikTok, any person who enjoyed it would search it up and venture to hear more than the brief 15 second excerpt that is viral on the app. 
This method provides great exposure to new and rising artists and allows people to find new, tasteful music. A prime example of this process is Olivia Rodrigo's hit song, "Driver's License." Not long after the song's release, "Driver's License" went viral— millions of videos of users singing along and raving about this heartbreaking song began dominating TikTok. Consequently, Rodrigo's song secured a #1 spot on the Billboard Hot 100 and topped several music platforms. This method of song promotion is clearly an effective recipe for success. 
The standard of popularity is beginning to change as well; teens and young adults find their music tastes drastically altered, as their main exposure to music used to be the radio. Social standards are no longer based on the traditional stereotype of "cheerleaders" and "jocks," and now social groups are defined by music taste. For example, people identify themselves as "indie" or "alt," both genres of music, and they define their personality and interests through style and music. With the expansion of the music industry through quarantine, it is much more convenient to listen to a certain style of music exclusively and find new artists that resemble your established taste. 
With the simplicity of finding new artists, or rediscovering old ones through music platforms such as Spotify or TikTok, many find themselves getting back into old music that stirs up a certain nostalgic feeling to remind themselves of better times. For many young adults, the music of One Direction brings about clear memories of the band's popularity before they disbanded five years ago. But throughout the pandemic and quarantine, One Direction began gaining relevance once again because of their long discography and tendency to remind people of the past. Accordingly, the term "quarantine fans" began to emerge, creating a label for those that became attached to specific artists during this time period. 
Apart from TikTok and other prominent social media platforms, passionate musicians have been attempting to stay intimate with their fans through other ways despite the barrier COVID-19 has inflicted. Many performers have hosted virtual concerts that viewers can tune into. Some artists put the concerts on for free, while others made the tickets much cheaper than they would be for regular pre-pandemic performances. Last October, wildly popular singer Billie Eilish performed in a livestream show that sold tickets for $30, after canceling her ongoing world tour, Where Do We Go? Along with Eilish, many other artists including Evanescence, Dua Lipa, and Halsey hosted online shows.  
However, some singers have been criticized for handling the virus irresponsibly. In July of last year, the Chainsmokers performed a live, in-person concert in Southampton, N.Y. that incited sharp backlash. Watchers were seen violating social-distancing guidelines and behaving recklessly despite the pandemic being at its peak since cases began escalating in the spring of that year. Later that summer, in South Dakota, the band Smash Mouth performed a concert reminiscent of those before the pandemic, in which dozens of the crowded, mostly mask-less audience contracted the virus. Nevertheless in classical music, where events usually take place indoors, orchestras and musicians all around the world also now host live concerts and compile performances that viewers can watch online. 
An alternative to online concerts that doesn't violate nation-wide mandates are drive-in concerts, which are arranged the same way as traditional drive-in movie theaters. Some musicians have chosen this idea over the others, as it allows for the artist to connect with their audience, while distant enough to be safe. This alternative to live music as it was in the past, however, is slightly flawed. Cars take up much more space than groups of people would, causing tickets for these concerts sell out extremely quickly, as seen through the drive-in concert the band AJR hosted last August. Evidently most musicians, regardless of genre, are persevering to keep their listeners satisfied.   
On the other hand, while artists' relevance and new fans are increasing during this isolating time, the messages conveyed in the music created by singers are becoming more distinct. It's obvious that because of this unrelentless virus, many have lost the opportunity to indulge in the things that promote happiness, such as meeting with friends, traveling, going to parties. To address these frustrations or disappointments about not being able to live the same way as before, countless artists have taken to the recording studios to let out their pent-up feelings during Quarantine, whether it be to console dejected listeners or to express their own dejections.
In "Six Feet Apart," country singer Luke Combs crafts a nostalgic, heartfelt melody that vocalizes the losses one may experience during the pandemic and includes his hopes for a time when people will be "giving hugs and shaking hands" and won't be "six feet apart". Conversely, Ariana Grande and Justin Bieber's explosive collaboration, "Stuck with U," conveys a more optimistic outlook on Quarantine. The two singers view the pandemic as an opportunity in which they get to spend time with those they hold close, despite the isolation it created.  
Many artists have approached a slightly more artistic way of connecting to their fans, mainly by releasing and filming an abundance of music videos. This replaces the ability to "see" an artist as you may at a concert or award show, and instead the artist enables you to watch them on your own. It is challenging to film and produce a music video without a large crew or an interesting filming location, which forces musicians to use more creative ways of representing songs. Some artists have used music videos as a form of story-telling, creating multiple, consecutive videos that are strung together to express a larger narrative. The production of multiple videos that tie into each other allow watchers to use their time analyzing the videos and the stories that they are telling, while making predictions for what the artist may present next. 
One clear example of this creative alternative to traditional musical videos is The Weeknd's "After Hours" album, which was released only a few days after the nationwide lockdown had been initiated. Through multiple music videos and many award show appearances, The Weeknd showed the absurd things that people will do for fame and validation and how the negative parts of Hollywood are masked. The cover of the album, "After Hours", is a picture of him with blood dripping down his face, and he often appeared in the videos, and in award show performances, with his face bruised or bandaged, showing the process of plastic surgery. The Weeknd completed the saga of performances and music videos that expressed the story behind the album, with an unforgettable performance at the Superbowl, in February.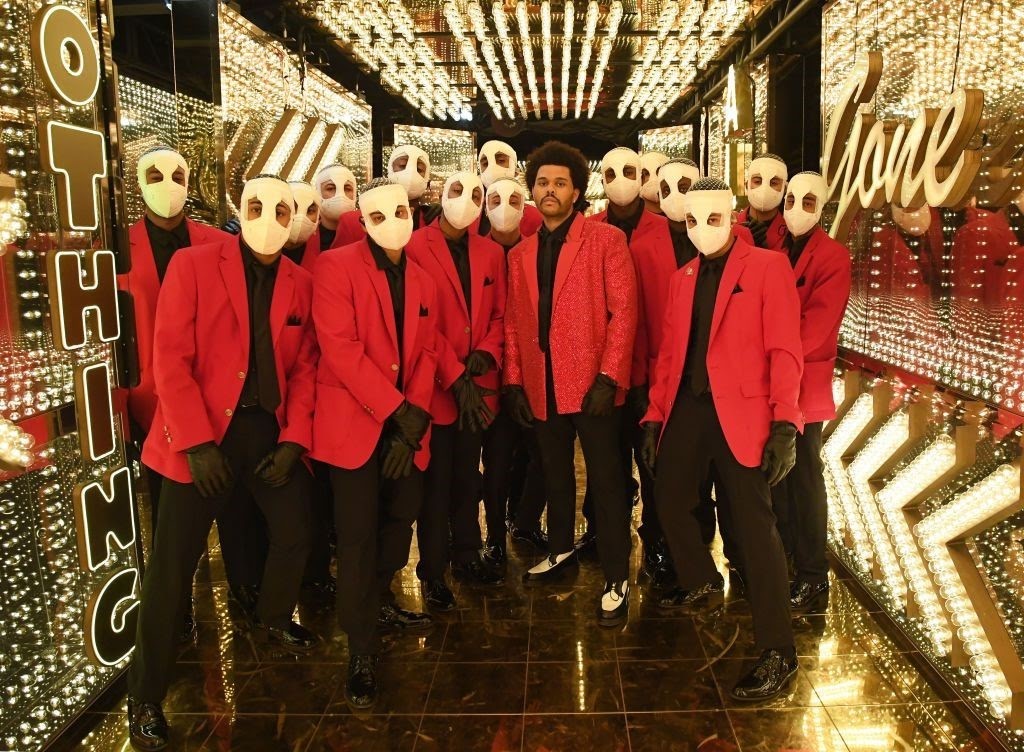 Another particular artist who has taken advantage of this pandemic and crafted creative content is Drake, who released his smash-hit "Toosie Slide", which he filmed in his mansion one month after quarantine had been enforced. In the music video, Drake represents the current state of the world, wearing a mask and gloves whilst showcasing his Toronto home where he spends self-isolation.  
Music has always been a refuge for those that find themselves at low points, especially during a pandemic where millions are dying or lying isolated and bedridden. Furthermore, there have rarely been times in history in which music has been at a standpoint where there are few options for artists to engage with listeners. Without music, a significant driving force of many people's lives, how will society function normally? In response to this global threat that affects not only the population's physical health, but also their mental well-being, artists consistently attempt to adapt to new ways of connecting with their fans regardless of the obstacles that arise.