RHS Senior Prom Preparations Underway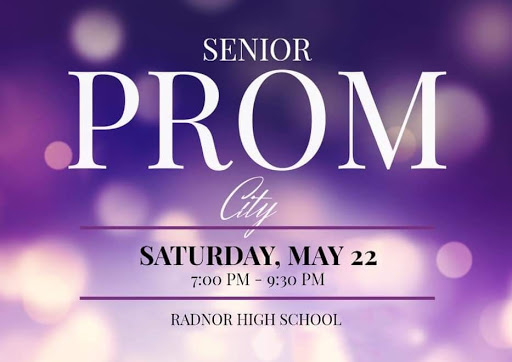 After such an uncertain year, the announcement of senior prom by the school administration was a welcome surprise. For the Class of 2021, prom will take place on Saturday, May 22 from 7-10 pm in the Junior Lot of RHS. The dance will be City-themed, outdoors and set under twinkling lights, with "two covered areas, one for dancing and one for a catered dinner, which allow for social distancing" according to the district website. 
The caterer will be Luigi and Giovanni Caterers with menu entrees: Chicken Parmigiano and vegetarian/vegan Penne with Vodka Sauce. The sides offered include sautéed fresh vegetables, rigatoni with broccoli di rabe and sausage, roasted red bliss potatoes, and caesar salad. Assorted desserts will also be served. 
As soon as prom was announced, promposal preparations began. While students are welcome to attend either solo or with friends, many opt to take a date. Promposals typically include homemade signs and flowers or some kind of food. Promposals are a chance for people to make something personal for such a special event.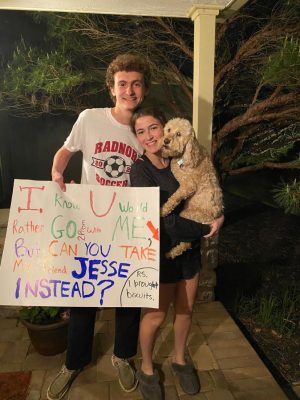 Some people shared their promposals for this piece: including Jesse Conen and Jess Gusdorff. Using a sign seemingly madeby Jess' dog, Jesse asked Jess to prom: "I know u would rather go 2 prom with me, but can you take my friend Jesse instead?"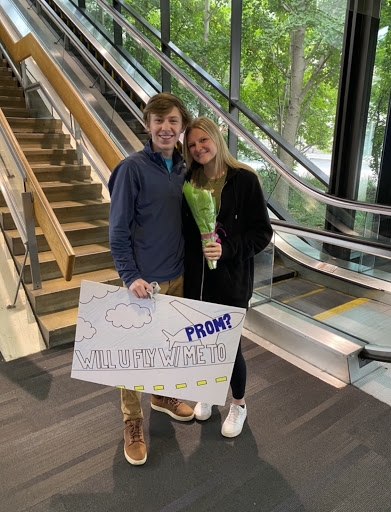 Sam Beers surprised Jordan Dell at the airport as she got off her flight with a sign that read "Would you fly w/ me to prom?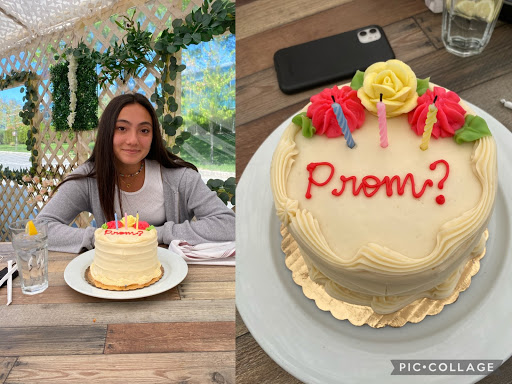 Teddy Anderson coordinated a sweet surprise for Audrey Margolies, when after eating at Pietro's, a friend who worked there bought out a cake that read "Prom?"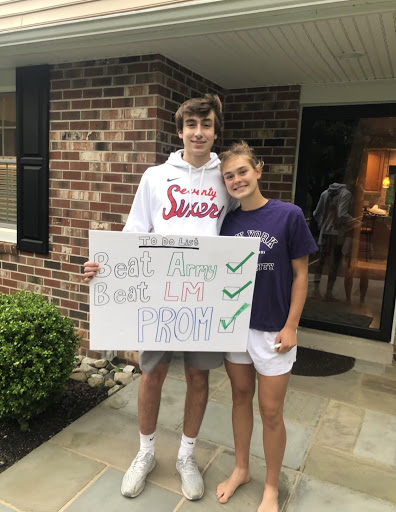 Will Zamsky asked Tori DiCarlo, who is going into the Navy, at her house with a sign that said my "To-Do List: Beat Army, Beat LM," and then left prom unchecked with a marker for her to fill out.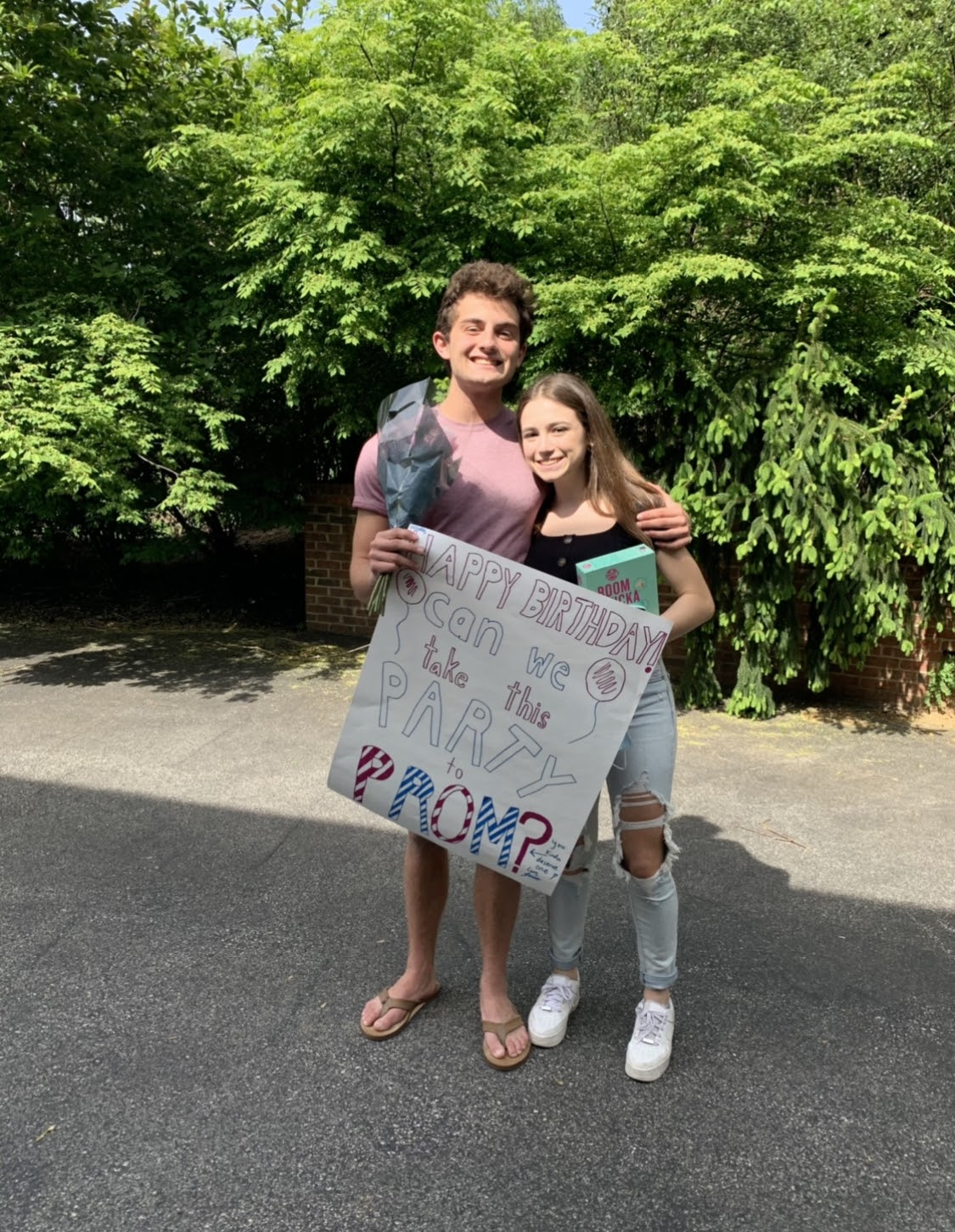 Juan Pablo Moreland drove to Nicolle Lomazoff's house on her birthday with a sign that read "Happy Birthday! Can we take this party to prom?"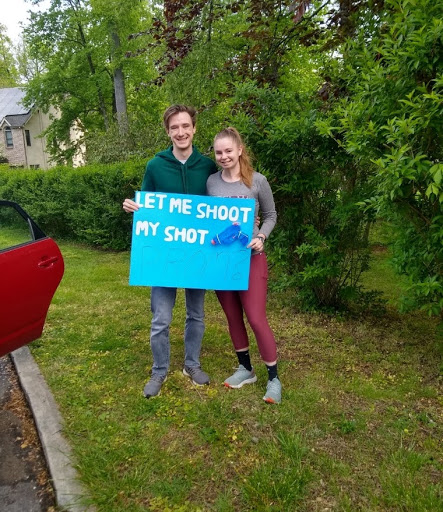 Patrick Lovenguth tried to make amends with Rory Harper after he earned the "First Kill" award in senior assassin taking her out with a water gun, asking her to prom by pretending to be her assassin as Rory was walking to school. Patrick hid in the bushes near her car, before holding up a poster that read "Let me shoot my shot: Prom?" 
With uncertainty if prom would occur, many waited to purchase their outfits. For those wearing dresses, a Facebook page was created to share the dresses people planned to wear so that each dress would be one-of-a-kind on the special night. Popular styles this year include one-shoulder, high slits, and wrap dresses. 
Most seniors recommend buying dresses from popular stores such as Bloomingdale's, Dress Code in Collegeville, Nordstrom, or Macy's or through sites such as Lulu's, Windsor, or Revolve.  With the late announcement of prom nationwide, many dresses sold out quickly, which Ellie Rhinehart called "frustrating," although she later found one she liked at Bloomingdale's. Lizzy Hirschler bought her dress at the shop Dress Code and said "The owner of the store I went to gave me multiple options and kept bringing out more dresses until I got the one!" Abby Fluck who bought her dress at Macy's said the experience of dress shopping was fun, bringing her mom and best friend.
The overwhelming majority of those wearing tuxedos this year are renting, recommending popular options such as Iacobucci Formal Wear in Havertown or Men's Wearhouse. Ryan Klein said "Iacobucci's was an easy way to rent a tux for the dance." Matt Miller who rented his tuxedo from Flocco's Shoes Clothes & Formal Wear in Conshohocken said his shopping only lasted "20 minutes," calling the process "easy." 
For many seniors, formal dances like prom are their first experiences with tailoring. A local favorite is Cappelli Tailors which Amelia La Foucade Plummer called "convenient" with friendly staff. Katie Loraine added "Cappelli Tailors in Wayne is family run and owned and has been around forever. I have used their tailoring services before and they do beautiful work." Additional business include Eagle Cleaners, Conestoga Cleaners, and the Tailor Shop in Wayne. 
Prom is a notoriously expensive dance with added expenses such as a dress purchase or tuxedo rental, shoes, hair and makeup, manicures and pedicures, flowers, and transportation. This year, tickets cost $65.00. On average, senior girls report expecting to spend between $250.00-500.00 while most senior boys report expecting to spend less than $250.00. 
When asked, most seniors say they are looking forward to the catered food, the dancing, and the "preparties". Becca Zajac said she is most looking forward to "Setting up the decorations and doing behind the scenes planning. Other than that, I'm excited to get dressed up and see how beautiful everyone is." Tori DiCarlo said she is most excited for "DANCING!!" saying "I love fun music and just flailing around with all my friends enjoying each other's company and high energy!" Andrew Rosin said he's "looking forward to celebrating with [his] date." Julia Foley said she is happily ready to see the seniors who are still all-virtual for classes. Sully Simms said she is looking forward to the experience as a "last hoorah with my friends." Katie Loraine said "This year has been really stressful and uncertain. I'm glad we all get to have something like prom and other senior activities coming up that are somewhat 'normal.'"
As seniors, prom celebrates the ending of high school and the culmination of years of hard work. Asked "What does prom mean to you?" Will Zamsky responded "prom is the last time we will all be together, not doing school." To Tori DiCarlo, prom means "coming together and celebrating our successes and unity as a grade. It commemorates our accomplishments and is the final compilation of being together for some great fun. Everyone can be themselves, look their best, and enjoy the night!" Heather Hughes shared she is looking forward to "being able to create a memory with my class that I'll remember for a lifetime."
To ensure safety, all guests at prom have to be either fully vaccinated (14 days from their second shot) or test negative 10 days before prom with confirmation sent to both Principal Kevgas and Nurse Grabuski. On Tuesday, May 11 Radnor offered all-day rapid testing for all students who are attending prom. Masks will be mandatory. Additionally, for safety reasons, students will also be breathalyzed as they enter the venue. 
Post-prom is an impressive tradition where parents completely transform the inside of the school to host students after the dance in an effort that started to ensure that students are not drinking and driving. This year, the tradition has been adapted as a Carnival at the high school on Saturday, June 5, 2021 from 5-9 pm. The Carnival will offer raffles, games, and carnival rides. All seniors are encouraged to attend. 
Later, seniors and their families can expect three more major events: Baccalaureate, Senior Recognition Night, and Graduation. The Baccalaureate will be virtual, taking place on Sunday, June 13 at 6 pm, "allowing seniors to share their memories, humor, advice, and good wishes; honor their parents and their community; and celebrate what Radnor has meant to them." Senior Recognition Night will take place in-person on Monday, June 14 at 7 pm to recognize the senior class for their "outstanding achievements with a variety of awards at this annual ceremony." Lastly, Graduation is scheduled to take place on Wednesday, June 16 at 4 pm at the Villanova University Stadium. For more information about senior events, please visit the Class of 2021 End of the Year Events website.
This year has certainly been a challenge for the senior class and their families, as well as our teachers, administration, and larger school community. Fortunately, with such excitement about senior events and prom next Saturday, things are looking up for the Class of 2021.
About the Writer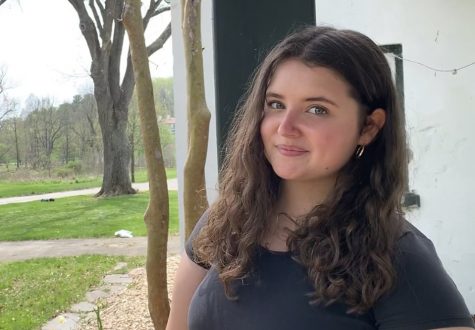 Anne Griffin, Editor-in-Chief
Anne has been a Randorite reporter and photographer since 2017. She is an active member of the Radnor's Model United Nations club and the ACLAMO Spanish...