Students walk out for better equity + inclusion and change to history curriculum
RADNOR, June 17 (Radnorite) -On June 11 at 9:15 AM, many students walked out to the cafeteria courtyard to protest the lack of diversity, equity, and inclusion (DEI) in Radnor schools. Students called for increased representation in school staff and a revision to the school's curriculums. 
"We need to support teachers so that they can feel comfortable addressing these subjects in the classroom," emphasized Sophia Angelini, a freshman who is one of the speakers at the walkout. "Our curriculum is watered down so we don't teach Black history."
The walkout came after a renewed push for diversity, equity, and inclusion in the school environment, reflecting calls for change since the brutal killing of George Floyd last year.  Many schools are starting DEI initiatives to ensure that their learning environment is diverse, equitable, and inclusive. These schools are also contending with revising their history curriculums, such that it emphasizes the role racism plays in American society and the various histories of racial minorities and their accomplishments. 
Yet, these changes face much opposition from some students, parents, and staff members, with some people conflating it with critical race theory (CRT), which is the idea that race is a social construct, and that racism is more than individual acts; it's systemic and embedded in the legal system. Its opponents describe CRT as "divisive" and promoting an "anti-American sentiment." Indeed, legislatures in some states are passing laws that ban the teaching of CRT and limit discussions of racism.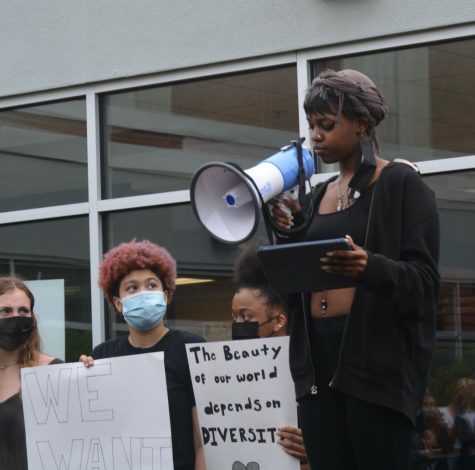 The speakers at the walkout elaborated on why Radnor needs better representation. Brooklyn Williams, a junior and a speaker at the walkout, brought up the racial disparity between teachers and custodians, saying how most of Radnor's teachers are white and most of the custodians are people of color. She elaborated, "When I did the math, and I totaled up all the different [diverse ethnicities] as far as teachers go, I found that there were only seven diverse teachers within the building [out of about 140]." Junior Levy Morrison, a participant, agrees, remarking that "the ratio of how many teachers there are" and how it's "not equal whatsoever" is why he showed up to the walkout calling for change.
Freshman Gianna Esbensen also brought up the point that Radnor High School being a No Place for Hate school does not translate into a 100% hate-free environment. "As much as our school does promote positive messages, the more I see that I'm also seeing things being discarded about racism and inequality among both students and staff," she stated, mentioning the irony of Radnor's No Place for Hate designation. Freshman Sophia Angelini revealed a personal experience of hers in regard to this, mentioning how despite the presence of teachers, no action was taken when she was called a racial slur at recess.
Students walked out for a variety of reasons. Some students came to express the need for education about the history of racism in America. Freshman Natalie Dumin expressed her sympathies with the cause of the walkout and the speakers. She said, "It was very important that we were all there in support of [getting people educated]." Indeed, the call for education was prominent during the protests of last year over George Floyd's murder. Sophomore Sarah Tachau added, "I thought it was interesting, too, [about] what they said about education and the curriculum and how they wanted there to be more [discussion on] racial injustice [and] the history of that in the curriculum." 
Others came because they stressed the importance of listening to minority voices. As Natalie also mentions, "I wanted to hear some of the minority and Black students talk about their experiences in Radnor with underlying racism." Freshman William Meyer remarked that he "really wanted to bring awareness to the topic [of racism]" and that he "really loved how they really showed the inequalities and disparities [at this school]." He brought up how one of the speakers, Sophia, shared a personal experience of racism and how nothing was done about it, saying the retelling was "just devastating."
Still others propose some specific changes. Senior Andrew Rosin called for the need for critical race theory to be taught in Radnor. "I think it's important that we teach critical race theory in our classrooms because race isn't an inherent inequality; it's a social construct," he remarked, alluding to how the laws in America shape the racism in our society. "I walked out today because, among other things, I would like to see critical race theory implemented in our Radnor High School curriculum."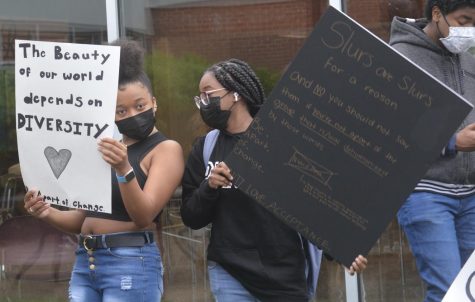 Teachers, meanwhile, express some reservations. Robert King, an AP European History, American Studies, and Government/Economics teacher, mentioned how the history curriculum already teaches racism in some way, such as slavery, the Civil War, Jim Crow, and the Civil Rights Movement. "I think it is important to take stock of the fact that the history of race and race relations in U.S. history is long and complicated," he stated. "Although race is a sensitive and at times uncomfortable topic in the classroom, there are surely steps we can take to improve our curriculum and approach with regards to race to teaching about the history of race and the relevance of race in contemporary U.S. society." He ends by saying how any changes to the curriculum needs the input of students, parents, teachers, and administrators, not just one of the groups.
The speakers ended their note on the desperate need for change. Kieron Burrell, another speaker at the walkout, called for more student representation on policy making: "It is absolutely obvious that we, not as people of color, but instead as students, need more of a say in how the school is run, because nothing will ever get done." Indeed, one student, junior Anika Jaswal, founded CoSaTIDE (pronounced cause-a-tide) with the goal of doing just that: increasing student representation in terms of DEI policy making and ensuring that things get done in DEI terms.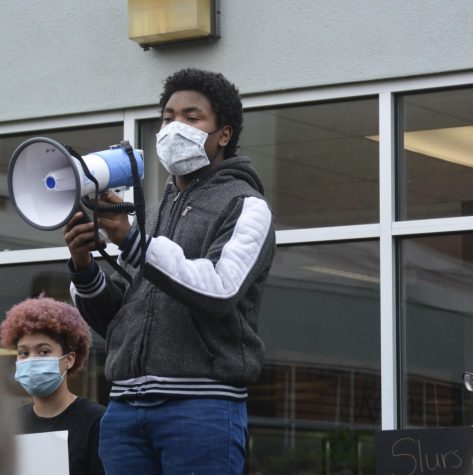 Despite the calls for change, implementing it faces an uphill battle. A teacher from my former school district, Carmel Clay Schools, expressed her fears about the curriculum reform including critical race theory: "CRT is an ideology, not a curriculum. SEL [social emotional learning] is the curriculum to bring in this ideology. What we are seeing as this rolls out is you are either a victim or a victimizer and either oppressed or oppressor" and that "[y]ou are overreaching into the family lane, and that is creating a big problem." For context, Carmel Clay Schools is undergoing a similar call to implement DEI and revise its school curriculum. 
Still, Radnor has enacted some changes in terms of diversity, equity, and inclusion before the walkout. Radnor administration joined the No Place for Hate program in 2016, created an Equity Team in 2018 to address barriers to equal opportunities, provided extended learning programs specifically targeting disadvantaged students, and much more. This year, RHS' Black Student Union hosted a talent show on March 5, and the School Board declared DEI to be a district goal.
Despite this, future changes remain to be seen. Unlike the mascot change that had a predefined date of final voting to decide the new mascot, it is not yet known about when or what additional changes will Radnor enact in regard to this issue. When asked about how the speakers of the walkout will accomplish change, Sophia wrote, "We plan to accomplish this by working with the teachers and administrators to push for change, and continue to shine light on issues that go unspoken at Radnor."