Bryn Mawr Hospital Reports Record-Breaking Foot Injuries in Students Striving for Scooter Eligibility
"The Radish offers satire and parody as commentary and critique on matters of public interest. No article posted on the Radish should be taken literally or viewed as representing truthful statements of the individuals or organizations which may be mentioned in the articles."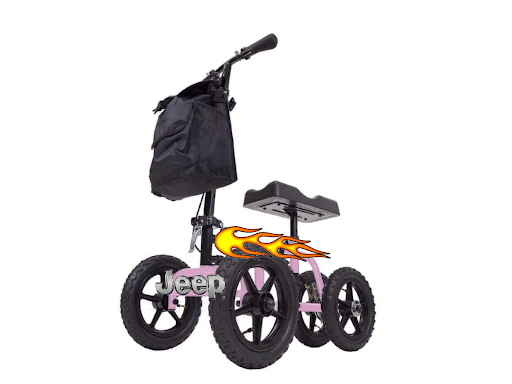 RADNOR, PA– Walking from class to class is now considered "out of season," as the halls of Radnor High School are packed with students zipping up to 75 mph on medical scooters, built to assist with foot injury. Simultaneously, Bryn Mawr Hospital is reporting a 435% increase in patients ages 14-18 from the Radnor area with broken feet.
First introduced in the fall of 2019, medical scooters were once a rare find, as many injured students thought crutches to be the easiest form of transportation. Only recently did these three-wheeled-wonders spark a new trend in the weak-footed community.
Credited with the medical scooter's invention are the employees at Jeep, who were desperate for a new opportunity to make a profit off of scamming wealthy mainline families. Jeep CEO Christian Meunier stated in an exclusive interview with The Radish, "We knew releasing the Medical Super Scooter 3000 would be a hit or miss, yet we were desperate to keep up the Jeep reputation with a ground-breaking form of transportation for the rich, physically-injured-yet-somehow-coordinated-enough-to-use-a-scooter young adults." Meunier certainly did not lose profit with this ground-breaking invention. As of October 4th, 2021, Jeep sales were at an all-time high, with the company's Medical Super Scooter 3000 on backorder until Christmas. These scooters start at the reasonable price of $999, yet Jeep plans to release a customization feature entitled the "Jeep Swag Scooter Lab" in January, which will allow buyers to add decals such as flames, or ivy for the cottage-core inspired, to their scooters for an additional $400 per 1-by-1-inch decal.
Consequently, Radnor has been hit with a brutal loss of student-athletes due to foot injuries that suspiciously require Jeep scooter assistance. An anonymous Radnor coach commented on the phenomenon, "I lost four of my strongest benchwarmers to broken feet, it was tragic. The next day I see them zooming through the halls on the coolest-looking scooters I've ever seen. Talk about adding salt to the wound." Other coaches, however, are responding positively, stating that this strange form of transportation has led to new sports for those who failed gym class but still need an athletic commitment to put on college applications. One proposed school sport, to be added to the winter season if approved, is called "Track and Scooters." Track and Scooters would consist of several sub-sports, including but not limited to: Cross Country Scooter Racing, 100-meter Scooter Dash, 50 kilometer Racewalk-Scootering, Scooter Relay Racing, and Scooter Pole Vault (waiting on safety approval from the CDC).
Outside of the athletic world, administrators are happily using the increase in scooter transportation as a means to promote inclusivity and diversity by building several scooter-accessible ramps throughout the school. "We cannot blindly say we are 'one Radnor' if we are excluding the scooter-using individuals, who make up approximately 62% of our student population," states an anonymous administrator who is pushing for the construction to take place ASAP.
Nonetheless, no scooter-accessible ramp would solve the unsafe state of the Radnor hallways between classes. The science hallway was home to over 87 scooter crashes in the week of October 4th-8th alone, and 10 staff cars have been totaled so far due to scooter-racing in the parking lot. Teachers and students who have not caught the contagious scooter-trend are fearing for their lives when they walk through the hallways. Fortunately, the Radnor Police plan to present a thorough, 3-hour-long Zoom presentation in extended Community Period on October 27th regarding how to safely use a Medical Scooter, and how to be kind to the inferiors who choose to walk. In the meantime, the Radnor community remains divided as the Medical Super Scooter 3000 takes its reign on in-school transportation.