"Tax the Rich" Good Slogan for a Dress?
The Met Gala is an annual event everyone anticipates. It is not only a place for fans to get a glimpse of their favorite celebrities but also an opportunity for expression through fashion, as celebrities ascend the Metropolitan Museum of 
Art's steps. 
Due to the coronavirus pandemic, Met 2020 was canceled, which upset many. The year-long break heightened fans' anticipation for Met Gala 2021.
Many celebrities made headlines, including Kim Kardashian and Kendall Jenner. Among these celebrities was Alexandria Ocasio-Cortez, New York's 14th congressional representative.
Ocasio-Cortez descended the stairs wearing a white off-shoulder dress with a frill at the bottom with the words "Tax The Rich" emblazoned in bright red, a design by the Brooklyn-based brand Brother Vellies. Ocasio-Cortez completed her look with gold hoops and a single pink flower pinned in her hair. 
AOC received backlash from numerous people who saw the outfit as a hypocritical stunt. People who were opposed to this message and her interpretation of "American independence"— MET 2021's theme — didn't like her promotion of the message at an event that cost 35,000 dollars per ticket.
Unusually for her, the congresswoman isn't wearing red lipstick, her signature. Instead, she brought her signature color to the back of her dress.  At first, when I looked at the dress I thought that the slogan was written using her lipstick. Later, Aurora James mentioned that the slogan itself was written in a designer's handwriting and was then embroidered onto the dress. The rough and candid style gives the idea of not being accustomed to luxury, like Ocasio-Cortez. AOC ascended the stairs with such confidence and grace, despite knowing that wearing the dress was a bold move; her confidence and positive attitude throughout the evening is admirable.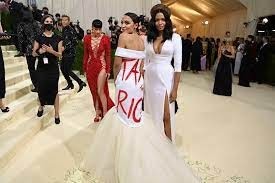 AOC said to Vogue, "The Met has just been such a huge institution for New Yorkers. This year's gala is the opportunity to have those conversations about the communities that we're from, geography, class, race, present events, climate change."
Her idea was to send a message, and Aurora James, a designer and activist, beautifully executed AOC's hope for representation, transforming it into a dress that made the headlines. Ocasio-Cortez was joined by James on the red carpet.
The congresswoman said that she was "proud to work" with a talented artist who also initiated the "15 percent pledge, a US-based non-profit organization that encourages retailers to pledge at least 15 percent of their shelf-space to Black-owned businesses." James' unique background as a Black, immigrant woman designer gave her a unique perspective on the theme of American independence, making her and congresswoman Ocasio-Cortez such an amazing team.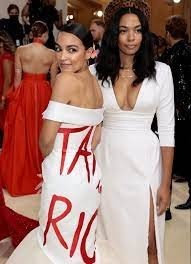 When asked by The New York Times whether James expected the outfit  to break the internet, she said, "For us, it was about delivering the message, and I think given what the Met Gala is, and who the congresswoman is, and what her message really always is, we felt that it was appropriate."
AOC says, "We really started having a conversation about what it means to be a working-class woman of color at the Met," the congresswoman said while on the red carpet. "And we said we can't just play along, but we need to break the fourth wall and challenge some of the institutions."
Despite AOC's intentions, many people claimed that this was just a publicity stunt to justify her presence there and doesn't match her political views. Vanessa Friedman tweeted, "Alexandria Ocasio-Cortez attending the $35,000-a-ticket #MetGala in a Brother Vellies gown, blaring "Tax the Rich" is a complicated proposition."
Ocasio-Cortez responded with a picture on Instagram with Aurora James, boldly wearing her eye-catching dress, captioned, "The medium is the message." She tweeted, "And yes BEFORE anybody starts wilding out — NYC elected officials are regularly invited to and attend the Met due to our responsibilities in overseeing our city's cultural institutions that serve the public. I was one of several in attendance."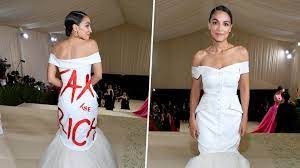 While she was criticized for a bold decision, she was also praised by many for strategically introducing the topic of wealth disparity within a place of luxury.
Actor Jameela Al Jamil wrote, "Everyone is talking about 'Tax The Rich' because of AOC's stunt at a gala full of the people she was targeting, where she was invited for free in a free dress… to back up her actual legitimate work on this issue in Congress."  She adds, "and you're all angry/confused as to why she did it?"
David Sirota tweets, "I'm very glad @AOC told a gala of rich people that we must tax the rich. That said, the only thing that matters is whether she, the Squad & @USProgressives withhold their votes until the $3.5 trillion reconciliation bill is part of the final deal."
AOC's "tax the rich" dress was a very successful way of breaking the fourth wall because congresswoman Cortez used her platform and the opportunity of going to a luxurious event to its full potential. While people may view this as a hypocritical stunt, this dress does keep up with her opinions, her personality as well as her spark. This dress conveys her message and is consistent with her views and her bold persona.