RHS Takes 1920s LM Week Theme Too Far
"The Radish offers satire and parody as commentary and critique on matters of public interest. No article posted on the Radish should be taken literally or viewed as representing truthful statements of the individuals or organizations which may be mentioned in the articles."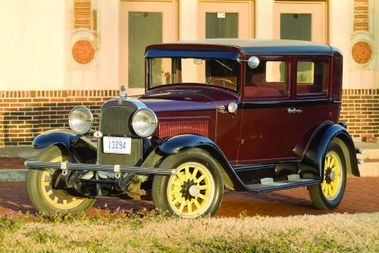 RADNOR, PA– The halls of Radnor High School are vibrant from the rose-tinted lights, and the mystical, faint smell of body-odor looms in the air as the seniors return from their lunch-time mosh-pit. Everything is set for a perfect LM Week; however, this school year, something is off. 
"I was stoked when I heard the theme for 2021 LM Week was the 1920s. That is, until I arrived at school and was told that because I am a woman I could not participate in USA day," states an anonymous senior. Other students complained when the cafeteria announced they would stage a severe food shortage representative of the Great Depression towards the end of the week. The administration has responded to the mass pushback by claiming Radnor must "go big or go home," in this case with a full 1920s immersion experience. Nonetheless, after enacting several changes to the typical LM Week, the Radnor administration is questioning whether or not they are taking the realism of the 1920s to an extreme.
To put students in the shoes of a 1920s factory worker, the Radnor Township Department of Transportation temporarily replaced all school busses with Septa tickets, forcing underclassmen to rely on railroad transportation. For seniors who drive to school, Radnor replaced all of their cars with 1927 Willys Overland Whippet 93As. Teachers were given 1929 Ford Model A Deluxe Roadsters, which are certainly a step up, but are still confusing to anyone who usually drives a car produced in the past 20 years. One faculty member commented, "My school-issued 1929 Ford Model A Deluxe Roadster gets about 8 miles per gallon if I'm lucky, but I have so much school spirit I don't mind spending $300 on gas this week." Seniors responded similarly, with an alarming number of student drivers raving about the thrill they experience driving a car that does not have seatbelts or airbags (in addition to several other government-recommended vehicle safety features).
Instead of attending typical core classes, students are spending the bulk of their school day in a factory setting, taking on jobs such as manufacturing automobile parts or attempting textile cloth production. Thankfully, the lack of child-labor laws of the 1920s allows teachers to keep students working 14 hours a day. One physics student, in particular, stated that she was required to learn the science of automobile motion, "I was already lost in AP Physics, but when Doc Mullman started lecturing on how to use Newton's Laws to solve for the gas mileage of a 1927 Willys Overland Whippet 93A, I felt like he was speaking another language." Just across the hall, sophomores in Chemistry are testing just how contagious the Spanish Flu really is, while Med-Career students are scrambling to curate an Influenza vaccine. Meanwhile, art students are enraged after getting paid 33-cents per hour to manufacture the cloth used to make 1,350 LM Week t-shirts. Safe to say, the 1920s inspired courses are turning LM Week into five days of confusion and distress, in addition to sparking a minor Spanish Flu outbreak.
To travel back to the 1920s, the LM pep rally, for the first time since 1935, involved no projector, strobe lights, or fog machine. Instead of "hype music," the Radnor administration opted for 1920s' slow jazz and coordinated the senior dance choreographers to replace moves such as the "body roll" and the "seductive crawl" with the Charleston and the Foxtrot. Instead of presenting a Cameo from some modern celebrity like Bart Johnson (seen in the 2019 pep rally), RHS hired a historical actor to play president Calvin Coolidge. Fear not, the entire rally was recorded as per usual, this time as a black-and-white silent film**.
In offering feedback, one student proposed a suggestion that stood out: "why don't we have an LM week that focuses solely on the good parts of the decade, with parties, swing dancing, and flapper dresses?" To this, the administration responded by stating that an inaccurate week of only the idealized version of the 1920s wouldn't be in keeping with the school's "tradition of excellence." 
Despite student complaints, the Radnor administration made the decision to stick to the 1920s theme; they did, however, take into slight consideration their use of district taxes to rent over 250 nonrefundable 1927 Willys Overland Whippet 93As. Nonetheless, school board members stand by their choice to create an immersive 1920s experience for an American high school spirit week, stating that the experience is "educational and productive." As one member comments, "In past years, students went to school during LM Week solely to take pictures for Instagram, not to learn anything valuable. In 2021, however, students are attending school to complete 14 hours of inhumane minimum-wage factory labor." An anonymous administrator offered additional commentary on negative student feedback: "perhaps in future years we can try out different throwback themes, maybe the war-era of the 1940s would prove a better decade to be romanticized, especially with that great WWII fighting spirit." 
**Disclaimer: due to the minor Influenza outbreak, the pep rally was held outside.