Unwrapping Spotify Wrapped: A Formal Radish Investigation
"The Radish offers satire and parody as commentary and critique on matters of public interest. No article posted on the Radish should be taken literally or viewed as representing truthful statements of the individuals or organizations which may be mentioned in the articles."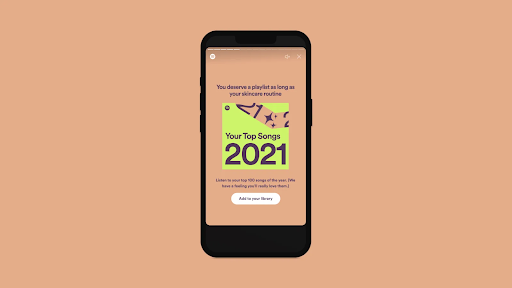 Another Thanksgiving has come and gone, and the number one concern among Americans heading into this holiday season was not the spread of COVID in Black Friday mobs, but instead what artist would take the place as "most listened to" in their 2021 Spotify Wrapped. "I was so afraid that Weezer would be my 'most listened to' artist on my Wrapped report this year, that I skipped my Thanksgiving family reunion, the first since COVID struck, to stream every single Doja Cat song 200 times," states a worried listener, "God forbid the time comes to post every single graphic from my Spotify Wrapped on my Instagram story, and I lose all my friends because of my music taste." Nonetheless, the Spotify Wrapped feature is more than a way for social media to brutally expose and ridicule its users. At the core, this trend was created to offer a personalized look into an individual's listening habits over the past year. Unfortunately, underneath the glam of listeners' "Song of the Year" lies a complex network of private data stolen and sifted through by Spotify employees. Over the past year, The Radish dissected the technological processes behind each individual Wrapped report, revealing several disturbing findings. 
Disclaimer: The following may leave Spotify Premium users with a feeling of disgust so great, they ascend into the gruesome void of Apple Music or even worse: whatever the Youtube alternative is called.
What Data does Spotify Really Have Access to?
Upon downloading the app, Spotify prompts all users to sign the "Privacy Agreement" listing all personal documents the company would have access to, written in Braille to meet "user-friendliness" requirements. This data includes but is certainly not limited to: the user's social security number, birth certificate, allergens, average household income, passport, Google search history, MySpace login, Zodiac Big Three, and, if applicable, their non-commercial driver's license and criminal record. Spotify CEO Daniel Ek and his representatives declined to comment on the aforementioned data pool they use, but retired employee Susan Wilson offered an exclusive look into what this personalized information is used for, "Spotify is truly no different than any other social media platform: we steal your privacy so that we can get you hooked on that feeling of 'wow! How did they know I listened to this song at this disturbingly accurate time of day?' Think of it like crack cocaine. But much cooler and definitely not illegal." 
However, in recent months the company's access to customer data has drawn the attention of the Department of Homeland Security, which was particularly worried when Spotify announced it would be creating personalized playlists inspired by each user's dietary restrictions, starting in 2022. For example, one proposed playlist was titled, "songs for those with a fatal peanut allergy." The security issue was among the DHS' top concerns, until its representatives got their own 2021 Wrapped report and dropped the complaint because they "didn't want to be a party-pooper."
How is Your Data Used?
Once Spotify gets its hands on listeners' data, a lengthy process of sorting and organizing entails to give users their favorite statistics. For instance, to calculate how many minutes users spend streaming music, the technological geniuses** at Spotify memorize the listener's school/work schedule down to the minute, then break through a few firewalls to reveal how often they open the app, and use audio from their cellular microphone to detect every time the individual says the word "Spotify" or "music." To give Premium users the full experience, Spotify pays their friends and family to spy on them, "Some call this system an 'invasion of privacy,' but I call it the pinnacle of modern technology," comments Mark Zuckerburg, "the bottom line is: if your social media platform isn't illegally stealing your private information in one way or another, they aren't catering to your individual needs." Regardless, Wilson cautions those with a Spotify Premium account to 'watch their backs,' "Whether it's the government or your next-door neighbor, you can never be sure who is invading your privacy for the accuracy of your Wrapped report." 
**not hackers
Coming in 2022: 
To "enhance user experience," Spotify recently announced the creation of several new Wrapped categories to be included in the 2022 recap:
Your Music Mental Health Diagnoses: Self-explanatory, this personalized playlist is based on Spotify's thorough analysis of the listener's mental state based on their most frequently streamed songs or albums, and includes songs as well as podcasts dedicated to helping them cope. So far, Phoebe Bridgers' fans make up the bulk of those given the "You are not okay, please go to family therapy" playlist, users who frequently listen to "Nothing New" by Taylor Swift (ft. Phoebe Bridgers) are given the "Burnt-out Older Sibling" playlist, and Mitski listeners will receive the "Stop Sobbing and Go Outside" playlist. Due to claims that these soundtracks may be falsely diagnosing users, the American Psychological Association reviewed Spotify's algorithm, revealing that, as an APA representative states, "This technology is foolproof. It may replace the DSM-5 (Diagnostic and Statistical Manual of Mental Disorders) one day."
What Is Your Next Crime?: The "What Is Your Next Crime?" playlist assigns each user an organized crime they would most likely commit and what songs they should listen to while doing so. For instance, those who often stream the band Mother Mother are predicted to commit arson. Because Spotify has access to every user's criminal record, this playlist is predicted to be very accurate.
Concluding Findings
After dissecting the Spotify Wrapped feature, the following is clear: social media is watching user's every move, but what's new? The real question is: what separates Spotify's data usage from other platforms? Some say Spotify excels in personalization for every listener; others say Spotify is violating several federal privacy laws just to understand if a client would like Taylor Swift's new album or not. Regardless, the Spotify Wrapped trend has been unwrapped, and underneath the vivid graphics lies the stolen, top-secret data of every listener.