The Russian-Ukrainian Conflict
For the past decade, Russia and Ukraine have shared an intense conflict with one another; however, in recent weeks, this conflict has escalated. The United States and NATO (North Atlantic Treaty Organization) are cautiously monitoring the alarming possibility of an invasion as Russia progressively builds up their offenses surrounding the Ukrainian border. 
In 1991, Ukraine won independence when the USSR (Union of Soviet Socialist Republics) broke up. Consequently, Ukraine established increasingly close ties with the West. However, in 2014, Kremlin-leaning Ukrainian President Viktor Yanukovych rejected an agreement with the European Union, provoking bitter protests which led to Yanukovych's dismissal. As a result, Russia annexed Ukraine's Crimean Peninsula and a separaist insurgency broke out in Ukraine's East. While a 2015 peace deal assisted in ending large-scale battles, diplomatic efforts have failed to reach a complete political settlement between Russia and Ukraine since. Thus, a tense line of contact remains. 
Recently, the Kremlin accused Ukraine of failure to fulfill the 2015 peace deal as the deal hasn't been completely satisfied. The agreement, signed in February of 2015, compromised immediate and full bilateral ceasefire, withdrawal of heavy weapons from both sides, monitoration by use of satellite, pardon and amnesty, release of hostages, delivery of humanitarian aid, restoration of full social and economic links, return of Ukrainian control over the state border, withdrawal of all foreign armed groups, weapons, and mercenaries, and constitutional reform in the Ukraine.  Meanwhile, Ukraine argued Russia violated the cease-fire agreement, which indicated Russian-backed separatists and a continual Russian troop presence. Not only does Russia accuse Ukraine of violation, but they also criticize the United States and NATO for failing to support Ukrainian Compliance. Russia noted that, by providing Ukraine with weapons and holding joint drills, the West is promoting Ukrainian attempts in regaining the rebel-held areas by force. Additionally, Russia underlined Ukraine's pursuits in trying to join NATO as a red flag. Putin stated, "Russia will seek reliable and long-term security guarantees from the U.S. and its allies that would exclude any further NATO moves eastward and the deployment of weapons systems that threaten us in close vicinity to Russian territory."
In December, U.S. intelligence officers noted Russian plans to deploy troops at various points for a possible invasion. Moscow, however, has repeatedly denied growing evidence of a potential invasion and the presence of Russian troops. In the past few weeks at the onset of 2022, the Biden administration and other global leaders are sounding alarm as ominous warnings of a Russian attack could threaten Ukraine's independence. As Russia has amassed an estimated 130,000 troops on Ukraine's border, global leaders are worried about such a threat to world peace and stability. With the possibility of deployment, the Pentagon issued 8,500 U.S. based troops on heightened alert. General Mark A. Milley, the chairman of the Joint Chiefs of Staff, told a news conference at the Pentagon, "I think you'd have to go back quite a while to the Cold War days to see something of this magnitude."
If Russia's concerns about NATO's growing influence are not met, they have threatened military action. Moreover, Russia aspires to scale back the West's military presence in Eastern Europe to post-Cold War levels. Meanwhile, the United States is planning to impose sharp sanctions on some of the largest financial institutions in Russia. Such sanctions, if imposed, would far exceed any sort of penalty placed on Russia before. Likewise, Ukraine has expressed frustration with the United States' response. President Volodymr Zelensky of Ukraine has expressed a wish of "quiet military preparation and quiet diplomacy." Irritation with the United States grows as the Ukraine calls for calm. 
Despite soaring tensions, many Ukranians see the Russian threat as a part of their daily lives. In the industrial city of Mariupol, Ukraine, a population of 500,000 face the growing threat of their city becoming a possible warzone. Some residents remain ambivalent to the Russian threat of military build-up, while others are preparing to flee, in the event of the worst. One Mariupol resident stated, "It's actually very scary. I go for a walk with my child , and I'm thinking ,will I make it back?  It would be better if we fix this conflict with Russia using diplomacy, to make concessions." Another Ukranian woman said, "Humans are the scariest animals. And also the most durable. It's like that. People can get used to anything. But I don't want to. How can you get used to something like this?" As tensions grow to long-buried levels, Ukrainian officials are dusting off Cold War bomb shelters, preparing for the worst possible outcome.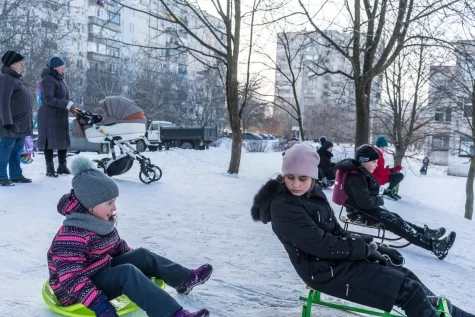 Despite increasing diplomatic efforts, there are no signs of the tensions and military build-up easing. The possibility of a Russian invasion looms in the face of Ukraine, possibly next month, possibly never. In the Baltic Sea, Russian military drills are continually practiced and more are underway. While some view the invasion of Ukraine as inevitable, others disagree. United States Secretary of Defense LLoyd told reporters that the conflict was "not inevitable." Lloyd stated, "He can order his troops away. He can choose dialogue and diplomacy. Whatever he decides, the United States will stand with our allies and partners." Moscow wants security guarantees that the United States led-alliance of NATO will halt its expansion into former Soviet republics, but the United States and NATO are rejecting such requests. To compromise, they're willing to negotiate a diplomatic solution regarding arms control measures in Europe. 
While the future is uncertain for Ukraine and Russia, there are predictable outcomes. For starters, if Russia decides to invade Ukraine, the result will likely be devastating. A myriad of civilian casualties may occur as a result of such a decision and the invasion would likely take place in phases in hopes of political surrender from Ukraine. On the other hand, if Russia chooses diplomatic means over physical violence, Ukraine will not be permitted to join NATO and thus, the United States, NATO, Ukraine, and Russia would compromise demands to establish a balanced agreement. Whatever the outcome, the future between Russia and Ukraine lies unclear.