What to Pack in Your Radnor Power Outage Survival Kit: A Radish Approved List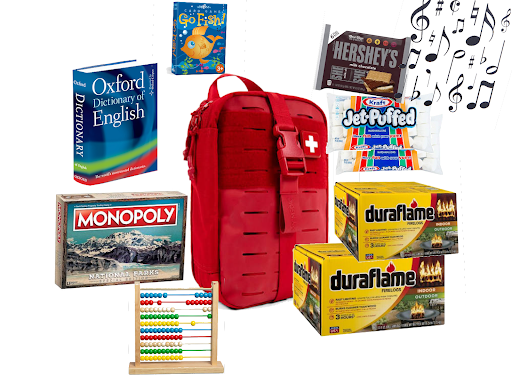 On Tuesday, October 25th, Radnor High School was engulfed in a sea of utter darkness for 2 hours, 53 minutes, and 24 seconds. The source, Radnor Police later confirmed, was a twig on one of the Tulip Poplar trees by the science wing that snapped off and brushed the powerline in a startling manner. According to the Weather Channel, this kind of power outage is no joke. Tuesday was the second outage this year, and the school community was frightfully unprepared. Students with a deathly fear of the dark curled up in a ball and cried in the corner, while others walked in circles unable to find their way to 4th period. To ensure that history does not repeat itself, the Radish compiled a top tier survival packing list for the next unsuspecting 'lights out' moment. As the trite saying goes, it's better to be safe than sorry.
Logs and other flammable materials 
A power outage could last anywhere from two minutes to two weeks, and as the colder seasons trail our way, light and warmth are increasingly crucial. The Radish recommends stocking up on all the necessary fire-starting materials, including, but not limited to: a bulk pack of Duraflame logs (32 ct.), a correlating supply of kindling (disregarded Psych notecards work as kindling), a lighter if you're weak, and a box of matches. Once you have secured all the necessary materials and watched a boy scout video on how to start a campfire, stake out your emergency campfire location.
Marshmallows and Hershey's Chocolate Bars (Family Pack or Party Size)
Who builds a campfire with no intent of making s'mores? Bonus: a good snack will cheer up your friend who's deathly afraid of the dark.
A wide selection of campfire songs memorized
The "moose who drank a lot of juice" saves lives. To be extra equipped, memorize some scary ghost stories.
Know where your fire-drill reporting location is
Just in case the campfire gets out of hand.
Invest in a good quality abacus and the latest Oxford Dictionary
Regardless of whether or not the Surface Gos work when the school's power and wifi is 100% efficient, they certainly won't function in a power outage. To be prepared for all classes, you must have the necessary tools: a usable abacus (won't work for Geometry, Trigonometry, AB Calculus, or AP Statistics), the 2022 Oxford Dictionary, the 2023 Oxford Thesaurus, two sharpened number 2 pencils, and all the chemical elements memorized.
A pack of GoFish! playing cards
A classic beat the boredom game. If you're more of the board game type, pack Monopoly, National Parks Edition. Alternatives include: standard casino playing cards (gambling not recommended in the dark), a set of dominos (also tricky in the dark), and a set of UNO cards.
The ability to walk every hallway of the school with your eyes closed
To master this skill, prepare during busy Lunch and Learns by blindfolding yourself and timing how long it takes to walk from the pool entrance to the math center, ending your journey at the end of the science wing. When the power outage strikes, you will be best equipped out of the rest of your friends to fetch water and other necessary materials.
Keep your friends close, but your enemies closer
Remember, the power outage could last a while. Keep track of who you don't like, so you know who to hoard materials from should you need. Though not a preferred solution, the bottom line is survival.
The Radish supports survival of the fittest. In a power outage, only the most prepared make it to see the lights flicker on and hear the return of the air conditioning hum.